10GbE connectivity is by now not just reserved for premium business networks and data centers. Due to the affordability and versatility of 10GbE solutions, home users and small businesses can upgrade their network environment. Consequently, they can reap several benefits of 10GbE networks. And if you have a lot of irreplaceable files and folders, investing in 10GbE NAS can be one of the best moves you can make. With a 10GbE NAS, you can access your files and folders no matter where you are in the world.
Whether you are a home or small business owner, a movie fanatic, data hoarder, or anybody using any form of digital device, NAS is useful to you. The best NAS solutions incorporate backup and sync tools that can be installed on your local client computer. They enable regular backups of your files as well as system data. Factors like the CPU, number of ports, the physical type of 10GbE currently in use, the maximum memory, number of media bays, and more are important to consider in choosing a 10GbE NAS. To enjoy fast 10GbE connectivity NAS solution, you can get the best 10GbE NAS from the following section.
List of The Best 10GbE NAS
Check out the thorough reviews of the best 10GbE NAS in 2023 below.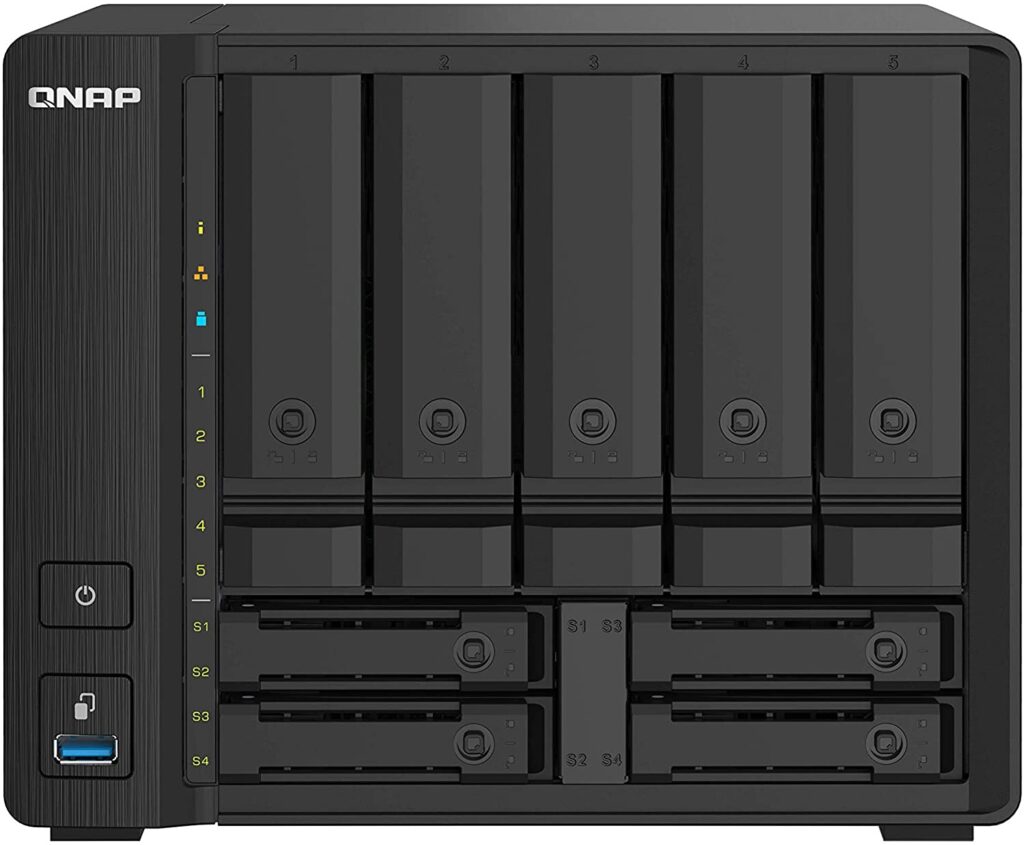 QNAP 9 Bay NAS contains two 2.5GbE RJ45 LAN ports and two 10GbE SFP+ ports. These ports offer exceptional support in high-speed networks. Moreover, these ports support port trunking and failover to strengthen your network infrastructure. These ports help this QNAP High-Speed NAS to support next-generation networking that facilitates bandwidth-demanding applications. So, the ability to support high bandwidth application and fast file sharing speed makes this QNAP High-Speed NAS one of the best 10GbE NAS.
It can seamlessly handle time machine backups and can host files on media servers. Moreover, it can capture surveillance from security cameras.
Key Features
The built-in AL324 ARM Cortex-A57 quad-core processor runs at 1.7 GHz speed.
Apart from SFP+ ports and Ethernet ports, it comes with three USB 3.2 Gen 1 ports.
This NAS is compatible with five 3.5 inches SATA drives and four 2.5 inches SATA drives.
The capacity of DDR4 SODIMMs is 4 GB. Its capacity can be expanded up to 16 GB.
With the help of Qsync, any of your uploaded files can be made available for all linked devices. Hybrid Backup Sync allows you to effortlessly backup or sync data on the NAS to another QNAP NAS Cloud storage or remote server.
Use myQNAPcloud Link to access, download, share, and manage files that are saved on an HQ-based NAS on the Internet.
Pros And Cons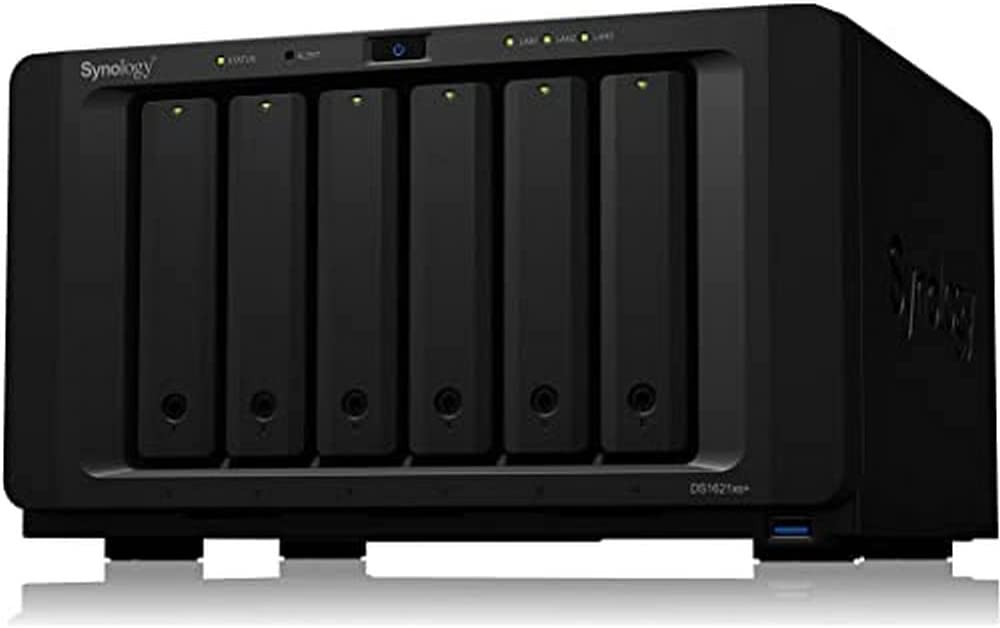 This Synology 6 bay 10GbE NAS is a high-end, high-performance NAS solution that supports all aspects of a business. It is equipped with efficient data management, collaboration, and networking tools along with well-designed data protection systems in a 6-bay desktop chassis. The 10 GbE connectivity, scalable storage, built-in M.2 SSD cache slots, and 5-year limited warranty from Synology make this NAS solution a future-proof solution to create on-premises cloud infrastructure.
Key Features
This NAS solution comes with a built-in 10GbE and the optional high-speed NIC to supports more than 3,100 MB/s sequential read speed.
The built-in M.2 2280 NVMe SSD slots enable cache acceleration without using storage drive bays.
The users can access virtualization storage tools to complete your SAN or operate virtual machines on a full-featured hypervisor.
Pros And Cons

The QNAP 4 Bay 10GbE NAS comes with pre-configured and pre-installed Seagate IronWolf RAID 5 bundle drives. The included10 GbE SFP+ port fully supports 10GbE high-speed networks at an affordable price with maximized ROI. Due to the short depth design, this NAS can be perfectly installed in a computer rack or those places with ample cabling.
This QNAP 10GbE NAS serves as a cost-effective storage solution that is suitable for growing businesses. It helps businesses with backup, private Cloud solutions, restoration, and storage for virtualization. Also, it can future-proof its IT infrastructure for the 10 GbE networks. With the help of this QNAP NAS, you can create a private cloud to centrally organize and manage files as well as backup tasks.
Key Features
The built-in Arm Cortex-A15 processor contains 4 cores and it operates at 1.7 GHz speed.
The DDR3 RAM capacity of 2GB can be expanded up to 8GB.
The available ports are a SATA (6 GB/s), a 10 GbE (SFP+) port, and two 1 GbE ports.
A Surveillance station and Container Station are included.
Containerized virtualization and IoT app development are possible with Container Station.
Container Station enables users to quickly develop and deploy IoT apps.
VJBOD enables the use of the TS-431XeU to extend the storage capacity of other QNAP NAS. It does this by using unused NAS storage space.
The maximum expansion enclosure it can support is 1 UX-800U-RP or UX-1200U-RP. With the use of two such QNAP expansions enclosures, you can enlarge the total storage capacity to 24 drives.
Secure access is provided with VPN Server and VPN Client.
Qsirch is the full-text search engine that can rapidly locate files on the NAS.
Other features are hardware encryption, encryption acceleration engine, and SSD caching.
Pros And Cons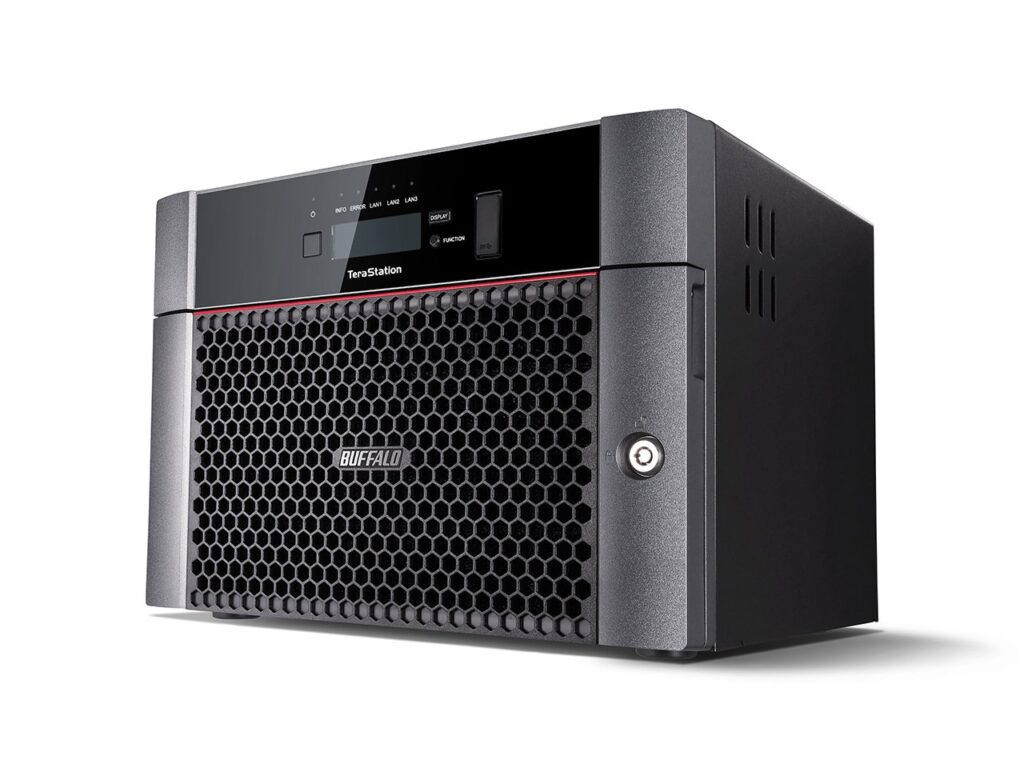 This BUFFALO desktop NAS solution is alternatively known by various names like NAS server, NAS storage, network storage, and File Server. It is an 8 bay NAS that provides you 10x data transfer speeds than 1 GbE with CAT 6A or higher-rated cabling. It includes 8 high-quality pre-tested NAS-grade hard drives. The total RAM capacity can be expanded up to 32 TB. This 8 Bay 10GbE NAS ships in the RAID 6 for 24 TB usable capacity. It can be changed to RAID 0 for the full 32 TB capacity.
The entire NAS model is well-built with a metal case. You can start using it right out of the box due to plug and play setup. It is easy to configure through web control from anywhere on your network.
Key Features
For excellent data safety, this NAS features RAID options, 256-bit drive encryption, a closed system, backup features, and flexible replication.
It can sync with Dropbox, Azure, Amazon S3, and OneDrive to set up a hybrid Cloud for excellent data security, flexibility scalability, and cost savings.
Being VMware Certified, it extends the storage capacity and your existing servers with the help of iSCSI and existing networking equipment.
With the included remote management service, this NAS saves resources and time by managing multiple NAS from one console.
The connectivity technology used is Ethernet.
The cache size is 4.
The hard disk form factor is 3.5 inches.
Pros And Cons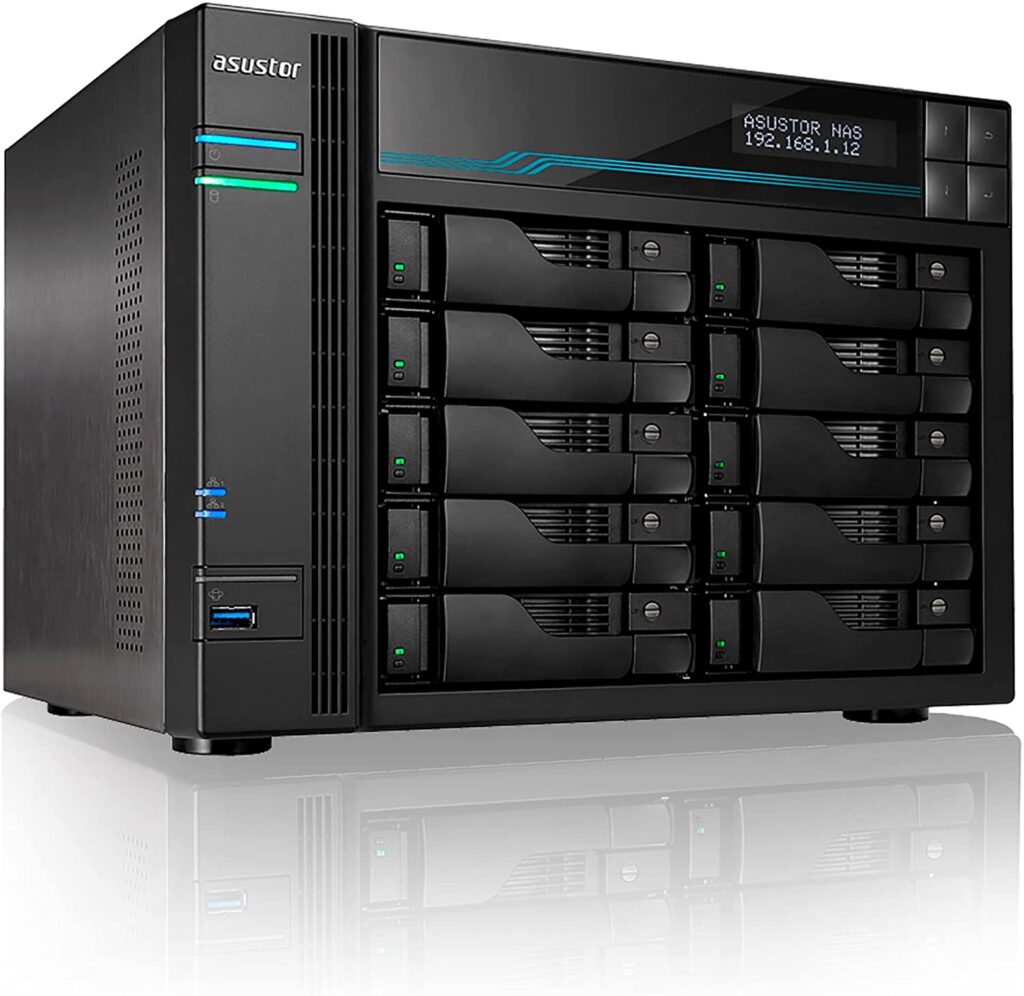 If you are searching for a high-capacity, cost-effective enterprise network attached storage then this Asustor 10-bay 10GbE NAS is worthwhile to consider. For enterprise environments, it proves to be one of the best 10GbE NAS due to its excellent security, reliability, and high capacity.
The support for online capacity expansion enables flexible purchasing of enterprise storage equipment. Whenever your storage and budget requirements are smaller, it is possible to purchase a smaller number of hard drives. You can buy additional disks as your storage requirements increase.
The ADM is recently updated. It contains an updated Linux kernel and extra performance improvements. The built-in M.2 PCIe NVMe SSD cache enhances the performance. This cache is faster compared to a system having all bays occupied with SATA SSDs. Also, it doesn't add up to the cost.
Key Features
The built-in processor is Intel Atom quad-core C3538 and it runs at 2.1 GHz speed.
The 8 GB DDR4 RAM capacity can be expanded up to 64 GB.
This NAS is compatible with 2.5-inch or 3.5-inch SATA HDD/SSD drives with a capacity of up to 180 TB.
Two M.2 NVMe PCIe Gen2 SSD ports enable fast caching.
The maximum speed s up to 20 Gbps with two 10 Gb ports or up to 5 Gbps on both the 2.5 Gb ports.
Pros And Cons

This QNAP 12-bay rackmount NAS contains two 10GbE and 2.5GbE ports. It provides high network bandwidth to facilitate file access and team collaboration. A redundant power supply is included.
A PCIe Gen 2 ×2 slot enables the installation of a QNAP expansion card to extend network connectivity, wireless connectivity, or SSD caching capabilities. This QNAP 12-bay 10GbE NAS also supports secure snapshot protection and file backup and synchronization. To provide instant recovery when required, this NAS supports Google G Suite and the Microsoft 365 enterprise account backup services. With the support for Cloud gateways, it is easy to build a new hybrid cloud storage solution.
Key Features
Alpine AL324 64-bit quad-core ARM Cortex-A57 processor operates at 1.7 GHz speed.
The 4 GB DDR4 RAM UDIMM capacity can be expanded up to 16 GB.
Available pots are twelve 3.5-inch SATA (6 Gb/s, 3 Gb/s (diskless)), two10 Gigabit Ethernet SFP+ ports, two2.5 Gigabit Ethernet ports, four USB 3.2 Gen 1 ports, and a PCIe Gen 2 x2slot. 2U rackmount is included.
Snapshots fully record the data and status of the system. It protects data and files against unintentional deletion and malware attacks.
Pros And Cons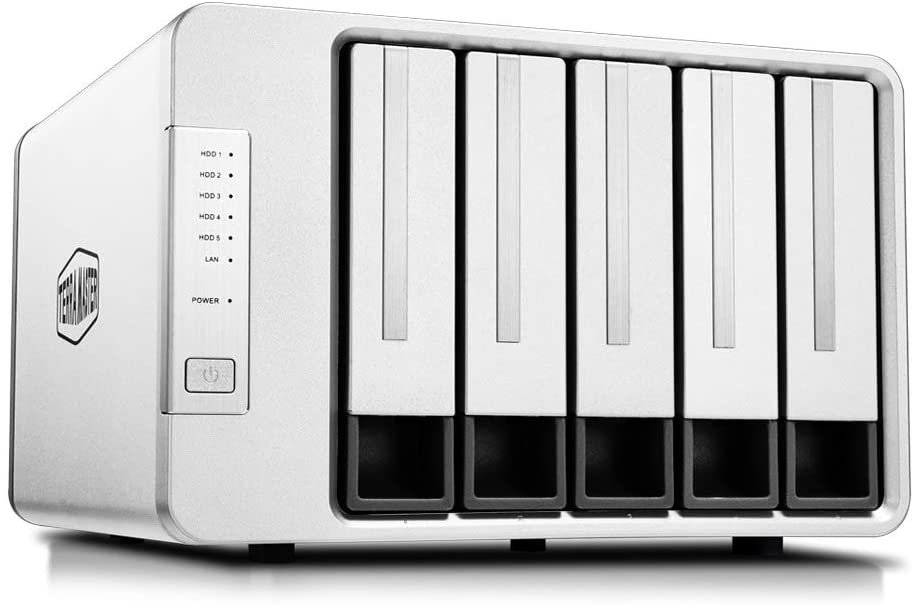 This Terramaster 5-bay 10GbE NAS is one of the best 10GbE NAS due to powerful hardware, and efficiently write and read speed. The ultra-quiet temperature control fan efficiently dissipates heat. The aluminum alloy housing is available to enhance heat dissipation efficiency. The maximum raw capacity is 80 TB (5 x 16 TB drives).
Key Features
Intel Apollo quad-core CPU operates at 1.5 GHz speed.
The 4 GB RAM capacity is expandable up to 8 GB.
The 10GbE RJ45 port delivers a blazing-fast write speed of 650MB/s and a read speed of 670MB/s. Dual 1GbE LAN ports come with faults and link aggregation support.
Advanced Btrfs file system provides 71,680 system-wide snapshots as well as 1,024 snapshots per shared folder.
Compatible operating systems are Windows, Linux, and Mac.
Pros And Cons
How To Pick The Best 10GbE NAS?
All vital factors you need to consider for choosing the best 10GbE NAS are discussed below.
1. Processor
The central component of any NAS solution is its processor. It enables the NAS to function independently. For example, it allows the decoding of video files for streaming on the network. These NAS units incorporate various processors ranging from simple ones (for mobile devices) to powerful desktop-type processors.
The processing power is not an important consideration if you only require your NAS for storage and simple backups. But if you want your NAS to execute applications then processing power is crucial. Generally, NAS solutions with quad-core processors are recommended to benefit from efficient performance.
2. Memory
Conventionally, the majority of NAS devices depend on mechanical hard drives. But to benefit from the fast performance, high RAM capacity is required. The high-capacity RAM performs a valuable role by offering fast storage to improve performance and cache data. It also allows NAS units to incorporate whole virtual machines (VMs). The more memory your NAS unit possesses, the faster it would perform. Generally, 10GbE NAS solutions support 2GB, 4GB, or 8GB RAM.
3. Software
When it comes to software for NAS solutions, two elements are important to consider. The first one is what native applications the vendor providers and the second one is what the third-party applications can execute on the NAS you select. Many of the premium 10GbE NAS contains mobile apps, desktop client apps, and a web browser GUI.
4. Remote access capability and personal clouds
Apart from connecting via a local network, it is possible to access the files stored on your NAS from anywhere through the Internet. Most of the NAS solutions prevalent in the market support the remote access capability for accessing the stored data and managing the devices. Certain NAS solutions may provide a specific app to let you access your files via the Internet from anywhere. If you frequently access your files saved on NAS from diverse locations, you need a NAS solution with remote access ability and personal clouds.
Frequently Asked Questions When Picking The Best 10GbE NAS
1. Do 10GbE NAS solutions offer hardware and software solutions both?
Yes, 10GbE NAS solutions combine software and hardware solution. It means that when you buy hardware, it also incorporates mobile apps, a web browser GUI, and desktop client apps.
2. What is the storage capacity found on modern 10GbE NAS?
The majority of modern NAS solutions which are regularly updated come with up to 20 TB storage capacity.
3. How does 10GbE NAS help you to remotely access files?
Plenty of 10GbE NAS drives allows you to send web links to people that allow them to remotely access certain folders or files present on your NAS. Thus, your NAS can work like your Google Drive or private Dropbox.
Final Thoughts
One of the easiest solutions to curtail bandwidth limiting issues is to use the best 10GbE NAS. These NAS solutions provide performance enhancements and drive failure protection. Due to next-gen networking, file access and sharing turn smooth. Many of these solutions serve as cost-effective storage solutions for businesses that are looking for backup and storage.
Enjoyed this article on the best 10GbE NAS? Then be sure to check out our other guides.