For professionals and gamers, the high-storage units have now become an absolute necessity. This is owing to various reasons like advances in recorded visual quality, 4K and 8K resolutions becoming the novel standards, graphical advances of the new generation gaming, etc. One of the finest alternatives to meet the needs of high-storage units is to connect your PC with a 4TB external SSD. Unlike HDDs, SSDs provide faster data transfer speeds.
To store a huge amount of files, photos, videos, music, etc., it is vital to consider the capacity of the SSD. The 4TB external SSDs are great options to consider if you want to benefit from fast data transfer speeds and ample storage. Besides, many of these SSDs are employed with data encryption features for data security. To avert confusion, from the below selection, you can choose the best 4TB external SSD meeting your needs.
List of The Best 4TB External SSD
Check out the thorough reviews of the best 4TB external SSD in 2023 below.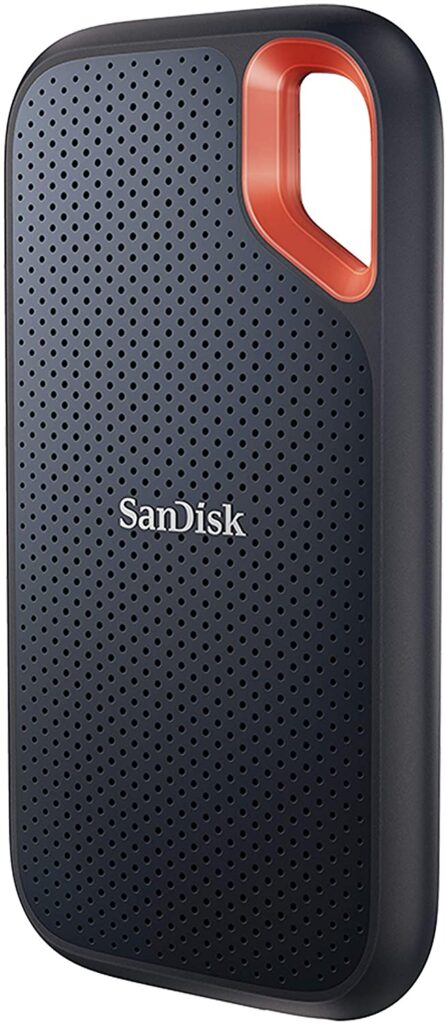 It is rare to find a power-efficient SSD that can also work as a rugged, reliable storage solution. This SanDisk portable SSD meets these needs and therefore, it is the best 4TB external SSD on this list. Belonging from the prestigious brand which is trusted by professional photographers globally, this drive offers powerful SSD performance in rugged construction.
The unique thing about this 4TB portable SSD is it resists most external damaging elements. It comes with up to 2 meters of drop protection. Moreover, the dust-resistant and IP55 water-resistant designs make sure the drive stays protected in most environmental conditions.
When you equip this portable SSD in your PC or MacBook, it offers significantly faster transfer speed. This high-capacity, the portable drive is perfect for storing vital content or capturing incredible footage.
Key Features
It offers NVMe solid-state performance that presents read speed up to 1050MB/s and write speed up to 1000MB/s.
To ensure data security, 256‐bit AES hardware encryption is implemented.
Compatible operating systems are Windows 8, Windows 10, and macOS v10.9+.
The Carabiner loop is useful secures this drive to a backpack or belt loop.
The resolution supported is 4K UHD Ready.
Pros And Cons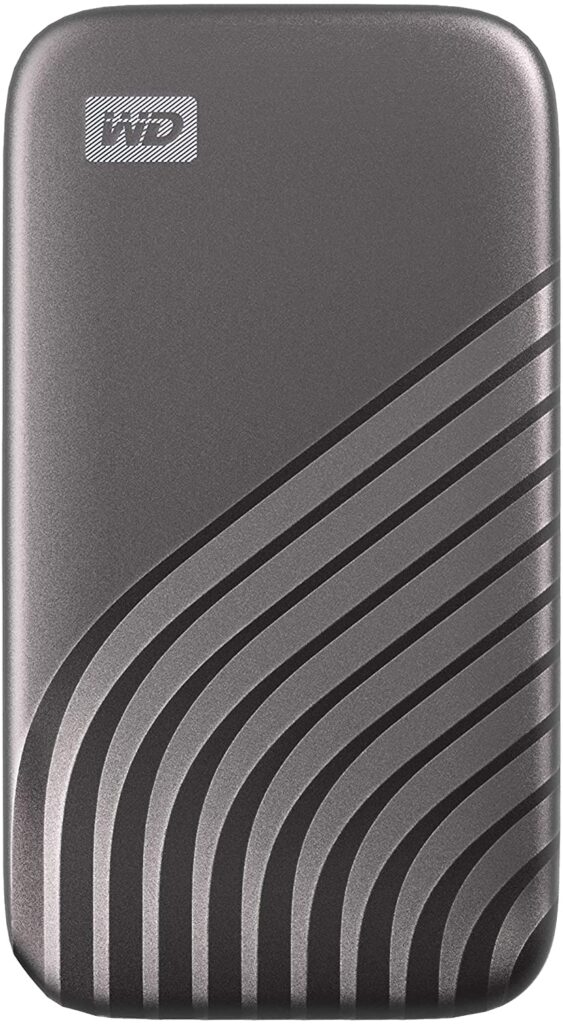 When you want to transfer a huge amount of data in very little time, it is wise to consider this WD 4TB external SSD. It is enclosed in a sleek metal body to save space and offer portability. Built with WD reliability, the lifespan is great.
It is implemented with the USB 3.2 Gen-2 technology and USB-C (USB-A for older systems). A USB-A adaptor and a USB-C cable are included to work with the legacy systems. Furthermore, this 4TB external SSD can transfer 5 GB of data within 3 seconds. Also, it can transfer 13 GB files in 13 seconds.
Key Features
The blazing-fast NVMe technology facilitates read speeds up to 1050MB/s and write speeds up to 1000 MB/s.
For data security, password-protected 256-bit AES hardware encryption is implemented.
To work well in different environmental conditions, its design is shock-resistant, vibration-resistant, and drop resistant (up to 6.5 feet).
The SSD weighs 46 grams.
Pros And Cons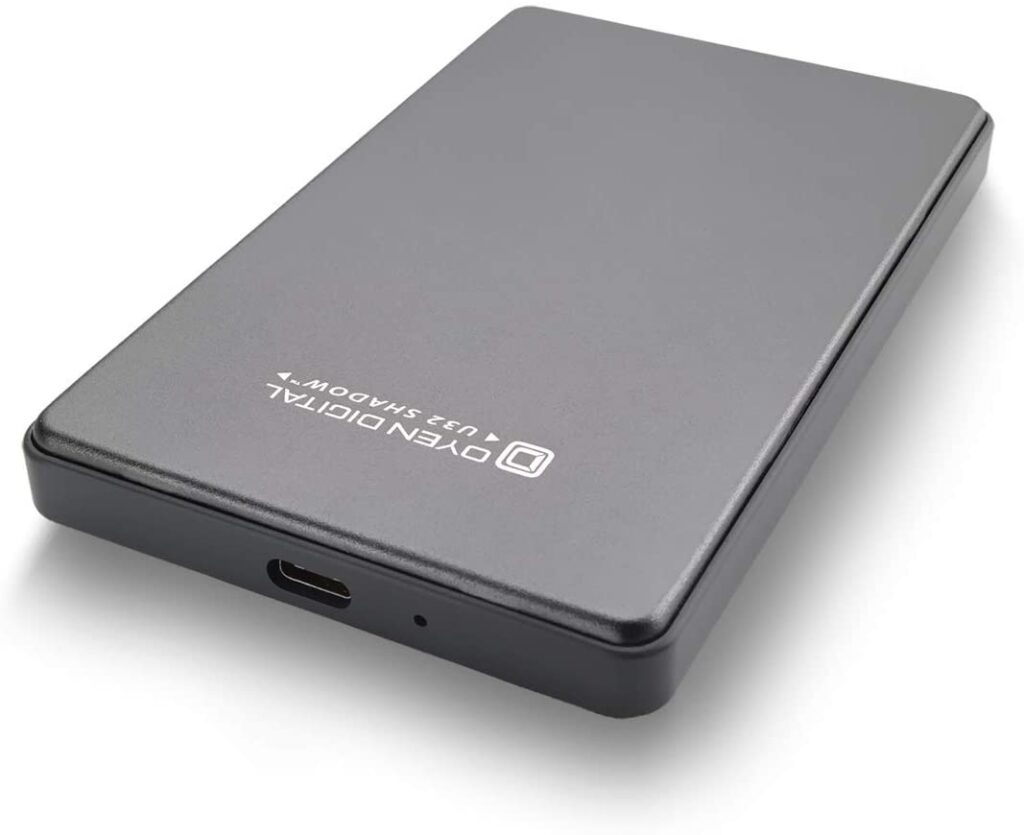 In terms of broad compatibility, this drive can be the best 4TB external SSD to consider on this list. This is because it is compatible with all Thunderbolt 3 ports and USB ports through the included cable. A water-resistant padded pouch is included for on-the-go protection. Moreover, the aluminum housing offers excellent protection and aids in heat dissipation. A padded carrying pouch, a USB-C cable, and a USB 3.0 cable are included.
Key Features
Connectivity technologies implemented are Thunderbolt and USB.
USB-C Gen2 offers up to 10 Gbps speed.
ASMedia USB Gen2 controller supports UASP and TRIM commands.
It offers plug-and-play setup convenience with Mac, Windows, and Sony PS4/PS5.
The drive weighs 5 ounces and the dimensions are 4.9 x 2.9 x 0.48 inches.
Pros And Cons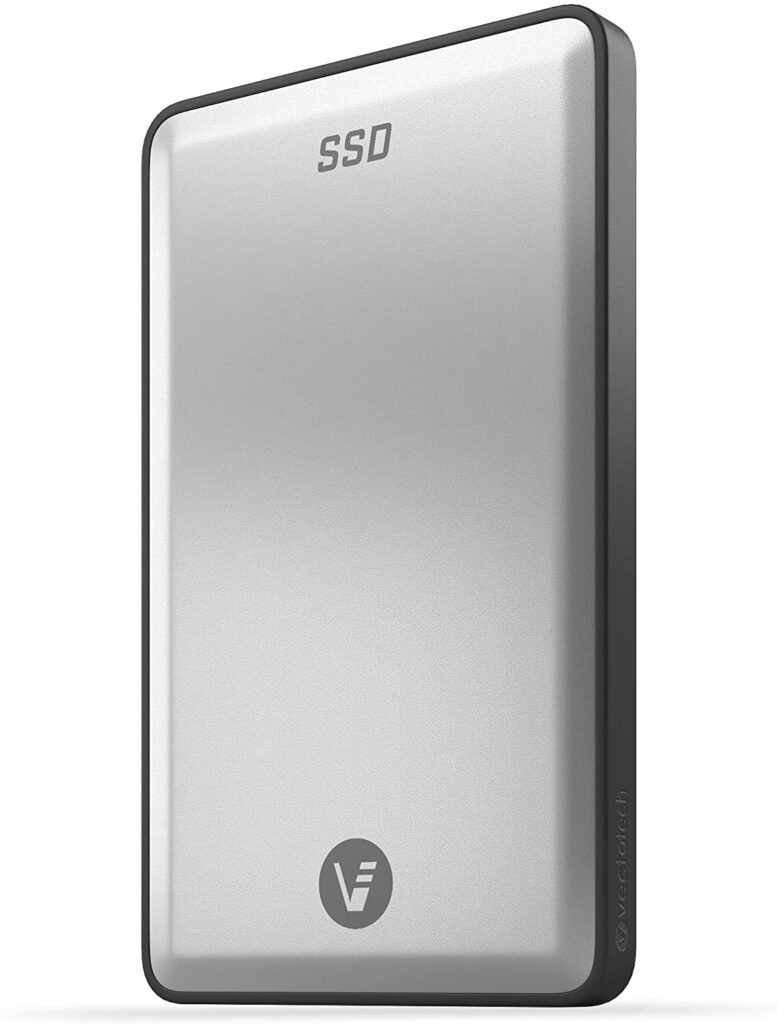 Compared to traditional HDDs, this VectoTech 4TB external SSD offers 3-4 times faster data transfer speeds. Now you can effortlessly transfer massive files with read/write speeds up to 540 MB/s. You can now save your time otherwise spent on moving and/or transferring photos, music, videos, documents, etc.
Through the SuperSpeed of USB 3.1 Gen 2 and UASP support, this 4TB external SSD is extremely suitable for videographers, photographers, DJs, gamers, etc. The use of durable Aluminum 1050 grade material makes this SSD resistant to minor scratches. Also, this material aids in heat dissipation.
A USB Type C to C and a USB Type C to A cables are included. These cables equip the SSD with universal compatibility for older and newer PCs. You can connect this VectoTech SSD to a computer having Windows (version 7 and higher) or Mac (macOS 10.x and higher) OS. Names of devices you can connect with are Android smartphones, PS4, Xbox, iPad Pro, etc. 3 years of manufacturer warranty is included.
Key Features
It is implemented with 3D NAND technology.
The reversible USB-C port comes with a USB 3.1 Gen 2 interface. This interface makes it compatible with USB 3.0/2.0 devices.
The range of operating temperatures it can withstand is -25ºC to 85 ºC.
This SSD is vibration and shock-resistant up to 1500g at 0.5m/sec.
The drop-resistant feature works for up to 6 feet.
Pros And Cons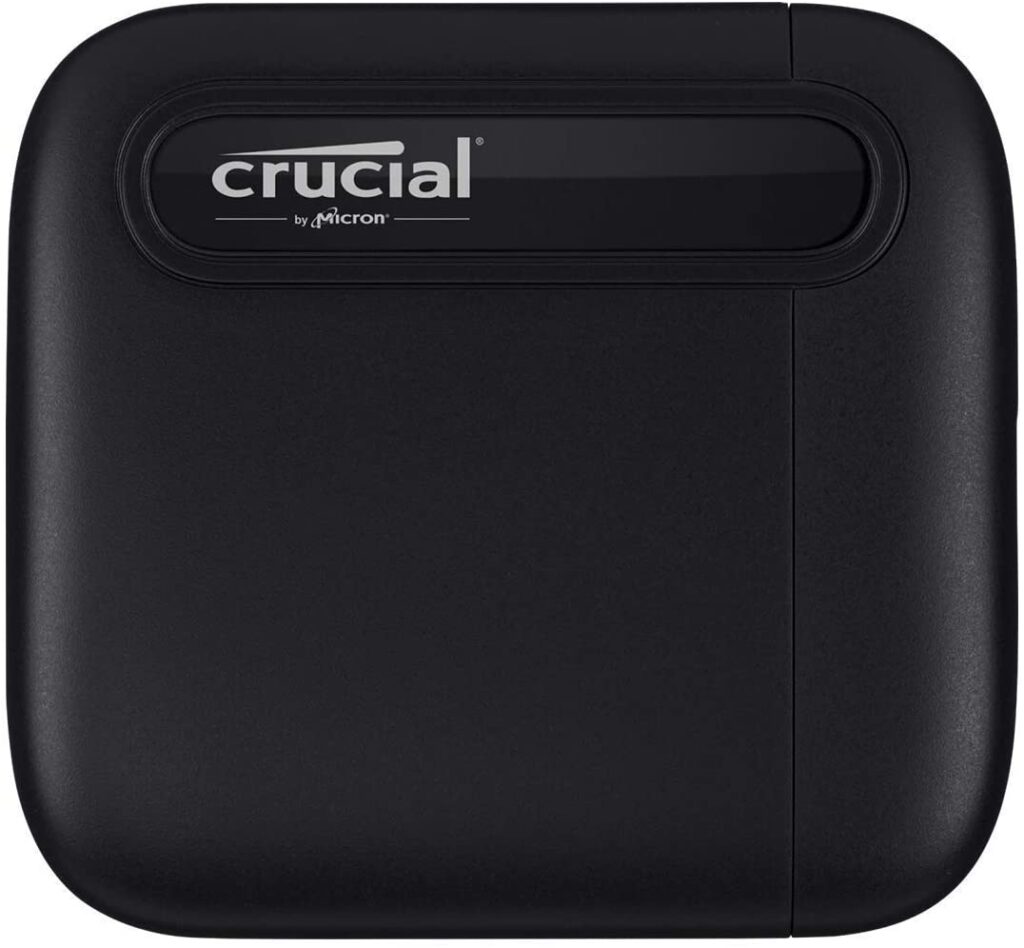 With the Crucial X6 SSD, now you can carry enormous data at the tips of your fingers. It is a perfect choice whether you are arranging family photos, downloading videos for travel, moving for a great adventure, etc. Simply plug it into your computer or smartphone or tablet anywhere, anytime. No need for a WiFi connection. You can use it for personal, business, and gaming purposes.
Despite packing a huge storage capacity, this drive is quite lightweight and compact in design. So, in terms of portability, it is one of the best 4TB external SSD. By using this drive, you can get rid of lengthy load times and fragile hard drives.
Key Features
Maximum read speed is up to 800 MB/s, it is 5.6 times faster than the majority of hard drives.
The 4TB capacity is adequate for storing up to 100 hours of video, 20,000 photos, 6,000 songs, or 400 GB of documents.
Due to broad compatibility, it can work with Android devices, PC, Mac, Xbox One, PS4, iPad Pro8, etc.
The form factor is 2.5 inches.
Pros And Cons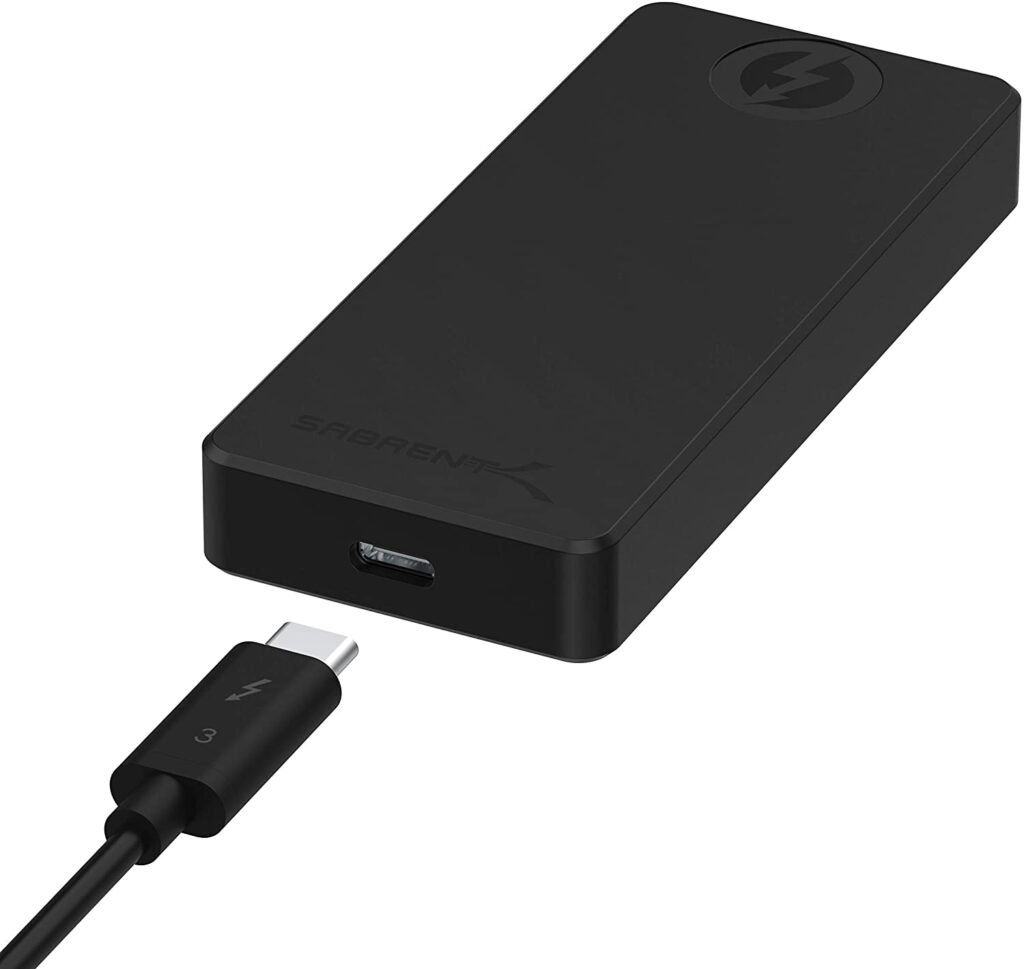 What makes this SABRENT 4TB external SSD stand out is it is backward compatible with earlier USB formats. It can automatically detect Thunderbolt 3 or USB connections for high efficiency on all your devices. You will appreciate reliability, performance, and longevity when using this SSD. The 4TB capacity can accommodate huge files without compromising on speed.
The sturdy aluminum construction offers durability and aids in maximum heat dissipation. The classic black color blends well with your other computer accessories. The pack includes a Thunderbolt 3 cable and a quick user guide.
Key Features
Connectivity technologies implemented are Thunderbolt and USB.
Thunderbolt 3 mode offers a maximum transfer speed of up to 2700 MB/s.
USB mode offers transfer speed up to 900 MB/s.
Maximum read speed and write speed are both 2700 Mbps.
Pros And Cons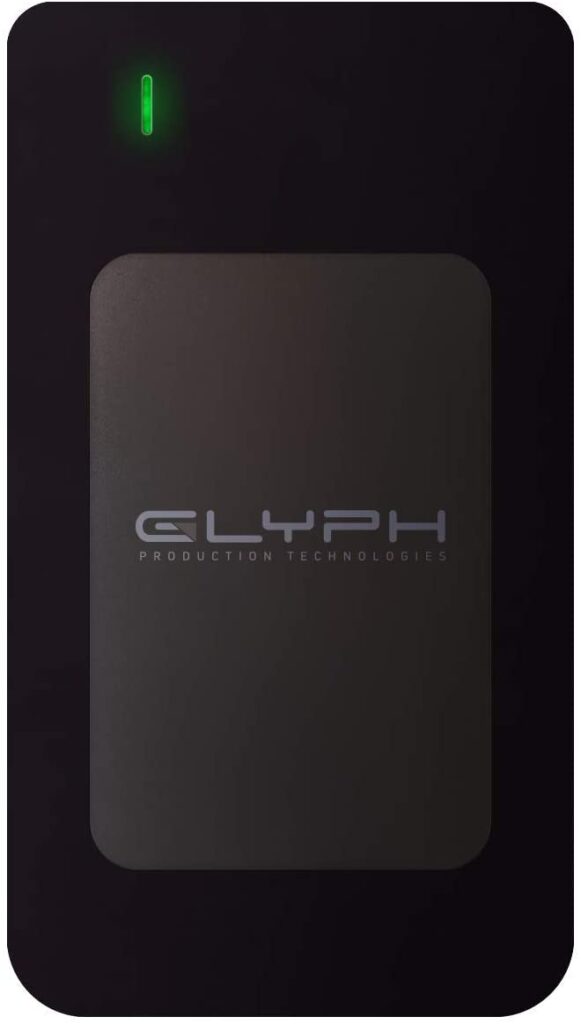 The Atom RAID 4TB external SSD is recognized as the fastest SSD from Glyph. With speeds up to 950 MB/s, you enjoy fast data transfer benefits. Being compatible with USB-C 3.1/Gen2 and Thunderbolt 3, this drive is the most versatile and fastest one on the market. The excellent versatility and compatibility make it the best 4TB external SSD from this manufacturer.
Enclosed in a rugged, bus-powered aluminum made enclosure, this 4TB external SSD can easily fit in your pocket. Due to rugged construction and shock-resistant design, it can resist external damaging elements. A USB-C to USB-C cable and a USB-C to USB 3.0 cables are included.
Key Features
Connectivity technologies implemented are Thunderbolt and USB.
USB-C (3.1, Gen 2) lets this SSD work with Thunderbolt 3 and USB 3.0 devices.
The list of compatible operating systems includes Windows Vista or higher versions, and MAC OS X 10.4 or higher versions.
The drive comes formatted for Mac; it is easy to reformat for Windows.
Dimensions are 2.7 x 4.75 x 0.5 inches.
Pros And Cons
How To Pick The Best 4TB External SSD?
Without being aware of the key considerations, you can't get the best 4TB external SSD. So, continue reading the following section.
1. Technology used
One of the greatest aspects to consider when buying an SSD is the technology used. The prominent connectivity technologies found in the external SSDs are SATA, PCI-E, and NVMe.
SATA: This relates to both the transfer protocol and connection type. This connectivity technology is widely used to connect the majority of the 2.5-inch and 3.5-inch SSDs and HDDs as well to your PC. Usually, SATA III speeds can reach approx. 600 Mbps.
PCI-E: Essentially, this interface taps into 4 of your PC's PCIe lanes to surpass SATA speeds. It provides approx. 4 Gbps speed across PCIe Gen. 3. These high speeds pair effectively with the supercharged NVMe drives. Moreover, the M.2 slot and PCIe lanes in your motherboard can be connected to support the PCIe interface.
NVMe: Its full-form is Non-Volatile Memory Express technology. It makes the most of PCIe's abundant bandwidth to provide blisteringly fast SSDs which surpass the speed offered by SATA-based drives.
2. Transfer speed
If your chosen SSD fails to improve the performance of your system, it is futile. Always check at what transfer speed the 4TB external SSD support and make the purchase. If you often transfer files in and out of your SSD then you must prioritize this factor. Some of the discussed 4TB external SSDs support up to 900 MB/s transfer speed. Try to choose the one that boasts fast read and write speeds.
3. Connectivity
It determines how speedily the drive functions. You can check it by the interface used by that SSD. The majority of the SSDs are equipped with a USB interface, the most common is the USB 3.1 Gen 2 that provides transfer speeds up to 10 Gbps.
4. Form factor
For ease of installation and compatibility with various PC systems, it is vital to look at the form factor of the SSD. The most common type of form factor for 4TB external SSDs is the 2.5-inch Serial ATA (SATA). Such SSDs resemble the shape of conventional laptop hard drives. Moreover, they connect on the same SATA cables and interface which any average experienced upgrader must be acquainted.
If your desktop or laptop contains a 2.5-inch hard drive bay and an extra SATA connector, such SSDs must be drop-in-compatible.
5. Cost per GB
This is another crucial factor to consider when purchasing a storage device. Especially, when buying a high-capacity SSD, you should not neglect this factor. Though prices vary every day, it is primarily the type and performance of the Flash memory used which decides the price. Generally, newer SSDs based on QLC (quad-level cell) memory is cheaper but they offer slightly slower speed. Moreover, they provide less endurance compared to high-end SSDs which are based on TLC (triple-level cell) chips.
FAQs When Picking The Best 4TB External SSD
1. What is the importance of using an external SSD?
To speed up your processor, it is a good idea to connect the PC with an external SSD. Though your processor can handle billions of cycles per second, it frequently spends much time waiting for your hard drive to feed data. Specifically, hard drives are sluggish since they contain platters that need to spin up and a read arm that needs to manually find its way to the data sectors. For optimal performance, it is a wise choice to use an external SSD.
2. Are all external SSDs durable?
No, if you want to get the best 4TB external SSD that lasts longer then you need to look at its build quality. Many of the latest 4TB external SSDs are equipped with rugged casings to prevent external damaging factors. Also, this casing protects the SSD against the drop. It is better to buy the one with a sturdy casing. Since SSDs are devoid of moving parts, they are more durable than typical hard drives.
3. How is the endurance measured for an SSD?
All flash memories come with a limited lifespan. It means that after any particular storage cell is written a certain number of times, it would stop storing data. Usually, the manufacturers of 4TB SSDs mention endurance in drive writes per day (DWPD) and total terabytes written (TBW).
4. What confusion do many people have regarding M.2?
When it comes to M.2, many people get consumed because they assume M.2 drives utilize NVMe technology as well as PCIe speeds. However, this is false. M.2 is simply a form factor. Certainly, the majority of the M.2 SSDs utilize NVMe, however, some still use SATA. Many cutting-edge Ultrabooks depend on M.2 for storage.
Final Thoughts
Benefit from ample storage space, powerful connectivity, fast data transfer speed, portability, data security, and more with the best 4TB external SSD. Simply connect it to your PC and enjoy the enhanced storage space benefits. Many of them operate quietly and stay cool throughout the operation.
Enjoyed this 4TB external SSD review? Then be sure to check out our other guides.