What Is A 10GB Network Card?
The 10gb network card or 10gb NIC (Network Interface Card) is a device that makes it possible for your computer to connect to the network, mostly to a LAN. In most PCs, the network card is embedded in the motherboard but it can also be replaced or used as an external component. The most common classification of the network cards is on the basis of speed, the 10 gigabit network card means it can support speed up to 10Gbps. However, that does not mean you will get 10Gbps speed, the actual speed depends on the ISP. This means if you get a 40Gb network card but your ISP offers just 1Gbps, then 1Gbps is the maximum that you can expect.
Network cards are widely used, and there are many different types on the market, such as PCIe network cards and server network cards. PCIe network cards are common in most computers and some network servers. In addition, server network cards can also be inserted into the expansion slots of the device.
Most network cards operate at least up to 1Gbps speed. However, to stay on the safer side, having a 10gb network card is ideal, for it leaves the possibility of making use of the higher speed offered by your ISP. So which is the best 10gb NIC and what should you look at while searching for the best network card? To eliminate your confusion on how to pick up the best 10gb network card in 2023, we have highlighted the best ones along with a section on how to choose them.
List of The Best 10GB Network Card
Check out the thorough reviews of the best 10GB network card in 2023 below.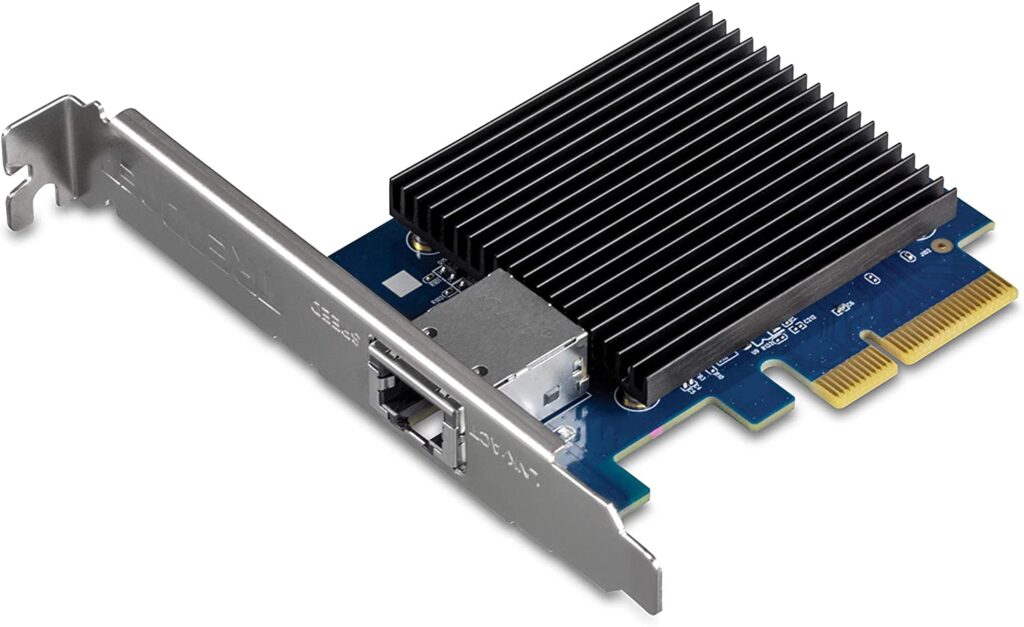 The TRENDnet 10Gb network card comes with an RJ-45 Ethernet port and 4 PCIe 3.0 interfaces. It can convert any PCIe 3.0 or 2.0 slot to a 10G Ethernet port. It also has support for 5G as well as 2.5G speeds using Cat5e cables with a maximum distance of 100m. It is compatible across most Windows versions, including Windows Server 2016 and 2012, as well as Windows 10 and 8.
This 10GB NIC is compatible with most installations, and you get low-profile brackets in the package. The performance is enhanced due to its jumbo frame that supports sending frames up to 16KB. The LED indicators are helpful to convey the link speed, port status, as well as activity. You get a 3-year warranty from the manufacturer.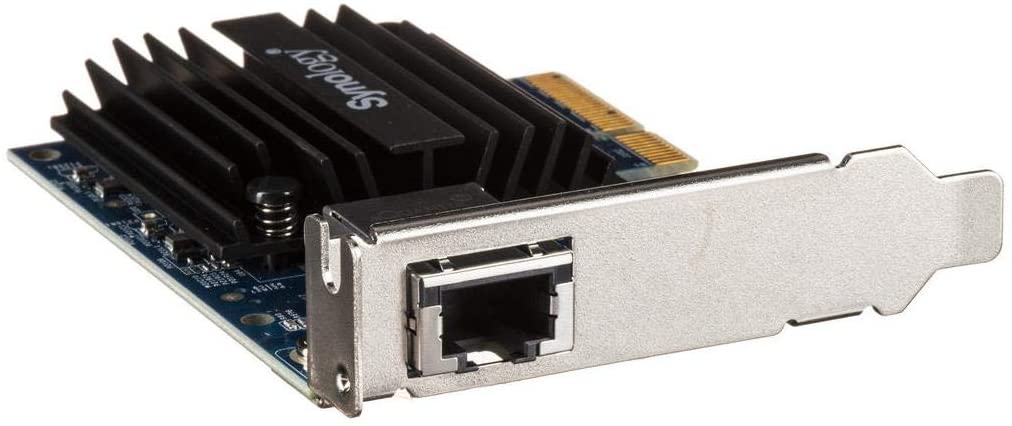 The 10Gb network card from Synology comes with an RJ-45 connector with support for IEEE 802.3x as well as 802.3an/BZ. This allows a smooth migration to networking environment of 10GbE using existing infrastructure It also has backward compatibility along with auto-negotiation for lower data rates from 10Gb to 100Mbp.
While this may be certified only for use with Synology devices, it works with other devices too, including computers running Linux OS. This is one of the best 10gb NIC card for Linux-based OS users. OS like Ubuntu has support for this card out of the box. It also comes with a 5-year warranty.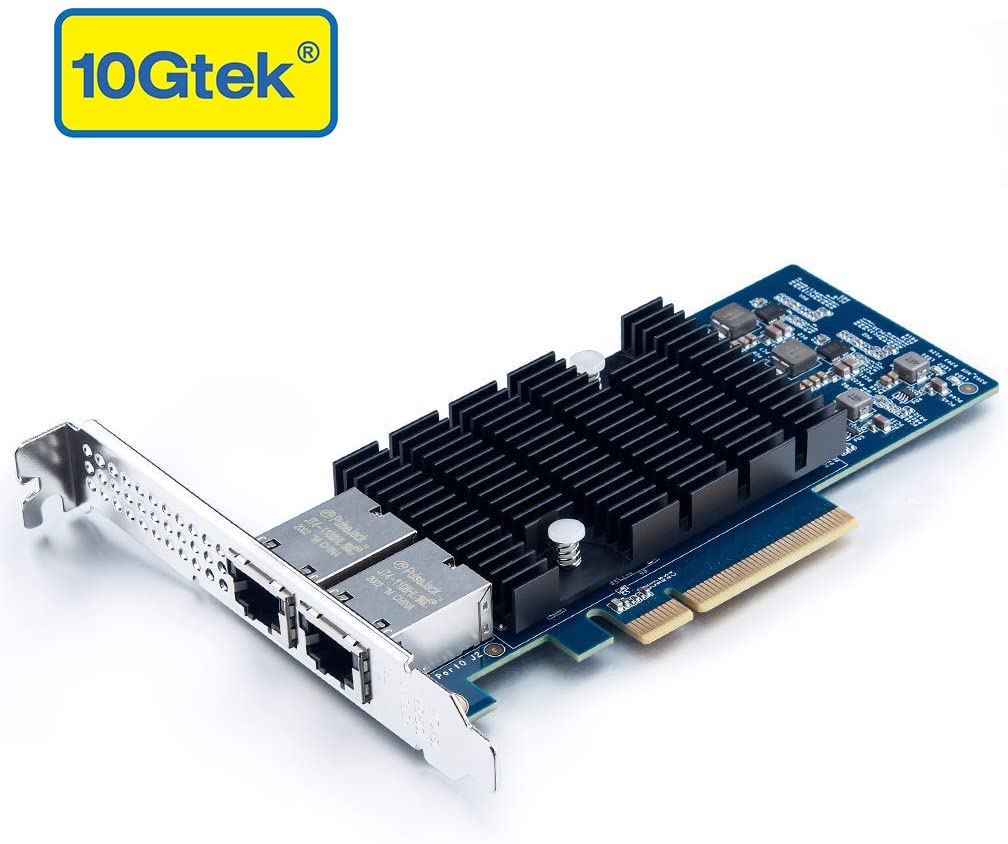 10Gtek offers this 10Gb network card that has their proprietary controller chip for enabling 'Intelligent Offloads' for greater server stability. It is compatible with most major operating systems, including Windows as well as Linux-based OS. It uses RJ45 ports with dual-copper that can connect to Category 6 and Category 6A, making it a suitable choice for data center environments.
The package includes the latest driver CDs along with the network card. The PCI Express 2.1 in this 10g network card is compatible with both PCI-E X16 and X8 slots. You get just 1-year of warranty along with lifelong tech-support from the manufacturer.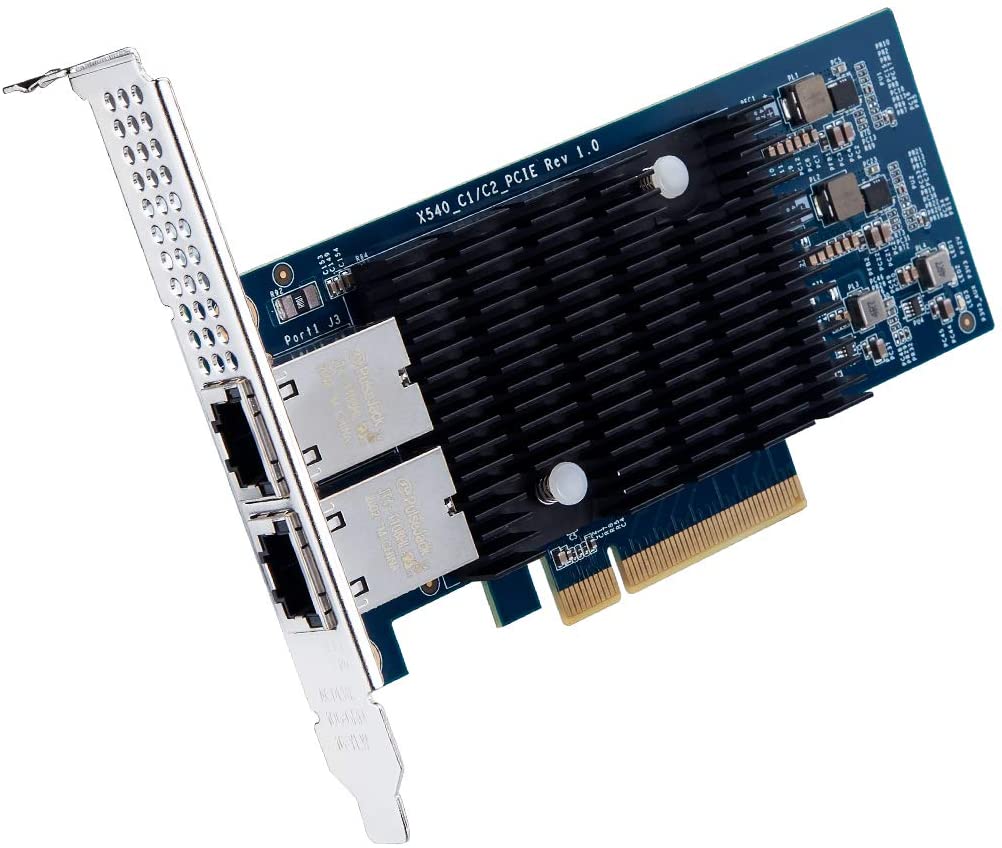 This 10GB network card from Ipolex uses an Intel chip as the main controller to minimize packet loss and provide uninterrupted server operation. It has 2 SFP ports that can be connected to 10Gb/s SFP+ modules or to Direct Attach cables. This 10gb NIC supports usage with most major operating systems including Windows, Linux, VMWare, etc. PCI Express X16 and X8 are both supported
The river CD is bundled in the package and also available on Intel's website. The network card is backed by a 1-year warranty along with lifetime technical support from the manufacturer.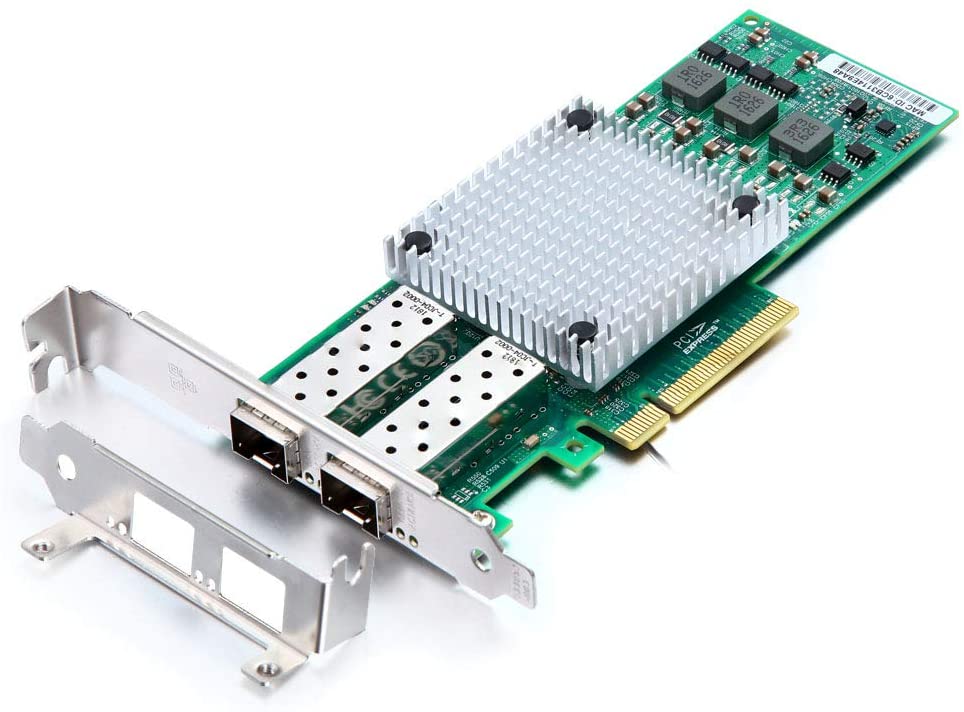 With dual SFP+ ports and PCIe v2.0, this 10Gb network card from H!Fiber works with almost all Windows Server and Red Hat Linux Operating Systems. It uses a high-quality chip that allows for high reliability and performance. It is compatible with both PCI X16 and X8 lane. The 2 SFP+ ports allow for better scalability and flexibility, making it the right choice for modern data centers.
The driver CD is bundled in the package to allow for a hassle-free setup. There is no official warranty/guarantee provided by the manufacturer, but you do get a 30-day return window with this 10gb NIC product.
How To Pick The Best 10GB Network Card?
While the above 5 are the best 10Gb network cards that you can get from Amazon, your search is still not over. Picking out the best 10gb network cards is about ensuring that all-important factors are considered. These factors and considerations are what we will discuss next.
1. Card Interface
The interface that the NIC connects to is an important factor. PCI is the preferred choice in desktop computers, while most laptops use PCMIA. With PCMIA cards, you also need to consider if you will need any additional cables and if the right type of slots is present.
2. Connection Type
Most networks today use RJ-45, so this should be the preferred choice while buying the best network card. However, if your network uses some other interface like coax, then you need to ensure that the network card you get supports it.
3. Operating System Compatibility
While most network cards support all major operating systems, this is still an important consideration for a hassle-free installation and peak performance. Ensure that the NIC is compatible with your preferred OS, be it Windows 10, Server, or any Linux-based OS.
4. Warranty and Technical Support
Choose a network card that has at least 1-3 years of warranty including coverage in case of any defects. Also, does the manufacturer offer technical support, and is it 24/7? Both these things are important to get the most out of your investment and ensure stable and reliable connectivity.
The Function of The 10GB Network Card
The definition of the 10gb network card is very simple, but what are the specific functions? As the interface of the TCP/IP layer, the network card can transmit signals at the physical layer and data packets at the network layer. No matter where it is located, it acts as an intermediary between the computer or server and the data network. When a user sends a web page request, the 10 gigabit network card obtains data from the user's device, sends it to the web server, and then receives the required data and displays it to the user.
The Structure of The 10GB Network Card
The 10gb network card is generally composed of a controller, a boot ROM slot, one or more network card ports, a motherboard interface, an LED indicator, a bracket and some other electronic components. Each component has its own unique function:
Controller: The controller is like a micro CPU to process the received data. As the core part of the network adapter, the controller directly determines the performance of the network adapter.
Boot ROM slot: This slot on the network card can enable the boot ROM function. The boot ROM can connect diskless workstations to the network, which improves security while reducing hardware costs.
Network card port: Normally, this port is directly connected to an Ethernet cable or optical module to generate and receive electrical signals on the network cable or optical fiber jumper.
Bus interface: This interface is located on one side of the circuit board and connects the network card and the computer or server by inserting the expansion slot.
LED indicator light: The indicator light is used to help users identify the working status of the network card, confirm whether the network is connected, and whether the data is transmitting.
Bracket: There are two types of brackets on the market, one is a full-height bracket, and the other is a half-height bracket. This bracket can help users fix the network card in the expansion slot of the computer or server.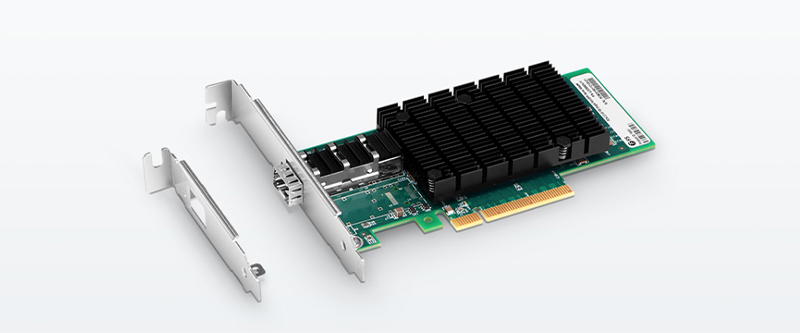 Types of The Network Card
According to the host interface, transmission speed, application area, the network card can be divided into the following different types.
Classification Based On Network Connection
Based on the way the network card accesses the network, the network card can be divided into the wired network card and the wireless network card. As the name implies, a wired network card usually needs a jumper (such as an Ethernet jumper and an optical fiber jumper) to connect a node to the network; a wireless network card usually has a small antenna that uses radio waves to communicate with the access point to connect to the wireless network.
Classification Based On Bus Interface Type
ISA bus network card: ISA bus was released in 1981 and is a bus structure compatible with IBM standards. Due to the slower speed of the 9Mbps network card, the ISA bus interface is gradually eliminated, which is rarely seen in the market now.
PCI bus network card: PCI was released in the 1990s and replaced the previous ISA standard. Its fixed width is 32 bits (data transfer rate is 133MB/s) and 64 bits (data transfer rate is 266MB/s). Most computers today do not have expansion cards, but instead use embedded network cards. Therefore, the PCI bus network card has been replaced by other bus interfaces, such as PCI-X or USB interfaces.
PCI-X network card: PCI-X is an enhanced PCI bus technology. It supports 64-bit operation, up to 1064MB/s. In most cases, PCI-X slots are backward compatible with PCI network cards.
PCIe network card: PCIe is the latest standard, very popular on computer and server motherboards. There are now five versions of PCIe network cards, each supporting different speeds.
USB network card: USB bus is an external bus standard. It has three versions with different transmission rates and can work with various devices.
Classification Based On Port Type
According to different connection wires, there are four types of network card ports on the market. RJ-45 port is used to connect twisted pair cables (such as Cat5 and Cat6), AUI port is used for thick coaxial cable, BNC port is used for thin coaxial cable, and optical port is used for modules (Such as 10G optical module).
Classification Based On Transmission Speed
Based on different speeds, there are 10Mbps, 100Mbps, 1000Mbps, 10G, 25G and even higher speed network cards. 10Mbps, 100Mbps network cards are suitable for small local area networks, homes or offices. The 1000Mbps network card can provide higher bandwidth for Fast Ethernet. 10Gb network cards and higher speed network cards are welcomed by large enterprises and data centers.
Classification Based On Application Fields
Computer network card: Most new computer motherboards now have a built-in network card, so there is no need for a separate LAN card. It usually has speeds of 100Mbps and 10Gbps, and allows one computer to communicate with other PCs or networks.
Server network card: The usage of the server network card is to manage and process network traffic. Compared with ordinary computer network cards, server network cards require higher data transmission speeds. In addition, the CPU occupancy rate of the server network card is very low, because it has a special network controller that can reduce the burden on the CPU. In order to meet the different needs of users for the speed of server network cards, many companies on the market have introduced 10GB PCIe network cards and 40G network cards.
FAQs When Picking The Best 10GB Network Cards
1. Does a network card support lower speeds?
Yes, most NICs or network cards are backward compatible. If you get a 10Gb network card, it will support speeds from 10Gb to 100 Mb in most cases.
2. What is PCIe and how is it relevant to network cards?
PCIe or PCI express is an updated version of the interface that is used for motherboard-level connections including network cards. PCIe cards are available in 5 sizes, from 1 to 32, with each referring to the number of lanes in the slot. For network cards, PCIe x8 and x16 are the common variants. You can place a PCIe x8 card in an x16 slot, but not vice versa.
3. How many network cards do I need?
For single laptop/desktop computers, 1 network card is sufficient. However, in data centers and server computers, multiple network cards are required to allow them to handle greater traffic. Some network cards made for data center use have multiple network interfaces bundled in a single card.
4. What speed network card do I need?
The speed of the network ultimately depends on the ISP. Simply using a 10Gbps network card does not get a higher speed unless the ISP supports it. While most modern computers have at least 1Gb network cards, a 10Gbps network card is a future-proof choice ensuring that you are prepared for major upgrades in the future including 5G networks.
Final thoughts
A network card is among the most important equipment in any personal computing or data center setup. This is why you must not hurry and take your time in finding the best 10g network card for your requirements. Our review of the best network cards should help you shortlist the top ones that the market has to offer. With our ultimate buying guide and a few tips, you should be well on your way to finding the best 10gb network card.
Enjoyed this article on the best 10GB network card? Then be sure to check out our other guides.