Are you facing trouble with the storage on your computer? You're not the only one. Many people can find their PCs overflowing with work documents and audio files, with no extra space they can resort to. The massive amount of files can take its toll on your computer, and make it slow and sluggish. What you need is a place where you can safely store all those files so that you can stay on top of things. You can organize your material and help your computer run smoothly. You could use the online cloud storage services, but they usually have a limit. What you need is one of the best 8TB external hard drive that you can get on the market. With a whopping eight Terabytes of space, you can store all the files you want without worrying about the space running out.
List of The Best 8TB External Hard Drive
Check out the thorough reviews of the best 8TB external hard drive in 2023 below.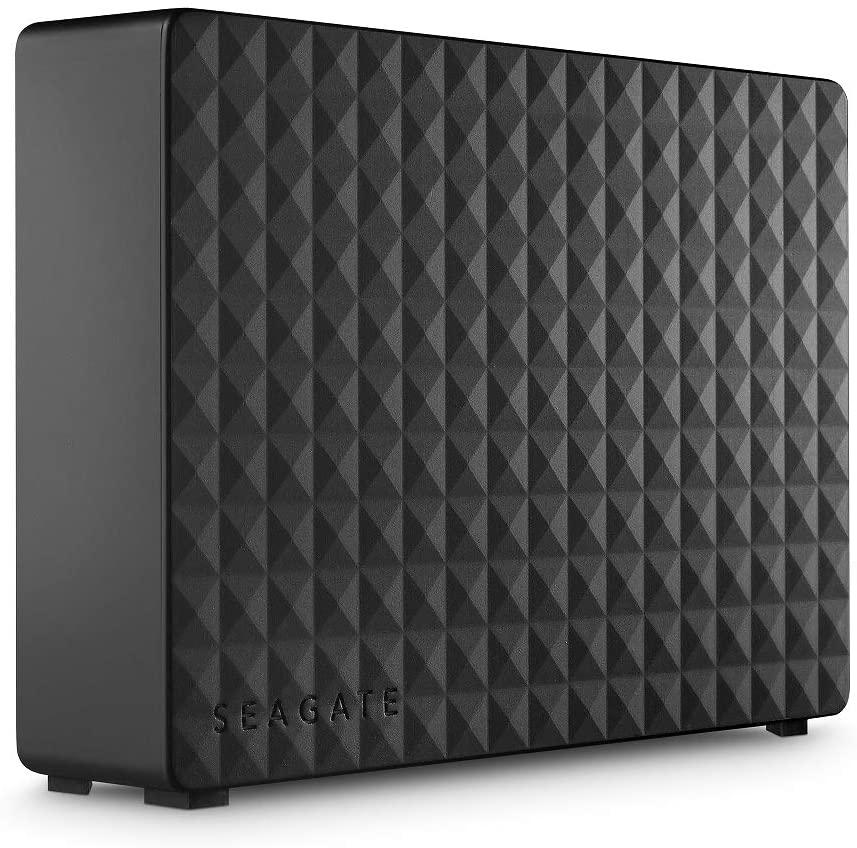 The Seagate expansion hard disk drive is a great option you can go for if you are looking for some of the best 8TB external hard drives on the market. This slim device features a 3.5-inch form factor with a USB 3.0 hardware interface. The Seagate Expansion Drive comes with a simple and straightforward setup that enables you to store and take out files with ease. The plug-and-play mechanism eliminates the need for any additional software.
If you need to relieve your computer of some work files and important documents, you can easily make use of the Seagate expansion drive for a drag-and-drop transfer. You can carry this drive around with you at the office or when you are traveling etcetera.
Key Features
Features backward compatibility with USB 2.0 support
Comes with an included power adapter
Comes pre-packed with a USB 3.0 cable
3.5-inch compact size
Pros And Cons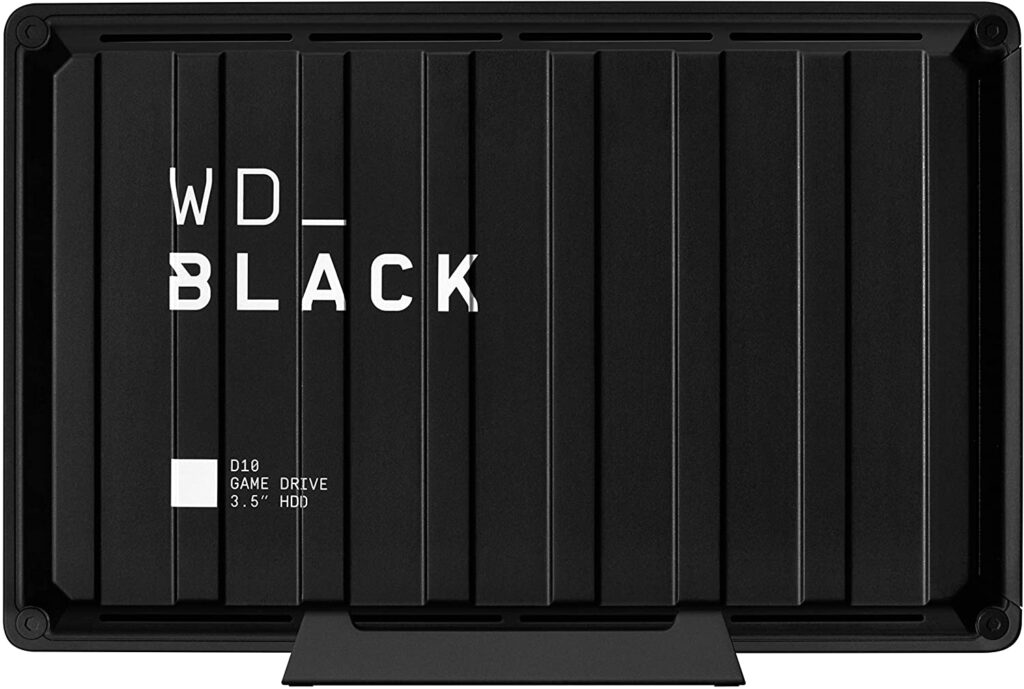 For those of you looking for a hard drive with a twist, the WD Black 8TB D10 drive is a great option. Not only does it store a ton of material, but it also comes with the option of charging your phone accessories by using two USB Type-A charging slots. This drive can be used for Mac and Windows PCs with a nice 250 MB/s speed.
If you are an office worker or a student looking to give some succour to your computer's hard drive, try using the WD Black D10 drive for extra storage space.
Key Features
Comes in 8TB and 12TB versions
Works with macOS 10.11+ and Windows 8.1. 10
250 MB/s speed
Power bank capabilities with two USB Type-A charging ports
Pros And Cons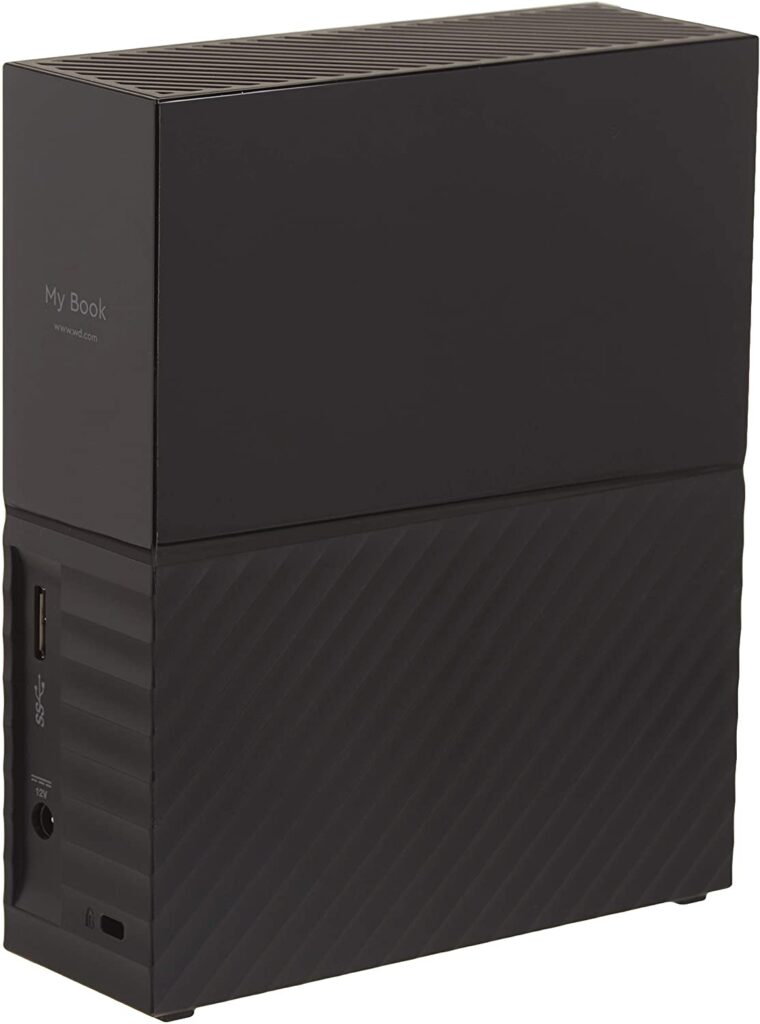 The WD my book desktop external hard drive comes in many different variations. When it comes to the storage space, you can buy from the smallest 3TB version to the colossal 36TB version. The WD my book desktop external hard drive comes in two different styles that include the single drive and dual drive variations. This certain product under review is the single drive, 8TB version that you can buy at Amazon for $299 (retail price noted at the time of writing).
If you are someone looking to add some more space to your set-up, consider buying the WD 8TB my book desktop hard drive for a safe and secure way of storing data such as important work files, old documents etcetera.
Key Features
This drive is compatible with desktop devices such as Windows and Mac PCs
Has USB 3.0 with backward support for USB 2.0
Comes with WD Backup Software for safe storage
Pros And Cons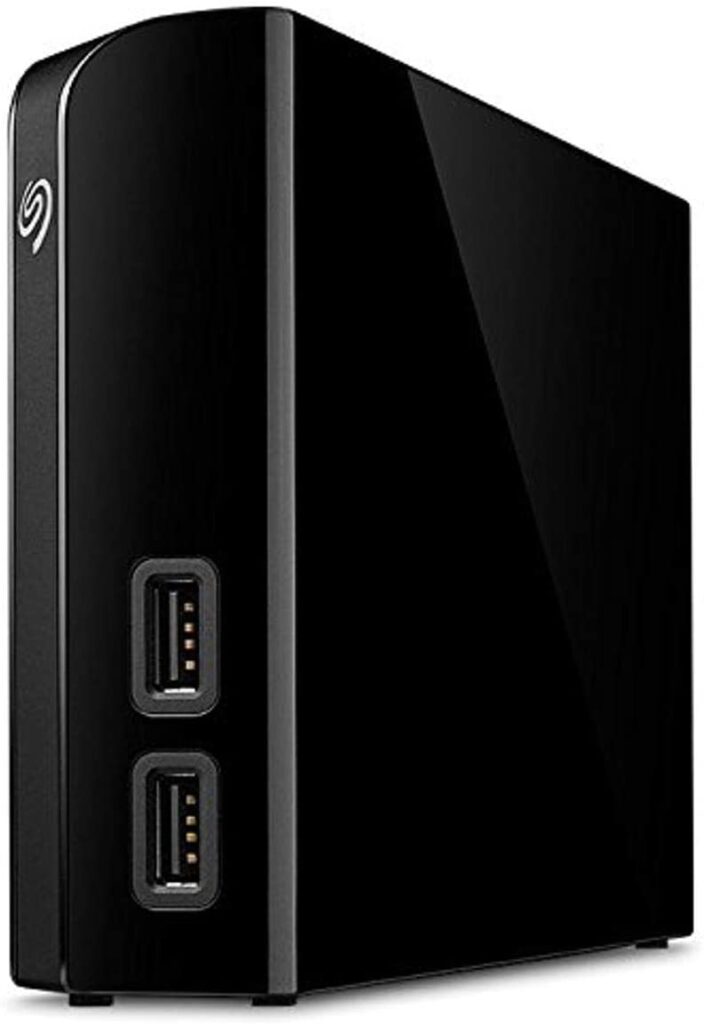 This Seagate drive is a nifty and highly efficient device you can buy in 2021. Along with offering 8TB of extra storage space, the Seagate backup plus hub also gives you the option of charging mobile devices and accessories via two USB Type-A slots.
The Seagate backup plus hub is one of the best 8TB external hard drives that you can buy in 2021. Not only does it offer you additional space to store your files, but it also charges your devices and eliminates the need of getting a separate power bank. The $200+ price tag on the Seagate Backup Plus Hub drive does make it a little expensive. However, if you can easily afford it, it is a product worth the price.
Key Features
Comes with three USB 3.0 slots
Features 160 megabits per second write speed
Is compatible with laptops and desktops
Can be used between Windows and Mac easily by installing the NTFS driver (for Mac)
Comes in 4, 6, 8, 10 TB versions
Pros And Cons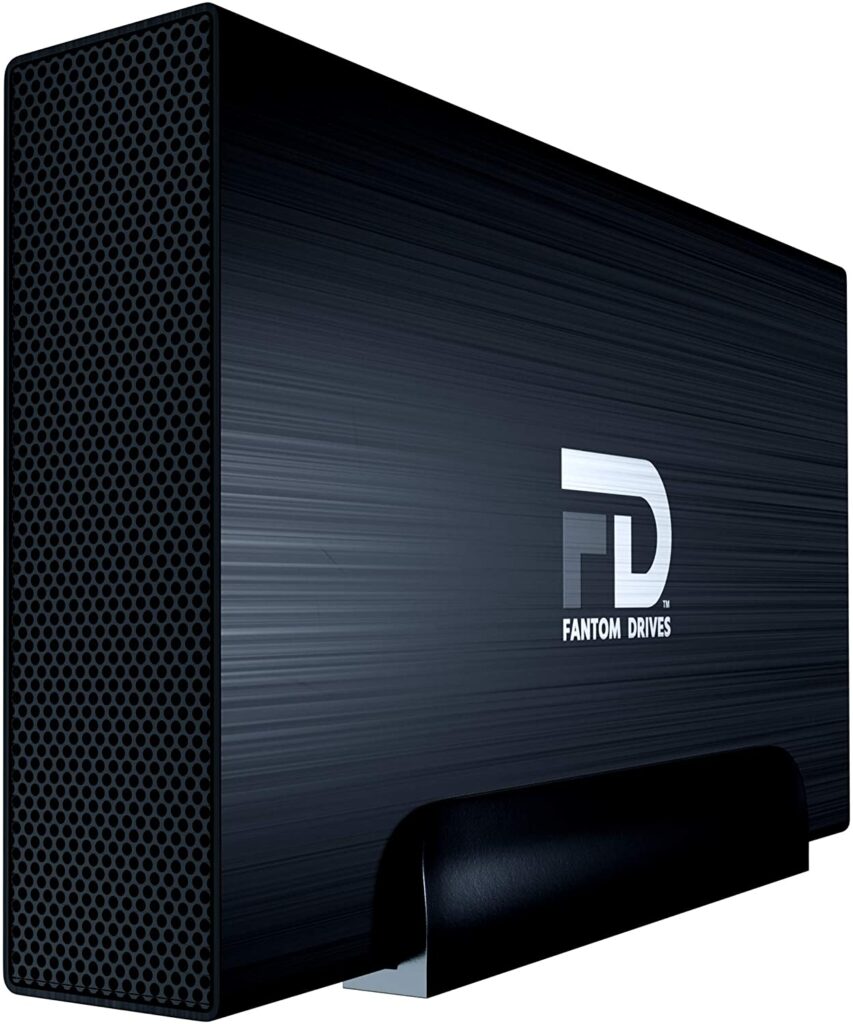 Adding storage space to your set-up is easy but making it stylish and aesthetic is a bit more difficult. Don't worry about appearances with the Fantom Drives 8TB hard drive. The aluminum casing gives this hard drive an amazing look while lending it durability and strength. This hard drive comes with USB 3.0 and backward compatibility for USB 2.0 usage as well.
There is an aluminium mesh situated at one side of this hard drive, which aims to facilitate better airflow. You can keep this drive on its side or lay it flat. Alternatively, you can use the included stand to prop the drive up on your desk and retain a stylish appearance.
The drive comes with a power adapter that goes on one side of the device. A power switch is also located on the drive that can make it easy for you to turn it off when not in use to help with the longevity of the product.
Key Features
Durable construction with aluminum casing
Supports USB 3.0 with USB 2.0 compatibility
Fan-less design for a peaceful experience
The aluminum mesh helps keep the drive airy and cool
Comes with a stand that can be used to prop the drive up easily on your work desk
Easy to use with a simply plug and play mechanism
7200 RPM ensures fast performance
Works with Windows 7 or later. Similarly, it works with MacOS X 10.6 or later.
Pros And Cons
How To Pick The Best 8TB External Hard Drive
Although the trend that SSD replaces HDD is getting more obvious, HDD still has objective advantages in storage capacity and price, and it is increasingly used by netizens as a data warehouse for long-term backup and storage of data. In today's era of data and information explosion, it is believed that many people have a lot of data that may not be used frequently but are reluctant to delete and need to be stored for a long time. These data need to be stored on a separate external hard drive. At present, one of the most suitable choices is using the best 8TB external hard drive to store these data.
Compared with solid state drives, the advantages of external hard drive are large capacity, low price, safe and reliable data storage. Therefore, external hard drive is mostly used to store large capacity data such as videos, movies, games and so on. Due to its high security level, it is also very suitable for storing some important data. If you want to use the external hard drive to copy a lot of photos and video materials, then I suggest you choose a high speed PMR hard drive. If you want to buy a warehouse disk that stores a large amount of film and television resources, and the hard disk is required to be thin, quiet operation, and economical. Then you can consider a large capacity SMR external hard drive. For NAS users or surveillance users, it is best to purchase enterprise level dedicated hard drives.
What To Consider When Choosing The Best External Hard Drive?
External hard drive capacity. Selecting the capacity from 500G to16TB according to personal needs.
External hard drive speed. In RPM, currently the mainstream speed of external hard drive is 7200RPM, and some is 5400RPM, the higher the RPM, the faster the transmission speed, the transmission efficiency of external hard drive will be higher, and the performance is better, but high RPM brings noise problem.
HDD cache. Large cache can reduce the load on the system when transferring files and increase the transfer speed. But HDD has several different technical specifications, so it is not that the larger the hard disk's cache, the better its performance.
Single disk capacity. The larger the single-disk capacity of HDD, the greater the track density, so more data can be read when the HDD head rotates once, and the internal transmission speed is faster at the same rotation speed.
You need to confirm whether the selected external hard drive is a PMR hard drive or an SMR hard drive.
Frequently Asked Questions When Picking The Best 8TB External Hard Drive
1. HDD speed has 7200rpm and 5400rpm. Is there any difference between HDDs with different speeds?
The faster the speed, the faster the read and write speed of the hard disk, and the stronger the performance, which is suitable for installing games and systems. But in contrast, the fast speed also means that the hard disk consumes more power and noise. Since large-capacity external hard drives are mostly used to store video and other data, they do not read and write frequently, and do not require high read and write speeds, so you will find that large-capacity external hard drive mostly have a low speed of 5400 rpm.
2. How to distinguish whether the external hard drive is a PMR hard drive or an SMR hard drive?
At present, hard disk companies basically do not tell you whether this hard disk uses PMR or SMR technology on the product packaging, which requires us to distinguish by ourselves.
Look at the cache. Generally speaking, a 64MB cache is a PMR technology hard drive, and a 256MB cache is an SMR technology hard drive.
Go to the official website to check if the model has SMR technology.
For the hard disk you are looking for, the best way is to contact the official customer service of the brand as possible as you can, and directly ask them whether the product is a PMR or SMR disk, so that the answer is more accurate.
3. External hard drive is divided into home computer hard drives, NAS dedicated hard drives, surveillance hard drives, and enterprise storage hard drives. What are the differences between them?
Home Hard Drive: The price of this kind of external hard drive is relatively cheap. The design test is based on 5*8 work, that is, the test works 8 hours a day, 5 days a week to ensure stable operation, and it is sufficient for general computer use.
NAS Dedicated Hard Drive: NAS dedicated hard drive can meet uninterrupted work with 7*24 hours, and generally NAS has multiple hard drives, the hard disk vibration can be large, so the NAS dedicated hard drive will have better shock resistance. Because the NAS dedicated hard drive is more durable, it will be more expensive than home used hard drive.
Surveillance Special Hard Drive: Security surveillance hard drive is specially designed for 7*24 hours video recording. Unlike NAS disks, surveillance disks have no data error correction mechanism, which can avoid the problem of frame loss when recording surveillance videos. Because the hard drive data error correction will cause the surveillance video to be interrupted. After all, the frame loss of surveillance video is much more serious than the distortion of a small number of pixels.
Enterprise Level Hard Drives and Server Hard Drives: They are more durable external hard drives which using better materials. Large capacity external hard drives will also be filled with helium to cool down, which will further improve stability and reduce noise.
Final Thoughts
If you are looking to lessen the weight on your PC by moving some files to a hard drive, consider buying one of the devices listed above, these are some of the best 8TB external hard drive that you can buy. Eight terabytes of space mean that you won't have to worry about running out of space for a little while.
Some of these hard drives come with additional, nifty features like the capacity to charge devices. Some are smaller (and easy to carry) while some differ with regards to the writing speed. Once you have decided how much you want to spend on your hard drive, go ahead and pick one from above. Make sure your PC runs smoothly by keeping it free of burdensome files.
Enjoyed this 8TB external hard drive review? Then be sure to check out our other guides.