Also popularly known as stand mount speaker, bluetooth bookshelf speaker is quite useful when it comes to the immersive room-filling sound listening experience. Implied from the name, they are small enough to accommodate on a desk or stand or table or bookshelf. These bluetooth bookshelf speakers are the epitome of friendly audio because they are exceptionally designed to deliver decent and powerful amplification and stereo sound for all small to medium-sized areas.
The term 'bookshelf' means that these are tiny speaker systems that can conveniently fit on anyone's bookshelf. If you want, you can place them on desks or countertops or atop TV units. They are compatible with a broad range of appliances ranging from turntables to TVs. To relish outstanding listening experience in your indoor space, you can pick the best bluetooth bookshelf speaker from the following selection.
List of The Best Bluetooth Bookshelf Speaker
Check out the thorough reviews of the best bluetooth bookshelf speaker in 2023 below.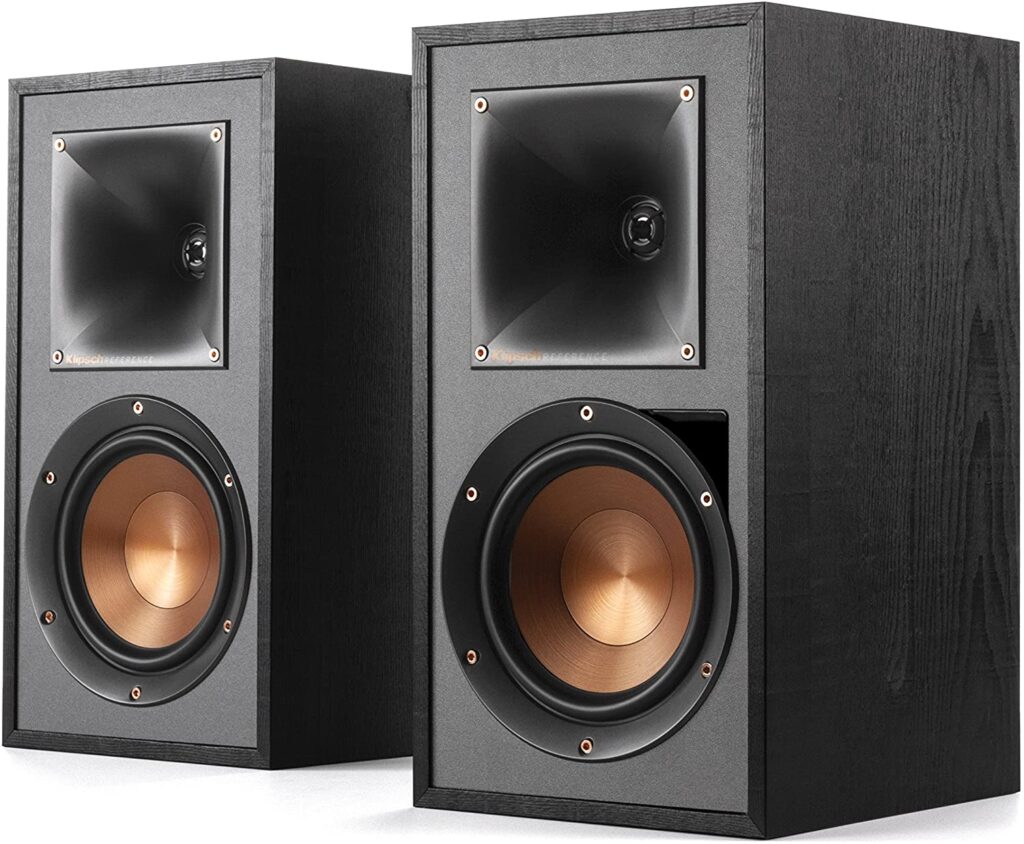 Enjoy room-filling sound output with the setup of this best Bluetooth bookshelf speaker from Klipsch. With the help of the built-in amplifier which is custom-engineered, this Klipsch R-51PM bookshelf speaker conveys supreme sound quality and maximum power output.
With the equipped phono pre-amp, implemented advanced Bluetooth 5.0 technology, and digital optical/analog RCA/USB inputs, the R-51PM proves to be a versatile and efficient speaker on the market. The ultra-low noise amplifiers are custom-designed to boost the system performance and remove the requirement for external amplification. Accessories packed in are a remote control with two AAA batteries, a 4 meters long speaker wire with soldered tips, a 2 meters long power cord, a 2 meters USB Type A to Type B cable, and rubber feet.
Key Features
The exclusive Linear Travel Suspension (LTS) aluminum tweeter from Klipsch decreases distortion for providing detailed performances.
The exclusive 90×90º Tractrix horn technology from Klipsch guarantees that the high-frequency energy of the speaker is targeted at listeners. Also, it decreases artificial reverb.
The included Injection Molded Graphite (IMG) woofer cones are extremely lightweight yet rigid to offer outstanding low-frequency response.
Implemented connectivity technologies are Bluetooth, USB, and Auxiliary.
Pros And Cons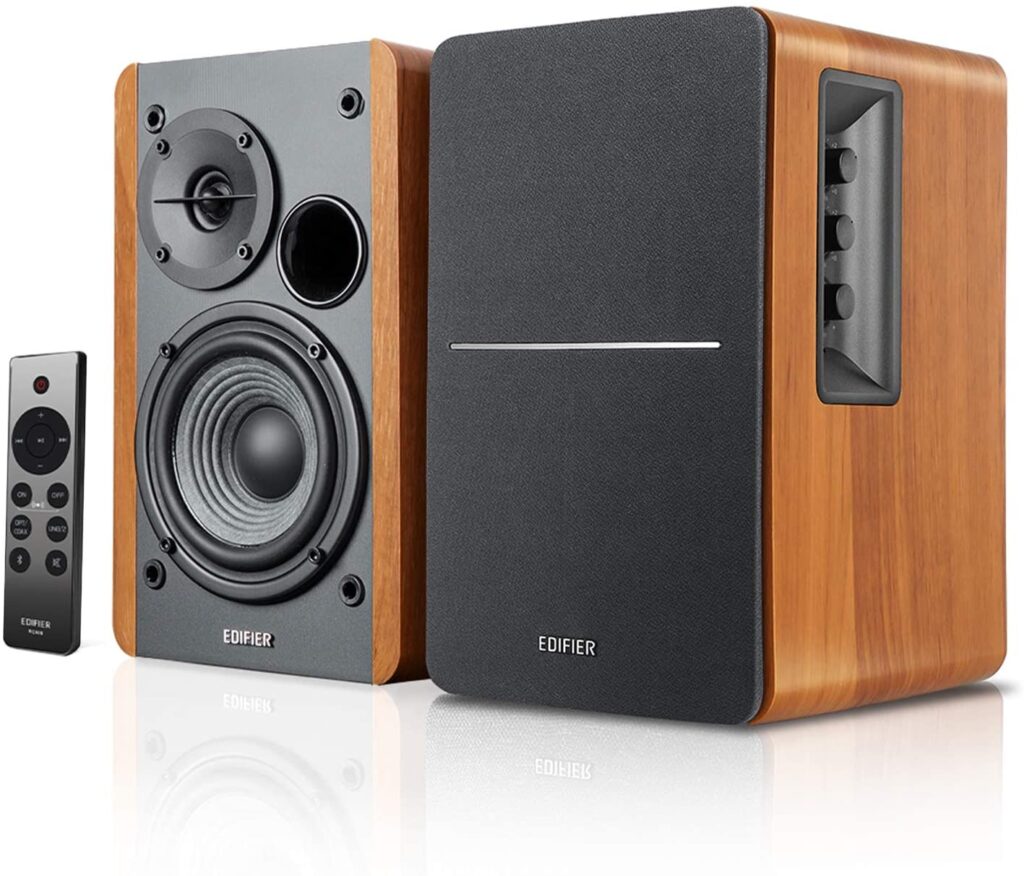 The elegant classic MDF wooden finish of this Edifier bluetooth bookshelf speaker impeccably complements your living room or office or study room. It effectively avoids resonance. All necessary cables are included for establishing a quick connection. The pack includes an RCA to RCA audio cable, a speaker connecting cable, a 3.5 mm RCA audio cable, and a fiber optic audio cable.
Key Features
This wireless studio monitor speaker is implemented with Bluetooth 5.0 technology. So, it pairs the speaker with your tablet or smartphone or laptop, or Mac for wirelessly playing music.
It supports opt/coax inputs and subwoofer output (with built-in crossover and automatic detection).
The optical/coaxial inputs guarantee a lossless connection to computers and TVs.
The 42W constant undistorted power fills your room with distortion-free sound.
Two key components responsible for delivering room-filling sound are a 13 mm silk dome tweeter unit and a 4-inch subwoofer unit.
The listening experience is enhanced with Soundfield Spatializer.
The included wireless remote helps you to remotely control mute/unmute and volume. It helps you to switch line-in, opt/coax mode, and Bluetooth modes.
Pros And Cons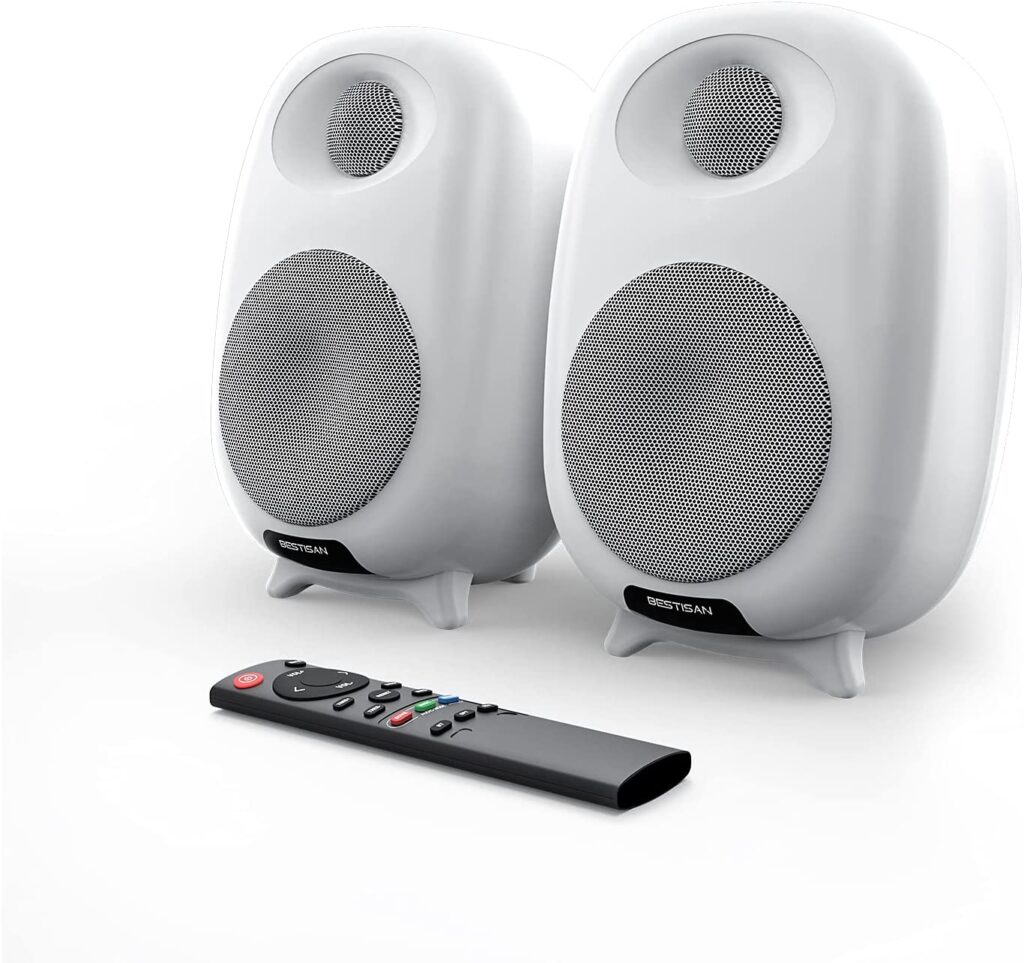 Do you desire distortion-free sound that can fill all corners of your room? If the answer is affirmative then this Bestisan model can be the best Bluetooth bookshelf speaker at a cost-effective price. The 3 inches bass and 1.25 inches silk dome tweeter contribute to room-filling sound output. You can place it on a table and enjoy the all-embracing stereo effects.
The Bluetooth 5.0 ensures anti-interference and a stable wireless connection. You can enjoy your preferred music tracks with a tap of a finger. Two operation modes are button and remote control. The back panel contains input selection, power switch, volume control, and sound modes.
Key Features
DSP technology supports 3 sound modes like dialogue, movie, and music sound mode. It is easy to customize your soundbar with the help of 3 diverse equalizer modes from the remote control. So, it matches your favorite sound.
3D surround sound effects provide offers realistic enveloping and efficient surround sound effects.
The 3-inch full-range drivers generate outstanding room-filling virtual surround sound.
Pros And Cons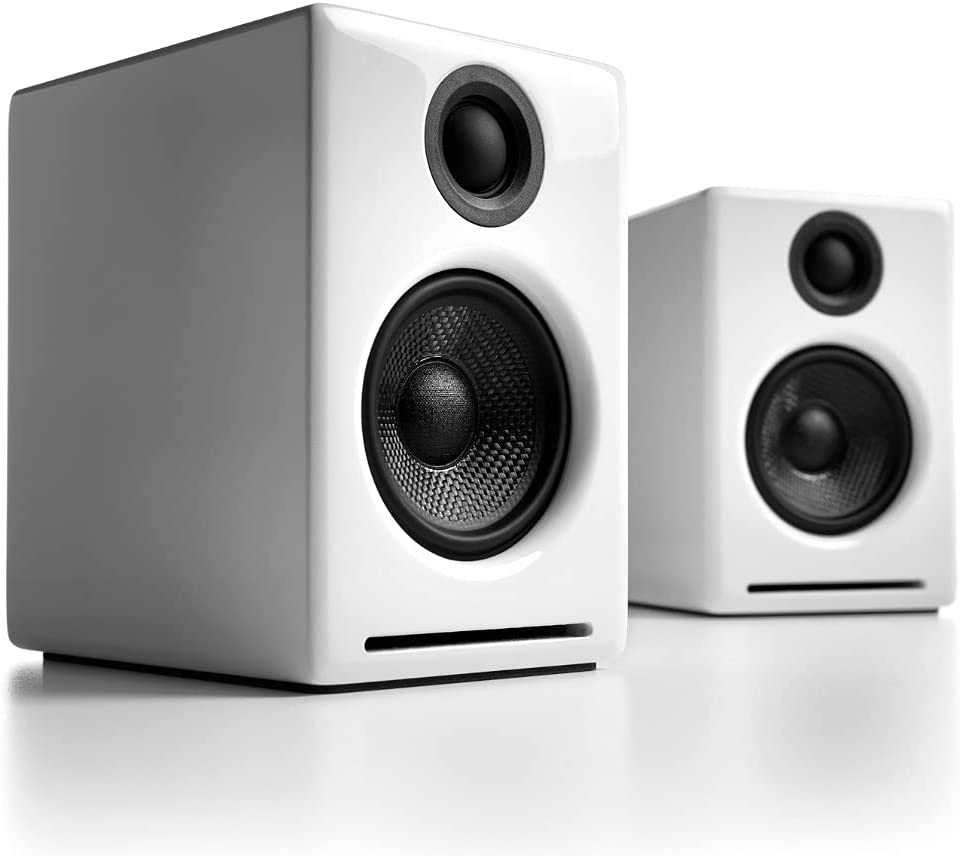 Now you can effortlessly stream your preferred podcasts, music, and more from any Bluetooth-enabled device. This is possible with the setup of this Audioengine A2+ plus bluetooth bookshelf speaker. It assures true stereo sound with excellent clarity. It can connect to compatible music devices in seconds.
Especially for small rooms, work-from-home setups, and desktops, this 60W stereo speaker is a wonderful choice. The integrated long-range antenna seamlessly and rapidly connects to a phone or tablet or computer. Along with the purchase of this bookshelf speaker, you get a Bluetooth antenna, a 5 feet USB cable, a 6.5 feet speaker wire, a 5 feet mini-jack audio cable, a power supply & cord, cable bags, microfiber speaker bags, and a setup guide. The included cables work with PC and Mac.
Key Features
0.75-inch silk dome tweeters and 2.75-inch aramid fiber woofers are included.
Inputs it accepts are a 3.5 mm stereo mini-jack, USB, Bluetooth, and stereo RCA.
The output is an RCA variable line-out for subwoofer expansion. It can connect to Audio engine S8 or other subwoofers.
Analog class A/B power amplifiers and dual analog audio inputs are included for connecting USB audio input, multiple devices, and Bluetooth aptX.
Physical dimensions are 5.25 (D) x 4 (W) x 6 (H) inches.
Pros And Cons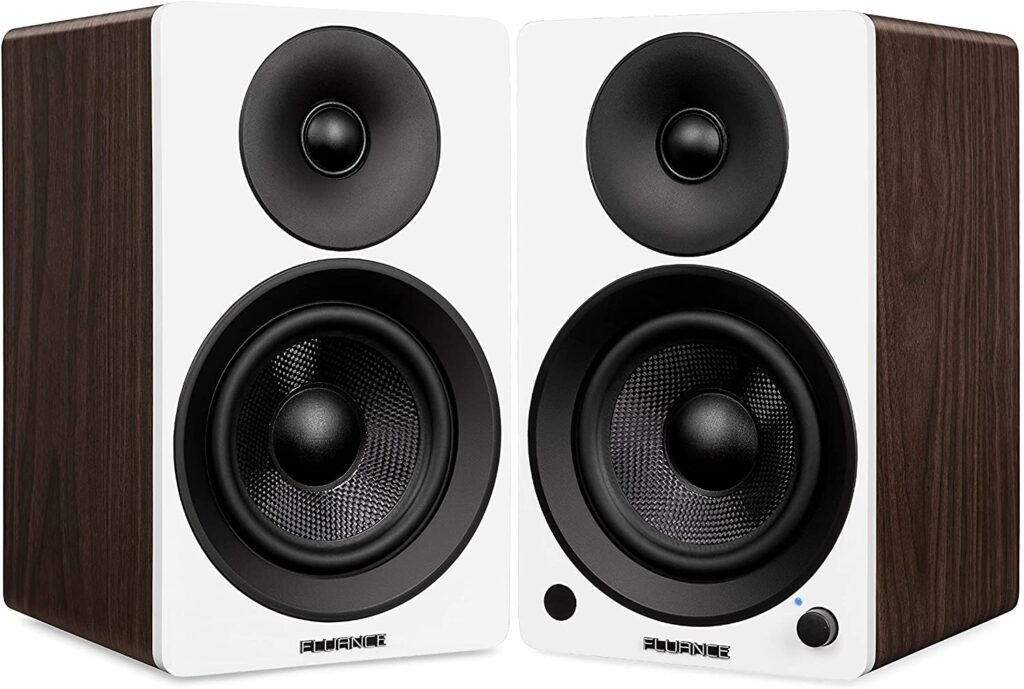 Obtain unparalleled sound performance with a built-in 90W amplifier in Fluance Ai41 bookshelf speakers. These active speakers convey a balanced sound with sophisticated detail and room-filling stereo sound with great clarity.
The premium high-performance neodymium tweeters generate an immersive stereo soundstage. Moreover, they provide spacious off-axis dispersion which allows you to hear wonderfully expressed highs. You will enjoy the warm sound from the precision-crafted MDF wood cabinets. They are carefully designed to discard unnecessary resonances with a rear bass port for natural and full bass.
You get the following things in the pack, a pair of Ai41 powered bookshelf speakers, two AAA batteries, a remote control, a 6 feet long power cable, an 8 feet long 18 gauge speaker wire, Fluance Catalog, and a quick-start guide.
Key Features
The frequency response is 35 Hz – 20 kHz.
Wireless streaming is possible with Bluetooth 5.0 technology.
Your audio sources can be connected via Optical and RCA inputs.
The 5-inch woven glass fiber drivers are lightweight yet rigid. They generate clean distortion-free bass and detailed midrange frequencies.
Neodymium magnet silk-dome tweeters generate natural highs.
Pros And Cons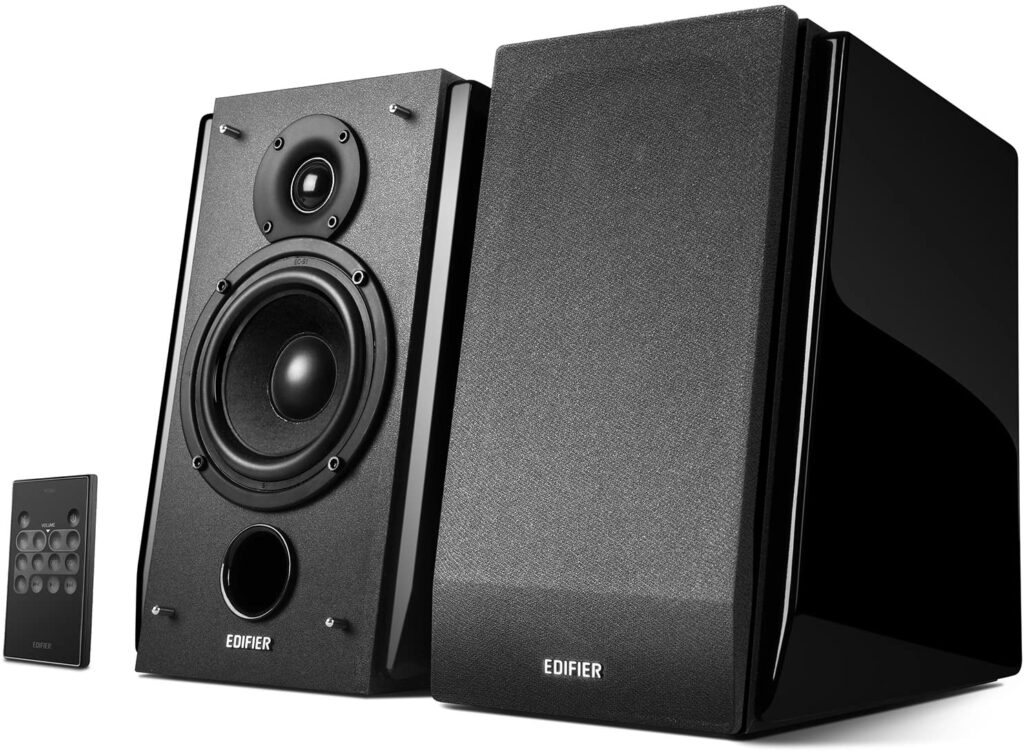 The additional subwoofer output in the Edifier R1850DB bookshelf speakers allows you to add a subwoofer. Doing this transforms this setup from a 2.0 system to a 2.1 system. These speakers can be connected to PCs, tablets, and smartphones. The included grills that let you choose from either placing a grill or removing them off so you can view the mid-range drivers and tweeters. The list of included accessories is a 16-feet connection cable, a 5.6-feet RCA to AUX cable, a 5.6-feet RCA to RCA cable, a 4.9-feet optical cable, and a wireless remote.
Key Features
Bluetooth V4.0 technology is implemented.
The speakers include Φ19 mm silk dome tweeters (6 ohms) and 4-inch Φ116-mm bass/mid-range drivers (6 ohms).
RCA/Aux input helps you to connect PC turntables whereas optical/coaxial input is for lossless Bluetooth connection.
The included wireless remote helps you to select input, adjust volume, and track control.
Pros And Cons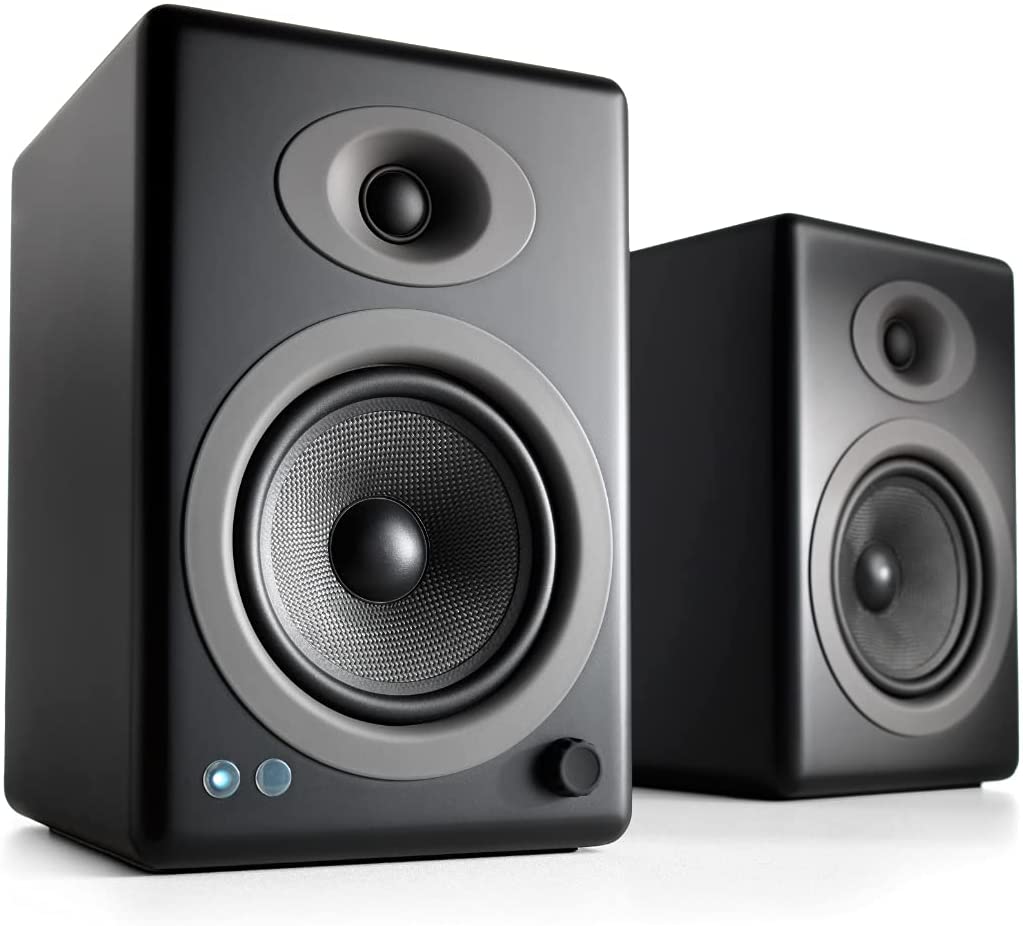 Do you want a wireless bookshelf speaker with a small footprint and capable to provide room-filling sound? If yes then this 150W bookshelf stereo speaker is one of the best Bluetooth bookshelf speaker for the needs. The 150W of peak output conveniently connects this Audioengine A5+ speaker to Audioengine S8 or other subwoofers through the RCA variable output.
The list of contained accessories is a Bluetooth antenna, a 12 feet long (gold-plated) banana plug speaker wire, a 3.5 mm mini-jack audio cable, an RCA audio cable, an AC power cord, remote control, cable bags, microfiber speaker bags, setup guide, and brochure.
Key Features
The available inputs are RCA, Bluetooth, and a 3.5 mm mini-jack audio cable. These inputs allow you to connect devices like phones or PC or Mac or laptops.
The placement flexibility and tones of music are nice with 100 feet range, Bluetooth aptX HD, and a 24bit DAC.
Audioengine A5+ speaker is compatible with any music streaming service or music player app, any device with Bluetooth/mini-jack/RCA outputs, and all Audioengine digital-to-analog converters & wireless audio adapters. Also, the speaker can work with
The physical dimensions of the speaker are 9 (D) x 7 (W) x 10.75 (H) inches.
Pros And Cons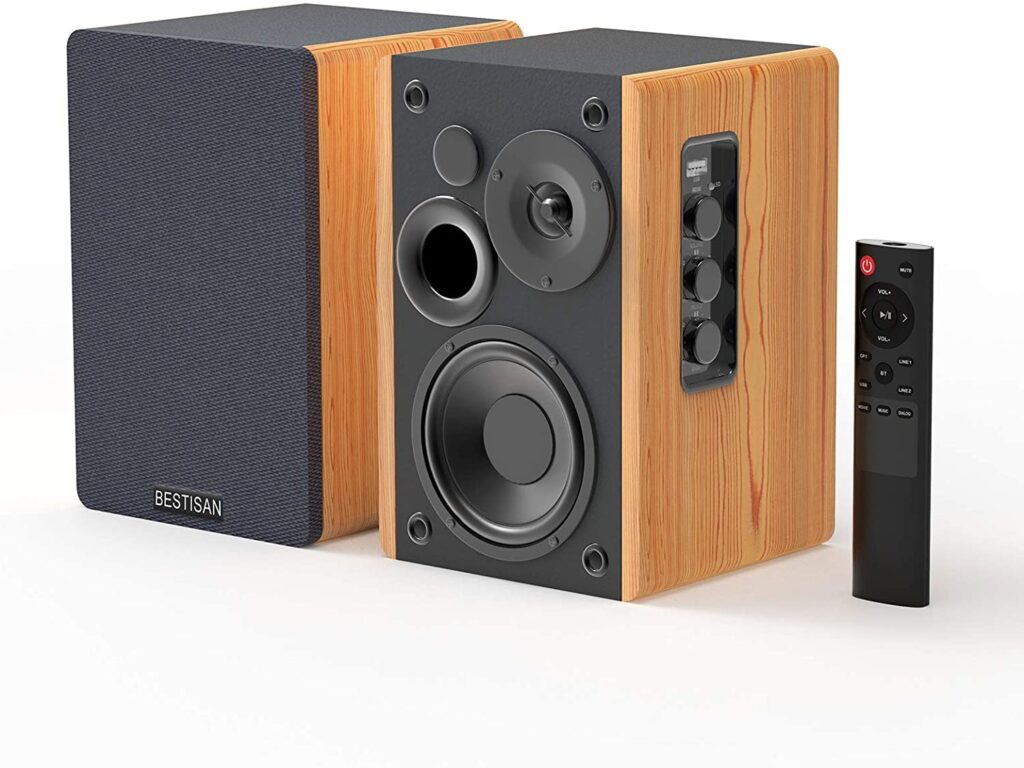 A 4-inch full-range unit and 13mm silk dome tweeter are packed in a minimalistic design of BESTISAN SR01 speakers. Use the available optical/RCA inputs to connect a TV or other devices. Various audio cables are included to facilitate rapid and easy setup. From the included remote, you can fine-tune the volume, increase/decrease the bass, etc.
Key Features
Dedicated sound modes are available for Movies, Music, and Dialogue. With these modes, you can always listen to every dialogue, instrument, detail, and explosion with excellent clarity and loudness.
Bluetooth 5.0 technology lets you connect the speaker to a PC or Mac or tablet or iPhone or Android device.
Pros And Cons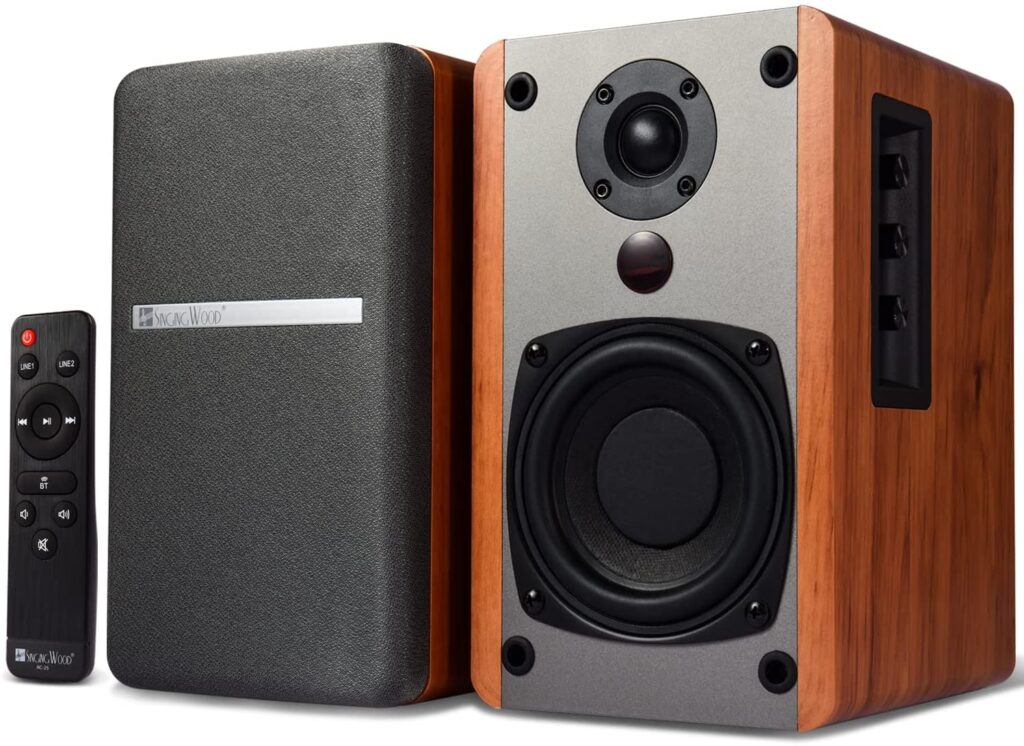 The Bluetooth 4.2 in this bookshelf speaker conveys outstanding audio from your PC or tablet or TV or smartphone or any Bluetooth-enabled device. To provide efficient sound reproduction, the responsible components are an amplifier, 0.75-inch silk dome tweeter, and a 4-inch full-range bass driver. The superior quality MDF wood finish complements any home decor. Accessories packed along with are a user manual, an RCA to RCA cable, a 3.5 mm to RCA cable, a speaker cable, a power adapter, and wireless remote control.
Key Features
The implemented connectivity technologies are RCA and Bluetooth.
2 line-in AUX inputs enable wired connection for up to 2 devices simultaneously. No need for plugging and switching.
The included remote control helps you adjust volume, switch inputs, etc.
Pros And Cons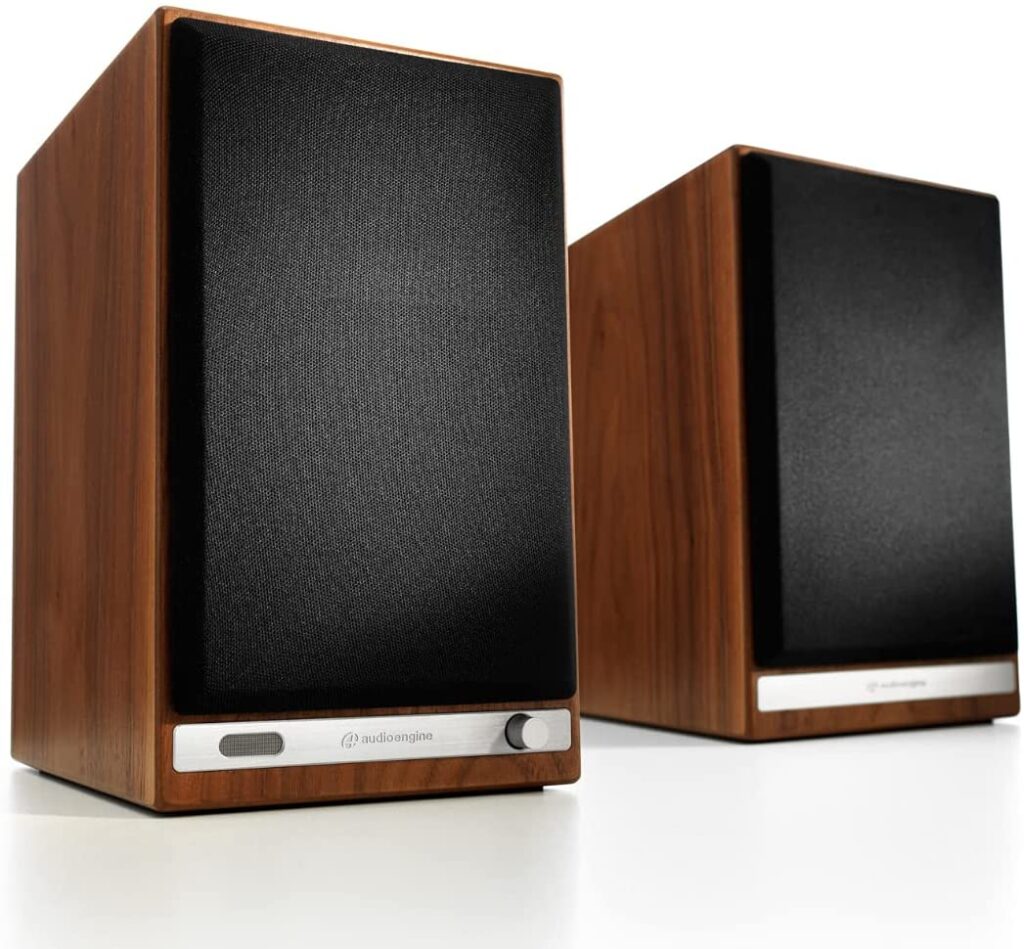 Audioengine HD6 is one of the best Bluetooth bookshelf speaker for TVs, smartphones, music players, and tablets. No need for network setups or remembering passwords. The hand-built wood cabinets wrap in high-end sound. The built-in analog power amplifiers convey outstanding quality audio.
Contents packed in are a pair of wireless powered speakers, a power supply & cord, a 4 meters long speaker wire, a 2 meters long 3.5 mm mini-jack audio cable, a 2 meters long RCA audio cable, a remote control, a Bluetooth antenna, microfiber speaker bags, cable bags, brochure, and setup guide.
Key Features
Implemented connectivity technologies are Auxiliary, Bluetooth, and RCA.
The aptX HD Bluetooth codec (100 feet range) and 24-bit DAC lets you bypass the low-quality sound card in a phone or laptop. Consequently, it delivers premium quality sound with a broad wireless range.
Pros And Cons
How To Pick The Best Bluetooth Bookshelf Speaker?
You can refrain from confusion and end up purchasing the best Bluetooth bookshelf speaker by considering the following factors.
1. Power output
The power handling ability depicts how powerful the Bluetooth bookshelf speaker is and how much damage it can withstand. A Bluetooth bookshelf speaker that is rated as 100W peak must not be considered inefficient if it is incorporated with a 200W amplifier. Usually, a loudspeaker's damage is created by a tiny amplifier that drives it too high. Essentially, it is the loud-level distortion that creates the most damage.
Some of the premium quality Bluetooth bookshelf speakers can provide up to 600W peak power output. If your room is very large, try to buy the one with the highest possible peak power output.
2. Sound type
These speakers are available in different configurations. Each of them is specifically designed for single purposes or multiple uses Stereo setups are most common because people frequently need them. But a 2.1 setup consisting of a stereo speaker pair plus and a subwoofer can enhance your listening, viewing, and gaming experience.
You can choose a Bluetooth bookshelf speaker that supports a surround sound rig because it leads to the grandeur of your chosen media.
3. Setup location
The place where you intend to place your Bluetooth bookshelf speaker can certainly affect the quality of sound. For example, if the surface is resonating or hollow then you would receive more bass sound which would entirely overshadow the higher frequencies.
If your chosen speaker supports fine-tuning, you can adapt the settings of an equalizer, change the frequencies, and many more. One of the most convenient and recommended options is to have a speaker stand to perfectly align your bookshelf speaker. If your bookshelf is too tiny, be careful with the dimensions and try to choose a compactly designed Bluetooth bookshelf speaker.
4. Materials used
If you want to avoid extreme acoustic resonance then choose a Bluetooth bookshelf speaker with wooden cabinets. They are typically built from MDF and coated in glossy vinyl presenting a wooden finish. You can look for a Bluetooth bookshelf speaker with a sealed cabinet because it helps in woofer retraction which leads to better-sounding bass.
FAQs When Picking The Best Bluetooth Bookshelf Speaker
1. How can you control the audio features of Bluetooth bookshelf speakers?
All bookshelf speaker systems including the best Bluetooth bookshelf speakers listed above, include onboard controls like volume up/down and power on/off. Many of them also feature extra controls for subwoofer activation and equalization options like dimming, boosting, or controlling the lights of the speakers. Remote control or voice command functionality is included in certain computer speakers. These come in handy when you use them for filming or interviews or meetings or conferences.
2. Do higher watt Bluetooth bookshelf speakers sound better?
This is not necessary. Certain high-wattage speakers sound amazing yet they pack in a lot of power. However, most of the customers will be satisfied with 50W Bluetooth bookshelf speakers. Such speakers emphasize design and engineering more than simply pure power.
3. How can you enhance speaker quality?
Firstly, look for the space where you want to listen. Now move a chair or couch to enhance the listening experience. It is recommended to triangulate the seating arrangement to align yourself at the center of the listening area and then your speakers would point towards you. Now try to place your speakers on the ground. You can also place them on speaker stands and shelves. Moreover, Bluetooth bookshelf speakers can match your height while you are seated.
Final Thoughts
Now you can fill your room or any indoor space with high-quality sound output by choosing the best Bluetooth bookshelf speaker from the above list. Most of these bookshelf speakers present exceptional audio clarity and low distortion. The support for multiple connectivity technologies and broad compatibility with various devices make them versatile. The availability of various cables in their packs helps you to seamlessly complete the installation and connect them with compatible devices.
Enjoyed this Bluetooth bookshelf speaker review? Then be sure to check out our other guide of the Best Bluetooth Speakerphone for Home Office.