What is Bluetooth Speakerphone for the Home Office?
As remote work and working from home becoming the norm, having a setup that allows you to work efficiently from your home office is important. A piece of crucial equipment for any home office setup is a Bluetooth speakerphone. With the best bluetooth speakerphone for home office in 2021, attending calls and meetings is made easy without the hassles of wires and earphones. It allows you to multitask while participating in important calls and also doubles up as an additional speaker to give you audio-alerts for notifications.
With various options available online, finding the best bluetooth speakerphone for home office 2021 can seem like quite the task. However- don't let that worry you. Not only are we going to review the best 5 Bluetooth speakerphones that you can get right now, but we will also talk about the most essential factors that you must consider before making a purchase.
Check out the thorough reviews of the best bluetooth speakerphone for home office in 2021 below.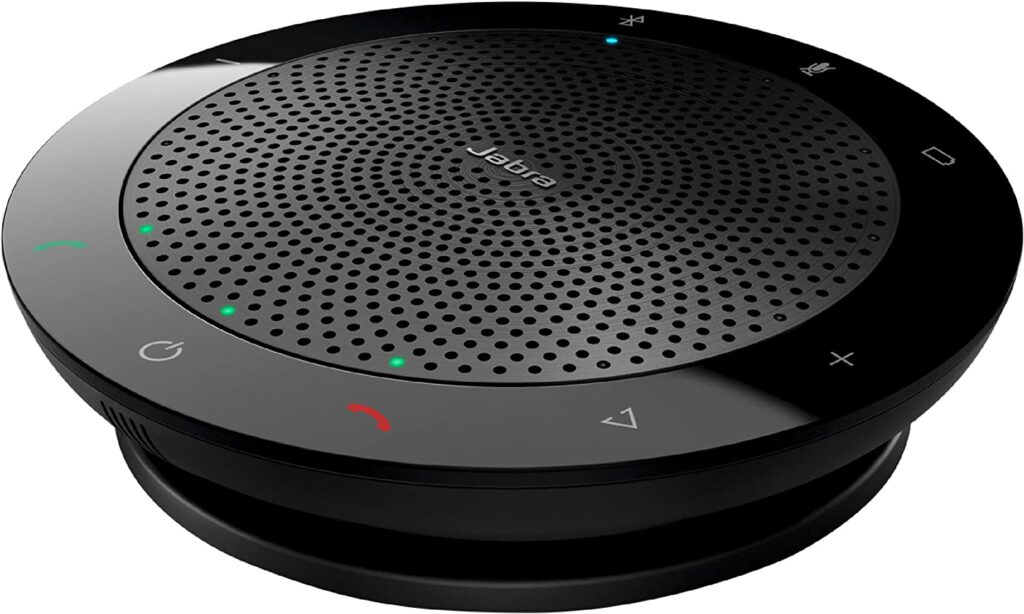 Jabra is a popular name when it comes to audio and especially conferencing equipment, which is what makes this Speak 510 Bluetooth Speakerphone from Jabra one of the Best Bluetooth Speakerphone for Home Office 2020. It has excellent noise cancellation capabilities that ensure that others can hear you clearly without any disturbance. It is wireless and portable, suitable for meetings at the home office, or anywhere you may want to take it.
Setup is simple, connect it to bluetooth, and you can start using it. It is compatible with almost all devices that have bluetooth, including laptops, smartphones, softphones, etc. The Speak 510 speakerphone is certified for use with Skype for business. It offers a 15-hour battery life.
Pros
Excellent noise cancellation capabilities
Works with Bluetooth as well as a USB cable
Compatible with various devices
Cons
Only 1-year limited warranty
Mute – Unmute indicators could have been more prominent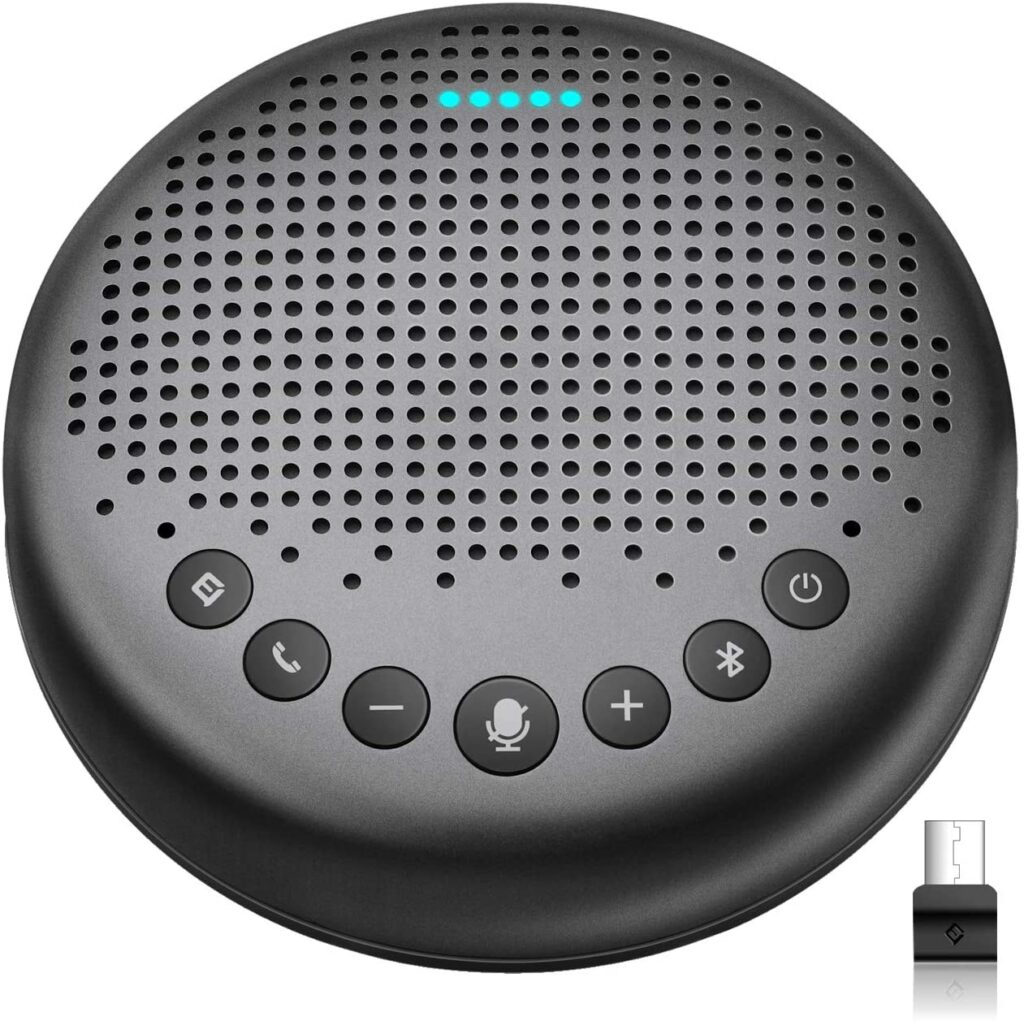 Using AI-based noise-reduction comes the eMeet Luna Bluetooth Speakerphone. The AI algorithm claims to eliminate any background noise including noise from the keyboard, air conditioning, and many others. You can connect multiple eMeet Luna speakerphones to create a daisy-chain for meetings with 8-12 attendees in one place. It can be connected using USB and AUX, in addition to Bluetooth.
No drivers/setups are required, simply pair, and you are good to go. You can use it with any laptop or smartphone. The microphone is sensitive, picking up sound from as much as 8 feet away as well.
Pros
Efficient and effective AI-based noise cancellation
High-range for picking up audio input
Multiple connectivity options
Cons
Battery life at 8-9 hours is comparatively less
Slight cracking of audio when volume increased beyond 70%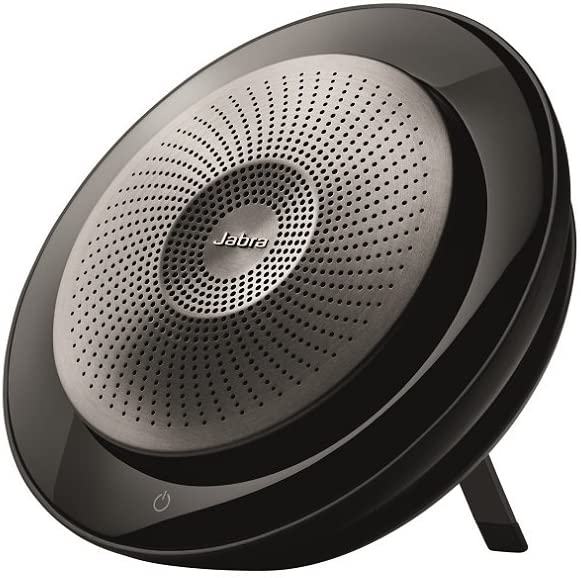 This is an upgrade over their Speak 510 speakerphone. The Speak 710 provides immersive audio with HD voice and an omnidirectional mic. This Bluetooth speakerphone can be used for in-room meetings with up to 6 participants, making it a great choice for those group meetings. You can also pair 2 of these speakers together for a stereo-sound experience or when hosting larger meetings.
The battery life is the same as 510, offering you 15 hours. It is also suited for media and listening to music as compared to other lower-end Jabra variants. The 710 is designed to be your all-in-one Bluetooth speaker, suitable for everything from listening to music and attending meetings.
Pros
High-quality immersive audio
Ideal for calls and listening to music
Can pair 2-speakers for a surround-sound experience
Cons
Expensive
Cannot do manual EQ adjustment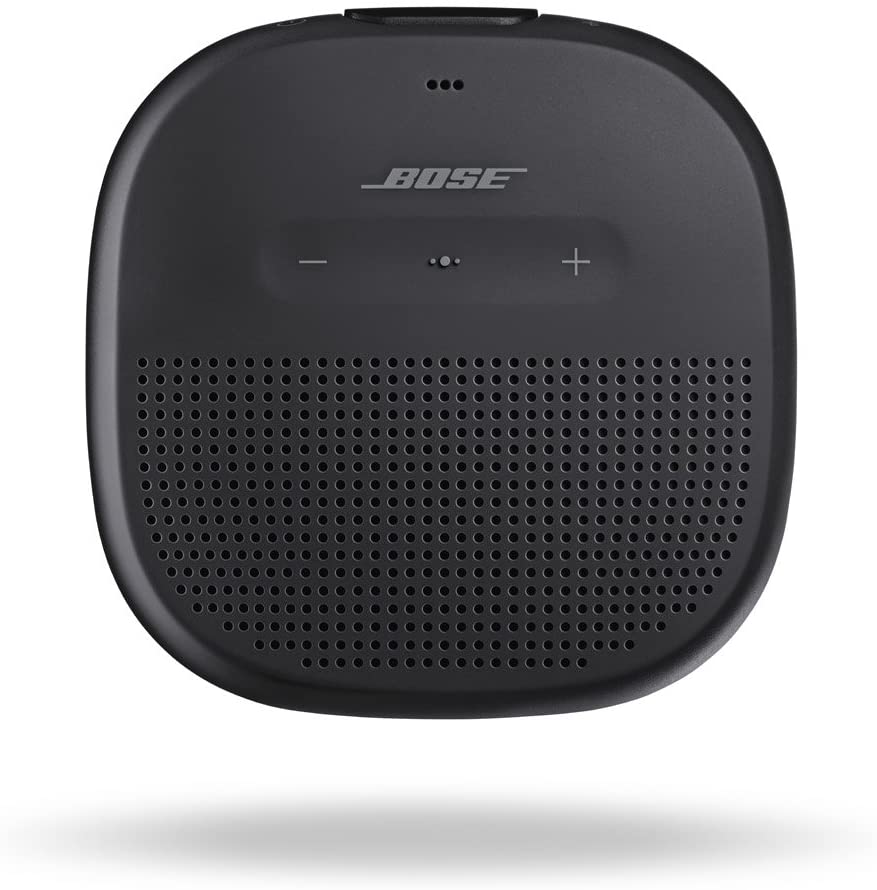 The BoseSoundLink weighs just 0.64 lbs and has a small form-factor, making it one of the most portable options. Bose speakers come with unmatched bass and sound quality, which makes it a good Bluetooth for listening to music as well as attending calls. You can attend calls within a range of 30 feet using this Bluetooth speakerphone. It has an Ipx7 rating for its waterproof capability. This makes it a highly durable option, suitable for home office and when on the move.
You can only use this speaker via Bluetooth connection, no USB or AUX connectivity options are there. 2 SoundLink speakers can be paired together for getting a Stereo effect. You get around 6-hours of playback on a full charge.
Pros
Suitable for calls and music playback
Portable and lightweight
Waterproof with Ipx7 rating
Cons
Battery life is only 6 hours
Only Bluetooth connectivity, USB or AUX connection not supported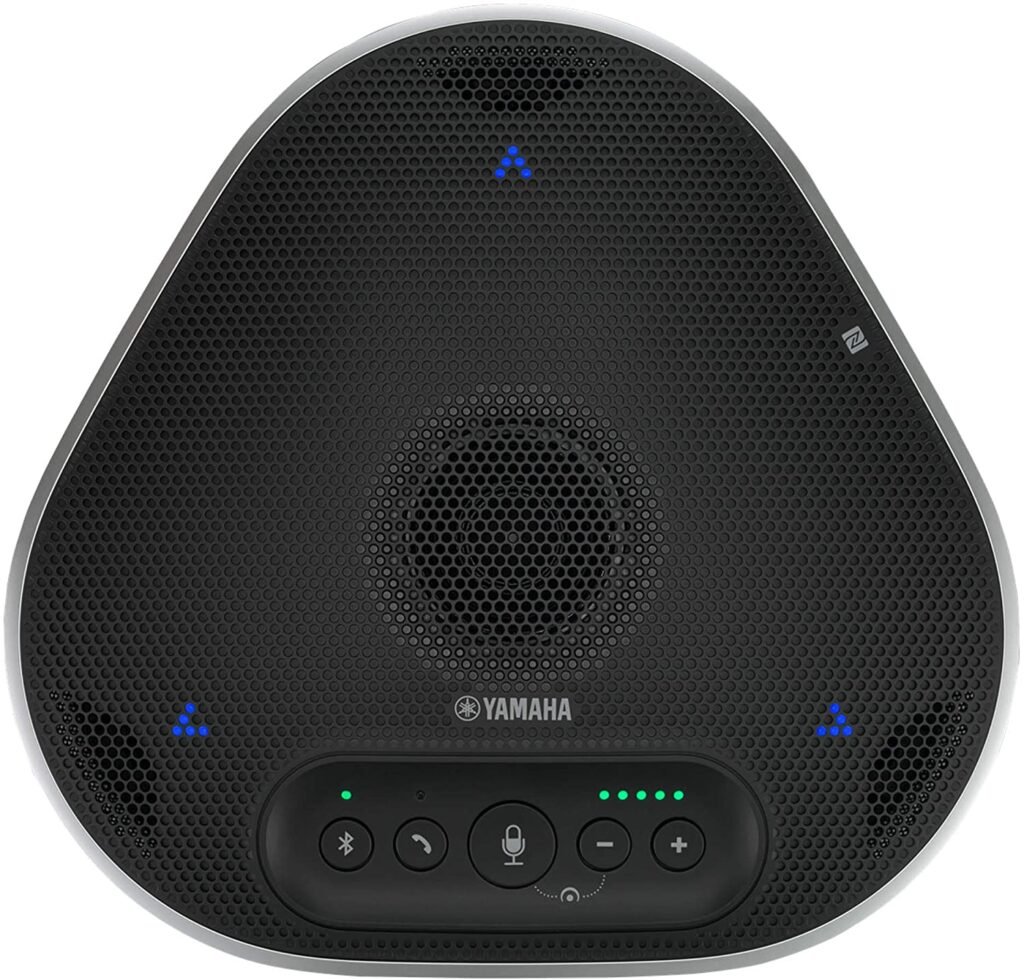 The Yamaha YVC speakerphone comes with 'SoundClap' technology that provides advanced noise-cancellation. This Bluetooth speakerphone provides one of the best audio-outputs, making it a great choice to take calls even in environments with a lot of background noise. It has an automatic volume balancing feature that adjusts the output volume to the right level as per surrounding noise.
You can get a daisy chain cable to connect multiple speakers together for a large conference. It works with all major conferencing software and devices including smartphones and laptops You can connect this speaker using NFC and USB as well in addition to Bluetooth. It uses AC-power and does not have a rechargeable battery.
Pros
Excellent sound quality
Advanced noise-cancellation features
Works with NFC and USB connections too
Cons
No rechargeable battery, must stay plugged in
Expensive
How To Pick The Best Bluetooth Speakerphone for Home Office
While these are the top 5 of the Bluetooth speakerphones that you can get on Amazon. Knowing what features to look for and what to consider is an equally important part of finding the best bluetooth speakerphone for home office 2021, which is what we will cover ahead.
Noise Cancellation
Noise cancellation is a must for any Bluetooth speakerphone, and even more so for one that you will use in a home office. It helps to cut down any background noise and ensure that attendees can hear you without any disturbance from background noise due to air-conditioners, keyboard, other people talking, etc.
Connectivity options
In certain cases, there can be a slight lag (less than 1 second) while using bluetooth. Or you may already have multiple other devices connected to your device's bluetooth. In such cases, having a speaker that also works with USB and/or AUX is a good idea.
Support for multiple attendees
Many speakers support 4-6 attendees in a meeting, thus allowing you all to seamlessly join the call without any issues. This is a must-have feature if other people may also join the call from your home office. In the case of larger rooms, being able to pair multiple speakers together can also be handy.
Battery life
A 6-8 hour battery life can get you through most workdays if the speaker uses a rechargeable battery. It is still a good idea to check that the speaker can function when it is charging.
Support for your preferred devices and software
While Bluetooth speakerphones work with almost all Bluetooth devices and conferencing software, it is still better to check and ensure that your preferred one will work with all your devices and the software that you commonly use.
Frequently Asked Questions
What provides better sound quality- Bluetooth or USB?
In any good quality speakerphone, you will get the same result from using Bluetooth or USB connection. However, in some cases, USB output can be slightly better than Bluetooth but the difference is negligible
Can I connect multiple speakerphones to get stereo-effect or for larger rooms?
Most speakers support daisy-chaining multiple units to pick up sound in a larger room and create a stereo effect. However, the daisy chain cable may not be included in the package and has to be bought separately.
Can I use a Bluetooth speakerphone for media playback (listening to music, watching movies, etc)?
You can use a Bluetooth speakerphone for media playback as well. However, if you will be regularly using it for this, then choose a speaker that has a good sound output and supports pairing with another speaker for stereo-effect. This will allow you a better experience while watching movies and listening to music.
Final thoughts
A Bluetooth speakerphone is among the most useful accessories for your home-office setup. The best bluetooth speakerphone for home office in 2021 also doubles up as a handy wireless speaker that you can use while watching Netflix or listening to music. Since they are compatible with smartphones and tablets as well, you can use it for many other things.
From Jabra to Yamaha, our list of the top 5 Bluetooth speakerphones should help you narrow down your choices and find one that will give you the best value for money. These speakerphones are designed to enable you to work efficiently from your home office and take calls with ease.