As remote work and working from home becoming the norm, having a setup that allows you to work efficiently from your home and office is important. A piece of crucial equipment for any home and office setup is a bluetooth speakerphone. With the best bluetooth speakerphone for home office, attending calls and meetings is made easy without the hassles of wires and earphones. The best speakerphone for home office allows you to multitask while participating in important calls and also doubles up as an additional speaker to give you audio-alerts for notifications.
List of The Best Speakerphone for Home Office
What is Bluetooth Speakerphone for Home Office?
By the way, love listening to music? Or want to ensure a proper sound system for your conference calls? In both these cases, having a portable Bluetooth speakerphone device within your reach is imperative. After all, having a great speaker in your home, office, beach, garage, garden, or car offer great benefits, including voice clarity, excellent base, among others. Bluetooth speakerphone makes it very convenient for the user to stay connected without additional handsfree. You can connect your devices, laptops, mobile phones, or other devices with the speaker through Bluetooth or USB port.
There is no denying that Bluetooth speakerphones are becoming a go-to sound solution for many out there. After all, it offers convenience to people who enjoy music at a high volume. In addition, the speakers ensure loud and clear telephone calls in a large conference room.
With various options available online, finding the best bluetooth speakerphone for home office can be a daunting task. However, don't let that worry you. Not only are we going to review the best bluetooth speakerphones that you can get right now, but we will also talk about the most essential factors that you must consider before making a purchase. So thanks to this review of the best speakerphone for home office in 2023, things are extremely easy!
Now check out the thorough reviews of the best speakerphone for home office in 2023 below.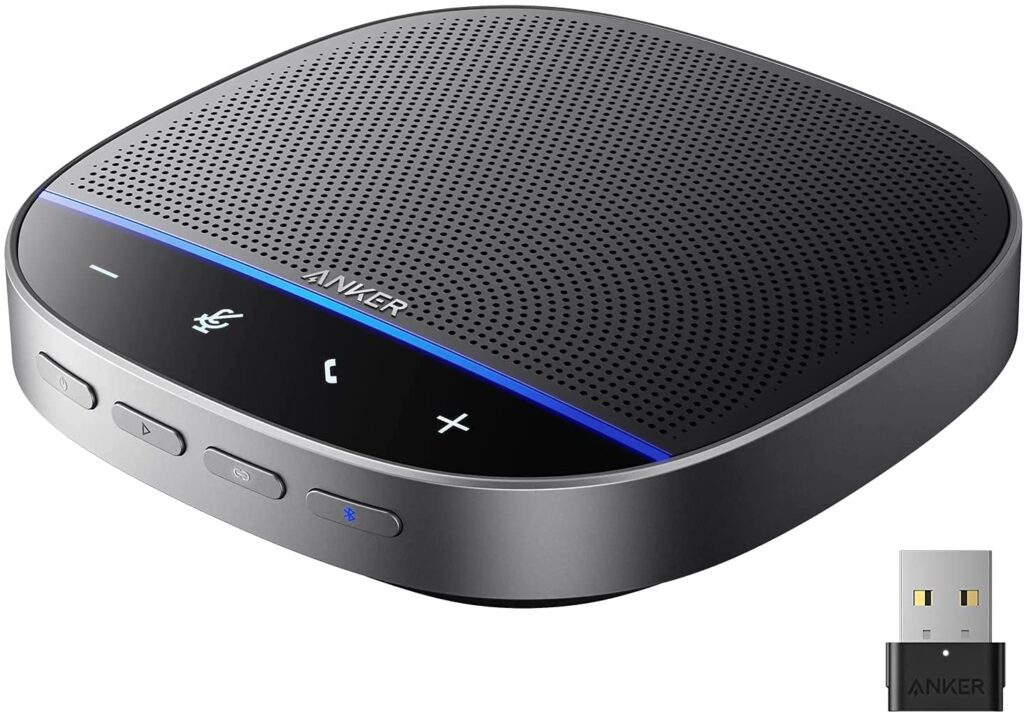 When it comes to exceptional audio clarity, you can rely on Anker PowerConf S500 as one of the best options to consider. It is equipped with Zoom Rooms and Google Meet certifications. Be it used as a speakerphone or a portable conference phone in a conference room, PowerConf S500 can work flawlessly. The directional microphones are excellent at automatically picking up the voice of the person who speaks while eliminating unwanted noise, irrespective of the location of persons around the conference table.
Pros and Cons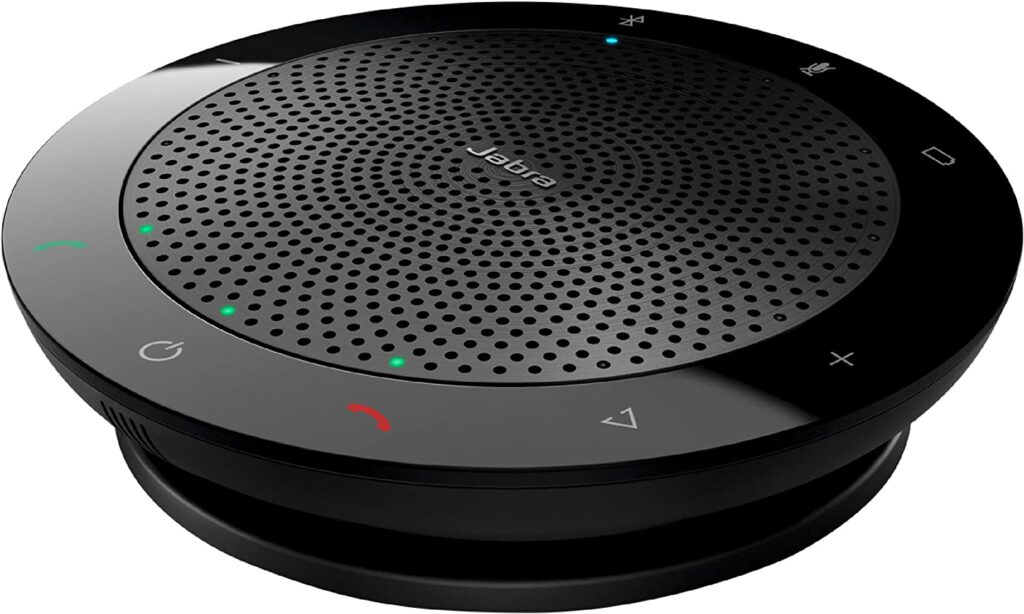 Jabra is a popular name when it comes to audio and especially conferencing equipment, which is what makes this Speak 510 bluetooth speakerphone from Jabra one of the best bluetooth speakerphone for home office in 2022. It has excellent noise cancellation capabilities that ensure that others can hear you clearly without any disturbance. It is wireless and portable, suitable for meetings at the home office, or anywhere you may want to take it.
Setup is simple, connect it to bluetooth, and you can start using it. It is compatible with almost all devices that have bluetooth, including laptops, smartphones, softphones, etc. The Speak 510 speakerphone is certified for use with Skype for business. It offers a 15-hour battery life.
Pros and Cons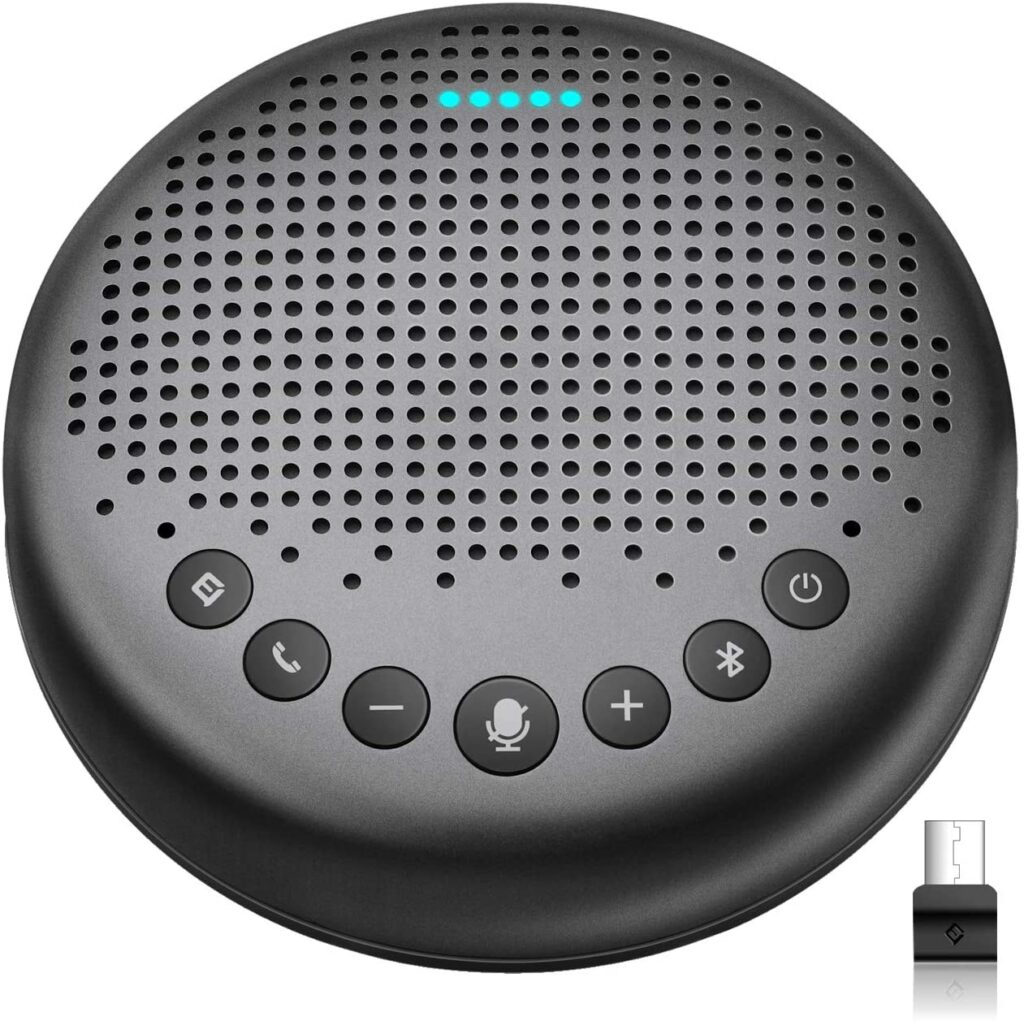 Using AI-based noise-reduction comes the eMeet Luna Bluetooth Speakerphone. The AI algorithm claims to eliminate any background noise including noise from the keyboard, air conditioning, and many others. You can connect multiple eMeet Luna speakerphones to create a daisy-chain for meetings with 8-12 attendees in one place. It can be connected using USB and AUX, in addition to Bluetooth.
No drivers/setups are required, simply pair, and you are good to go. You can use it with any laptop or smartphone. The microphone is sensitive, picking up sound from as much as 8 feet away as well.
Pros and Cons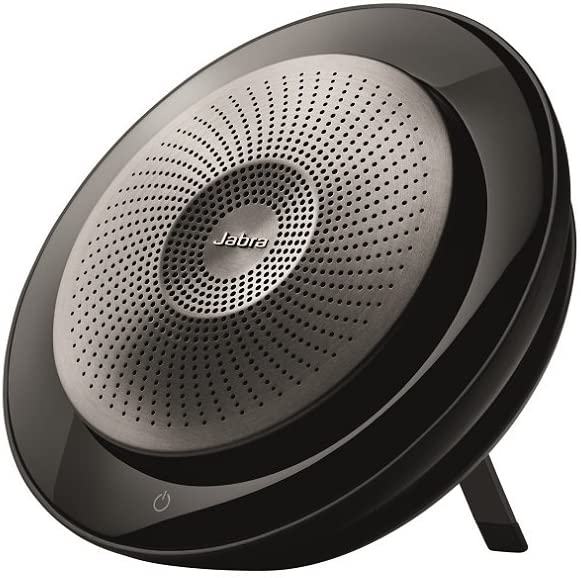 This is an upgrade over their Speak 510 speakerphone. The Speak 710 provides immersive audio with HD voice and an omnidirectional mic. This Bluetooth speakerphone can be used for in-room meetings with up to 6 participants, making it a great choice for those group meetings. You can also pair 2 of these speakers together for a stereo-sound experience or when hosting larger meetings.
The battery life is the same as 510, offering you 15 hours. It is also suited for media and listening to music as compared to other lower-end Jabra variants. The 710 is designed to be your all-in-one Bluetooth speaker, suitable for everything from listening to music and attending meetings.
Pros and Cons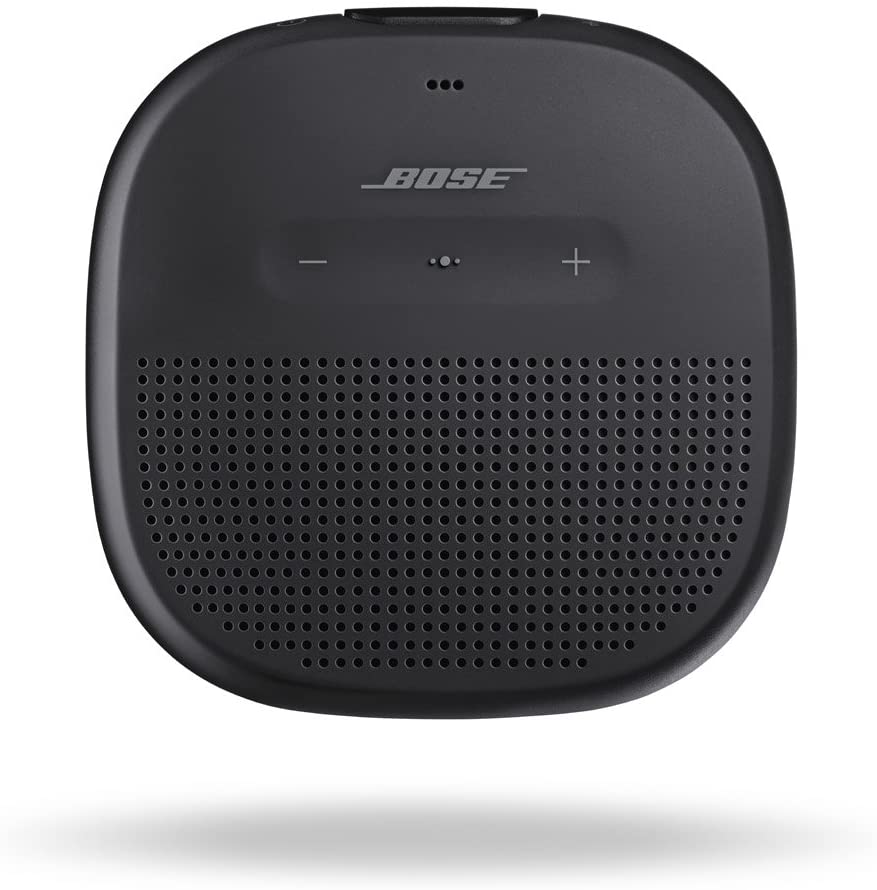 The BoseSoundLink weighs just 0.64 lbs and has a small form-factor, making it one of the most portable options. Bose speakers come with unmatched bass and sound quality, which makes it a good Bluetooth for listening to music as well as attending calls. You can attend calls within a range of 30 feet using this Bluetooth speakerphone. It has an Ipx7 rating for its waterproof capability. This makes it a highly durable option, suitable for home office and when on the move.
You can only use this speaker via Bluetooth connection, no USB or AUX connectivity options are there. 2 SoundLink speakers can be paired together for getting a Stereo effect. You get around 6-hours of playback on a full charge.
Pros and Cons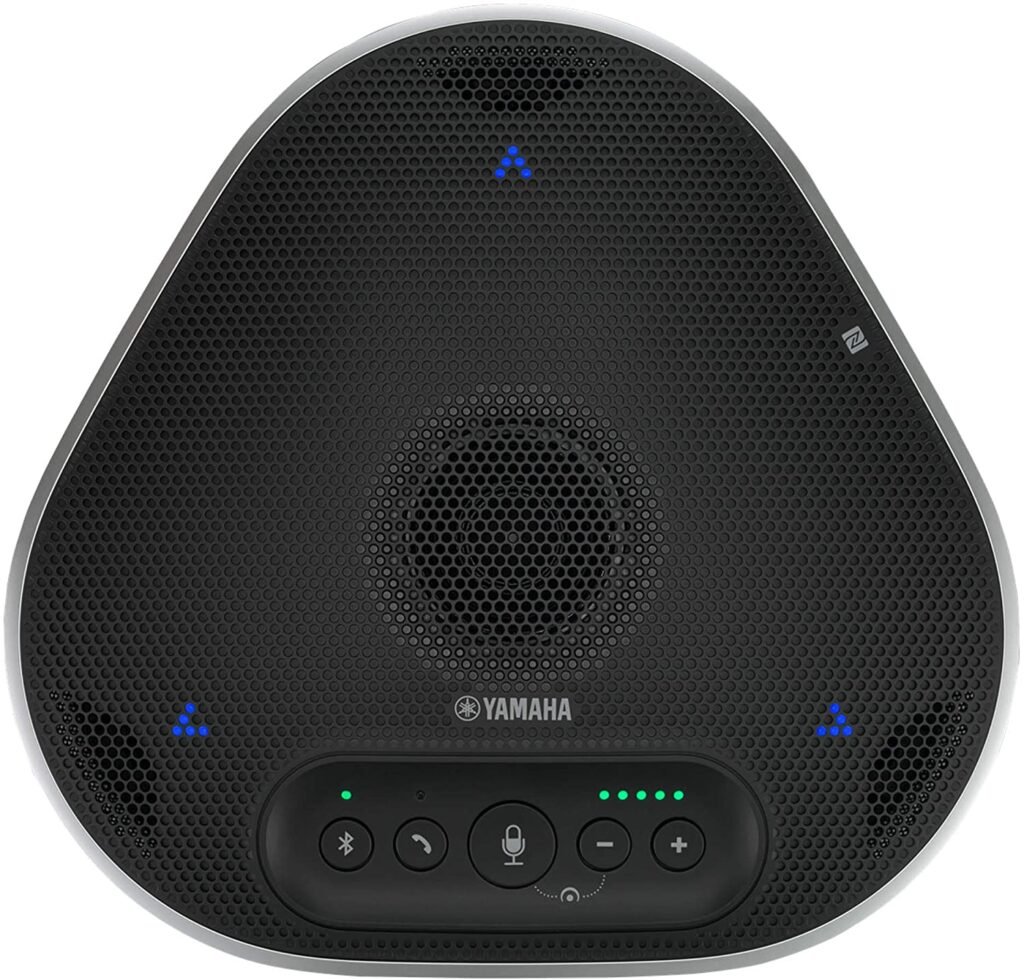 The Yamaha YVC speakerphone comes with 'SoundClap' technology that provides advanced noise-cancellation. This Bluetooth speakerphone provides one of the best audio-outputs, making it a great choice to take calls even in environments with a lot of background noise. It has an automatic volume balancing feature that adjusts the output volume to the right level as per surrounding noise.
You can get a daisy chain cable to connect multiple speakers together for a large conference. It works with all major conferencing software and devices including smartphones and laptops You can connect this speaker using NFC and USB as well in addition to Bluetooth. It uses AC-power and does not have a rechargeable battery.
Pros and Cons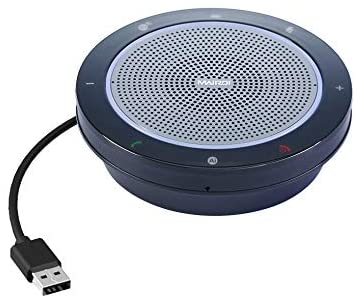 MAIRDI technologies are the mastermind behind this incredible and amazing piece of technology. The speaker offers a crystal-like clear sound technology for enhanced and better communication.
MAIRDI wireless speakers are ideal for Skype and other online conferences, meetings, and VoIP calls. The speakers Omni technology ensures quality, clear, and noiseless sound. The device is ideal for a conference room of 4 to 5 people as it offers 360-degree acoustic audio.
The device comes in a compact style, making it easier for you to carry in your pocket or backpack. The device runs on a 1800mAh battery that offers a 7-hour run time. It also comes with an echo canceling technology that eliminates the echo, thus enhancing the clarity of the sound. You can connect the device via your Bluetooth supported smartphones, Tablets, or Laptops. The MAIRDI wireless offers two years of official warranty.
Key Features
Duplex sound: High-Quality Audio with High-Definition full Duplex Audio Experience.
Plug-connect & play: Bluetooth connectivity along with easy plug and play via USB and Aux
User-friendly interface: Team collaboration Button makes it easier to connect to conference mode.
Led indication: LED light indicates the device and battery power status.
Portable design: Lightweight professional design of 200g.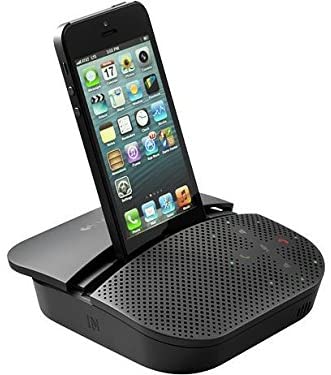 Logitech technology offers a Logitech P710e wireless bluetooth speakerphone. The device is a lightweight speakerphone of 275 grams. The product is available in black color and is powered by a corded electric source.
The device makes it possible for you to turn your bluetooth device into a useful sound source. Simply connect it with your laptop or other Bluetooth devices and have clear sound reaching out to every corner of the room. Logitech P710e offers a conference room at hand.
The device is easy to connect with any USB, Bluetooth, or NFC enabled device. The device offers its high efficiency in Microsoft Lync; its Cisco compatible and Skype friendly. Logitech P710e introduces a one-touch call option. It equips a long battery that lasts for 15 hours on a single charge. The product offers a slide to open speakerphone stand that helps hold the device at an optimum angle.
This helps in getting a shake-free conference call experience. The LED light indicates a simple interface with volume up-down, mute, call answer, and call end buttons. The DSP technology comes with a clear mic and speaker set that culminates the factor of, "you're using a speakerphone…"
Key Features
Dsp technology: Synchronizes the mic and speaker to make the call looks natural.
Integrated stand: For shake-free video calls
Wideband audio: Crystal-like clear audio
Plug-connect & play: up to eight devices
Long battery: Up to 15 hours of playtime.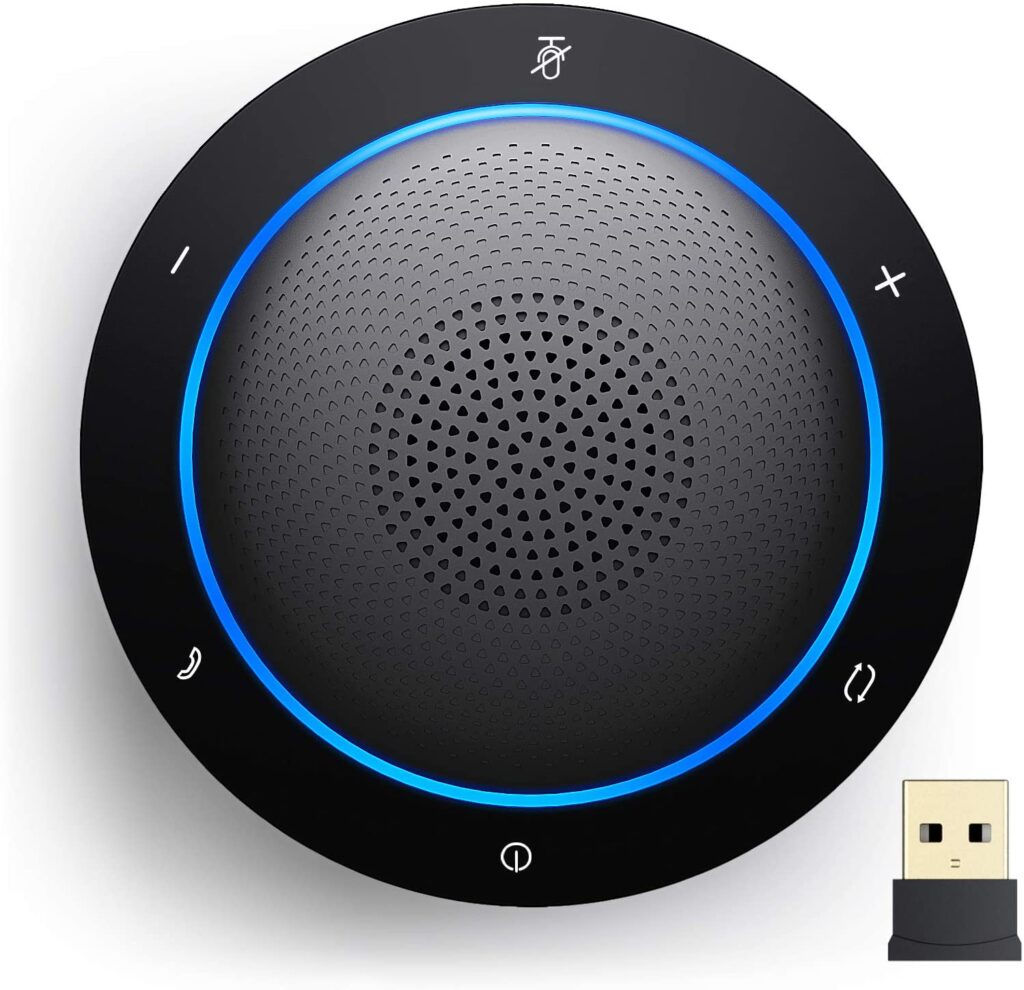 Kaysuda Bluetooth Wireless conference speakerphone connects using Bluetooth and USB technology. It is a versatile model that runs through both AC and battery power supply. The device requires a Lithium-Ion Polymer battery. Kaysuda SP-200 can connect laptops, Smartphones, and other wireless devices via Bluetooth and USB.
The device offers an omnidirectional high-quality sound experience to play and receive 360 degrees for a long-distance throw. The LED light indicates users the visual guidance. The duplex omnidirectional technology helps to eliminate the echo noise during the conversation.
This speaker comes with a DSP technology that offers a crystal-like technology for conference conversation. The device equips a 1800mAh battery for six hour-long running time.
It can catch the Bluetooth signals for as long as 33ft distance. Kaysuda SP-200 can connect up to 8 devices at a time. The Kaysuda SP-200 is highly a handy model of 121mm x 347mm. Kaysuda SP-200 weighs 200 grams that make it easier to handle and carry in a pocket or your backpack.
Key Features
360-degree omni-directional: Offers conference calls for 4-5 people.
Optimized for conference calls: Helps to connect with Skype, Google Hangout, Zoom, etc.
Plug-connect & play: offers connectivity through Bluetooth, USB, NFC, etc.
Multiple connections: Up to 8 devices.
HD acoustic echo free sound: Offers echo-free natural sound.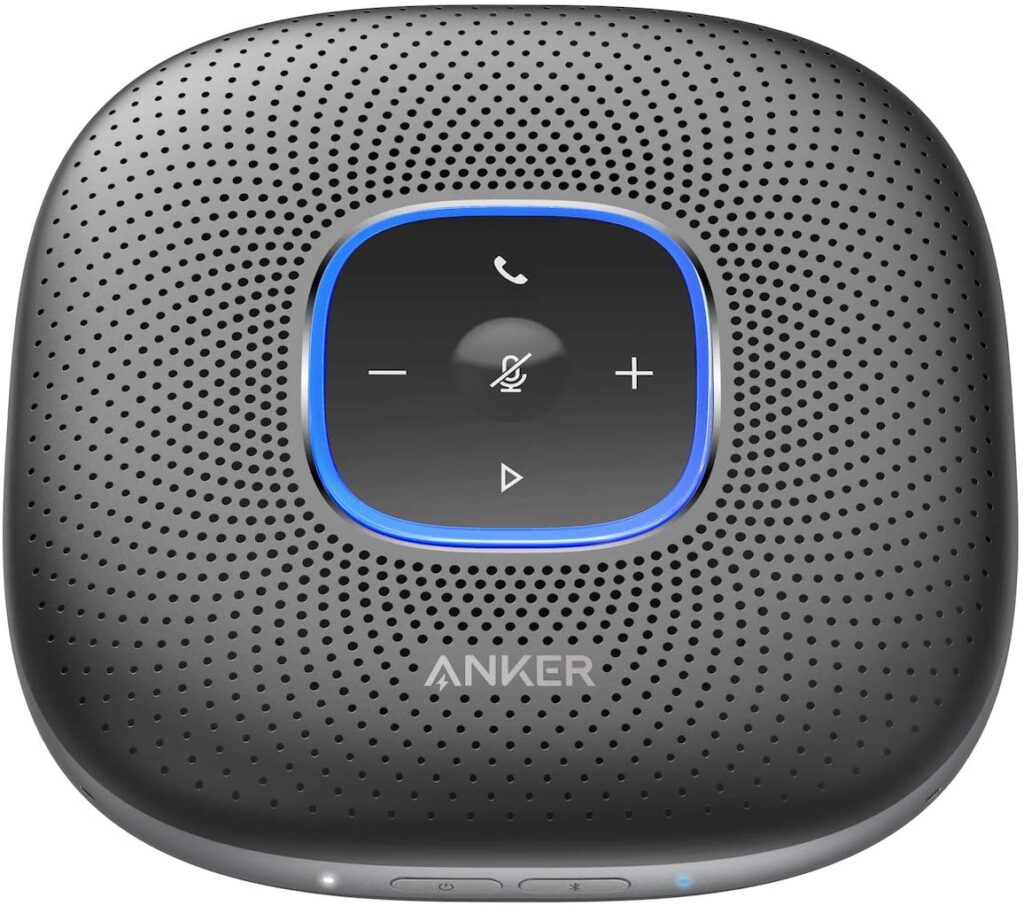 The Anker A3301 is a lightweight, handy, and easy to carry Bluetooth speakerphone. The product weighs 12 ounces that run on 2 Lithium-Ion polymer batteries. The double battery model ensures a long battery life, thus making it the consumer's first option. The Anker A3301 is a powerful device that offers a crystal-like clear sound experience. A small wallet-friendly device helps you to transform your home into your office.
Forbes states this device, Anker A3301, an affordable speakerphone that makes your conference call easy. The Anker A3301 uses PowerConf technology that amplifies the voice without breaking its quality. The PowerConf ensures clear sound to a great distance.
So, even if you are standing at the other end of a large room, you would be able to hear the sound, loud and clear! It makes family calls and a business trip a fantastic experience.
The device equips the latest version of Bluetooth 5.0 that offers more robust and stable connectivity for conference calls. The Anker A3301 offers Anker PowerIQ charging feature. This feature makes boost charging for quick meeting and conferences. The Anker A3301 is compatible with universal software as Skype, Zoom, Google Hangout, etc.
Key Features
6 microphones: 6 microphone covers a wide 360-degree audio conversation in conference rooms.
Custom dsp algorithm: Eliminate echo noise.
Omni-directional balanced audio: Balanced audio for longer distance.
Instant connectivity: Plug-Connect & Play connectivity
Universal compatibility: Connect with universal applications
24hrs 6700mah battery: Offers 24hrs long talk time for long conferences and family events.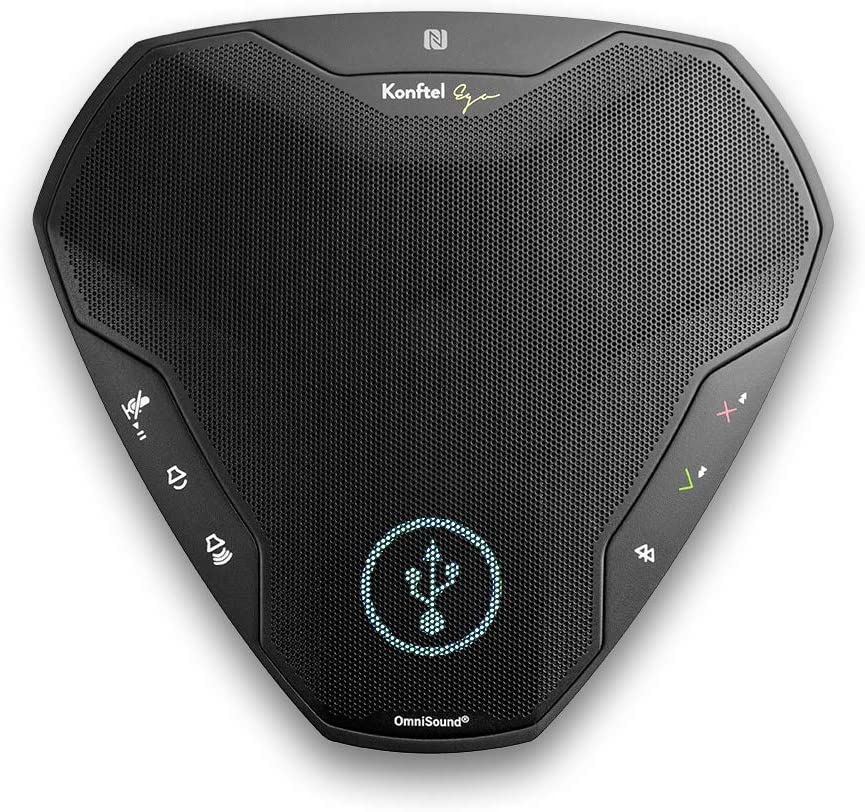 KONFTEL KO-910101081 is a lightweight Bluetooth speakerphone device that weighs just 8.1 ounces. The device is a small and portable speakerphone that easily connects to your laptops, Mobile phones, and tablets. It easily fits into your pocket or in handbags to offer you advanced experience wherever you go.
Despite the compact size of KONFTEL KO-910101081 the device offers a crystal-like clear audio experience. The device equips an Omni-directional sound technology, which provides a 360-degree sound experience. The omnidirectional technology helps in making an ideal conference call experience for 4-5 people.
The KONFTEL KO-910101081 runs on a Lithium-Ion battery. The device offers a user-friendly experience, especially for conference rooms. It is ideal for a couple of colleagues if meeting in a small conference room. If you are away from your home and staying in a hotel, KONFTEL KO-910101081 must be your perfect choice. KONFTEL KO-910101081 is a perfect replacement for the headset. 
Key Features
Small and portable: Compact size makes it easier to carry
Omni-directional HD sound experience: Offers a looks-natural sound quality
All in one connectivity: Connect multiple devices via Bluetooth, NFC, and Plug & Play options.
LCD screen: Offers a clear, user-friendly interface to visual guidance.
HD music streaming: Enables crystal-like clear audio with noise reduction.
Who Should Buy A Portable Bluetooth Speakerphone for Home Office?
Despite the number of advantages, some prefer traditional speakerphones mainly because today, we see smartphones everywhere. They like to wear a pair of headphones while they are out. So, who should buy a portable conference speakerphone for home office?
Household Users
While working around the house, men and women can entertain themselves while listening to music on bluetooth speakers. Whether you are working in the kitchen or gardening on the lawn, a wireless conference bluetooth speaker is the best choice. This is because a corded speaker in such complex work settings gets you entangled with the stuff around. You can play rhymes and dancing songs while playing with your kids in the living room.
Party Lovers
It often happens that you love a song and like to share it with your friends. They listen to it on their lousy mobile speakers. This eradicates the factor of fun in a loud gathering. With bluetooth conference speakerphone, you can play loud, clear music that everyone can hear. They are super fit for traveling, beach picnic, friends party, and BBQ.
The conference, Session, and Meeting Attenders
Conference bluetooth speakerphones are handy for students, business officials, and teachers to attend sessions, classes, and online meetings. With a compact speaker but powerful audio, you can add a video to enhance your experience. Running a video presentation on a laptop speaker is a bit clumsy. Bluetooth speakers, while gets you out of, "you are using a speakerphone…" embarrassment. You can carry bluetooth speakers anywhere to attend the meeting wherever you find it comfortable.
How To Pick The Best Bluetooth Speakerphone for Home Office
While these are the top of the Bluetooth speakerphones that you can get online. Knowing what features to look for and what to consider is an equally important part of finding the best speakerphone for home office in 2022, which is what we will cover ahead.
1. Noise Cancellation
Noise cancellation is a must for any Bluetooth speakerphone, and even more so for one that you will use in a home office. It helps to cut down any background noise and ensure that attendees can hear you without any disturbance from background noise due to air-conditioners, keyboard, other people talking, etc.
2. Connectivity options
In certain cases, there can be a slight lag (less than 1 second) while using bluetooth. Or you may already have multiple other devices connected to your device's bluetooth. In such cases, having a speaker that also works with USB and/or AUX is a good idea.
3. Support for multiple attendees
Many speakers support 4-6 attendees in a meeting, thus allowing you all to seamlessly join the call without any issues. This is a must-have feature if other people may also join the call from your home office. In the case of larger rooms, being able to pair multiple speakers together can also be handy.
4. Battery life
A 6-8 hour battery life can get you through most workdays if the speaker uses a rechargeable battery. It is still a good idea to check that the speaker can function when it is charging.
5. Support for your preferred devices and software
While Bluetooth speakerphones work with almost all Bluetooth devices and conferencing software, it is still better to check and ensure that your preferred one will work with all your devices and the software that you commonly use.
FAQs When Picking The Best Bluetooth Speakerphone for Home Office
1. Which provides better sound quality – Bluetooth or USB?
In any good quality speakerphone, you will get the same result from using Bluetooth or USB connection. However, in some cases, USB output can be slightly better than Bluetooth but the difference is negligible.
2. Can I connect multiple speakerphones to get stereo-effect or for larger rooms?
Most speakers support daisy-chaining multiple units to pick up sound in a larger room and create a stereo effect. However, the daisy chain cable may not be included in the package and has to be bought separately.
3. Can I use a Bluetooth speakerphone for media playback (listening to music, watching movies, etc)?
You can use a Bluetooth speakerphone for media playback as well. However, if you will be regularly using it for this, then choose a speaker that has a good sound output and supports pairing with another speaker for stereo-effect. This will allow you a better experience while watching movies and listening to music.
Final Thoughts
A bluetooth speakerphone is among the most useful accessories for your home office setup. The best bluetooth speakerphone for home office also doubles up as a handy wireless speaker that you can use while watching Netflix or listening to music. Since they are compatible with smartphones and tablets as well, you can use it for many other things.
From Jabra to Yamaha, bluetooth speakerphones come in different sizes, models, and designs with varying features and technologies. But, only a few stand exceptional. Therefore, we are here to recommend you the best conference speakerphone for home office. The above are the best research bluetooth speakerphone models, our list of the best bluetooth speakerphones should help you narrow down your choices and find one that will give you the best value for money. These speakerphones are designed to enable you to work efficiently from your home office and take calls with ease. The devices are hence durable, user-friendly, High quality, and economical.
Enjoyed the conference speakerphone for home office review? Then be sure to check out our other guide of the Best Wireless Lavalier Microphone.