The key characteristics of a wide angle lens are a short focal length and a wide field of view. This type of lens is inevitable for landscape, real-estate, interiors, and architectural photographers who use a Nikon DSLR and intend to capture the background more expansively. With a wide angle lens for Nikon, you can get closer to the subject so that the photographer needs not to compromise the background elements. The ultimate result of this kind of shooting would be more true-to-life images and videos.
Wide angle lenses for Nikon cameras are useful for those photographers who are fascinated at capturing scenes with a more extensive angle of view than the standard lens can offer. If you use a Nikon camera, the following selection aids you to pick the best wide angle lens for Nikon.
List of The Best Wide Angle Lens for Nikon
Check out the thorough reviews of the best wide angle lens for Nikon in 2023 below.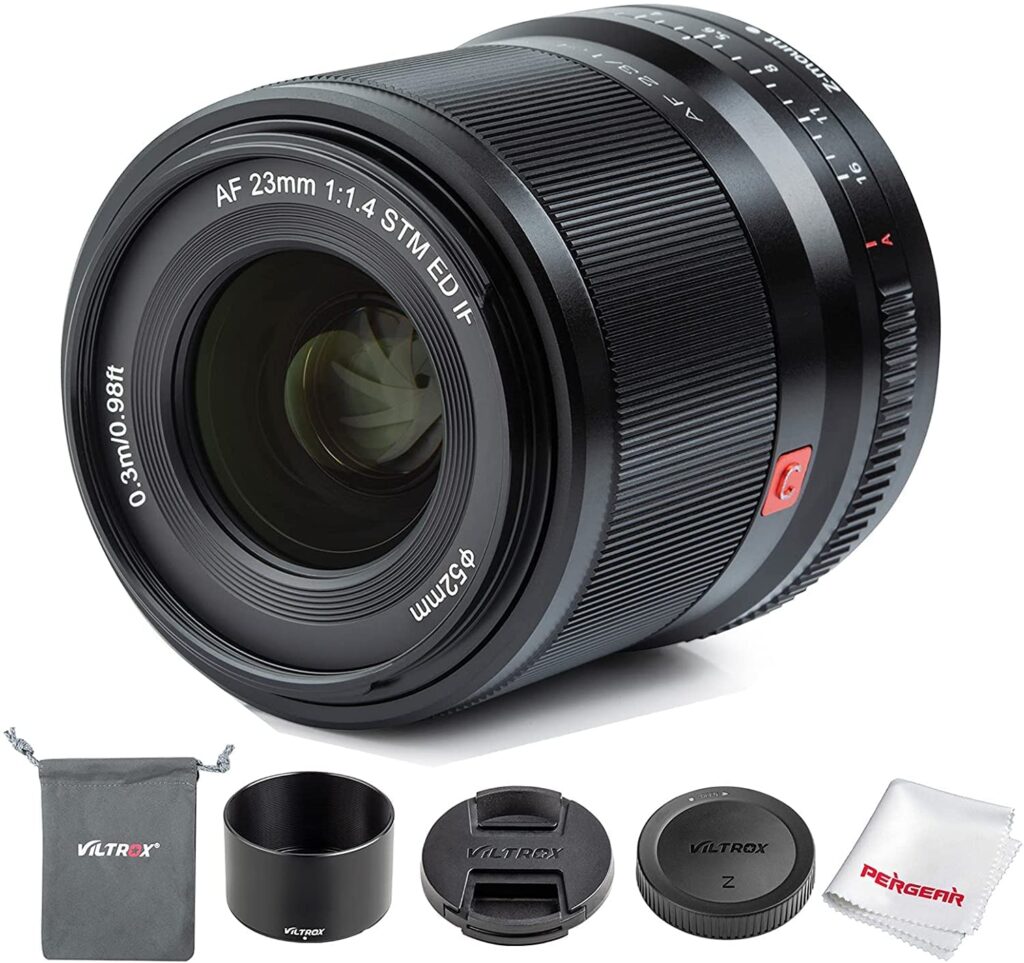 This Viltrox 23mm f1.4 wide angle lens is one of the best wide angle lens for Nikon because it is designed considering the versatility and excellent optical performance. Despite featuring a compact and lightweight design, it can fulfill the diverse needs of photographers and videographers. It is extremely easy to carry and use anywhere.
The f/1.4 aperture makes it perfect for Nikon mirrorless cameras with the APS-C format. To eliminate the distortion problem created by the huge aperture, this lens is equipped with a Nano HD multilayer coating. This coating corrects the dispersion difference. Also, it removes flare and ghosting.
Key Features
The optical design of this lens features 11 elements arranged in 10 groups.
2 high refractive index lenses and 2 extra-low dispersion elements are included to suppress color difference and manage spherical aberrations.
The f/1.4 aperture lets the lens adapt to low-light conditions and also offers excellent control on the depth of field.
Built-in manual aperture ring offers tactile exposure control. This ring shows an "A" position for camera-based automatic aperture selection.
The STM stepper motor allows quiet, fast, and precise autofocus performance accompanied by full-time manual focus override.
The internal focus design upkeeps the overall length of the lens throughout the use for convenient handling and quick response.
Pros And Cons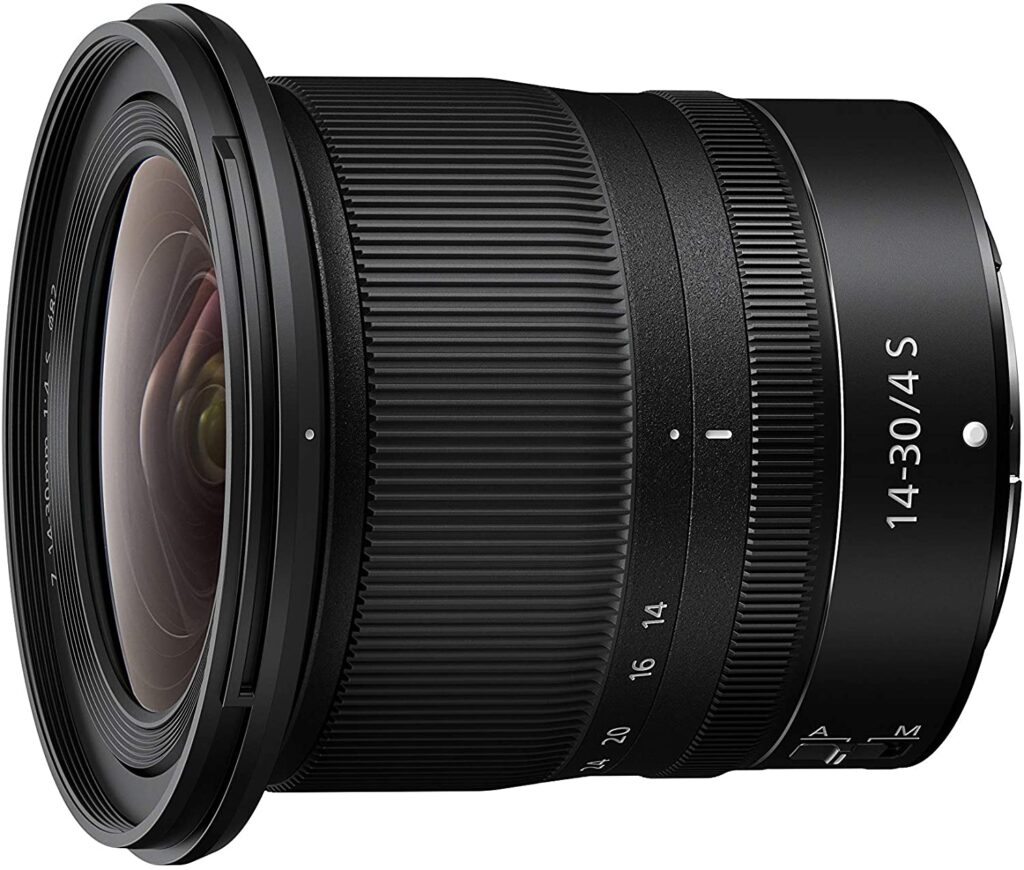 NIKKOR Z 14-30mm f/4 S ultra-wide angle zoom lens is ideal for adding drama and depth to still images and videos. It is an ideal choice for compact cameras from Nikon's Z-series. This lens is perfectly designed with cutting-edge optical performance for flexibility in image creation. The compact zoom range, fixed f/4 aperture, and outstanding image quality are the key traits of this lens.
Even when your record is widely open, you benefit from end-to-end sharpness with this lens. The ability to shoot still images and videos in silence makes the lens perfect for traveling and adventures.
Key Features
The zoom range is 14 to 1,181 in.
A retractable lens system folds the lens up to a single 3.5 inch for safe packaging.
Nikon Stepper Motor (STM) offers smooth, quick, and quiet autofocus
The advanced optical design allows the addition of a 3,228 in circular polarizer to significantly decrease reflections for improving contrast and color.
Customizable control ring can be used for aperture control, manual focus, and exposure compensation.
The aperture control is ideal for exposure compensation during video recording.
Pros And Cons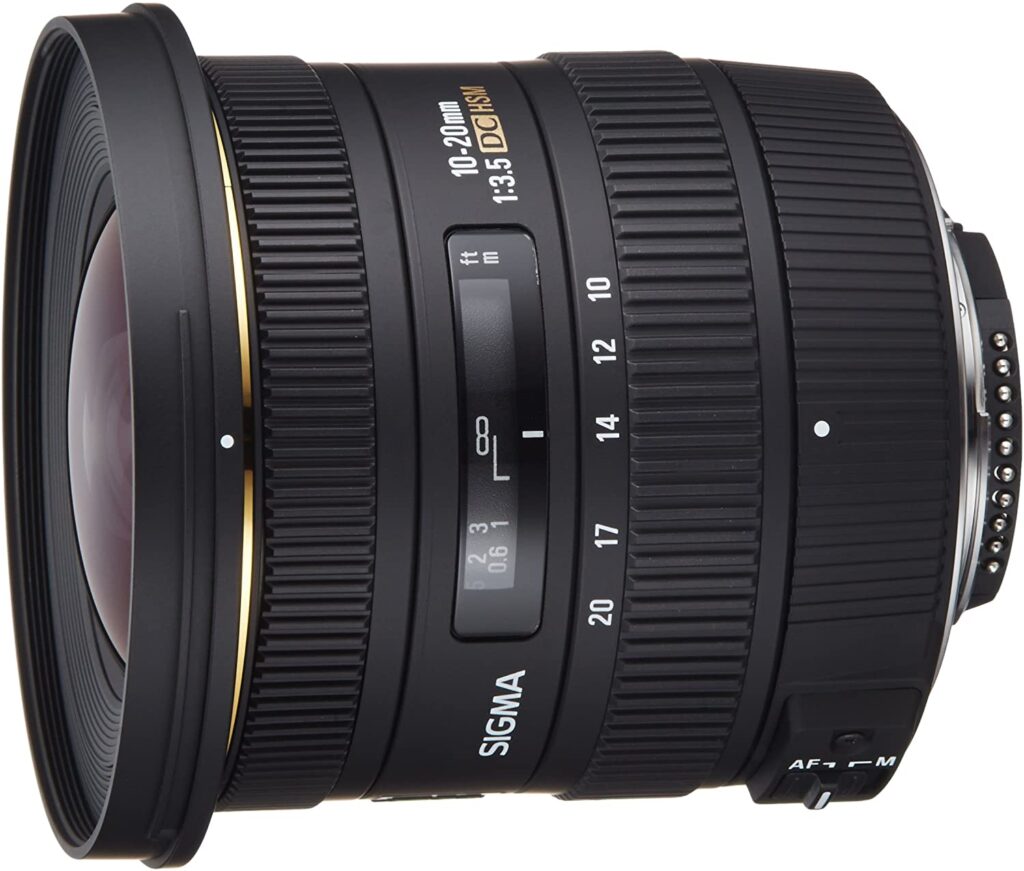 Are you on the hunt for an efficient lens for indoor and low-light photography? If the answer is yes then this Sigma f/3.5 lens can be the best wide angle lens for Nikon cameras and it fulfills your indoor photography needs. The maximum aperture of F3.5 throughout the zoom range makes the lens appropriate for indoor and low-light photography.
The support for wide viewing angle i.e. 102.4° generates striking images with overstated perspective. So, photographers can emphasize the subject. Due to multi-layer lens coating, there is a significant reduction in ghosting and brightness. Consequently, it lets the lens create superior image quality all over the zoom range. Petal-type hood of lens is included.
Key Features
The filter size is 82 mm.
The f/3.5 constant large aperture offers a vivid image in the viewfinder. It assists photographers to conveniently check the composition and focus.
The ELD (Extraordinary Low Dispersion) Glass, SLD (Special Low Dispersion) Glass and Aspherical Lenses offer outstanding correction of all kinds of aberrations.
The use of two hybrid aspherical lenses and two glass molds provide outstanding distortion and astigmatism correction. Also, it promises superior image quality.
The HSM (Hyper Sonic Motor) guarantees quiet and fast autofocus while enabling full-time manual focus to be overridden.
Pros And Cons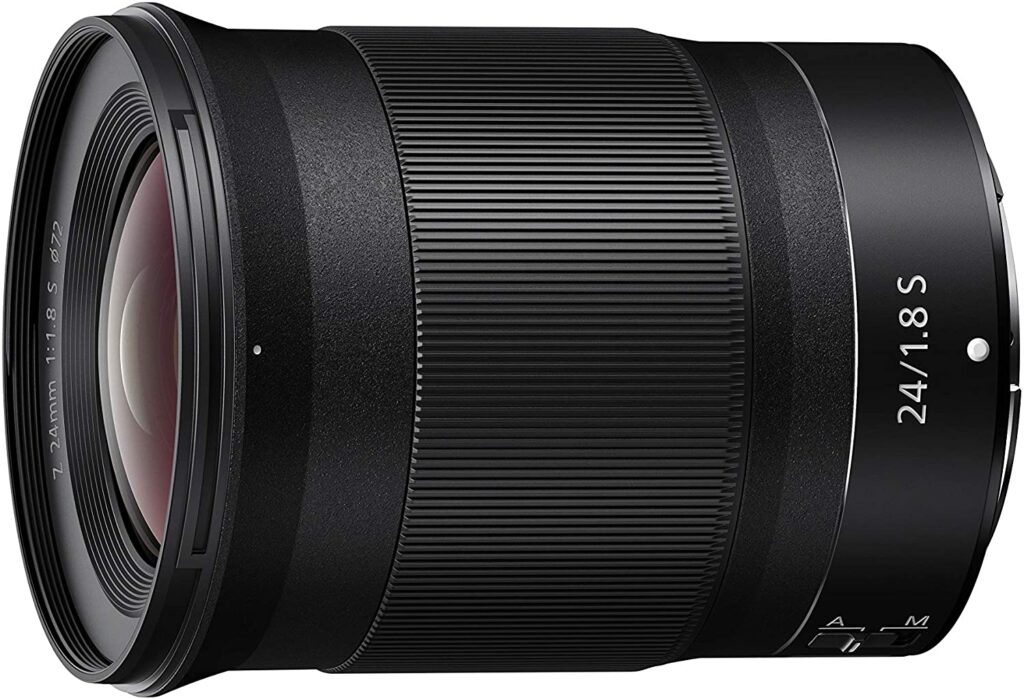 Shoot incredible stories with NIKKOR Z 24mm f/1.8 S wide angle lens. It is an outstandingly bright and sharp lens that is optimized for the innovative light-gathering ability of Nikon's cutting-edge Z stand. You can equip your Nikon camera with this lens to capture a stunning natural view or the tranquility of a stage view.
With superb resolution all over the frame and smooth bokeh, this Nikon wide angle lens can be used for a wide range of applications. The fast and bright f/1.8 aperture makes it ideal for environmental portraits, landscapes, group photos, and architectural photography. You can also use it for street photography. The optical performance is excellent in low-light conditions.
Key Features
The maximum focal length is 24 mm.
An ultra-quiet pitch motor powers this entire lens.
The packaged weight is 1.8 lbs.
Compatible media is Nikon Z.
Pros And Cons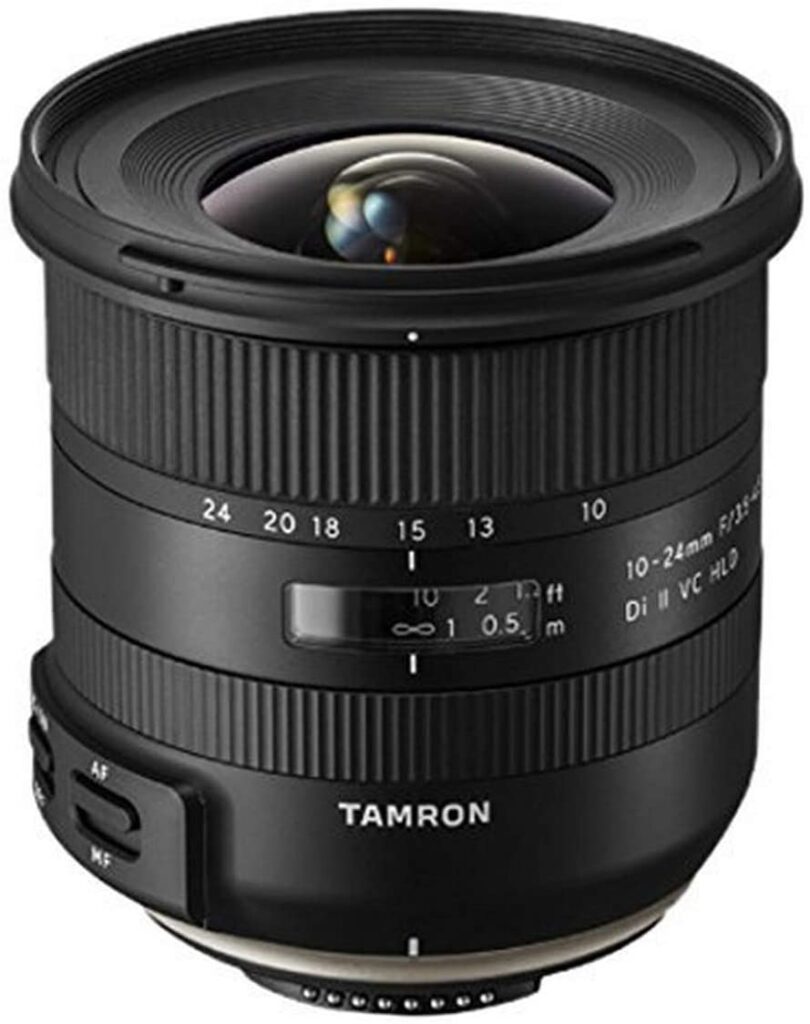 Tamron designs this f/3.5-4.5 Di-II wide angle zoom lens for use in Nikon APS-C and DSLR cameras. It is implemented with cutting-edge Tamron technology like the latest HLD (high/low torque modulated unit), VC (vibration compensation), moisture-resistant construction, and fluorine coating. These qualities ensure efficient performance for the long term. This is why it is one of the best wide angle lens for Nikon. Also, it is famous for controlling glare and distortion that leads to great clarity in the output images and videos.
The aforementioned characteristics with the exceptional resolution help you capture everything ranging from casual snapshots to detailed landscapes. This state-of-the-art wide-angle zoom lens helps you expand your photographic vision.
Key Features
The optical design contains 16 elements in 11 groups.
The latest big aperture aspherical lens and an LD (low dispersion) lens elements provide outstanding resolution all through the full zoom range as well as mdash. These lens elements lead to stable images all through the frame.
The lens corrects for transverse chromatic aberration and distortion which is often perceived in other wide-angle lenses.
The exceptional BBAR (anti-reflective broadband) coating enhances light transmission. It controls scattering and glare on the lens surface.
The cutting-edge ultra-wide angle zoom is entirely reinvented to control glare and ghosting.
Fluorine coating resists oil and water from the lens surface
Electromagnetic diaphragm system is implemented.
Pros And Cons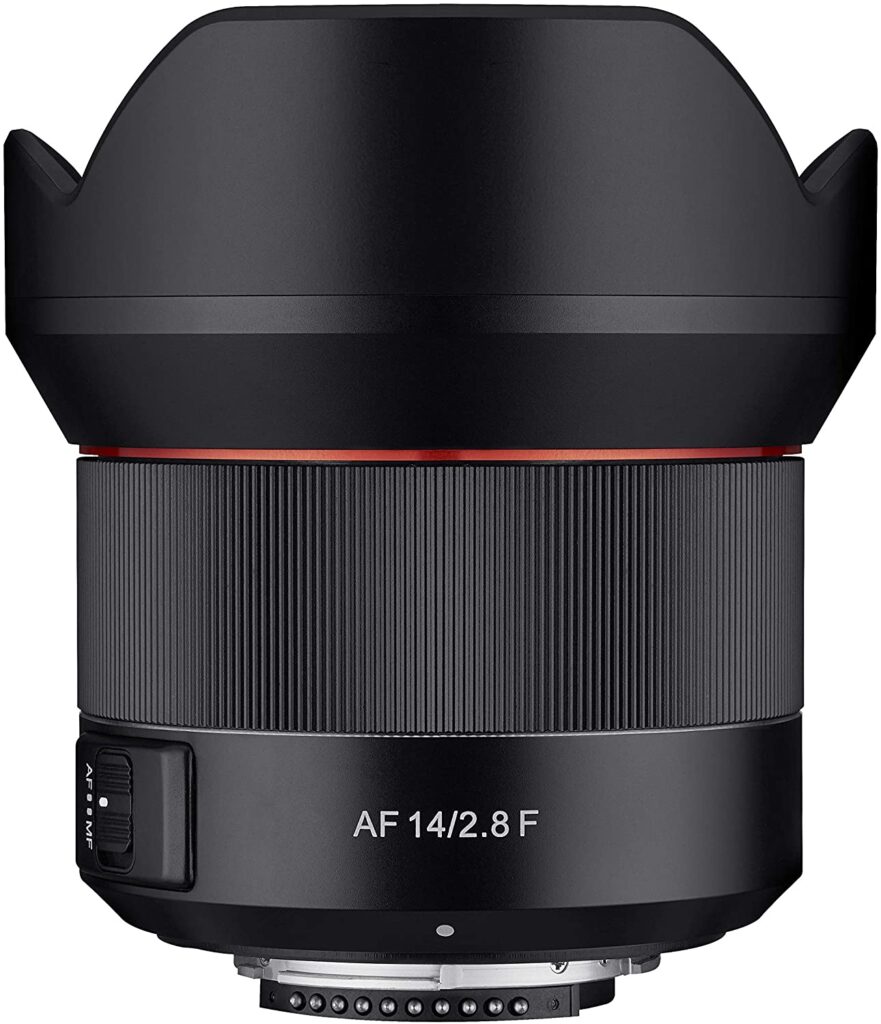 Weather-sealed aluminum construction is one of the exceptional attributes of this Rokinon wide angel lens. It is compatible with Nikon (IO14AF-N) cameras. The design is done uniquely to withstand the rigors of professional usage without compromising on optical performance. The outstanding features let this lens meet or surpass the performance characteristics of other professional ultra-wide angle lenses.
Compared to other wide-angle lenses in its class, this Rokinon 14mm F2.8 full frame auto focus wide angle lens offers reduced weight and size. You can conveniently carry it to different places and use it instantly. The latest AF design takes the benefit of the reduced weight and movement of the focus lens group. Ultimately, this results in fast and quiet operation with high accuracy.
Key Features
The aperture range is f/2.8-f/22 and the minimum focusing distance is 7.8 inches.
The optical design shows 15 elements arranged in 10 groups, comprising of an ED lens, 4 Hri lenses, and 2 aspherical lenses.
The wide viewing angle is up to 116.6°.
The full-frame design makes it compatible with multilayer glass and 7 diaphragm blades.
The seven-blade aperture, bright f/2.8 aperture, and sealing against the elements offer bokeh and star effects.
Pros And Cons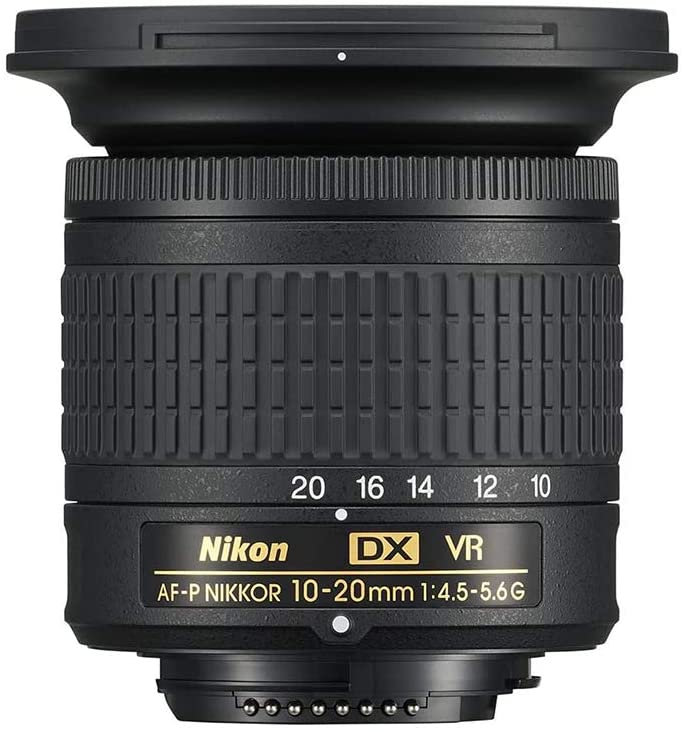 AF-P DX NIKKOR lens is a true wide angle lens with a reasonable price. It is perfect for capturing cityscapes, landscapes, interiors, architecture, or simply elegant group photos. The ultra-wide angle view surpasses any kit lens and lets you become creative with composition. The versatility and decent optical performance suggest that it is one of the best wide angle lens for Nikon.
The vibration-reducing (VR) image stabilization and near-silent autofocus make this lens a wonderful solution for video recording. Owing to its sleek and lightweight design, it can be carried along on a travel trip. The outstanding optics provides stunning videos and photos regardless of environmental conditions. Moreover, the silent autofocus stepper motor makes this lens perfect for video recording.
Key Features
Vibration Reduction (VR) image stabilization promises sharp photo and video output. This feature keeps your photos and videos handy.
The VR image stabilization helps you to use a slower shutter speed for brighter photos, in low-light conditions.
Three aspherical lens elements (AS) eliminate natural distortion. These elements contribute to compact and lightweight design.
The super integrated coating (SIC) eliminates ghost, reflection, and cross-light situations.
List of compatible models is Nikon D5, D810 series, Df, D750, D7100, D5200, D7200, Nikon 1 series with the FT1.
Pros And Cons
How To Pick The Best Wide Angle Lens for Nikon?
You can have a clear perspective when choosing the best wide angle lens for Nikon after you consider the below factors.
1. Sensor
When choosing any wide-angle lens, one of the most vital aspects is to choose the type of sensor. The two most common types of sensors found in these lenses are APS-C or full-frame sensors. All lenses designed for an APS-C camera can't be equipped on a full-frame camera. The opposite would always be true.
If you are a novice to photography, it is a good chance to get started with an APS-C body. Keep in mind that the focal length values mentioned on the lenses are always shown for a full-frame body. The conversion factor of 1.5x exists between APS-C and full-frame sensors.
2. Focal length
The focal length is denoted as the number with the mm written along with. It describes the distance between whether the light hits the image sensor and the lens. Keep in mind that it is not related to the actual size of the lens.
The smaller the focal length, the more part of scenes will be captured. On the other hand, bigger focal lengths enable you to zoom in and capture closeups of the subject.
3. Depth of field
A broad focal length offers a more widespread area of acceptable sharpness. Generally, top-grade lenses present a maximum depth of field that makes it possible to capture pictures quickly with accurate focusing. Try to choose a wide-angle lens that comes with a wide focal length.
4. Mount mechanism
When looking for wide-angle lenses for Nikon cameras, you have to consider the style of the camera mount the lens supports. Make sure the lens you choose must have the type of mount matching that of your DSLR. Else, you cannot perfectly attach the lens to the camera. Fortunately, Nikon cameras don't come with an array of lens mount types. The most common one is the Nikon F-mount.
5. Weather sealing
A quality lens is one that is weather-proof. If you want to do photography in those locations that have unpredictable weather, choose a lens that offers dust and weather resistance. This way, it will avoid potential damage and ensure safe operation.
6. Dimensions
Wide-angle lenses are usually bulky. Certain wide-angle lenses have weights similar to that of telephoto lenses. Such bulky lenses weigh almost 2 pounds and more. If you want to shoot while traveling or willing to capture landscapes then choose a wide-angle lens with a lightweight and compact design. Check the overall dimensions and weight before purchasing.
FAQs When Picking The Best Wide Angle Lens for Nikon
1. How is a wide-angle lens useful to photographers?
Through a wide-angle lens, photographers can easily capture a scene in more detail and capture pictures of wide landscapes or tiny interiors. This type of lens comes with a broader angle of view than the standard ones.
2. Can you capture portraits with a wide-angle lens?
It is not advisable because the results are not satisfying for a photographer. But a wide-angle lens can be used for group photography.
3. Are wide-angle lenses versatile?
Yes, wide-angle lenses are used for a wide range of applications. They can be used for architecture, interiors, real estate, landscape photography, cityscape photography, street photography, wedding parties, etc. These lenses provide you with options for shot composition and camera framing. Choosing the best wide angle lens for Nikon provides you with the best optical performance.
Final Thoughts
Capture wonderful landscapes with an extensive field of view using these wide-angle lenses. These lenses facilitate the photographer to see both depth and width, offering diversity and discarding the need for using various lenses for various photos. The best wide angle lens for Nikon in 2023 can also assist you when you require everything in the frame to be in focus.
Enjoyed this wide angle lens for Nikon review? Then be sure to check out our other guides.