Has your shaver's performance degraded over the years? Are you not getting that smooth and nick-free shave like you used to? If this is the case, then it may be time for you to go for a SH70 replacement shaving head on your Phillips 7000 shaver. When people stop getting a smooth shave from their shaver, their first thought is to replace it. However- when there is a simpler and more affordable solution available, should you go ahead and replace the entire unit?
Phillips 7000 series of electric shavers are among the most preferred ones in the market. They come with a set of 3 rotatory cutting heads that allow you to have a smooth and comfortable shave. As you invest in a shaver from Phillip's 7000 series, you would want to ensure that you get the most for your money. Ensuring the longevity of the shaver and a smooth shave every time means having a shaving head with sharp and well-maintained blades.
Regardless of which Philips Norelco 7000 series shaver you own, there is a standard set of SH70 replacement blades that you need. Changing them once a year helps you get the best performance every time. You don't have to spend a lot of money to get the expensive original SH70 head from Phillips itself, where you can find durable and cheap alternatives.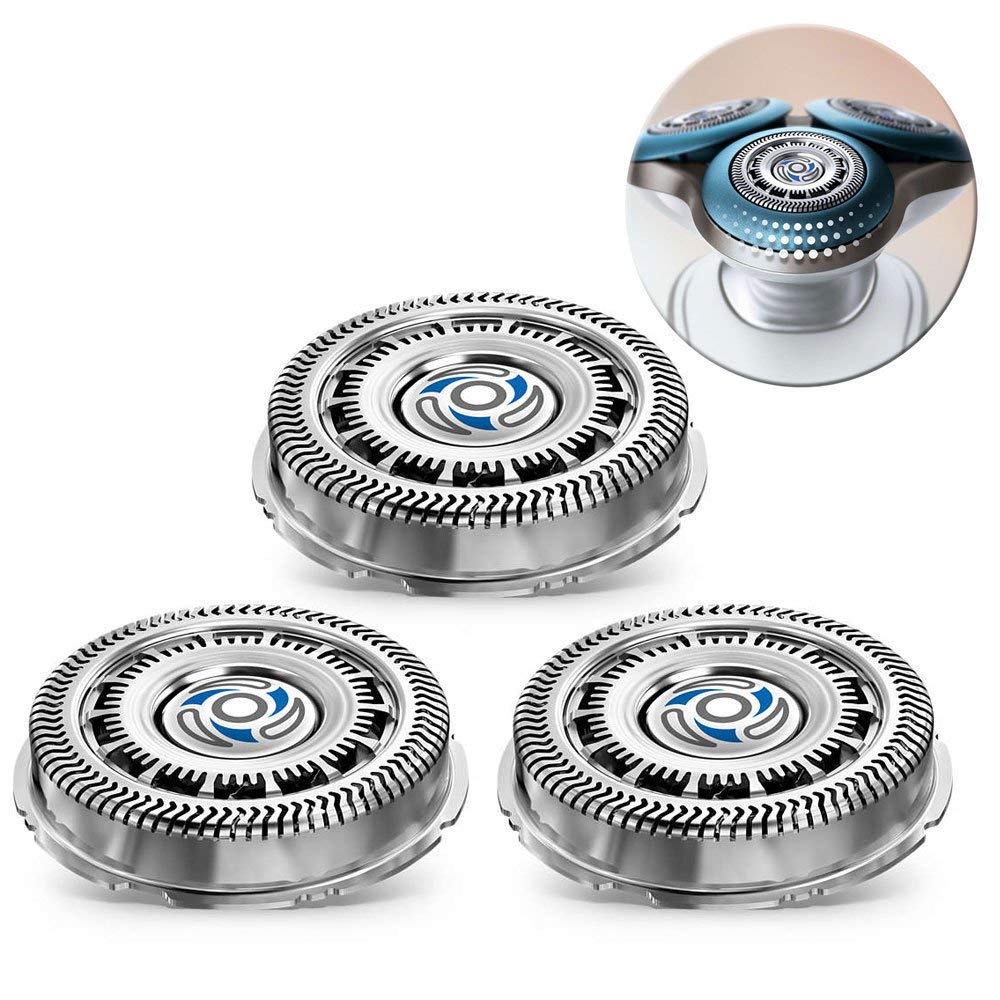 So how good are the SH70 replacement heads, what features do they offer and what other things should you know before buying one? Let us go ahead and find that out.
Features of Philips Norelco Replacement Heads SH70
Replacement shaver head for Phillips 7000
The shaver head acts as a replacement for all the electric shavers in Philips Series 7000 (branded as S7___).
GentleTrack Blades
This head comes with GentleTrack Blades allow for the optimal cutting position, thus delivering a comfortable and pain-free cut.
Dual Blade System
The dual blade system employed by these shaver heads lifts the hair above your skin and then cuts them. This allows for an irritation-free shave.
3 floating heads
A single replacement head is comprised of 3 individual rotatory shaving heads. This allows for a smoother shave and can get through even the thickest of beards with ease.
3 shaving heads
In every package of SH70 heads, you get a single replacement head comprised of 3 shaving rotating heads.
Simple cleaning
You can use HQ110 spray for cleaning the shaving head for maximum hygiene.
Pros of Philips Norelco Replacement Heads SH70
Some of the major benefits that come with this original Philips replacement shaver head include:
The SH70 head fits a variety of Phillips shavers. You can use it with all Phillips shavers in the S7xxx and SW77xxs series.
The GentleTrack proprietary blade technology ensures that you get a comfortable shave in every position. The alignment of the blades goes through hair without any pain or irritation.
The blades use the 'Lift and Cut' mechanism, where one of the blades lifts the hair off the skin and the other one cuts it. This gives you a close shaving experience without harming the skin.
You can easily clean the blades underwater or using specialized spray.
Cons of Philips Norelco Replacement Heads SH70
While these are the best replacement heads for a large variety of Phillips shavers, there are some aspects where they lack. A few commonly reported cons of these shaver heads are:
Tough to insert: You may have to spend some time in replacing the shaver head with a new one in your Philips Norelco Shaver.
Replacement blades may last less than blades supplied with the original shaver by Phillips.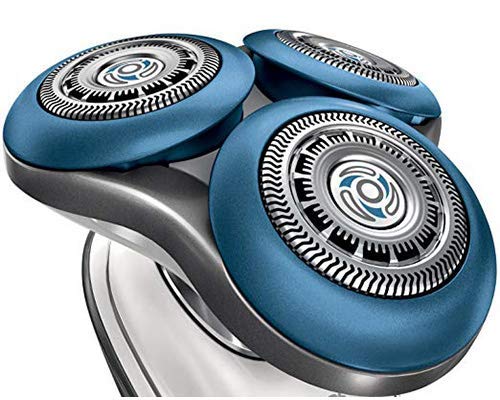 Recommendations That Ensuring The Longevity of Philips Norelco Replacement Heads SH70
Getting the most out of your electric shaver means not only replacing the head in time but also maintaining it. One of the most important things in doing that is cleaning the shaver after every use. This ensures that the hair and dirt are not logged into it. Too much trimer trapped in the shaving head may jam the blades and stop it from working. Can you wash your electric shaver in water or under a running tap? There would be a symbol on the shaver or its box that would help you determine that. Here is what it means:
Crossed out tap sign: This means that you cannot wash the shaver using water. In such a case, you can remove any hair trapped in it using a cleaning brush.
Tap sign: A tap sign means you can wash the shaver using water. The cutter and combs on the shaver can be washed using water. However- remember that this does not mean that you can use it under the shower or dip it in the bath.
Shower/bath symbol: This means that your shaver and shaver head can be washed under water and fully submerged in too. Such shavers can be used in the shower as well.
How do you know its time to change the shaving head?
Phillips recommends that you change the SH70 head on your electric shaver at least once a year. Some electric shavers also have an indicator that light up to let you know that it is time to change the shaving head. The instruction manual of your electric shaver will have instructions on how to replace the shaving head. Do note that it is not present on all electric shavers.
However, depending on your shaving habits, a replacement may be required sooner. If you feel that the shaving experience is not optimal- a rough shave, too many cuts or nicks/pulling, you can go ahead and change the SH70 head.
As per Phillips, it takes around 3 weeks for our skin too adjust to a new shaving system. They recommend that you use the new shaver and head for at least 3 weeks to get used to it. You may not get as close a shave on your first few uses- however, the skin adapts after a while and within 3 weeks, you should be getting the perfect smooth shave with your Phillips 7000 series electric shaver.
FAQs When Buying SH70 Replacement Heads
1. How frequently should the shaver heads be replaced?
On average, a shaver head goes through 4.5 million facial hair in a day. For peak performance and a close, nick-free shave, the shaver head must be replaced every year. In case you shave/trim less frequently, you can wait until you feel the cutting of the trimer is not at par before replacing it.
2. Can I change the shaving head myself or do I need some assistance?
You can easily swap out the SH70 head for a new one without any help. Follow the below steps:
Press the small button placed below the head. This will open the showerhead.
Hold the sides of the head and then pull it up to detach the head from the shaver body.
There is a central-locking mechanism that keeps the shaver head in place. Rotating it counterclockwise will unlock and allow you to remove the head.
Lift the locking mechanism to free the blades. Then push out the blades from the back carefully. The blades are covered but some sharp edges may still be exposed.
Put the new blades, ensuring that the side that has 2 tabs is towards the center of the head.
Align the locking mechanism with the new blades, rotate it clockwise to secure them.
Put the head on the body to close the shaver- and you are done!
Can you use it for both dry and wet shaving?
You can use this head for both wet and dry shaving. As it is compatible with all 7000 series products under Philips Norelco, including the wet shavers, you can count on getting a good wet or dry shave using these blades with ease.
3. How many shaving heads are there in a single pack?
If you buy the Phillips SH70 head, you will get 3 replacement heads in a single pack. However- this does not mean that it is for 3 replacements. The Philips Norelco series uses a 3-blade system, so every time you need to replace the shaving heads, you have to replace 3 sets of blades. 1 set of replacement blades provides you with a one-time replacement.
4. Is there any difference between the replacement head and the ones supplied with the shaver?
While a few customers have reported that they felt that the expensive head supplied with the Norelco shaver were sharper, you can also buy the durable and cheap alternatives that you should not face any such issue too. Replacing them every year and regular cleaning will ensure that you always get the best and smoothest shave.
Final Thoughts
Thus, with this, you now know all there is to know about the Philips SH70 head replacement set. A single replacement should easily provide you a year of a close and comfortable shave. With Philips SH70 replacement head, you can ensure long life and best performance from your shaver. This is exactly what you need to get a smooth, pain, and irritation-free shave every time.
Enjoyed this SH70 replacement heads review? Then be sure to check out our other guides.