Wireless lavalier microphones are among the best ones if you are looking for recording some top-quality audio. If you are looking for some easy way to record audio without much disturbance or noise of the surrounding, lavalier microphones might be the right choice for you. These microphones are small, allowing the user to record and transmit audio completely hands-free. As you use the best lavalier microphone, you can concentrate totally on your work, totally forgetting about the mic.
What Is Wireless Lavalier Microphone?
Lavalier microphones are known as several other names like lapel mics, body mic, clip mic, collar mic, and so on. As easily understandable by the names, they are used based on where the mic is being used and for what purpose. In easy terms, they are small microphones usually used for recording purposes by professionals, allowing them hands-free operation. They come with amazingly small clips, which are used to attach them to the collars, sometimes ties, or some other type of clothing of the recorder. As these mics are personally used, they have also got the name personal mics. Here is the best wireless lavalier microphones in 2023 that you can consider picking.
List of The Best Wireless Lavalier Microphone
While all lavalier microphones offer some common advantages, like hands-free recording, some of them have something more to offer. Based on that, check out the thorough reviews of the best wireless lavalier microphone below.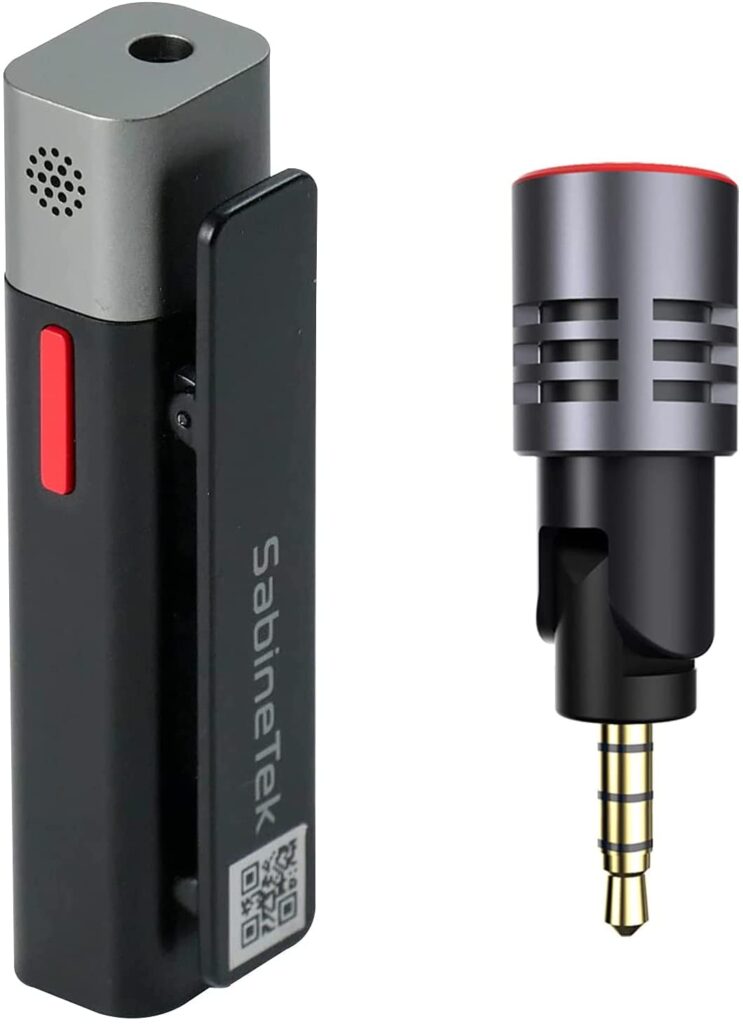 If you are looking for a lavalier microphone for professional recording, it is better to have one with higher audio sensitivity. This SabineTek wireless lavalier microphone is an omnidirectional lavalier microphone with audio sensitivity of 80 dB. As a result, you can record noise and distortion-free audios even at places with high-decibel sounds.
The lapel mic comes at a very compact size, perfectly suitable for events, conferences, webinars, and so on. The connectivity of the mic is very easy and convenient like you can easily clip it on your shirt. It comes with real-time synchronization of the background sound and the human voice, which makes post-editing easier.
Features
Connecting your smartphone with the SmartMike+ app broadens your access to the microphone, including a vlogging mode.
A high rate of audio sensitivity of 80 dB, offering professional CD-quality radio/ multi-level noise reduction
The microphone offers real-time auto-synchronization or real-time stereo monitoring.
Pros And Cons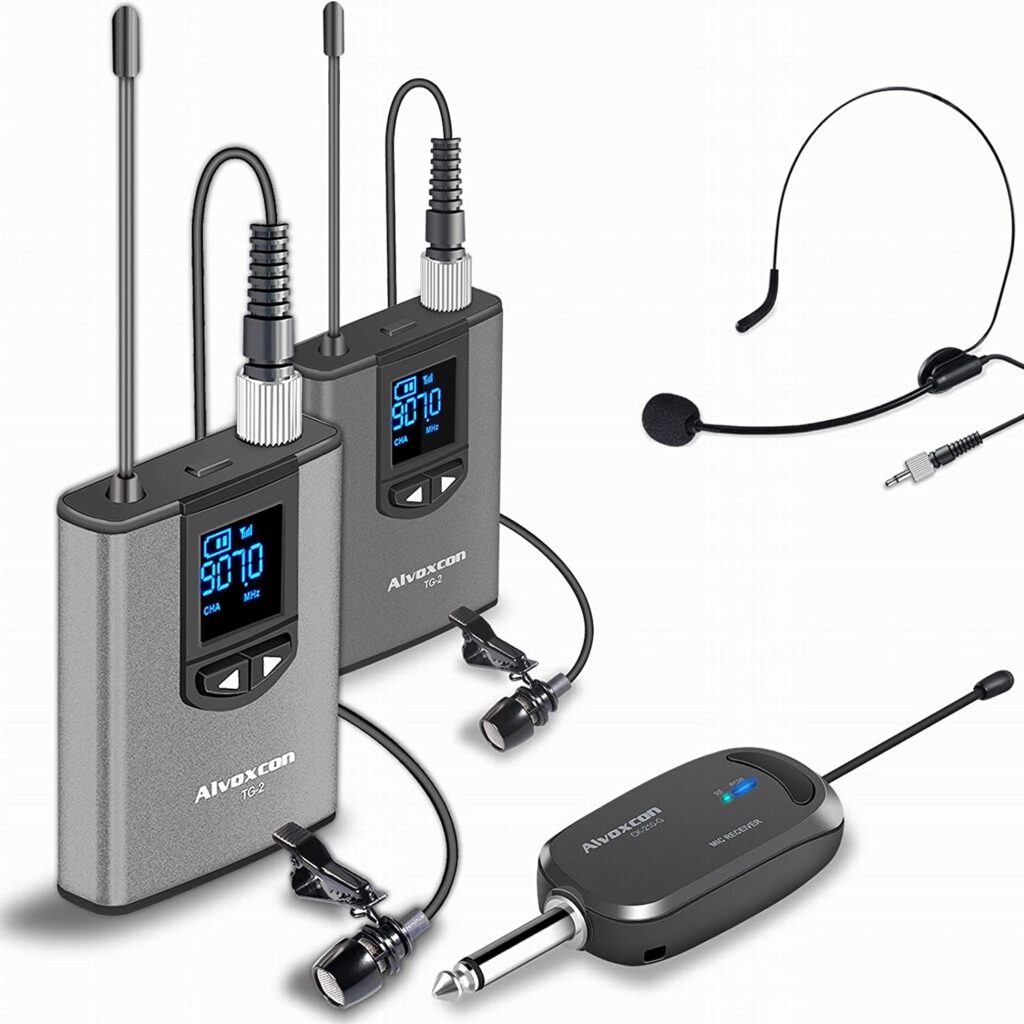 This Alvoxcon dual wireless lavalier microphone offers crystal clear sound with a range of up to 100 feet without any distortion. It has UHF digital wireless technology, which provides stronger signals. If you are trying to record a video, this mic might be the best choice for you. You just need to plug the clip-on microphone into the bodypack transmitter and plug the mini receiver into your phone or DSLR camera.
The microphone is named dual as it comes with 2 portable belt pack transmitters and one mini receiver. Both transmitters and the receiver are powered by a built-in battery, which is rechargeable as well. You can see the battery status, frequency, and other information on the LCD of the bodypack transmitter. The microphone is preset with 902-928 MHz and complies with the FCC regulations set for wireless microphones.
Features
1/4" output plug, works with any device that has 1/4″ mic input jack in it.
It comes with two portable belt pack transmitters and one mini receiver.
It offers multiple frequencies along with volume control, which is controlled via the buttons on the transmitter.
The wireless transmitter offers noise and distortion-free transmission up to 100 feet.
Pros And Cons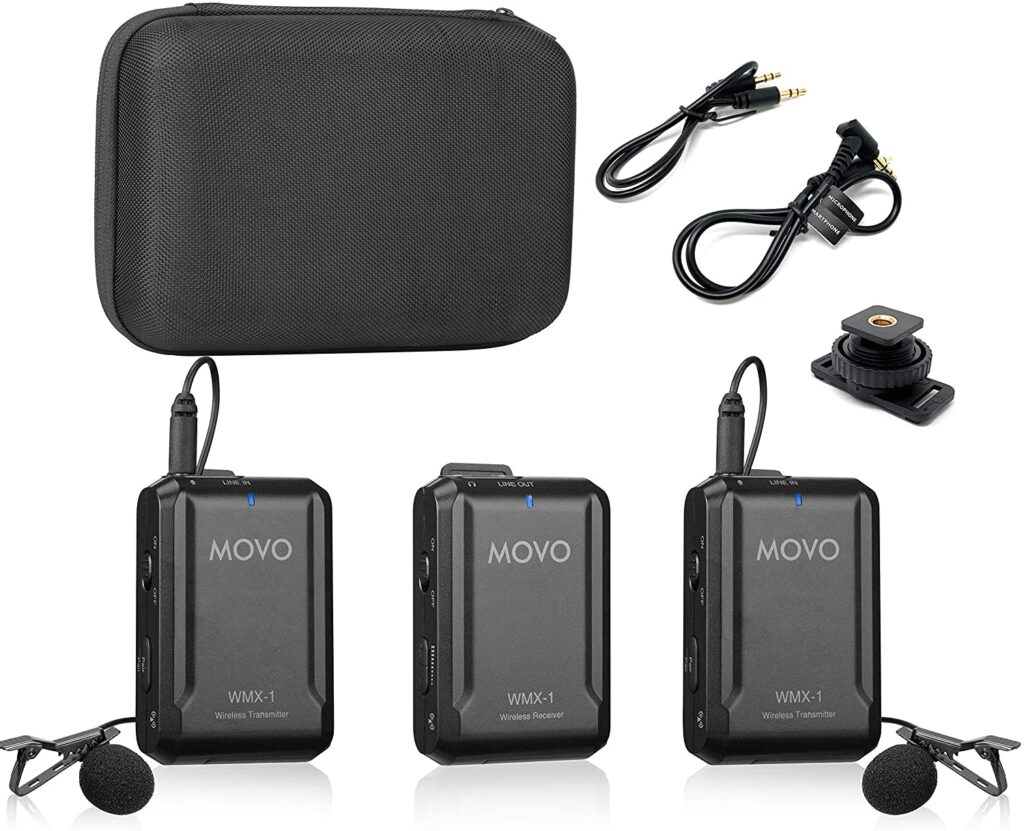 You can record audio crystal-clear from your camcorder, DSLR, tablet, or smartphone. The Movo wireless lavalier microphone is a perfect choice for filmmakers, mobile journalists, vloggers, and even content creators. As it covers a huge transmission range of 200 feet, you can record distortion-free audio from quite a distance. As a result, the microphone is known as a great choice for teaching tutorials.
Movo WMX-1 microphone allows you to listen to your audio in real-time so that you can ensure accurate sound recording, a necessary part of professional recording. You can also adjust the microphone volume, which will reduce time in the post-production part. It is an omnidirectional wireless lavalier microphone that includes a camera shoe mount suitable for DSLR cameras.
Features
The connector type of the microphone is a 3.5 mm Jack.
Each unit is powered by two AAA batteries, which allow operations for up to 6 hours.
The microphone broadcasts on a 2.4 GHz spectrum with the transmission range being up to 200 feet.
The whole set comes with two transmitters with belt clips, a receiver with belt clip and shoe mount, 2 lavalier microphones, cables, and a hard case.
Pros And Cons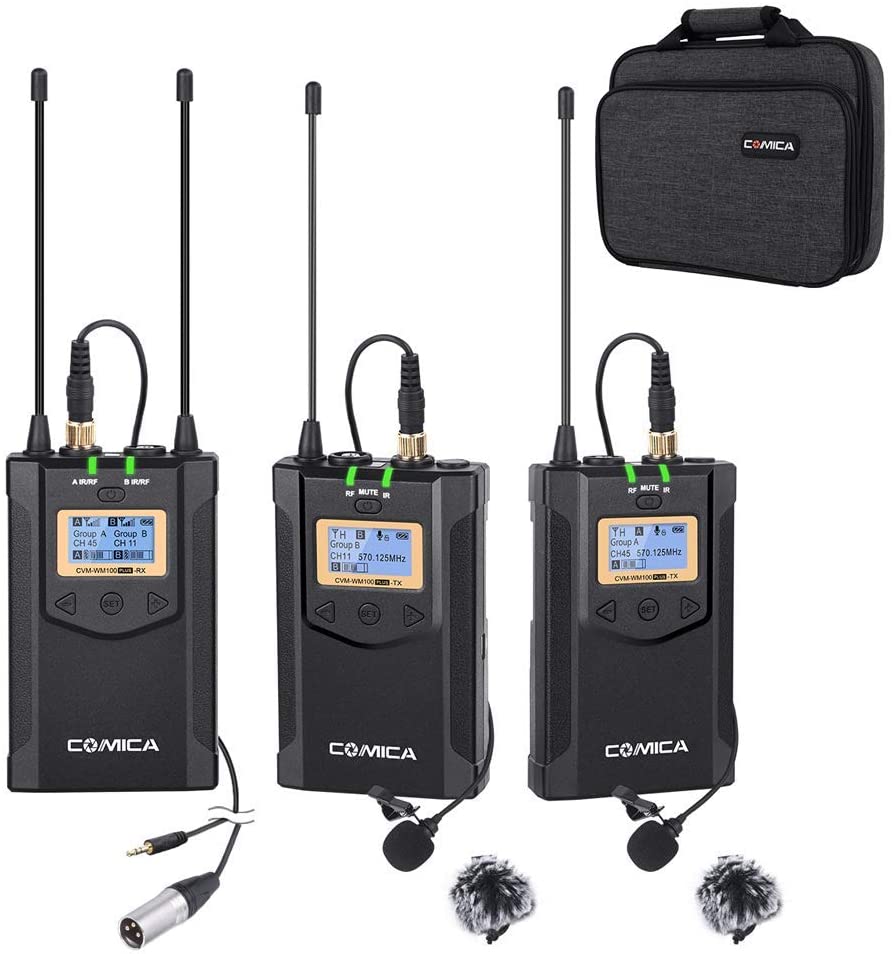 This COMICA CVM-WM100 Plus is one of the top rated wireless lavalier microphones for multiple devices that are set up to work simultaneously while avoiding disruptions from signals of other devices. It has become possible by its 48 channels that offer different distribution points for different devices. The microphone comes with a single receiver and a dual transmitter.
COMICA CVM-WM100 Plus wireless lavalier microphone covers a signal range of up to 100 meters, which is quite awesome. However, you will get this signal range only in open spaces. In the case of obstacles, the range is usually reduced to somewhat around 60 meters. The microphone offers 16 volume adjustments, real-time monitoring, multiple power supply systems that include 2 AA batteries and external charging, and so on.
Features
The microphone offers 48 channels, which can be used for multiple devices working together.
It offers real-time audio monitoring at the receiver, making your recording process convenient and professional.
The battery level, volume adjustment, and other necessary information can be monitored on the LCD screen.
It offers a long working distance of up to 328 feet in open areas, 196 feet in areas with obstacles.
Pros And Cons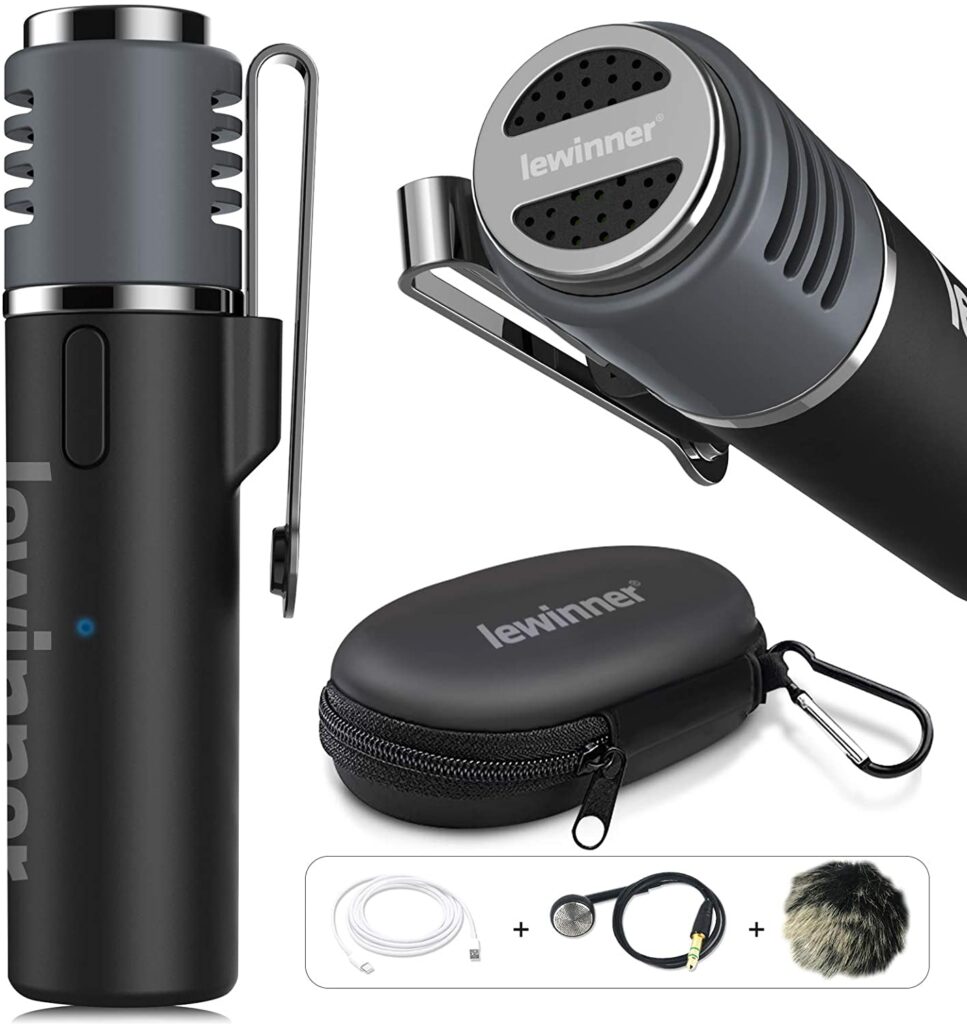 Lewinner wireless lavalier microphone is another versatile recording device for podcasters, vloggers, YouTubers, interviewers, and so on. The device is known for its noise cancellation features. Both its software and hardware work jointly in noise cancellation, offering you a noise-free, professional recording even at places with noisy environments. This device offers a working time of up to 6 hours upon full charge.
The device features a built-in 6mm ECM advanced sensitivity microphone, a Bluetooth qualcomm chipset, and a SWISS intelligent algorithm. The Lewinner wireless lavalier microphone offers real-time synchronization of the background music with your human voice by its auto-sync technology, making video editing and post-production activities easier. The transmission range is a bit low, 50 feet, compared to its peers.
Features
This wireless lavalier microphone is known for its multi-level noise cancellation.
It offers real-time auto-sync technology.
The device is powered by a Li-ion battery with a power source of 110mAh, which provides a working time of up to 6 hours upon full charging.
The connectors in this device are 3.5mm jack.
Pros And Cons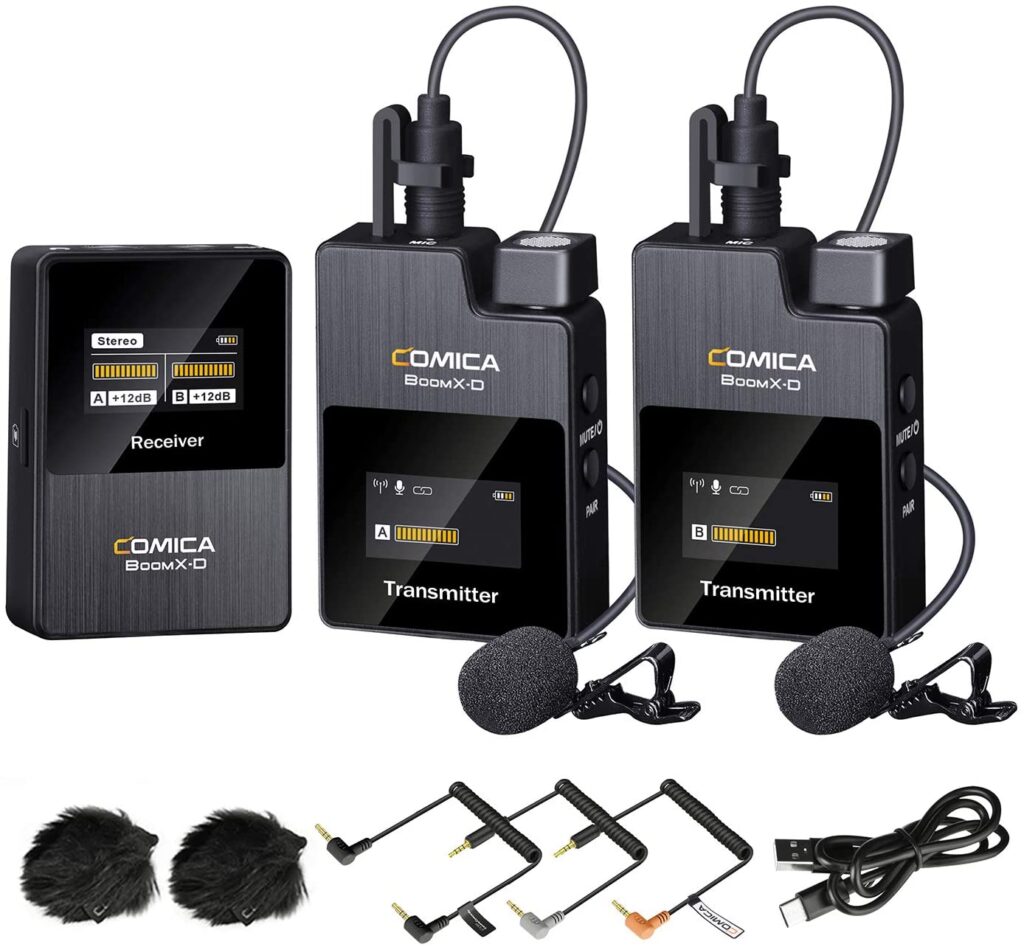 The Comica BoomX-D D2 is a compact, true wireless digital microphone that comes with two ultra-compact clip-on transmitters and one receiver. It is designed and a perfect choice for videographers, mobile journalists, vloggers, and so on. The two transmitters allow recording dialogue, interviews, and even speech with two people talking simultaneously to a camera or a smartphone.
This Comica wireless lavalier microphone offers a reliable transmission range of up to 50 feet without any noise or distortion. The frequencies that this microphone works in have no conflict with the government frequencies. The built-in rechargeable batteries in it allow up to 5 hours of operation. It is an ultra-lightweight device with weight being only 29 grams. The microphone's battery level and audio dynamics can be seen on the LCD screen.
Features
The Comica BoomX-D2 wireless lapel mic comes with dual transmitters and a single receiver.
There are options for mono/stereo modes and volume adjustment.
The rechargeable built-in Li-ion battery offers up to 5 hours of operation.
Pros And Cons
How to Pick the Best Wireless Lavalier Microphone?
In this modern world, it is pretty challenging to come up with something best of its category at the very first pick. The same goes for picking the best wireless lavalier microphone. If you don't know the specs you are looking for, or if you don't even know what to look for, you may end up buying a simple one. Here are some of the features that you should look for while picking the top rated wireless lavalier microphone.
Your purpose
It should be your foremost concern. All lavalier microphones are designed to serve a common purpose – recording audio. Doubtlessly, you will buy a lavalier microphone for the same reason. But your purpose for recording the audio is also important. If it is for vlogging, you will want to have a slight bit of sound in your background. In that case, lavalier microphones that offer synchronization of the background with your voice should be your choice.
On the other hand, if you are recording professional content or speech, you will want to reduce the background noise. In that case, you should be looking for microphones that offer noise reduction services. Similarly, if you are recording an interview or a conversation between two, you will want to have microphones with two transmitters and one receiver in your hand.
Transmission range
Keep in mind that you are looking for the best "wireless" lavalier microphones. As they are wireless, they will have a transmission range up to which the transmission will be noise and distortion-free. In the case of specific purposes, the transmission range will depend upon your purpose. However, if you are not sure for which purpose you will use the mic or are willing to use it for a variety of purposes, it is better to go for microphones with a longer transmission range. In terms of transmission range, there is another thing to consider. In most cases, the transmission range is one for open spaces and another for places with obstacles. Higher transmission ranges for places with obstacles should be your go-to.
Compatibility with systems
The lavalier microphone is a microphone system, which includes transmitters, receivers, and other associated devices. Whatever microphone you choose, you will have to have a video recording device or a storage device at the other end. But most of the wireless lavalier microphones are not compatible with all systems. While some of them will allow you to connect with a PC or laptop, others will not. Similarly, some will not allow you to connect with Apply devices. Look for the microphone input jack if that is compatible with your system. That is why you should look for the best wireless lavalier microphones that include different types of cables and input jack in it. Other compatibility features should also be checked.
Type of batteries
In most cases, lavalier microphones require AA or AAA batteries which are not rechargeable. However, some include built-in Li-ion batteries or other types of battery packs, which are chargeable through type-B, type-C, or other types of cables. Nevertheless, your search should be for the operating hours of the microphone at full charge. Usually, the best wireless lavalier microphones run up to 5-6 hours at full charge. Keep in mind that the operating time will vary based on your operation as well as the distance between the receiver and the transmitter. That is because the farther they are from each other, the harder they will have to work for the transmission, which will cause the batteries to run down faster.
Cost
Say it or not, the expense should be another important concern. If you are looking for making a low-budget documentary, where the video recording is the priority over the audio recording, a good-to-go lavalier microphone system will do. However, if you are looking for making professional content that requires the sound quality to be top, you will have to spend a little more. Nevertheless, keep in mind that people won't admire your great sound quality much, but they will notice and complain if your sound quality is poor.
FAQs When Picking the Best Wireless Lavalier Microphone
Here are some frequently asked questions regarding wireless lavalier microphones.
What is a wireless lavalier microphone?
Lavalier microphones are the smallest mic ever introduced in the recording industry. The introduction of such microphones goes back to 1932. Since then, these mics are being used to provide hands-free operation. The user no longer needs to hold the microphone with their hand, which gives them the advantage of using proper body language as necessary. The lavalier microphone system commonly involves transmitters, receivers, and the mic-clip itself.
How to set up a wireless lavalier microphone?
The wireless lavalier microphone setup consists of one or two transmitters, a receiver, and a microphone. The microphone and the transmitter get attached to the speaker, and the receiver gets plugged into the camera's or smartphone's microphone port. It is the fundamental setup, which may change from time to time based on the purpose.
Are all lavalier mics wireless?
Lavalier mics can be both- wired and wireless. The wired ones usually have the input jack at one end and the microphone at the other. On the other hand, the wireless ones include transmitters and receivers as extra. Between the two, the wireless ones are more popular these days.
Are lavalier mics good for singing and filmmaking?
Lavalier mics have managed to remain popular for a long time. Its compact size, convenient shape, easy mobility, and flexibility make it a good choice for all types of recording, which includes on-stage performances, singing, speeches, interviews, and so many others. Nowadays, it is also being used in filmmaking for its realistic sound effects and proper synchronization.
How do I connect my lavalier mic to my phone?
If you are using a wired lavalier mic, you will just have to plug in the input jack in the microphone port of your device. Now as you speak through the mic, it will automatically be recorded on your device. And if you are using a wireless lavalier microphone, you will have to plug in your receiver to the mic port of your device. As you speak through the wireless mic, it will first go to the transmitter, which will then transmit the voice to the receiver, which in turn will be recorded to your device. TRS or TRRS types and the jack size matter in both cases of connecting the mic to your phone or device. So keep that in mind.
Are lavalier microphones and lapel microphones the same thing?
Yes, they are the same thing. Lavalier microphones are commonly known as some other names. Some of these names include lapel mic, body mic, clip mic, collar mic, personal mic, and so on. It is also shortened as lav microphones.
Final Thoughts
If you are in the recording industry, you surely know the importance of a good microphone. And in present times, the best wireless lavalier microphones are at the top of demand. From personal use to professional-grade use, they are everywhere. We have discussed the best wireless lavalier microphone in 2023 in this article. We also answered some frequently asked questions along with what features to look for while picking a wireless lavalier microphone. Hopefully, you can now easily find the best lavalier microphone for your recording purposes.
Enjoyed this wireless lavalier microphone review? Then be sure to check out our other guide of the Best Bluetooth Speakerphone.