When you search for a trimmer, you will easily find 100s of reviews, buying guides, and all other details that you need to make your choice. But what about after buying the trimmer or electric shaver? You will notice that after a year or so, its performance will deteriorate. The Phillips Arcitec series trimmer may not be as smooth as earlier. This is major because it is time to replace the Phillips RQ10 replacement heads.
If you are using a Phillips Arcitec series trimmer, then you must ensure that you get a set of Phillips RQ10 replacement heads when the time comes. You don't have to spend a lot of money to get the expensive original RQ10 head from Phillips itself, where you can find durable and cheap alternatives. The alternatives not only ensure that you get the best performance from your electric shaver with afford cost, but you also avoid any problems in the shaver that may arise from incompatible or faulty replacement parts.
The Philips RQ10 replacement heads are ideal for your electric shaver. This set of replacement heads work with all Phillips Arcitec series trimmers. But what are the features that make it the ideal replacement choices, and are there cons that you should be aware of? Questions like these and many others are what we will try to answer ahead.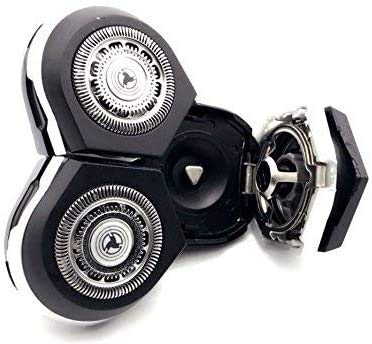 Why Should You Regularly Replace Your Electric Shaver Head?
Do you remember your first shave with your Philips electric shaver? A smooth, comfortable, and close shave without any cuts or nicks? If yes, then that is what you get with a quality shaving head. Over time, the blades and foils inside the shaving head do wear out. After a while, you may feel that the shave is not as smooth as it used to be, and this is when you need to replace the foil and blade.
Unlike conventional shaving razors where you had to get a replacement every couple of shaves, this is not the case with Philips Arcitect electric shavers. They can last for 1 to 2 years while providing you a smooth shave. We will talk more about how frequently you should replace the shaver head in later sections. With most electric shavers, after a year of usage, you will start to experience some decline in the smoothness and quality of the shave. To get that back, you will need to get the Phillips RQ10 replacement head.
Features of Philips Norelco Replacement Heads RQ10
Dual blade mechanism
The dual blade mechanism employed by this shaver head gives you the closes shave. The first blade lifts hair from the skin and the second one cuts them.
Flex & Pivot Action that adapts to facial contours
The shaver heads work on a Flex & Pivot Action. With this, its 3 flexing heads move independently along a complete range of motion. This is what allows it to have maximum contact with the skin even with curved areas. Problematic areas like neck hair can be easily shaved with this.
Simplified Replacement
With the Phillips RQ10 replacement head, changing shaver heads is simple. Click off- click on the system allows you to pull off the older head and replace it within seconds.
Triple Track Shaving Heads
The replacement head is comprised of triple-track shaving heads. Compared to generic rotary shaving heads that use single-track, this gives you a 50% greater shaving surface.
Compatible product types
This replacement head works with all Philips Arcitec trimmers, including 1050X, 1059X, and 1090X.
Accessories
In the packaging, you get a retaining ring holder along with a protective cap for the blades.
Pros of Philips Norelco Replacement Heads RQ10
Some of the benefits that come with the Philips RQ10 replacement shavers include:
Easy replacement- just snap off the old shaving head and replace it with the new one. No need to visit the service center or get someone else to do it.
Shave without cuts and nicks: The twin blade mechanism ensures that you get a close shave but without any cuts or irritation on your skin.
Shave even the toughest of areas: The pivot mechanism allows the blades to adapt to your facial contours and cut off the hair on even the toughest of areas.
Long life: As per Philips's recommendation, you can easily use these blades for 2 years without a replacement.
The most important thing about using a replacement head is the quality and value for money. You can be sure of getting a great shave and a long life out of your Philips RQ10 replacement head. Also, since these are genuine parts designed specifically for your electric shaver model, you will be able to replace and put them to use with little hassle.
Cons of Philips Norelco Replacement Heads RQ10
Even the best of products has cons, and this is no exception. A few negative points that you must know before purchasing this replacement head include:
Change in design: Compared to the earlier Philips Arcitec blades, the design of these replacement heads has changed over time. Due to this, some customers may notice a difference in performance as compared to older shaver heads.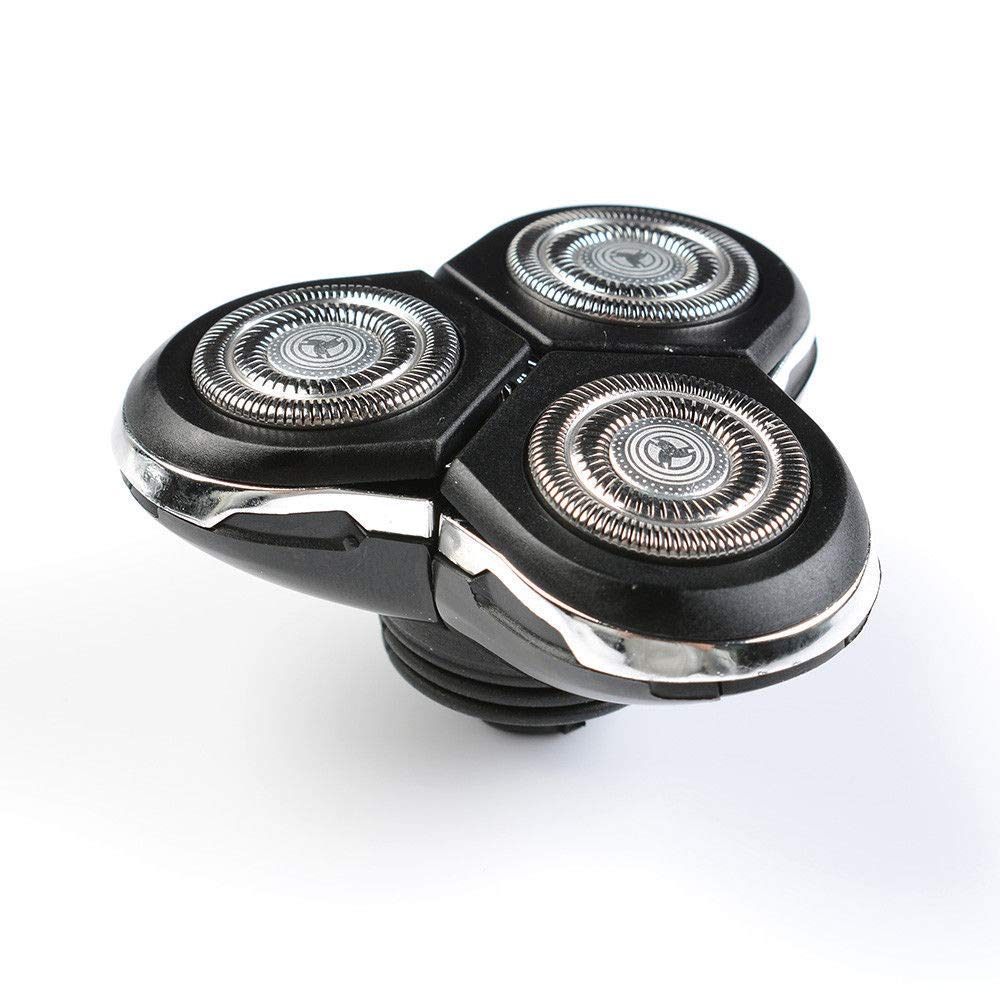 Does Your Electric Shaver Need A Replacement Head?
Eventually, you will need to replace the shaving head on your electric shaver for the best performance. However, if it has been less than a year or you are facing one of the below issues, then it may not time to replace the shaving head just yet. It could be a sign of some other problem with the electric shaver.
The shaver does not switch on: If the unit is too dirty, then it may not switch on. Dirt particles inside the shaving head can prevent it from switching on. Ensure that you regularly clean the shaver after every use.
The shaving head does not move correctly: The shaving head may not have been assembled correctly. If you removed it for cleaning, ensure that you follow the instructions in the manual to secure it on the unit before switching it on.
The shaver is clean, charged, and still does not turn on: Certain models have a 'travel lock'. When enabled, it prevents the shaver from switching on. There may be a lock symbol on your shaver, if it is blinking, then it means the travel lock is activated. Press the power button for around 5 seconds to deactivate the lock, and then switch on the trimmer.
FAQs When Buying RQ10 Replacement Heads
1. When should the saving head on Arcitec shaver be replaced?
Philips recommends that you replace shaver head every 1-2 years for maximum performance. The Arcitec shaver series also comes with an indicator that lets you know when it is time to replace the shaving head. However, if you feel that the performance has degraded after a year, then you can replace the shaving head to reset it to optimum performance.
2. Are these shaving heads suitable for wet-shaving?
Yes, you can use the Philips Arcitect shaver and the replacement heads for wet shaving with shaving cream or foam.
3. Are the shaver heads washable? And how frequently should they be washed?
The Philips Arcitec electric shaver is washable, which means you can also easily wash the shaving heads by using just soap and water. For best results and to ensure that the shaving heads are clean, do remove any excess hair and rinse it under water after every shave. If you are using shaving foam or gel with the shaver, wash it thoroughly after each use to remove any soap or shaving foam that may deposit.
4. Do I need to reach to contact the service center for replacing the blades?
No, you can easily purchase the blades from Amazon and replace them yourself. These replacement blades use a click-on click-off mechanism to assist that.
Conclusion
Thus, by now, you will have a good idea of why you need to get philips replacement shaver blades, and what makes the RQ10 your preferred choice of blades. With simplified replacement, 2-year life, and a host of features for a close and comfortable shave, there is little reason why you must not go for Philips RQ10 replacement head for your Arcitec shaver.
The Arcitec shaver will also let you know when its time for you to get a new set of norelco RQ10 replacement heads. Or, you can swap them out for a new set if you feel that you are not getting the level of close and comfortable shave that you want. For getting the perfect shave every time, ensure that you swap out the shaver head after the recommended time and follow the cleaning and maintenance instructions that you get with the electric shaver.
Enjoyed this RQ10 replacement heads review? Then be sure to check out our other guides.