The electric shaver that you use is only as good as the quality and sharpness of its blades. While the electric shaver itself may last for several years, its shaving head and the blades in it will need to be replaced after a year or so. If you are using Philips Norelco 6000 series shavers, you don't have to spend a lot of money to get the expensive original Norelco RQ11 head from Phillips itself, where you can find durable and cheap alternatives. The norelco RQ11 replacement head is the best choice for your Norelco 6000 electric shavers.
The Norelco series is one of the best electric shavers that you can get in the market. These electric shavers come with a host of features, including a 'BeardAdapt' Sensor, precision blades, and rings for maximum skin comfort. These rings have a metallic coating to allow the shaver glide over your skin and ensure that there is no friction.
Since you already have the Norelco shaver, you know what it offers and its pros and cons. But in the long run, you need to know about how good its replacement blades are, their features, lifespan, pros, and any cons. Details like these along with a lot of other helpful things are what we will talk about ahead. We will also help you find out if you need a replacement shaving head or if there is some other issue with your electric shaver.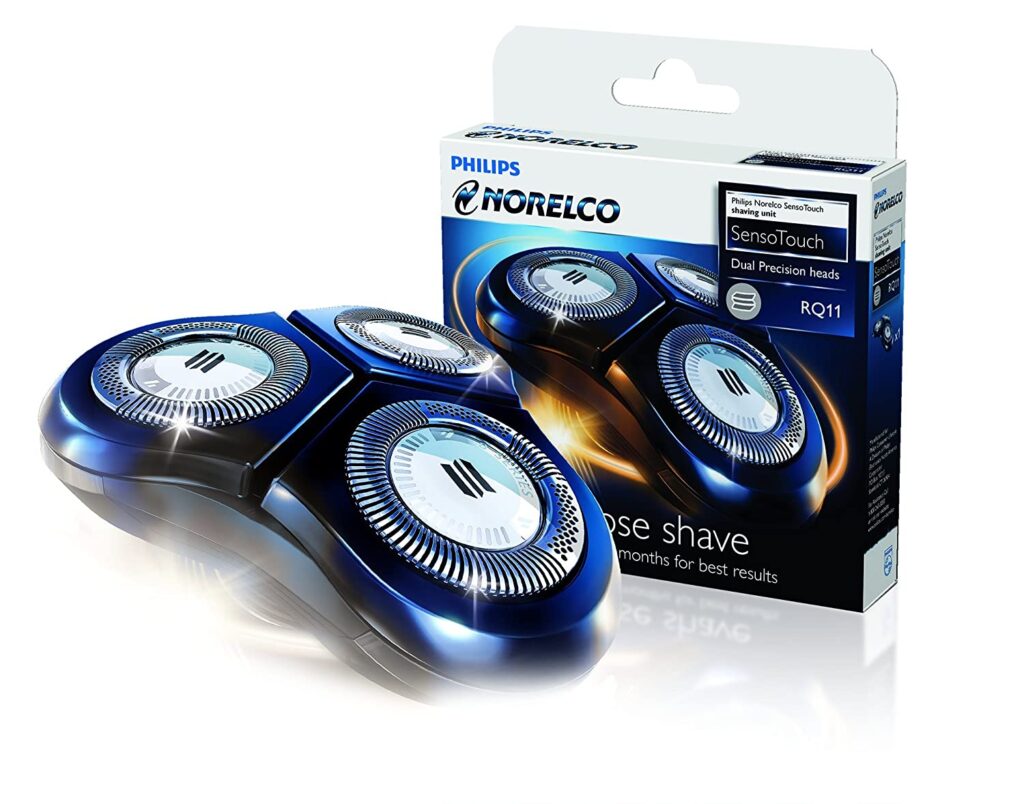 Features of Philips Norelco RQ11 Replacement Head
Some of the features that you must know about before buying the norelco RQ11 replacement heads are discussed below.
Dual Precision Head
What makes the Norelco shaver an excellent precision shaver is the design of its dual precision heads. These come with slots for capturing the normal length hair and holes that catch the shorter stubble.
Dual Blade System
Along with the dual precision heads, Norelco RQ11 replacement head also employs a dual-blade system. This is what enables them to pick and cut hair under your skin level as well. This is the 'lift and cut' mechanism common across the Philips Norelco series.
GyroFlex 2D System
The shaving head makes uses of the GyroFlex 2D mechanism. This contour-following system is what allows the shaver to move easily along your facial contours for a clean and smooth shave all around.
Aquatec Seal
The blades in the shaving head have Aquatec Seal. This means you can use them for both dry shaves as well as wet shave using a shaving foam or gel.
Click-on Click-off system
The Norelco shavers use SensoTouch mechanism for easy head replacement. Pop the old one off, put in the new one and you are done.
Skin Glide System
The blades on the Phillips RQ11 replacement head use the SkinGlide surface. This lets the shaver glide smoothly on your skin for a close and pressure-free shave.
Pros of Philips Norelco RQ11 Replacement Head
Using Philips RQ11 blades ensures that you get the best performance from your shaver. Some of the pros are mentioned below.
Easy replacement: Simple snap off the older shaving head and put the new one in place and you are done. No need to spend time trying to make the shaving head fit.
Irritation free shave: The dual blade and shaver head mechanism allows for a closer and irritation-free shave. It picks the hair from the skin and cuts them thus saving your skin from any cuts or irritation.
Shave easily as per your preference: These RQ11 shaver heads can be used for dry as well as wet shaving as per your requirement.
Contour-adaptive design: The dual precision heads and its GyroFlex 2D mechanism ensures that they adapt to the contours of your face. This decreases the pressure on your skin and irritation as well- giving you a close yet comfortable shave.
Easy cleaning: Remove any excess hair with a cleaning brush or rinse under water to clean the RQ11 shaving head.
Compatibility: The RQ11 shaving head is compatible with a range of models across Phillips Series 6000, 7000, 8000 and 9000 shavers.
Cons of Philips Norelco RQ11 Replacement Head
Despite all its features, there some areas where the RQ11 lacks. These are mentioned below.
A decrease in quality: Certain customers have reported that there was a decrease in quality of the replacement heads as compared to the original ones supplied with the Norelco shaver.
Signs that your electric shaver needs the RQ11 replacement head
Philips recommends that for the best shaving results, you replace the head once every year. This duration can be more or less depending on how frequently you shave. However, before you get a replacement head, it is important to be sure that it is the cause of the problem. A few signs that it is time to replace it are,
It has been a year since you bought it/ replaced the shaving head: Generally, most shavers only last for 1 year if you are a frequent user. If it has been over a year, you may want to get a set of RQ11 replacement heads before you experience any of the issues ahead.
Shaving is not as efficient as earlier: Are you running the shaver multiple times over the same area? Are you still not getting a close clean shave? If yes, then it could mean that the blades are not as smooth and require a replacement.
Excessive cuts on the skin: Very few small cuts may happen even with the best of electric shavers. However, if you feel that your Phillips shaver is leaving you with too many cuts after each shave, then the blade may have become blunt at certain places.
Hair/beard pulling: The RQ11 blades have a 2-blade system to pick up and cut the hair, which also ensures that there is minimum pulling. However, if you feel uncomfortable and are having too much of your beard pulled, it could mean that its time to ditch the blades get a new shaving head.
There are a couple of scenarios where the electric shaver's blade and head may be fine, but it still may not work. Check out some of the points below to help you with that, you may not need to replace the shaver head and it could be some other issue.
The shaver does not charge: Check the charger and socket to ensure that it is secured and in place. Leave it charging for 30 minutes or so, sometimes battery-powered devices take time to get charged after a complete discharge.
The shaver blades do not move: Too much dirt logged in the blades could cause this. Clean it after every use for the best results.
FAQs When Buying Philips Norelco RQ11 Replacement Head
1. How frequently does the shaver head need to be replaced?
Phillips recommends that you replace the shaving head once in a year with the Norelco 6000 series. However, this can vary depending on your usage. If you use your shaver daily, then a replacement may be due sooner. Most of the electric shavers in this series also have a replacement reminder. The unit's light continuously lights up, arrows flash with white light and there is a beep every time you turn off the shaver. All these 3 indicators are reminders that it is time to switch the blades.
2. How can the Phillips RQ11 replacement head be cleaned?
Like the rest of the shaver, you can clean the RQ11 replacement head directly under tap water. Just rinse both sides with the help of running water, remove any excess hair using a cleaning brush and you are good to go.
3. Is there any benefit to the rotary shaving technology?
As compared to regular shaving heads, norelco RQ11 replacement head uses rotary shaving. This not only provides a smooth shave but also allows you to shave those hard to reach areas with less pressure and passes. It gives you a close shave, no irritation and skin comfort.
4. How do norelco RQ11 replacement heads prevent skin irritation?
The Phillips norelco RQ11 replacement head has ComfortGlide rings. These rings have a special coating on them along with skin gliding abilities. This prevents any form of irritation for your skin even for the closest of shaves. The self-sharpening blades also capture hair in fewer passes so that you do not have to glide them over the same area multiple times.
5. Can I replace the norelco rq11 myself ?
Yes, replacing the norelco rq11 with a new one is simple. Simply snap off the existing head and put the new one in place.
Conclusion
Thus, with this, you now know all there is to know about the norelco rq11 replacement head. Getting a quality shave is not just about buying the right electric shaver- but in maintaining its blade quality as well. Ensure that you always change the replacement shaving head every once in a while for a smooth and irritation-free shave. Replace the shaving head on time- either once in 2 years or when the indicator comes on (whoever is sooner), and say goodbye to skin irritation, cuts, and poor shaving experiences!
Enjoyed this rq11 replacement heads review? Then be sure to check out other guides.