While looking for the best cheap cell phone for seniors, the requirements are quite different than if we were shopping for a smartphone. When it comes to seniors, it is important to get a basic phone that gets the job done and is free from any hassles and easy to use. To help make this easy for you, we have found the top affordable cell phones for seniors and will let you know what all they have to offer ahead.
List of The Best Cheap Cell Phone for Seniors
Check out the thorough reviews of the best cheap cell phone for seniors in 2023 below.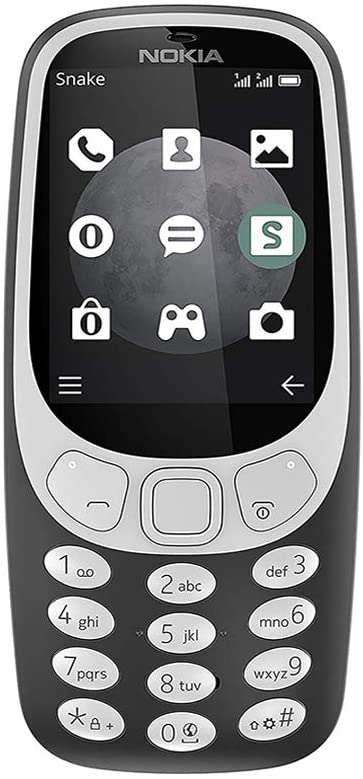 Nokia 3310 is the new 3G-enabled variant of their classic 3310 feature phone. This feature phone has a 2.4-inch screen and comes with a customizable yet easy to use user-interface. 3G connectivity lets you connect to the internet and your favorite sites including the news. The phone is also equipped with a 2 MegaPixel camera, FM Radio, Bluetooth, 3.5 mm headphone jack, and expandable memory using a micro-SD slot.
This single-sim mobile phone has a battery life of almost 6.5 hours or 40 hours of MP3 playback. It is unlocked and can be used with most major mobile carriers. The keypad is designed with large buttons with sufficient spacing between buttons to allow for convenient usage. The phone is available in 4 different shades.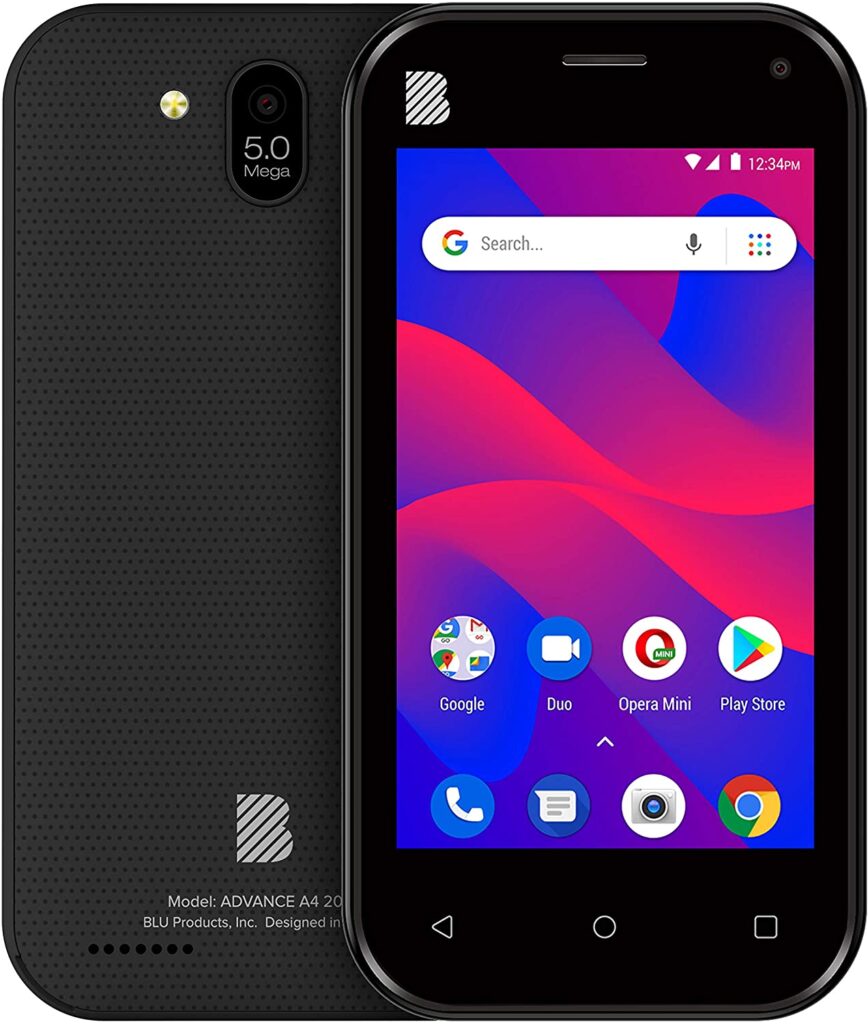 The Advance A4 from BLU is an Android-powered cheap smartphone with a 4-inch touchscreen. This phone runs on Android Oreo 8.1 and features an easy to use UI. It is the ideal smartphone for seniors not just because of the price but also because of its durable structure. The phone has 16GB of onboard memory, expandable up to 64GB with a micro-SD card. It also has a front and rear camera of 5MP and 2MP respectively.
The A4 Advance supports dual-SIM so that you can use when you travel as well. It supports 3G connectivity. The phone works with almost all major GSM providers but is not CDMA-compatible. All these features come together to make it one of the best affordable smartphones that you can get for seniors.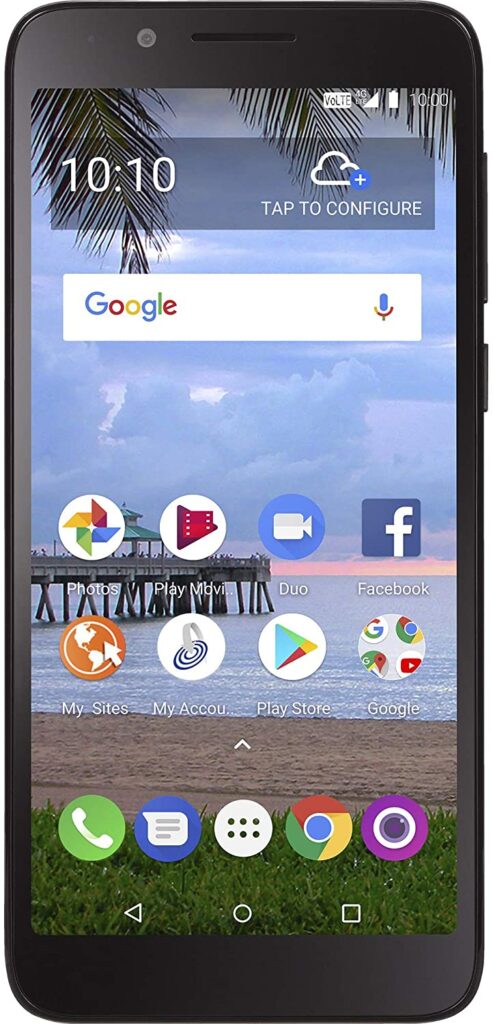 This smartphone from Simple Mobile comes with a 5.3 inch HD display that is ideal for use by seniors. It is powered by a quad-core processor, making it a fast and powerful phone. Android v8.1 Oreo presents an easy to use interface. The phone is 4G LTE compatible and also works with Wi-Fi. It is compatible with Bluetooth 4.1, making it possible to use wireless headsets and speakers.
It comes with 8MP and 5MP rear and front cameras, 16GB internal memory, and support for micro-SD cards. The TCL LX is carrier-locked and can only be used with Simple Mobile prepaid connections for the first 12 months. A SIM card is included with the device so that you do not have to buy SIM separately.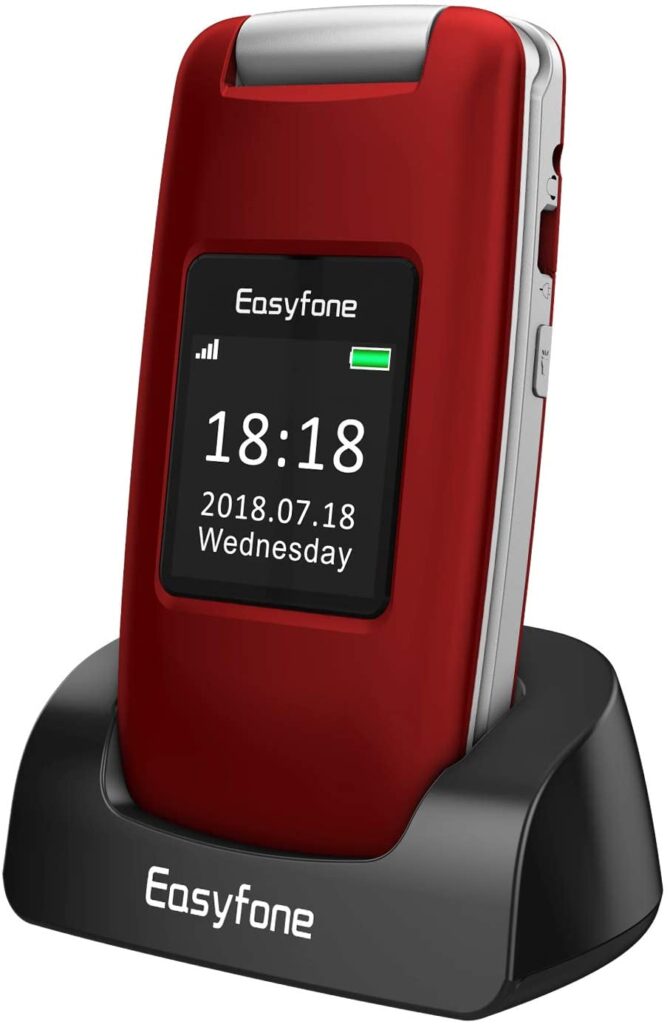 The Prime A1 is a 3G enabled cell-phone from Easyfone. This basic cell phone comes with a higher volume for use with hearing aids and a big button for easier dialing. It is ideal for use by seniors who have accessibility issues. The special dedicated SOS button and 2-direct dial keys make it easy to place calls. The phone is compatible with M4/T4 hearing aid devices.
You can use the Prime A1 with 2G/3G carriers that utilize the AT&T network. It is not compatible with CDMA carriers. The external display displays important notifications, call alert, and the current date-time. It has 128MB of memory that can be expanded up to 16GB using a micro-SD card.
The Jitterbug Flip Phone has been designed just for seniors. It has large buttons with legible numbers to make it easier to dial any numbers. It uses simple 'YES' and 'NO' buttons to accept and reject calls. The speakerphone is powered by a good-quality speaker that provides clear audio and loud output. This phone runs on the virtual-network GreatCall, which uses Verizon wireless service. You can pick any of the GreatCall offered plans to use with this phone.
The phone has a simple and easy to use the menu. It has a special reading magnifier and an LED flashlight to make reading easier in dimly lit settings. The phone is integrated with the cab-integrator app Lyft, and you can set it so that just pressing the '0' key will call a cab for you.
How To Pick The Best Cheap Cell Phone for Seniors
As you go through our list of options for the best cheap cell phone for seniors, you will be wondering what features should you consider, and what is not required. To help you with that, we have compiled a short guide to picking the best affordable cell phone for seniors.
1. Ease of use and accessibility
For seniors, the phone must be easy to use. All required buttons must be sufficiently spaced and come with large, legible markings so that they can perform functions like making and answering calls, sending texts, etc. with ease. The buttons to accept and reject calls, notifications for incoming calls and SOS buttons must be large and easily visible.
2. 3G/4G connectivity
While seniors may not require the internet as much, having 3G or 4G connectivity lets them have the option of using the internet for a quick search or get some information without having to ask anyone else to do it for them.
3. Portability
The best cheap cell phone for seniors must be lightweight and portable. For seniors, a large-screen phone or one that is not lightweight will only be a hassle.
4. Speakerphone and call quality
Choose a phone that has a good high-quality speaker. This allows them to listen to calls without any disturbance or difficulty. For seniors who are suffering from hearing troubles, a good quality speaker will make it easier to attend calls.
5. Other features: camera, media playback, headphone jack, expandable memory
It is unlikely that seniors will need a high-quality camera, so you can avoid bothering them. FM/Radio and media playback functionalities are good to have, they can listen to their favorite music or radio channel on their phone. Having a headphone jack or Bluetooth connectivity can help to connect speakers and earphones for a better experience. In phones that can playback media, expandable memory can increase the number of songs that you can store.
Frequently Asked Questions When Picking The Best Cheap Cell Phone for Seniors
1. Can I use any SIM card with feature phones?
Phones like the GreatCall Jitterbug phone and others are carrier-locked. If you want to get a cell phone that can be used with any network provider, choose one that mentions unlocked and compatible with your choice of carrier. Any phones that are 'locked' will only work with a specific network provider, limiting your choices when it comes to choosing a SIM and a plan.
2. What safety features can I get in a cheap cell phone for seniors?
One of the features that you must consider is a dedicated SOS button and speed-dial functionality. This allows seniors to quickly call their loved ones or reach out in case they need some assistance. Speed-dial functionality doubles up as a convenient way to call people that you frequently talk to without digging in contacts to search for their number.
3. How much battery life is ideal?
In most cases, a battery life with about 6 hours of talk time will easily get you through 1-1.5 days without charging. In feature phones, it may be slightly longer as there are fewer processes and they consume less power.
Final Thoughts
As you look for the best cheap cell phone for seniors in 2023, our list of the top 5 with what features to look for should help you get started. Seniors need an easy to use phone that can perform all basic functions with little hassle- and that is what all the phones we found offer you. Any of these will be the perfect choice for seniors and provide them with a great experience without having to spend too much.
Enjoyed this article on cheap cell phone for seniors? Then be sure to check out our other guide of the Best Flip Phone for Seniors.