If you are tired of buying the same shaver head over and over but still do not get the trimming satisfaction that you deserve, it is high time that you consider buying the new Philips Norelco HQ8 head.
It is your perfect partner if you are want to look fresh after every shave. Philips HQ8 is a replacement head with advanced and powerful blades and with this, you no longer need to worry about repetitively buying an entirely new set of a shaver. Just you can replace the heads as and when needed.
In the article, we will take a close look at the features of HQ8 replacement heads, its ups, and downs, and we will also answer your most frequently asked questions about these replacement heads.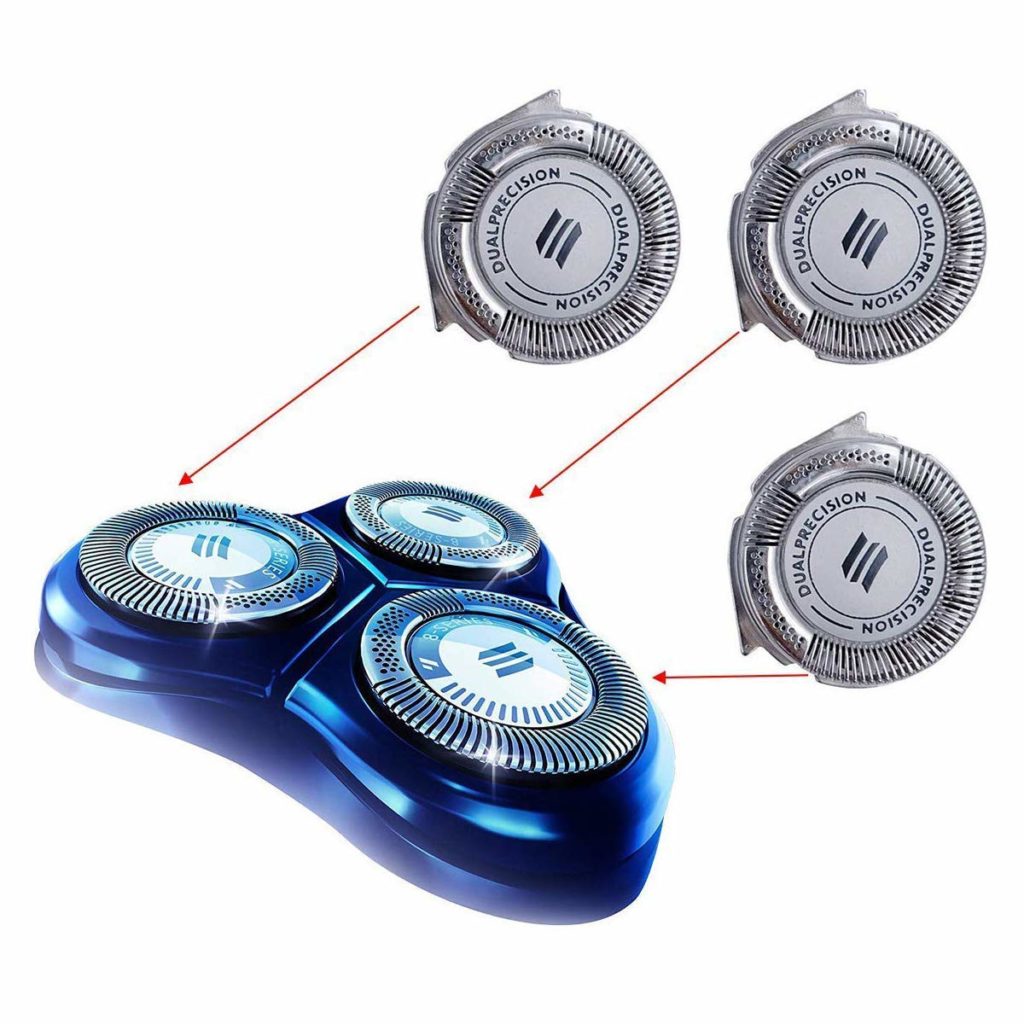 Features of Philips Norelco Replacement Heads HQ8
State-of-the-art dual blade system: Its blades give you a top-performance. Its movable and twistable blades are suited for most men's facial features. Its first blade can be lifted. This allows more room for more hairs to be cut off. The second blade gives a more comfortable shaving position. This dual blade system makes room for bending and flexing the blades for them to be able to reach all sides of your face and neck. It also allows more access to successfully trimming and cutting unwanted hairs off your face on all facial shapes.
The cutting system is made more precise than ever: Philips is known for its ultra-thin heads that are not only sharp in cutting and trimming but are also perfect for all styles of hairs. Its sets of blades have spaces and slots that are suited for long hairs. Also, it has small holes that also work fine for the short strands. With this, you would no longer need to worry about bleeding from the facial cuts that the blades may cause. HQ8 replacement heads are precise and gentle in cutting and trimming your strands of hair.
Skin-friendly: HQ8 replacement heads are loved by its users because of its skin-friendly profile. It is perfect for most who have sensitive skin and skin problems. If you are having some skin problems with your other blades, with HQ8 replacement heads, you will not have the same trouble! Say goodbye to your after-shave-allergies because with HQ8 heads, you will enjoy a skin-friendly and rewarding
Smooth and close shaves: It shaves so close but never cuts the skin. You no longer need to worry if you tend to be a little bit of clumsy when shaving. HQ8 heads' smooth edges offer a worry-free shaving session for you. It is skin-friendly with a soft and gentle touch, resulting in smooth trim. With HQ8 heads, you will not feel a thing! Each blade is as light and gentle as a feather!
Optimum lift-and-cut technology: Its blades lift your facial hair to achieve comfortable trimming that is below the level of the skin. This lift-and-cut technology is made possible by the dual blades that are flexible enough to reach the edges of your face and neck. Flexible blades make the cutting and trimming process a perfection!
Pros of Philips Norelco Replacement Heads HQ8
You can use it even when wet, dry, or with foam. You can even use it while you are in the shower. However, you just need to make sure to properly clean the heads after using them. So, if you are planning on cutting and trimming your hairs on your face and neck while taking a shower, that is safe with HQ8 heads.
It can take for a full year of use, depending on the level of frequency that the product is used. This includes a full 2 shaves per week. With this, you do not need to replace your heads every couple of months. HQ8 heads are durable and of great quality that would last longer than your ordinary replacement heads.
Its dual blades protect your skin from unnecessary bleeding and cuts. This is because of the HQ8 head's high trimming precision. Ever bled out because of a poor trim? Say goodbye to that problem because HQ8 replacement heads are perfect for all types of skins. Its soft and gentle brushes are very safe, even for young ones.
It can be easily cleaned by simply running on some tap water. You do not need to buy a special set of cleaning materials. The tap water cleans it perfectly. This allows you to save money rather than buying or having it cleaned by professionals. Taking care of your replacement heads is a part of your responsibility. The regular cleaning process makes your HQ8 heads last longer.
You simply need to charge it for a few hours and you can enjoy a full-blown 30-minute shave. A maximum of 4-8 hours of charging allows you to enjoy a full 30 minutes of shaving. Ideally, you charge it the night before using them in the morning. This way, you are saving your time. After the charging time, you can directly use them and start your daily routine.
HQ8 head replacement can be done once a year for best and desired results. There is a need to do this to achieve the best results. Failure to replace your HQ8 heads may blunt your blades, resulting in poor shaves. Depending on the frequency of use, your HQ8 heads may even be replaced in 2 years. You must also take note that a part of the durability and longevity of the life span of your HQ8 heads rely on your ability to clean and maintain them. Better maintenance means longer use.
Cons of Philips Norelco Replacement Heads HQ8
It can be costly compared to some other replacement heads. But it is worth the price because of its high performance. If money is an issue with you, HQ8 heads could be a little bit pricey for your budget, so opting for a cheaper one could be an option for you.
It creates a sound that can be a little bit of a nuisance. If you have a sleeping companion, using HQ8 shaving heads may be a bit of a distraction. This sound could also cause a nuisance for you and may disrupt your trimming and cutting experience.
If it is wrongly done, it may pull your hairs rather than cutting them smoothly so it is advised that you read its manual before using it.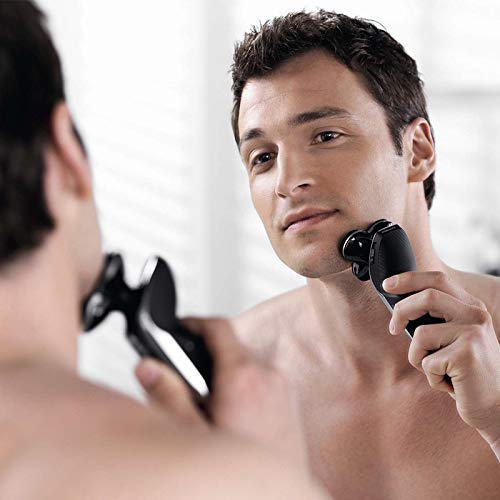 FAQs When Buying Philips Norelco Replacement Heads HQ8
1. What are the 3 circles in a triangle stand for?
That is the built-in system signal which lights up when there is a need for HQ8 replacement heads. If this symbol starts to blink, that means the heads need to be replaced with new ones.
2. When can HQ8 heads be replaced?
HQ8 heads can be replaced once every year, or after it has cut 14 million strands of hair. Depending on the use, it could also last for as long as 2-3 years before replacement.
3. What happens if the signal still keeps blinking even after the head replacement?
The light may continue to blink after 7-10 successive shaves. After that, it stops blinking. However, if you wish to do it manually, you can press and hold the power button for 10 seconds and the light switches off. If still, the blinking does not stop, you may turn off the unit for a while and turn it back on. That would stop the blinking.
4. Why is there a need for an HQ8 head replacement?
Your HQ8 heads need to be regularly replaced for you to achieve maximum performance. Just like any other blades, your HQ8 blades blunt. This could lead to poor results if you continue using them without proper replacement of heads. Failing to do so means you will not experience its maximum performance.
5. Which shaving head is suitable for HQ8?
HQ8 heads can be suitable for the following series:
HQ71 Series
HQ73 Series
HQ72 Series
HQ77 Series
HQ7890 Series
PT/AT7-PT/AT8 Series
HQ88 Series
The list above is made available for those who could not find HQ8 replacement heads around their area. If you are worried that the replacements above may not be working as efficiently as the HQ8 replacement heads, no need to worry. These are all 100% perfectly suitable for your HQ8 heads. They result in quality and efficient results as your HQ8 replacement heads.
Final Thoughts
With HQ8 replacement heads, you would no longer need to complain every day about how blunt your shaver heads are. Also, you would no longer need to buy an entirely new set of shaver because a simple head replacement is what you need to get that clean look you are looking for. With HQ8 replacement heads, you are assured of its quality without having the fuss on its effectivity.
Enjoyed this HQ8 replacement heads review? Then be sure to check out our other guides.