Engaging in live sessions and virtual meetings have been quite common these days. A 18 inch ring light is a perfect tool to improve your appearance when you are involved in such tasks. These big size ring light tools are typically used for macro photography, beauty shots, portraits, YouTube recordings, etc. In recent times, they are also widely used by YouTubers and Instagram influencers to boost their image quality.
Fundamentally, the structure of all ring lights showcases multiple small bulbs creating a circle or simply a round fluorescent bulb. With the diffusion of light around you, ring lights improve your appearance and clarity. Even if captured by an amateur, ring lights make the outcome of photos and videos appear more professional. Size matters a lot when choosing such tools and this review is dedicated to helping you choose the best 18 inch ring lights.
List of The Best 18 Inch Ring Light
Check out the thorough reviews of the best 18 inch ring light in 2023 below.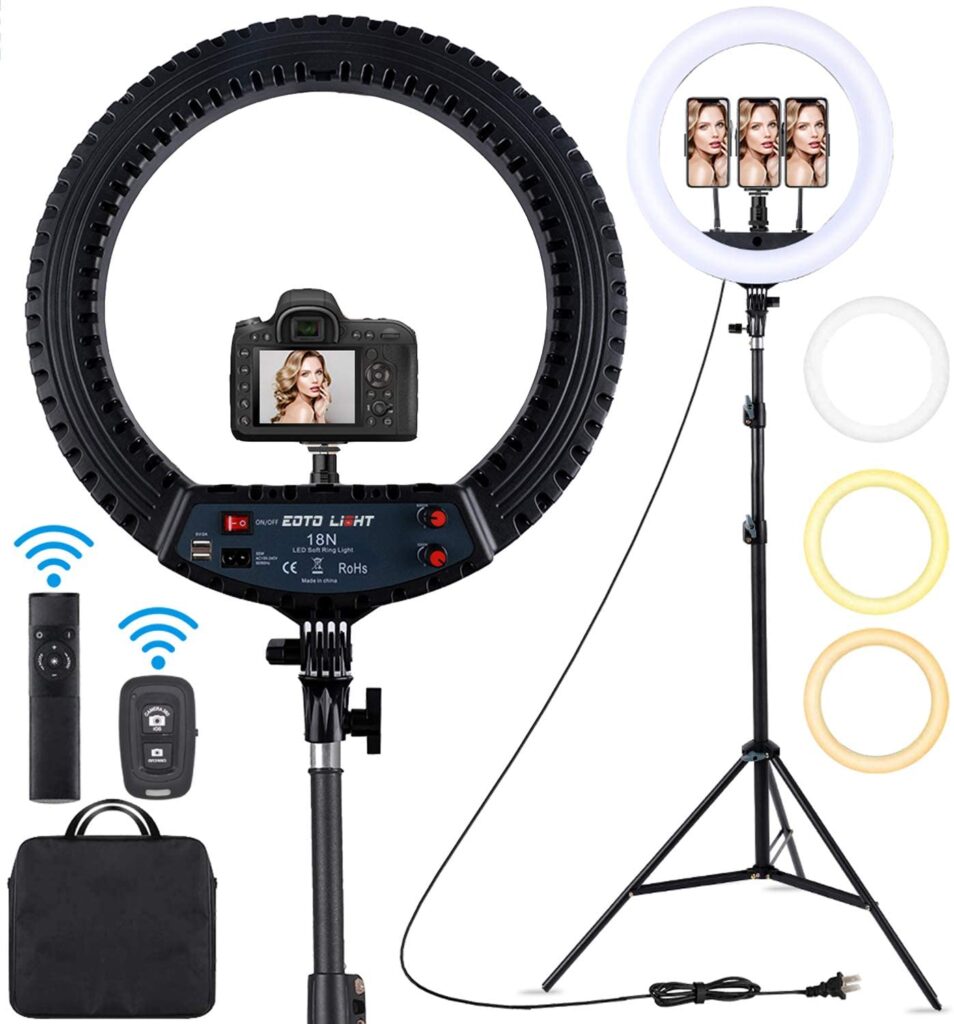 Enhance your facial appearance at the best and make your video recording quite flawless with this best 18 inch ring light on the list. This EOTO Light 18 inch ring light boasts a special SMD LED design. The design emits light with color temperature varying from 2900K to 6500K. You need to change the color filter when adjusting the suitable color temperature. The light output is bright enough which makes this tool ideal for vlogs, portraits, selfies, and live streaming.
There is the inclusion of quality aluminum alloy in the making of the tripod stand. This material equips the tripod stand with sturdiness and flexibility. The robust locking system and 3-legged design keep the entire setup safe. Accessories included are namely a ring light stand, a tripod head, a phone/camera holder, 2 adjustable phone stands, an infrared remote control, a power cord, Bluetooth shutter, a carrying bag, and a user manual.
Key Features
The brightness is adjustable from 10% to 100%.
The height is adjustable from 22.8 inches to 69.7 inches
The convex lens design presents a well-distributed light so that your eyes stay protected.
The IR remote control works up to 8.2 feet away.
The availability of 2 USB charging ports and 3 hot shoe ports let you shoot with more mobile phones or camera.
3 hot shoe ports enable you to mount 3 phones or a small camera and 2 phones simultaneously.
Pros And Cons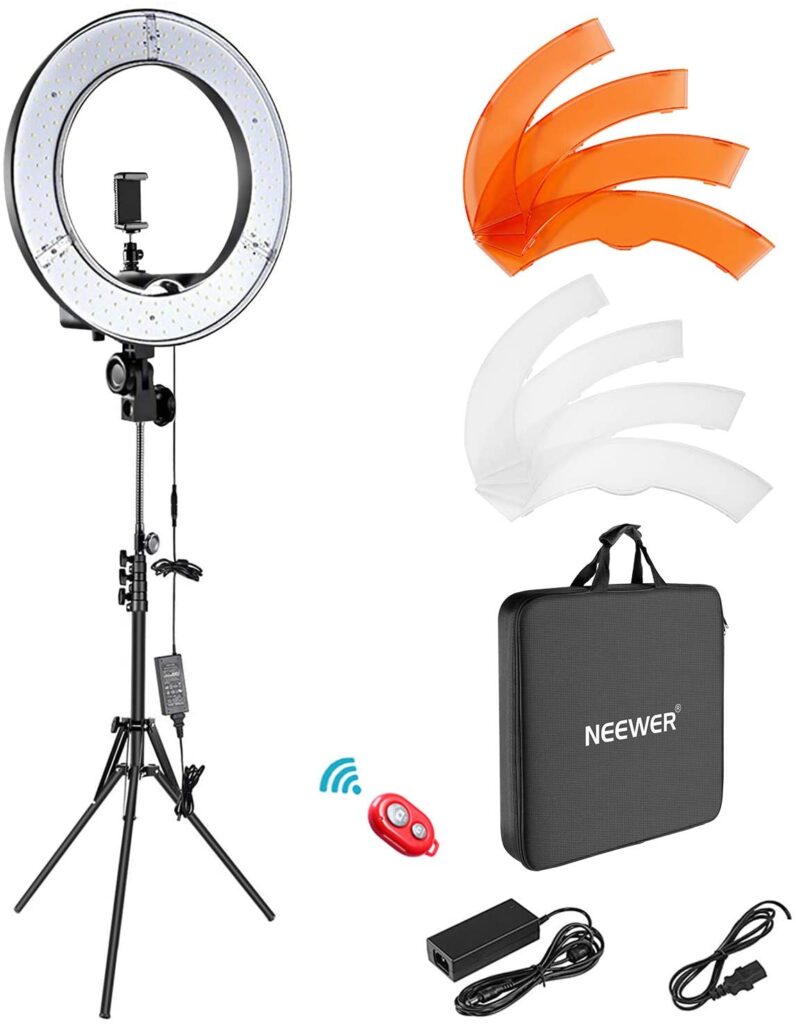 A proper setup of the ring light is essential to gain maximum benefit. This Neewer 18 inch ring light is equipped with a gooseneck tube that is flexible yet super strong. You can easily swivel it and bend it in different positions to reach the desired angles.
With the help of a dimming knob design, you can vary brightness from 0%-100%. So, it becomes easy to vary the brightness of the light while shooting. Moreover, the 61 inch light bracket is manufactured from aluminum alloy that provides it with great strength. Orange and white filters are made of plastic material that offers high light transmission and constant color temperature.
The output is free from infrared or ultraviolet light. Due to low heat generation, this tool does not harm the environment. Names of accessories packed in are a 61-inch light holder, a soft tube, a set of orange and white color filters, spherical head shoe adapter, a universal power adapter with plug, a smartphone holder, and a carrying bag.
Key Features
All the 240 pieces of 55W LED bulbs come with a broad attenuation range from 1% to 100%.
The two included color filters allow you to vary the color temperature from 3200K to 5600K.
The hot shoe adapter is compatible with the majority of DSLR cameras.
The smartphone holder is compatible with most smartphones like Samsung Galaxy S9/S8, iPhone 8 Plus/8/X/7/6, etc.
Pros And Cons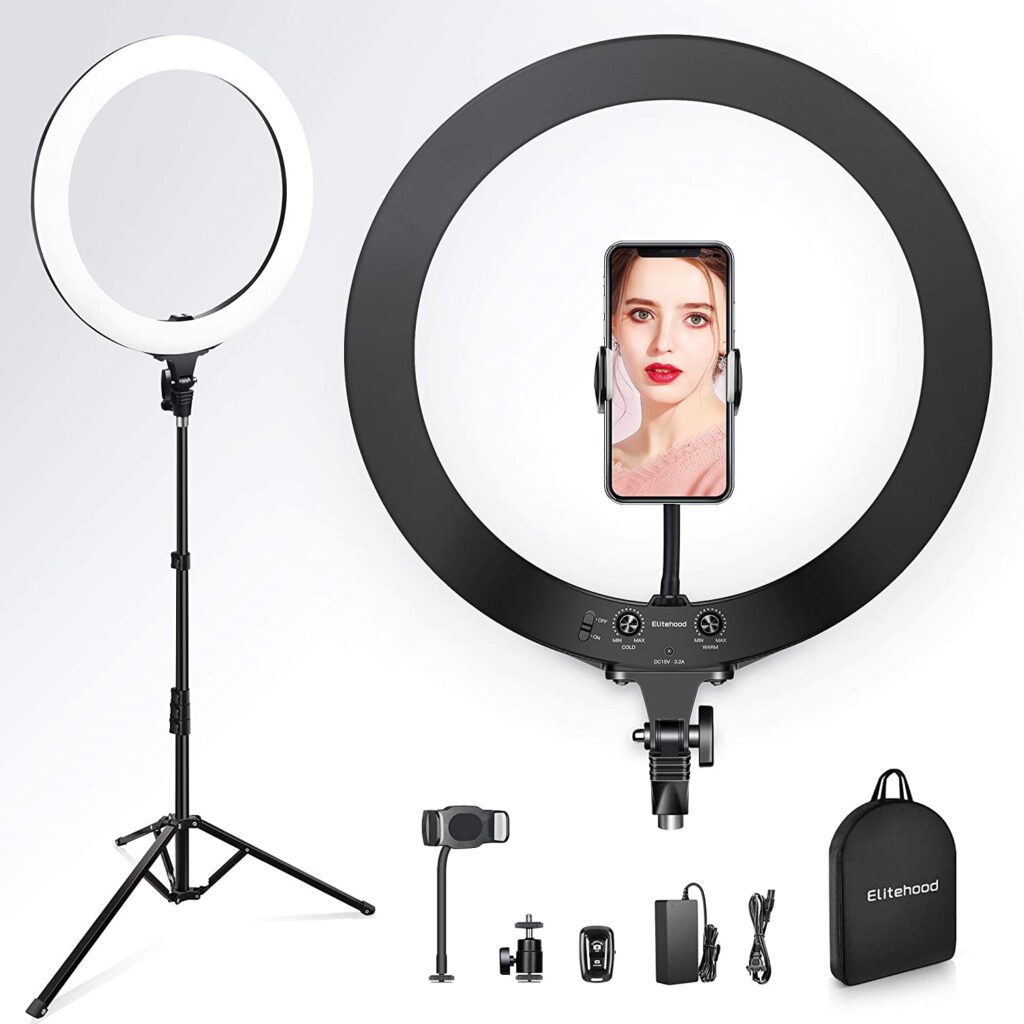 For live streaming, YouTube video recording, studio portrait, and vlog video recording, the Elitehood ring light is a recommended tool. Only 0.8 inch of thickness contributes to its sleek and lightweight design. Generally, this ring light is used for self-portraits, recording makeup tutorials, zoom calls, etc.
With the assistance of a flexible gooseneck stand, you can find the most convenient angle. The components like a hot shoe adapter and flexible phone holder make this ring light compatible with most smartphones. The tripod stand is built with aluminum alloy to provide excellent stability and strength. The kit contains a camera cold shoe adapter, metal light holder, UL certified power adapter, gooseneck phone holder, ring carrying case, tripod, remote control, and accessories.
Key Features
With the help of two warm and cold lighting knobs, you can vary the color temperature from 2700K to 5600 K.
The brightness is adjustable from 0% to 100%.
The height is adjustable from 76 inches to 79.9 inches.
With the CRI ≥ 90 of the LEDs, this ring light can convey the most lifelike colors of an object.
For capturing professional portraits and photos, this ring light offers soft and diffuse lighting without any dark shadows.
Pros And Cons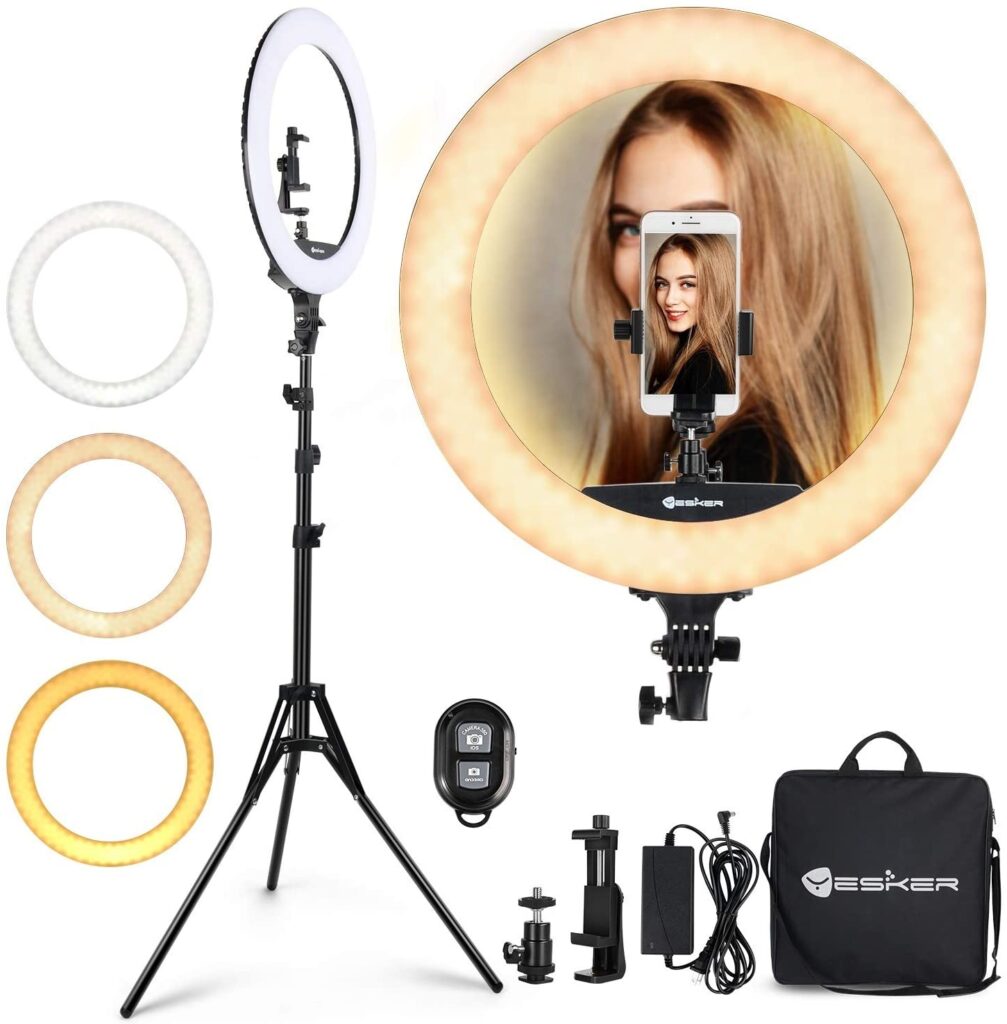 Are you looking for a ring light that is extremely flexible to set up and durably built as well? If yes then the aforementioned product can be the best 18 inch ring light fulfilling the above needs. The tripod stand allows height adjustment up to 73 inches. A 0.25-inch screw thread is available at the top. This tripod stand is made up of quality aluminum alloy for enhancing durability.
The sturdy locking system and steady 3-legged design keep the entire setup stable. No wobbling issues. The included shoe adapter makes this ring light compatible with the majority of DSLR cameras. Moreover, the cellphone holder offers compatibility with the majority of cell phones that enables to freely rotate the cellphone. You can mount your cellphone vertically or horizontally and no need to take it out of the stand. From the pack, you get a tripod, a shoe adapter, a cell phone holder, a power adapter, a carrying bag, and an instructional manual.
Key Features
The range of color temperature is 3000K to 6000 K; no need to use color filters.
The brightness dimming range is 10% to 100%.
12-inch heat sink holes cool down the light within your ring. So, it extends the life of the product.
Pros And Cons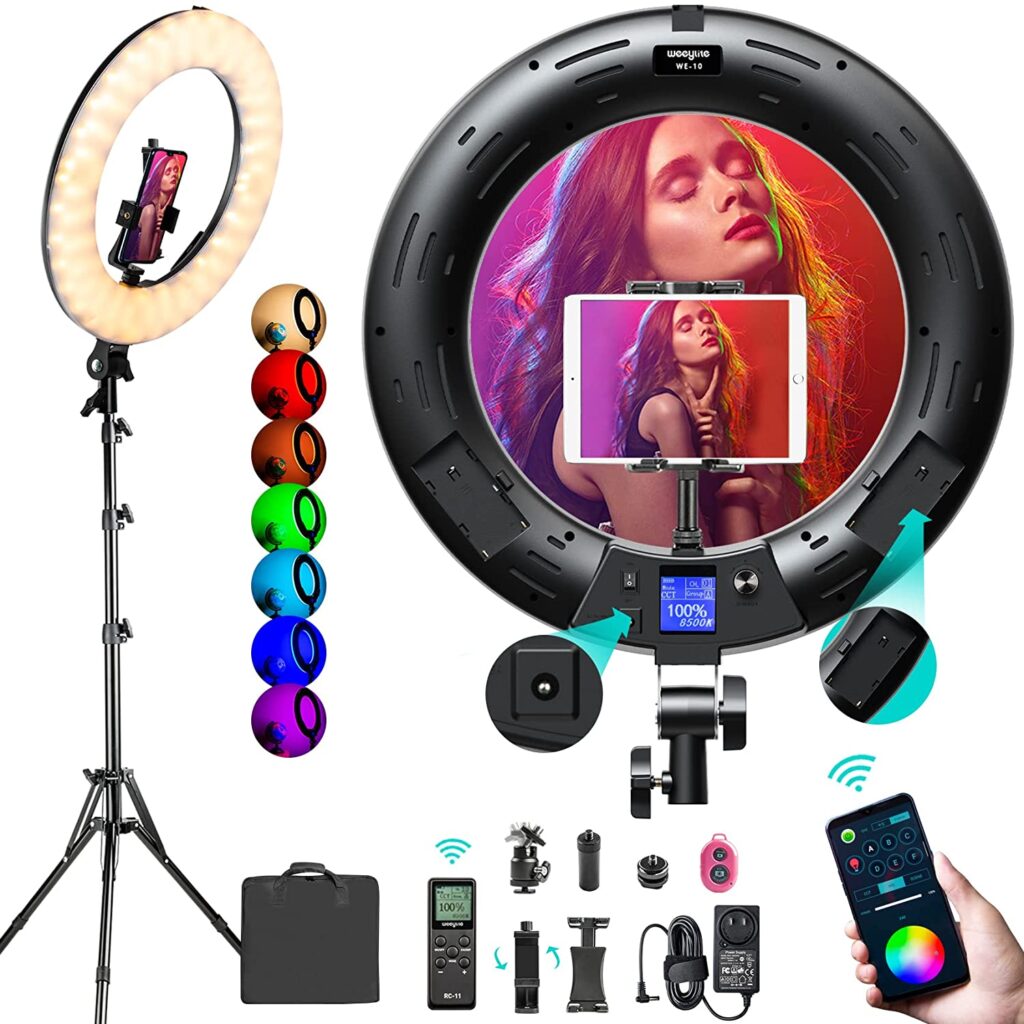 This Weeylite RGB ring light is suitable for kids/pets photography, selfie portrait, barbers, YouTube recording, TikTok video recording, video conferencing, live streaming, makeup tutorials, etc. With the help of a built-in LCD screen and the knob, you can view and vary some parameters. The full heat dissipation design offers more working time. You will get the following accessories in the kit -a 67-inch light holder, a phone holder, an iPhone holder, Bluetooth remote control, camera mounting bracket, power adapter, 2 hot shoe adapters, and a user manual.
Key Features
There is a total of 352 pieces of high-color reproduction beads.
The range of color temperature adjustment is 2500K to 8500K.
CRI is greater or equal to 95.
Maximum illumination is 1650 Lux/1.6 feet.
There is the availability of full color and custom RGB modes.
The scene mode contains 17 special lighting effects that lead to a creative lighting setup. No need for extra color filters to obtain colorful lights.
The included RC-11 wireless remote control includes 19 channels and 6 groups allowing you to easily control single or multiple lights simultaneously. This remote control works up to 65.6 feet through the 2.4G Bluetooth wireless system.
The weeylite app and is compatible with Android and iOS.
Pros And Cons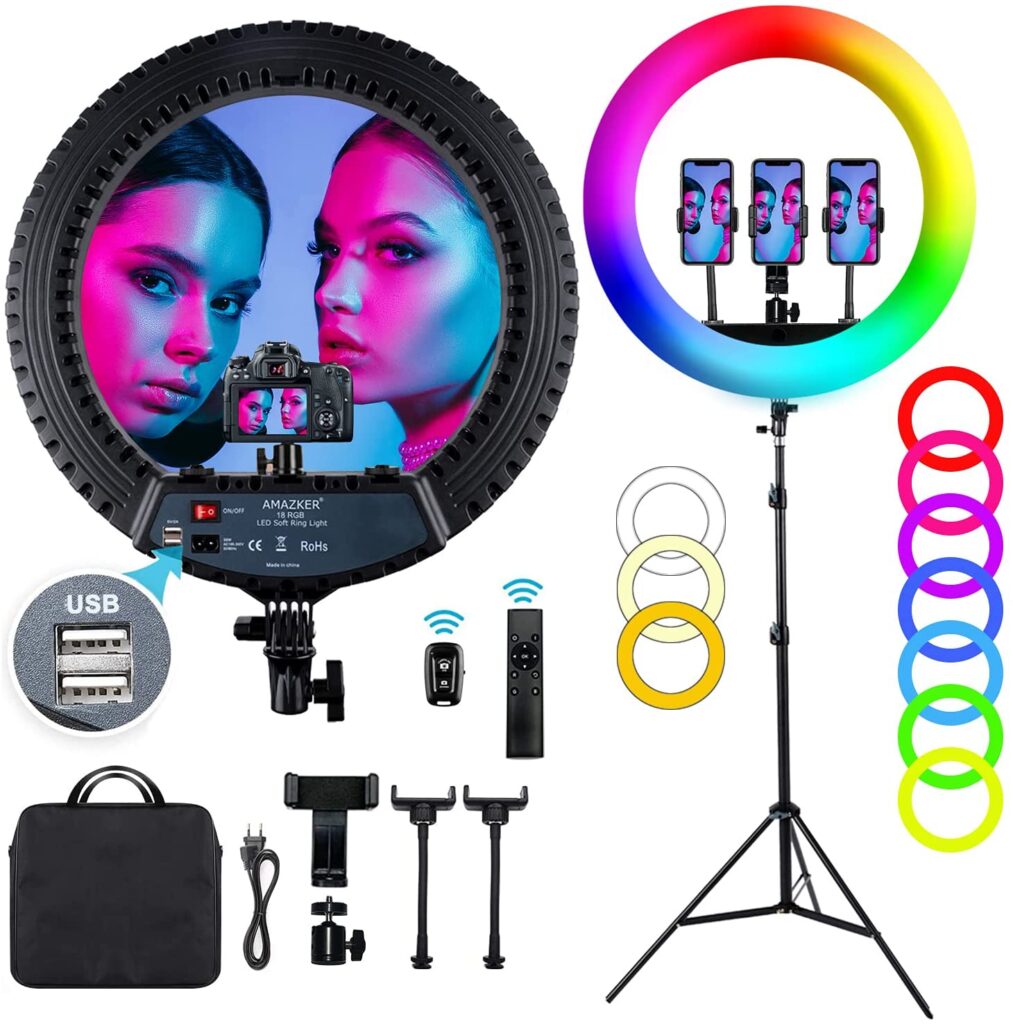 For YouTube recording, vlog recording, selfie portraits, makeup tutorial, live streaming, etc., this AMAZKER ring light is a feasible choice. Owing to its versatility and ability to provide lifelike output, it can prove to be one of the best 18 inch ring light for the price. You can even use it as a desk lamp. The tripod is made up of quality aluminum alloy that provides excellent stability and a very low center of gravity. Moreover, the support is fastened through the locking method that is not easily deformable by your hands. The robust locking system and 3-legged design keep the entire setup safe and stable.
Key Features
There is a total of 200 LED beads and maximum luminance is up to 5000 lux.
The adjustable height ranges from 1.67 feet to 6.23 feet.
2 remote controls are included –one for controlling RGB color light and another for controlling brightness/temperature.
Pros And Cons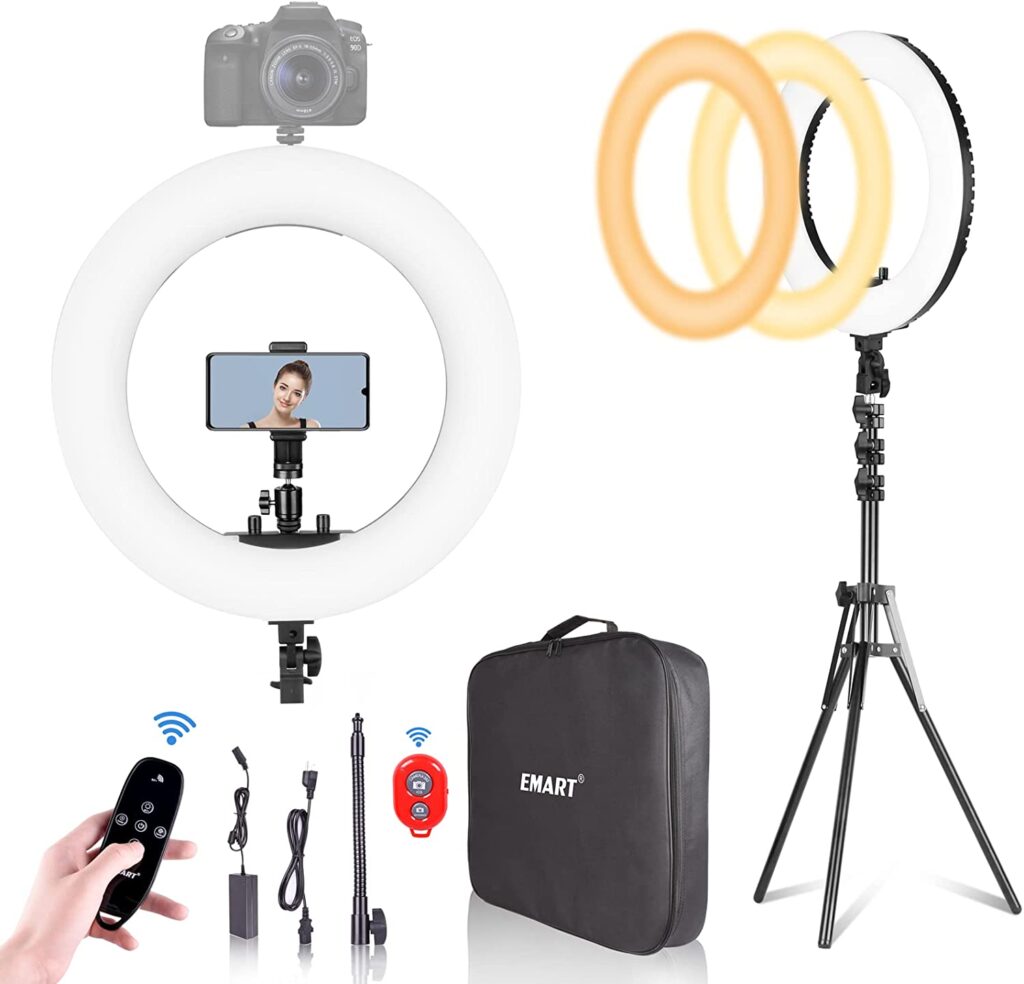 This Emart right light is quite simple to set up. It is useful for both indoor and outdoor photography. You can power it either by a battery or by a power adapter. The unique SMD LED design and a total of 480 LED beads make this ring light perfect for selfie portraits, pet/child photography, video recording, etc. The tripod and durable aluminum alloy construction stabilize the entire setup.
Key Features
The brightness is adjustable from 10% to 100%.
The range of color temperature is 3200K to 5500K.
The height is adjustable from 33 inches to 70 inches.
The included remote control helps you to alter the color temperature and brightness. No need for changing filters.
Pros And Cons
How To Pick The Best 18 Inch Ring Light?
Once you have assessed your needs, the factors discussed below assist you to get the best 18 inch ring light.
1. Brightness and color temperature
To portray your appearance at the best with the help of a ring light, choose the one that has adjustable brightness and multiple lighting modes. Some ring lights offer brightness levels varying from 0-100% whereas others allow you to vary brightness up to a certain extent. Look for the one that offers you the maximum possible brightness range. Also, try to choose the one with a dimmer knob that allows you to regulate the brightness as per your needs.
The next vital aspect to consider is the color temperature. You may need to record your videos in different lighting conditions. Therefore, it is recommended to choose a right that offers a broad range of color temperatures. The highest limit of color temperature offered by the discussed ring lights is 6000K. Typically, the best ring lights come with 3 light modes namely warm, natural, and cold light.
2. Alignment
Although your chosen ring light may be so much efficient, it cannot be much beneficial if it is not so flexible. It is imperative to set up a ring light at a perfect angle to capture photos and videos. So, look for the one with a flexible neck. This component allows you to rotate the ring light and set it at the desired angle.
The majority of ring lights are designed with flexible necks. However, the extent to which you can rotate it differs based on the model. For example, some ring lights allow rotation up to 360° whereas some can only be rotated by 180°.
3. Control
The majority of ring lights contain a control pad on the front part of the tripod. A touchscreen is present on that control pad that allows you to easily browse through the settings. Certain ring lights use button-type control pads. Typically, they contain four buttons namely on and off buttons, brightness adjustment button, and color lighting mode button.
4. Power options
The ring lights can either be powered by USB or via a domestic power socket. The USB-powered ring lights are portable. To use them on the go, you can power them using a power bank. Those ring lights powered via power sockets are energy-efficient. They contain an AC/DC adapter so that you can plug them into a socket.
5. Important accessories
The recent models of 18 inch ring lights come with plenty of accessories ranging from light holders to color filters, you need to look for the one that comes with all basic accessories. The most common accessories you would need are phone holders, a tripod stand, and a Bluetooth remote. Without these accessories, you can't use a ring light.
FAQs When Picking The Best 18 Inch Ring Light
1. What is the need for using a bigger ring light?
The bigger the ring light is, the softer the light is. To illuminate your face or a nearby object, it is better to use a smaller ring light with a size like 10 inches or 12 inches. But for typical video production, an 18-inch or bigger one can be the best 18 inch ring light for your needs.
2. How far should you position a ring light?
The answer depends on the size of the ring light. If you are using a ring light with a diameter of 18 inches or higher then you need to place it around 20-25 inches far from the subject or object to obtain the best illumination. On the other hand, for smaller diameter ring lights, the subject can be slightly closer.
3. Do ring lights damage your eyes?
Basically, ring lights are LEDs arranged in a ring style. They are analogous to standard household lights. Because ring lights are commonly used at a close range, if you continuously gaze at them then you face a little eye strain. So, you can try taking rests in between if you are intending for a longer video. Moreover, you must focus on the center part of the ring because, at this portion, there is less light gathered.
Final Thoughts
These are the best ring lights to improve your appearance and make your video recording more productive. The best 18 inch ring light according to your needs is the one that can boost the quality of photos and videos by a considerable amount. Commonly, these tools are used during indoor or night shoots. The camera wide-angle lens possesses characteristics like short focal length and a wide field of view, and these tools offer consistent lighting to the subject and decrease the appearance of unnecessary shadows by focusing more on details.
Enjoyed the 18 inch ring light review? Then be sure to check out our other guide of the Best On Camera Video Light.