If you are tired of your blunt blades which are no longer giving you the trimming satisfaction you deserve, you should think of replacing them! The new Philips Norelco HQ9 replacement heads give you the fresh looks you look are craving for. With HQ9 replacement heads, you are assured of its safe and skin-friendly trimming capacity.
Before you buy a new shaver, you have to check first on its replacement heads. Check on their quality, effectivity, service length, and, of course, affordability. In the article, you will know more about HQ9 replacement heads, the features, pros, and cons, and your commonly asked questions will also be answered here.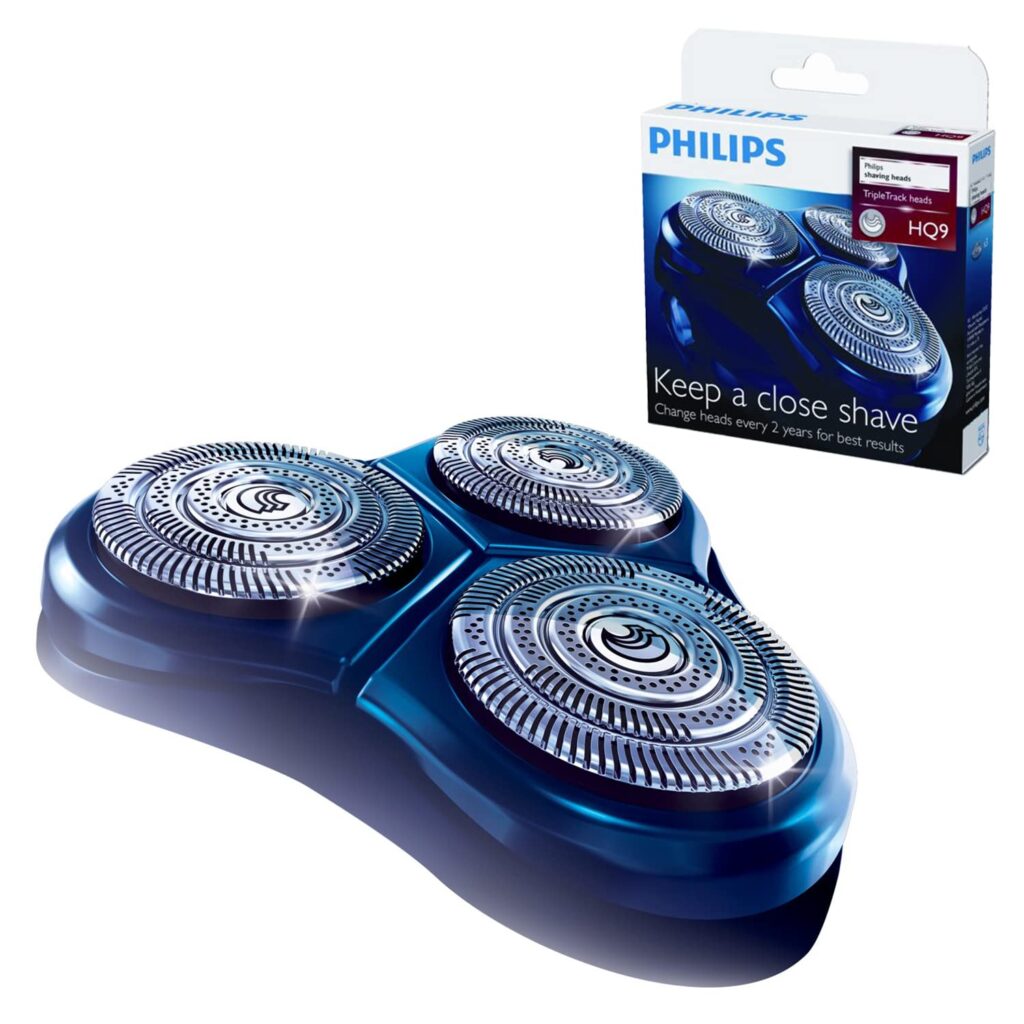 HQ9 Replacement Head Features
Triple track heads: HQ9 replacement heads feature a triple track heads which include three tracks of blades for better and maximum cutting-edge performance. Some shavers only have two-track heads which are not enough in achieving the perfectly clean look of trimming your hair.
Fits with AquaTouch shavers. If you are a user of AquaTouch shavers, you can use the heads as a replacement to Philips Norelco HQ9. It is replaceable with AquaTouch (AT9xx) and PowerTouch PT9xx). Their quality and performance are of the same value. If in case you do not see HQ9 replacement heads, you do not need to look farther because the availing of AquaTouch shavers allows you to have a perfect cutting and trimming match!
Close and fast shave: If you are always on the go and want a fast and close shave, HQ9 replacement heads are perfect for you. Its shaving tracks offer you a 50% shaving surface which is a lot greater in comparison to a standard shaving head.
Dual blade system: Its dual blade system features a lift and cuts state-of-the-art technology, allowing a safer and more comfortable trimming experience. The dual blades are the reason behind its precision cutting system. They make cutting easier and more comfortable by being able to reach the different edges and contours of the face. This results in perfect trimming and cutting results in different facial shapes.
Great reflex system: Philips Norelco HQ9 automatically adjusts its regalement heads to your facial curves. The soft lift and bend reflexes allow you greater access to cutting and trimming resulting in perfect results.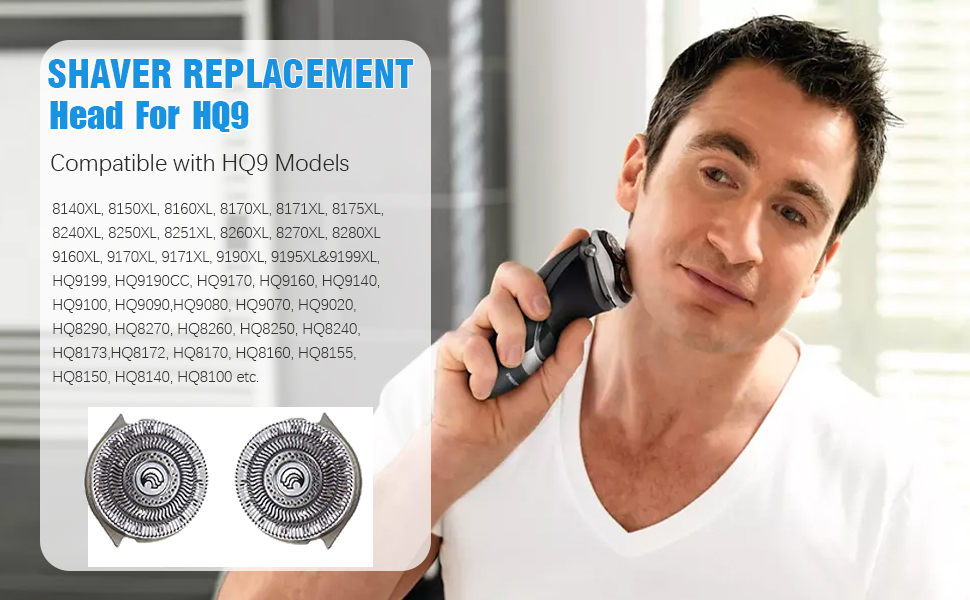 Pros of HQ9 Replacement Head
Dry and wet use. You can use the HQ9 replacement heads both for dry and wet use. It is also usable in the shower. If you are in a rush for a morning routine, you can simply multitask and shave your face and neck while showering without any fuss.
Cheaper. Philips Norelco HQ9 replacement heads are a lot cheaper compared to your standard replacement heads from other brands. With Philips Norelco HQ9, you can save money and achieve the same results.
Easy heads replacement. Old HQ9 heads are very easy to replace without causing any fuss. You can replace the HQ9 heads by following these 3 simple steps:
Step 1: Lift the HQ9 heads form its stand;
Step 2: Replace the heads by carefully attaching the new ones to its stand;
Step 3: Press and hold the power button to reset and you are good to go!
Precision cutting system. HQ9 replacement heads are ultra-thin which have slots for long strands of hair and small holes for short strands. This would result in perfect cutting and trimming unwanted hairs off from your face. Philips Norelco HQ9's precision cutting system gives you the best cutting and trimming experience you are looking for.
Silent as a whisper. With HQ9 replacement heads, you would no longer need to worry about having a noisy session in the shower while shaving your face. Philips Norelco HQ9 offers an ultrasonic sound that keeps away any forms of noise in the background. Scared of waking up the people around you when you're shaving early in the morning? Worry no more because Philips Norelco HQ9 is as silent as a whisper when it does its work.
Cons of HQ9 Replacement Head
HQ9 replacement heads tend to get blunt a bit earlier than scheduled. This means that you may expect its replacement before it reaches its one or two-year use. If this happens, you should immediately replace your HQ9 heads with new ones. Otherwise, you would not have full experience with Philips Norelco HQ9.
Rough edges may also be felt, especially when the heads are about to be replaced. To avoid this, it is advised that you regularly change your HQ9 heads for the best results. These rough edges are already an indicator that the heads need their replacements. These would end up being blunt if not replaced.
You may notice your Philips Norelco HQ9 may keep blinking even though you have already replaced its heads. This may be a little bit annoying for most users. There are instances that the blinking does not go away despite the heads being replaced. To avoid this, you may do the manual resetting of the product, rather than waiting for it to stop blinking.
FAQs When Picking HQ9 replacement head
Before attempting to buy your new replacement heads, you must check on its consumers' frequently asked questions. This enlightens you on some of the services and quality of the product they offer. Here are the answers to most of your queries about the Philips Norelco HQ9.
What does the symbol embedded in the replacement heads mean?
Answer: That is the symbol that lights up when it is time for a replacement of its heads. This symbol lights up when it already needs a replacement. Once you see it blinking repeatedly, this signals that it is time to replace your HQ9 heads.
How frequently should I replace my Philips Norelco HQ9?
Answer: To achieve the best results, it is ideal that you regularly replace your HQ9 replacement heads. Once the heads have reached its shaving limit, it may not give you the best shaving results. It is also safe to keep track of your Philips Norelco shaver use so that you can change its heads on time.
What are the compatible heads that I can use in replacing my HQ9 heads?
Answer: If in case you cannot find the HQ9 replacement heads for your Philips Norelco shaver, the following is the list of compatible replacement heads for your Philips Norelco shaver:
RQ12
RQ11
RQ10
HS85
HQ8
HQ6
HQ56
HQ5
HQ167
TT2200
If the HQ9 replacement heads are not made available, the list above is your choice. They may vary in their price, but they all work perfectly the same.
I have already replaced the heads, but the light keeps blinking. What does it mean?
Answer: This usually happens, especially if it is the first time replacing the HQ9 heads. To solve this, there are two options on how to stop the blinking of the lights.
Option 1: You use the replacement heads for at least 4-7 shaving sessions. If that doesn't stop, you can also do the 2nd option below.
Option 2: You have the option of turning off the lights manually. This is done by simply pressing and holding the power button for at least 10 seconds. That resets the entire shaver and it is good as new.
Do HQ9 heads get dull?
Answer: Yes, they get dull. Over time, the HQ9 heads need to be replaced appropriately. The heads need to be replaced at least once a year or two. This way, you get to enjoy the maximum performance of your hQ9.
What happens if I do not replace my Philips Norelco heads?
Answer: If in case, you do not replace your HQ9 heads, you will find the blades dull and would no longer work as you expect it to. Also, you will not enjoy its performance, resulting in poor trimming and shaving outcomes. You may find other strands of hair left on your face due to the reason that the blades have gone dull.
Is it okay if I sharpen the HQ9 heads instead of replacing them?
Answer: No, it is not okay. Sharpening them would only melt the blades and they would lose their function. It would not perform at its best if it is not replaced with new HQ9 heads. For best results, you are advised to have them replaced regularly, rather than sharpening them.
Final Thoughts
To experience the best results for your Philips Norelco shaver, you have to make sure that you know how to maintain it well. A part of its maintenance is to know when and how to replace the HQ9 heads. Failing to do so will only give you headaches in not achieving the right trim you wish to have.
Philips Norelco HQ9 is your best trimming and cutting, partner. Not only is it cheap, but it is also safe and comfortable to use. With HQ9 replacement heads, you can enjoy a worry-free trimming and cutting sessions with the best and outstanding results. Indeed, Philips Norelco HQ9 has an outstanding and reliable reputation all over the world. It offers quality and affordability when it comes to their services offered.
Enjoyed this HQ9 replacement heads review? Then be sure to check out our other guides.