KOVOL 65W USB C Charger
Pros
Despite its compact & portable design, it can quickly recharge a huge range of mobile devices.
The Fold-away charging prongs come with a smooth folding motion.
5 safety features are implemented including surge protection.
Weighs only 4 ounces, so easy to carry along.
Can charge from 5% to full capacity in less than an hour and no heating issues.
Cons
Doesn't include any usb cable in the pack.
If you require a portable accessory that can efficiently charge up to 2 devices simultaneously then the KOVOL 65W USB C charger is a great option to consider. It comes with 2 outlets that help you to simultaneously charge up to 2 devices. So, this KOVOL 65W charger is extremely useful for those people who use several devices on the go or at an office or home.
Even if you carry old phones with you on a travel trip then this charger can prove to be useful. It makes it very convenient to charge all your commonly used products like laptops, AirPods, iPads, iPhones, etc. rather than carrying separate chargers for each device. In situations when your travel bag is short of space yet you want to charge most of the devices you carry along then this 65W USB C charger s useful.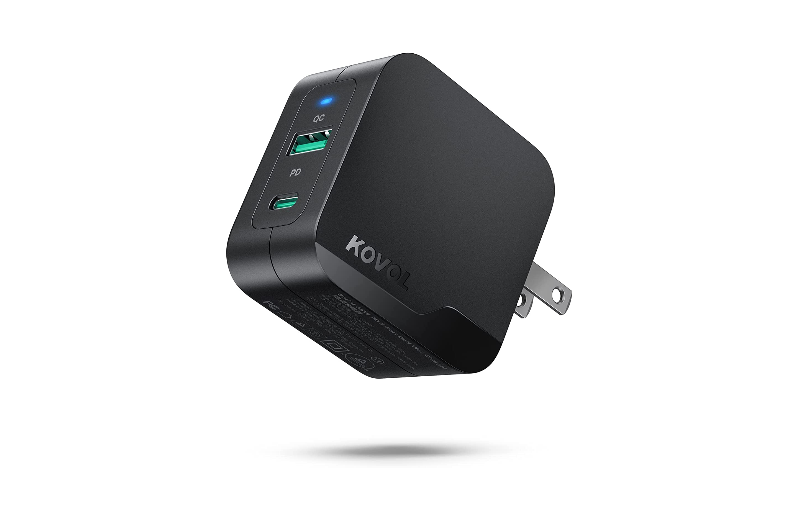 Design
The compact and foldable design makes sure that the charger is 53% smaller compared to the stock 61W charger. During the charging process, there is no static or beeping sound. The fold-away charging prongs come with a smooth folding motion. These prongs allow ease of storage and transportation. It appears like a tiny rectangle when folded up. Despite the overall design being portable, the construction is pretty durable and it doesn't feel cheap. So, even if you use it repeatedly for outdoor usage then the charger will not get physically damaged.
Compatibility
This foldable compact charger supports 45W PD and 18W QC outputs. It is useful for charging devices like iPhone 13/12 or previous models, MacBook Pro/Air, iPad Pro, Dell XPS, Google Pixel, Switch, and more. If you have a Samsung flip 3 then this charger can charge it completely from 5% to full in less than an hour. The rapid power distribution keeps your devices charged. It happens so quickly without any risk of damage. The charger supports both USB-A and USB-C charging cables. The USB Type-C and the USB type-A are competent enough to deliver the watts offered.
Performance
The built-in safety features avoid damage resulting from issues like over-charging, short-circuit, and over-current. This charger is uniquely designed to constantly supervise the power requirements of connected devices. So, it provides optimum current to every device and therefore maximizes charging efficiency. All the Quick Charge-compatible smartphones could be charged up to 80% capacity in only 35 minutes. If you have devices like electric nail clippers or trimmers that can't charge through fast charging from the USB-C to USB-C then this charger is useful. Because it is difficult to foresee how USB-C decides the optimum charging voltage and current, it is confident that the charger is doing what it's intended to.
With the purchase of this charger, you get a user guide. Kovol provides complete buyer confidence by offering a 12-month warranty and an additional 12-month warranty through product registration on the website.
Specs Of KOVOL 65W USB C Charger
The connectivity technology implemented in this KOVOL 65W USB C charger is USB.
The special feature is fast charging.
The connector type is MagSafe and USB Type-C.
The input power supply it accepts is 100V-240V, 1.4A Max @ 50/60 Hz.
The dimensions of the charger are 2.16 x 2.16 x 1.33 inches.
Features Of KOVOL 65W USB C Charger
In the meantime when the KOVOL 65W USB C charger simultaneously charges 2 devices, the intelligent power distribution system delivers optimal charging for every device. This system dynamically negotiates the best possible output for optimized charging speeds.
It can charge a 13-inch MacBook Pro up to 50% capacity in only 45 minutes (when only the USB-C port is being used).
The full-speed output is 65W.
The PD output is 5V/3A or 9V/3A or 12V/3A or 15V/3Aor 20V/3.25A or 65W max.
The QC output is 5V/3A or 9V/2A or 12V/1.5A or 18W max.
This charger is powered by advanced gallium nitride (GaN) semiconductors. The tiny size of the charging station offers excellent heat dissipation leading to ultra-efficient charging of your devices.
With the MultiProtect safety system from Kovol, problems like overheating and short-circuit are eliminated. So, this system ensures total peace of mind.
The built-in protection chip of the charger avoids damage when charging expensive devices like the 13-inch MacBook Pro.
Every port is green on the charger, along with a green-colored power LED (illuminates when powered on).
The rear of the charger depicts detailed specifications and the socket is for the figure-eight power lead.
Compatibility Of KOVOL 65W USB C Charger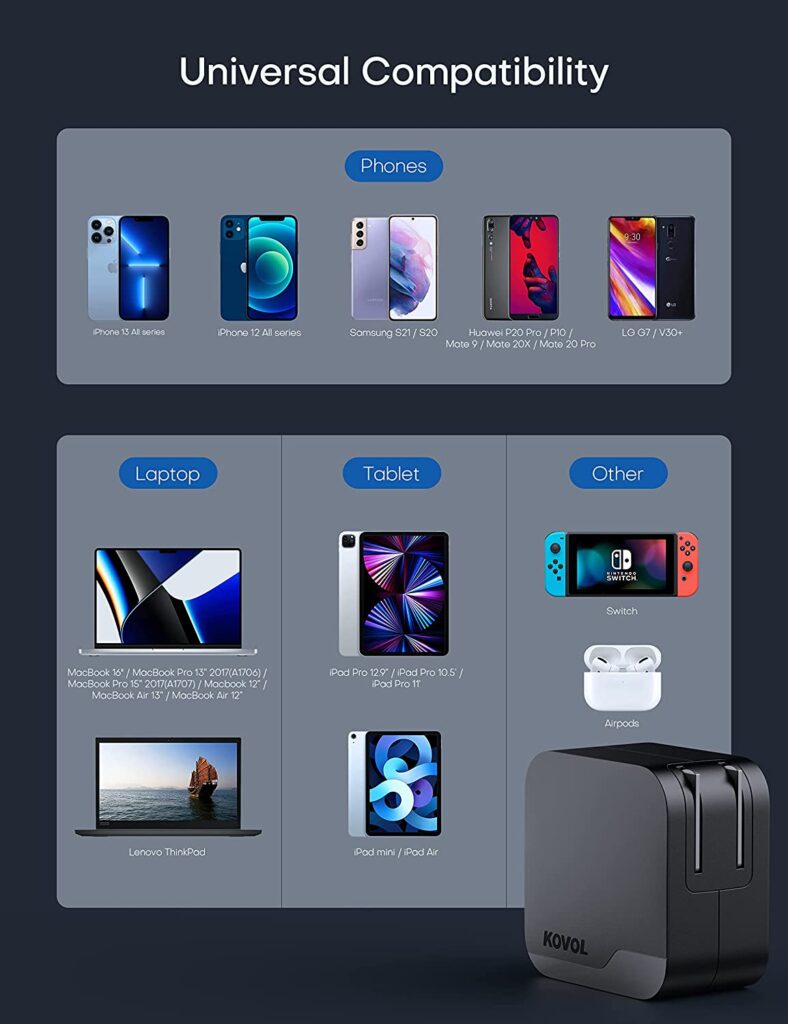 The list of iPhone models it can charge includes iPhone 13,13 Mini, 13 Pro, 13 Pro Max, iPhone 12, 12 Mini, 12 Pro, 12 Pro Max, XS, XS Max, XR, X, 11, 11 Pro, 11 Pro max, 8 Plus, 8, 7, and 6.
The list of Samsung phone models it can charge includes Samsung S21, S20, S10, S10e, S10+, S9, S9+, S8, S8+, Note 20, Note 10, Note 8, and Note 7.
The list of Huawei phone models it can charge includes Huawei P20 Pro, P10, Mate 9, Mate 20X, Mate 20 Pro.
LG phone models it can charge are LG G7 and V30+.
The list of MacBook laptops it is compatible with includes 16-inch MacBook, 13-inch MacBook Pro 2017(A1706), 15-inch MacBook Pro 2017 (A1707), 12-inch Macbook, 13-inch MacBook Air, and 12-inch MacBook.
The list of Lenovo laptops it is compatible with includes Lenovo ThinkPad T470 (1FCD), ThinkPad X270, ThinkPad X390, X1, Yoga 730, E490, and IdeaPad 720s-13.
The list of HP laptops it is compatible with are HP Spectre X360, Spectre X2, Spectre Folio, and ELITE BOOK 830 G5.
The list of Huawei laptops it is compatible with includes Huawei MateBook X Pro, MateBook X, and MateBook13.
Other compatible laptop models include Samsung Notebook9 (950XBE), HP EliteBook Folio G1 12.5, and Razer Blade Stealth 17.
The list of tablet models compatible includes 12.9-inch iPad Pro, 10.5-inch iPad Pro, 11-inch iPad Pro, iPad mini, iPad Air, and AirPads Pro.
Why Picking KOVOL 65W USB C charger?
When you go through the following buying guide, you will be familiar with the vital features to consider for buying KOVOL 65W USB C charger. So, let's go through the following sections.
1. Design
The design of this 65W USB C charger appears compact and sleek. Its body is narrow, tall, and somewhat curved at the edges. The aspect that sets it apart from the rest of the 65W GaN chargers in the market is that it contains a power cord that extends the distance of the charging adapter from the power plug/wall socket. This aspect is excellent if your desk setup is far from a wall or the nearest socket.
It is a cuboid-shaped charger boasting an elegant matte finish through the case except for the region where the USB Type C ports are present. The ports are located close to one another to perfectly fit the compact design. The ports are respectively labeled 'QC' labeled which indicates Quick Charging and 'PD' indicates Power Delivery. Hence, if the device supports PD or QC charging then the charging process accomplishes quickly and efficiently.
On the ports section and one side of the body, a KOVOL logo is embossed. Moreover, the ports feature a turquoise lining (on the interior) rather than the usual white.
2. Durability
Not just the charging efficiency but the build quality is also a vital aspect to consider. Looking at this aspect, this charger seems to be sturdy and durable. Despite being lightweight, it is solidly built to assure that it is safe and reliable. You can shake and tug on the wires to confirm that the 2-pin removable power cord features a solid core. No element in the charger is fragile or loose.
3. Power Distribution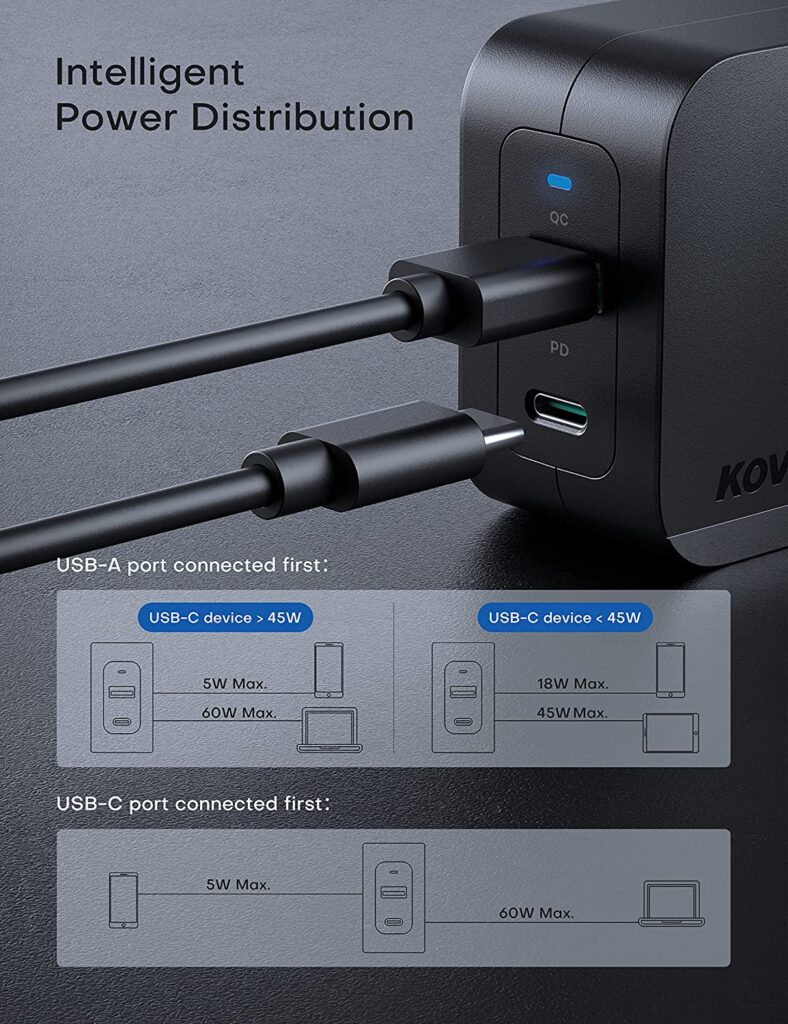 Power distribution represents how you want to power your devices and the power requirement for your devices. If you want PD 65W power output then you can use a USB-C port. If you want QC 18W power output then you can use a USB-A port. You can use a combination of a USB-C-PD (45W) and a USB-A-QC (18W).
4. Charging performance
For charging iPhone XR, the battery capacity required is 2942mAh and it supports USB-PD charging speed. It can be charged to 50% battery life in just 30 minutes. The time required for charging from 0% to 100% is 1.5 hours. For charging iPad Air (2020 model), the battery capacity required is 7606 mAh and it supports USB-PD charging speed. The time required for charging from 0% to 100% is 2 hours. For charging Airpods 2nd Gen, the battery capacity required is 2598 mAh. The time required for charging from 0% to 90% is one hour.
What Is a GaN Technology Charger?
Many people may be confused when they hear GaN (Gallium Nitride) charger. GaN is an innovative application of a new type of semiconductor in power supply. Gallium nitride is a new type of semiconductor material that can replace silicon and germanium. The switching frequency of the switch tube made of gallium nitride is greatly improved, but the loss is smaller. In this way, the charger can use smaller transformers and other inductive components, thereby effectively reducing the size, reducing heat generation, and improving efficiency.
KOVOL 65W USB C charger uses gallium nitride technology, so it is smaller in size, higher in conversion rate, and less in heat. It is not only small in size, but also has faster charging speed and higher power. The USB-C port of this KOVOL 65W USB C charger is compatible with 100-240V full voltage, so it supports voltage input from different countries, and can meet the charging needs of different devices. Also it supports PD 3.0 and QC 3.0 high-compatibility fast charging technology and PPS charging protocol, and can quickly restore power to mobile phones, computers, tablets and other devices in a fragmented time.
The biggest advantage of the GaN charger is that it is not only small in size, but also has a larger power. Generally, a GaN charger will have multiple charging ports, and it can be used for a mobile phone and a laptop at the same time, so that it used to require 2 chargers, but now one can do it. Chargers using gallium nitride components are smaller and lighter, enabling faster charging and better control of heat generation during charging, reducing the risk of overheating during charging. In addition, with the technical support of gallium nitride, the fast charging power of mobile phones is expected to be even higher.
Final Thoughts
So if you want to efficiently charge 2 devices simultaneously then the KOVOL 65W USB C charger is a recommended choice for you. The available PD output and QC output ports provide efficient charging performance. If your device supports either PD or QC then those devices can be charged quickly. You will enjoy the flexibility of use anywhere due to its portable and lightweight design. Moreover, it is implemented with multiple safety features to ensure reliable operation and thoroughly protect your device.
Enjoyed this? Then be sure to check out our other guides.