Today, technology has made excellent progress. Most importantly, the rapid advancement in Automobile technology is commendable. Electric vehicles are already running on the roads. It is a matter of the fact that conventional vehicles use petrol and diesel or gas as fuel. These fuel types are readily available on the petrol pumps by the road. However, for electric vehicles, there are just a few charging stations and electric vehicles can be charged using portable electric vehicle charging piles. To eliminate your confusion on how to pick up the best electric vehicle charging pile in 2023, we have highlighted the best ones along with a section on how to choose them.
List of The Best Electric Vehicle Charging Pile
Let's see what the features are given in the charging pile by various companies. Also, the advantages and disadvantages will be mentioned in this review. So, read the article and choose the best one that suits you the most.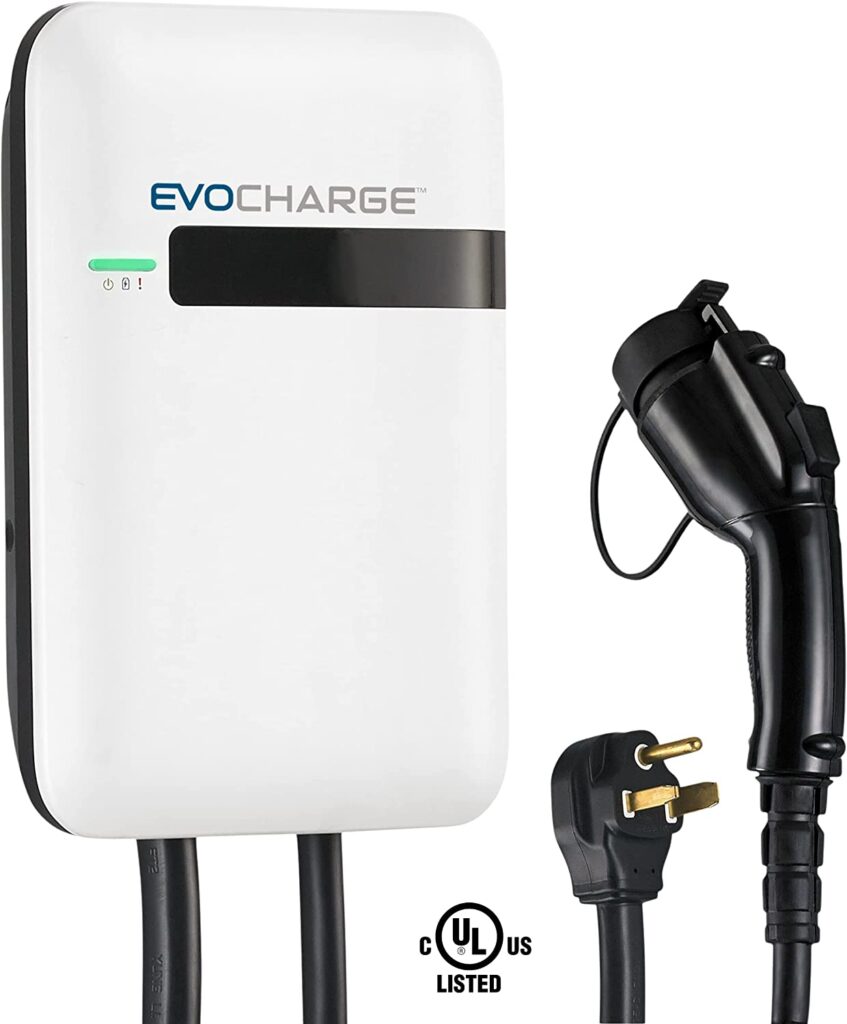 It is a safe, reliable, and one of the best electric vehicle charging pile. This EVoInnovate EVSE model is manufactured by EVoCharge Company. It is compatible with all types of electric vehicles and plug-in hybrid electric vehicles. Hence, no need to worry about charging stations. Install it in your home and charge the vehicle for an hour to get 25-35 miles range. Here are its features.
It comes in 4 variants—Non-WiFi 18 ft. charging cable and WiFi-enabled 18 ft. charging cable. Likewise, 25 ft. charging cable in non-WiFi and WiFi-enabled mode. All 4 variants have different prices.
Features
Electrical Features: Amperage – 32 Amp; Voltage – 240 Volts; Wattage – 7.68 KW
18 ft. and 25 ft. long charging cables.
Compatible with most electric vehicles like BMW i3, Tesla, Nissan Leaf, Ford Fusion, Toyota Prius, and Chevy Bolt.
Universal SAE J1772 plug.
Super-Fast Charging.
Tested for safety and security.
The output current can be regulated.
Compact design that fits almost everywhere.
Indicator light to display the charging status.
25-35 miles range per charge for 1 hour.
Comes in WiFi and non-WiFi models both.
Pros And Cons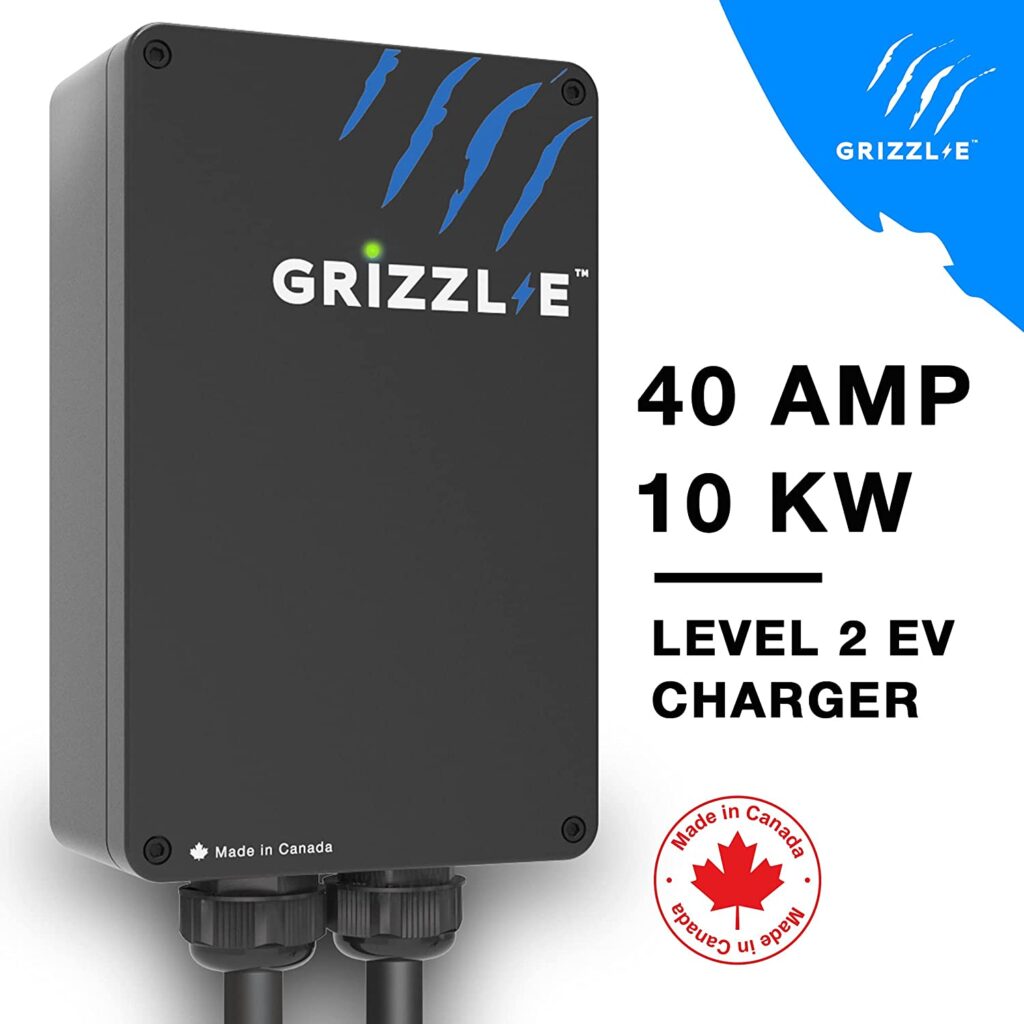 This electric vehicle charger is included in the list of the best electric vehicle charging pile because of its diverse features and advantages. United Chargers Company manufactures Grizzl-E. It comes with a 3-years warranty with full customer support, and it is also a portable charger. This makes it unique from other electric vehicle chargers.
Moreover, Grizzl-E electric vehicle charger comes in 4 different variants with an effective price range. These 4 variants have two different types of plugs. So, let's have a deep insight into its unique features.
Features
24 ft. long premium cable.
Universal J1772 plug.
14-inch plug input cable.
Fast charging.
Regulated amperage. That is to say, the output can be customized. Adjust the current at 40A, 32A, 24A, or 16A as per requirement.
Water and Fire resistance.
Indoor and Outdoor rated.
Transportable and easy to install with 14-50R outlet.
Safety: Protects against over-voltage, under-voltage, missing diode, ground fault, and over-temperature situations.
Heavy duty and compact design. As a result, it fits in almost every place, whether it is home or garage.
Pros And Cons
The incredibly small size, powerful performance, and smart charging are some of the features that make this product worthy to be included in the list of the best electric vehicle charging pile. Pulsar plus Level 2 electric vehicle smart charger is designed with smart technology. That is to say, it can be wirelessly connected to smart devices using WiFi or Bluetooth. An application called myWallbox can control this product wirelessly.
Moreover, Pulsar plus smart charger has level 2 technology. To clarify, it charges the vehicle 7 times faster than the level 1 charging technology. Plenty of other astonishing features are there in this product. Let's explore them all.
Features
Electrical Specifications: Amperage: 40 Amp; Voltage: 240 Volts; Wattage: 9.6 KW
Smart connection using WiFi or Bluetooth.
Regulated using myWallbox application.
Customizable outputs from 16A to 40A.
Multiple electric vehicles can be charged simultaneously by connecting more than one Pulsar Plus to the same electrical circuit.
Works even if you don't have the access to WiFi.
Voice Control: Control Pulsar Plus charger using Amazon Alexa or Google Assistant.
Universal connector type: Type 1 SAE J1772
25 ft. long cable.
Pros And Cons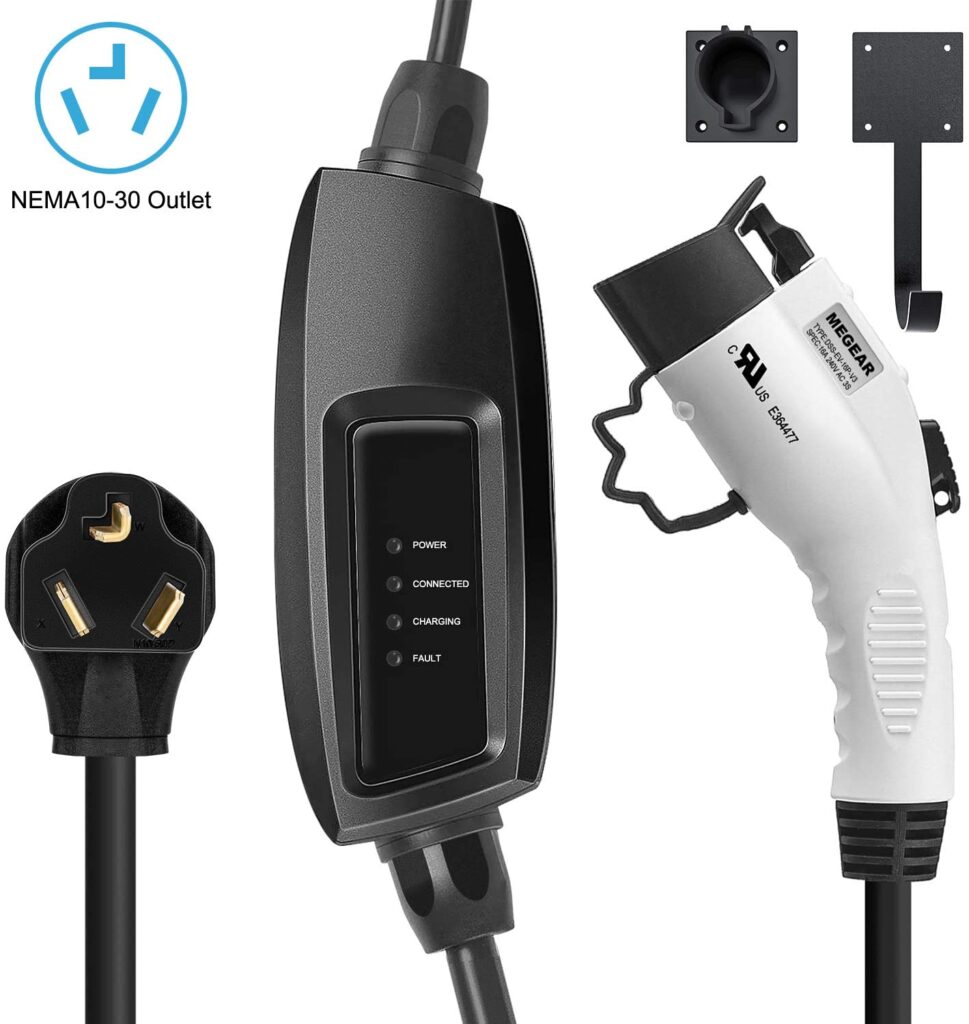 Megear EV charger comes in 4 different variants with extremely effective cost. This charger has a longer 25 ft. cable that can be extended outside the garage or home. Faster and safe charging with various plugs. It can charge 3 times faster than conventional chargers.
In addition, Megear EV charger provides more protection than earlier versions of this charger. Also, it has water-resistant properties. Let's see more features of this product. Its features will show why it is listed in the list of the best electric vehicle charging pile.
Features
Generation 2 electric charger.
NEMA 10-30 Plug input for safe charging.
3 times faster charging.
Multiple protection: Protects from water, lightning, Ground detection, overheat, overvoltage, leakage. Also, it has flame resistance and overcurrent protection property.
Waterproof IP66 connector.
12 months warranty with satisfactory customer team support.
Compatible with almost most electric vehicles.
Uses universal SAE J1772 plug.
Input: 240 Volts, 16A, 60Hz
Output: 3.84 KW, 240 Volts, 16A
Pros And Cons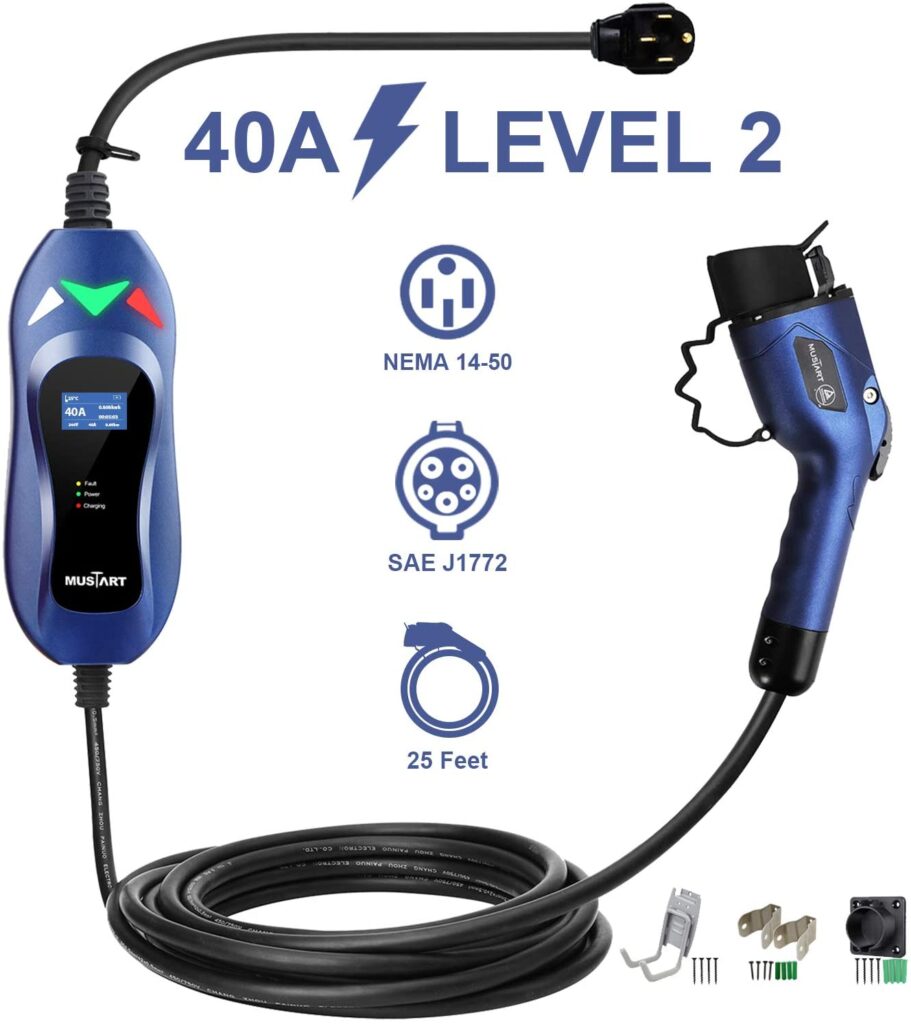 MUSTART level 2 charger is an upgraded version with faster-charging speed and 100% customer satisfaction. It is one of the best electric vehicle charging pile available in the market. The highest quality material is used in manufacturing that makes the product durable and reliable. Let's see more features of this level 2 charger and explore its pros as well as cons.
Features
Faster charging speed up to 2.5x than conventional car chargers.
Compatible with almost most electric vehicles. Work flawlessly with all cars.
A compactly designed charger with a 25 ft. long charging cable.
A huge LCD screen and LED lights to display the real-time charging status.
Safety against lightening, overheat, leakage, overvoltage, and overcurrent.
Various plugs are available, such as NEMA 5-15, NEAM 14-50, NEAM 6-50, etc.
IP67 J1772 connector for indoor as well as outdoor use.
Works in rainy weather too (waterproof).
Electrical Specifications: Voltage: 240 Volts; Amperage: 40A
Pros And Cons
How to Pick the Best Electric Vehicle Charging Pile?
Let's see how to choose the best electric vehicle charging pile for our electric vehicle. There are plenty of factors that must be taken into consideration before purchasing any EV charger. Here are some factors to consider while buying an EV charger.
1. The capacity of Inbuilt onboard charger
Considering this factor is the most crucial step. Firstly, verify the input power and wattage of the inbuilt onboard charger. Generally, the power ranges from 3.7 kW to 22 kW. A 3.7 kW EV can be charged at any station at the maximum power of 3.7 kW.
Hence, you need to consider which EV charger suits you the best for your electric car or vehicle. According to that, you can select a charger of specific wattage.
2. Type of input plug
Check whether our car has a type 1 or type 2 plug. Based on the type of socket, you can choose the best-suited EV charger for your electric vehicle. Type 2 plugs are flexible because they can be used in public areas such as hotels.
3. Trusted Company
Always consider the company or manufacturer of the product while purchasing the EV charger. Use the branded charger from a well-established company. It ensures the guarantee or warranty and also provides good customer service.
Furthermore, a reputed company always try to serve the best products to its customer. Hence, you will get the best electric vehicle charging pile for your electric car.
4. OCPP Controllability
Ensure that the EV charger you are purchasing can be controlled via the OCPP communication protocol. It is because in some areas, the local government or municipality only approves the use of charging stations with OCPP controllability.
5. Variety of features
Everyone looks for this factor. Always search for an ideal electric vehicle charger that offers additional features and services. Additional features like digital indicators, long cables, WiFi or Bluetooth connectivity, and services like customer support, etc. must be checked before purchasing an electric vehicle charger.
6. Remotely Controllable
To control the charger or to increase or decrease the output, an owner needs to go to the charge where it has been installed. So, choose a charger that can be wirelessly controlled using WiFi or Bluetooth connectivity. One such type of electric vehicle charger has been mentioned above.
That is to say, Pulsar Plus can be remotely controlled by your mobile device using an application called myWallbox. So, no need to go near the charger where it has installed.
7. Space occupied by the charger
Choose an electric vehicle charger that occupies less space and offers relatively the same performance compared to other big-sized electric vehicle chargers. To clarify, choose a small-sized electric vehicle charger with the same or better performance. As a result, it won't occupy much space in the garage or home and give you some extra space to place your other things.
8. Installation Process
Always enquire about the installation process before purchasing the electric vehicle charger. If the company is providing a trained electrician for the installation, it can be considered a good option. Likewise, also check if the installation will require drilling into the wall or not. Pick up a charger that can be easily installed without making a hole or drilling the wall. Hence, you can easily carry the charger with you. To clarify, it must be easy to install and portable.
FAQs When Picking Electric Vehicle Charging Pile
1. Does EV charging pile stop supplying power when the car is fully charged?
Yes. It is a smart charger and communicates with the car to know whether the car needs power or not.
2. How do you connect two wallbox chargers to one circuit, and each other? Is there a good tutorial for this purpose?
Using the Power Sharing feature, one or more wall box chargers can be connected to one electrical circuit. It will divide the power equally amongst all the connected electric vehicles.
3. Can the EV charging pile be used outdoors in the weather?
It is watertight. So, it can be used indoors as well as outdoor in any weather. However, the optimum working temperature should be between -22 °F to 104 °F.
The Essential Guide To Electric Vehicle Charging
This essential guide is for those who are new to electric vehicles and want to find out more. We set out basic concepts that relate to the main types of EV currently available, focusing specifically on how to charge the vehicles most effectively.
1. Why choose an EV and the benefits of electric vehicles?
Huge leaps forward in the development and availability of EVs and the technologies that support them, coupled with societal impetus towards a more sustainable way of life, are helping to bring down the costs associated with EVs and their charging infrastructure. In combination, all of this is speeding up the phase out of internal combustion engine (ICE) vehicles.
For EV Buyers and Owners
Cost of EVs continues to fall relative to internal combustion engine (ICE)vehicles, making the total cost of ownership increasingly attractive.
Servicing and maintenance cost are lower for EVs than for ICE cars because there are fewer moving parts. Opportunity to fuel EV with self-generated renewable power, for example from solar panels.
Financial incentive schemes, including tax breaks in many countries, further reduce total cost of ownership, and as ICE phaseout dates come into force, EV buyers and owners will already be in compliance.
For Environment and Society
Emissions reduction. EVs emit zero carbon, so the more EVs on the road, the greater the carbon saving helping to meet decarbonisation targets.
Air quality improvement. EVs are clean, they emit none of the particulates in ICE exhaust fumes which can be seriously damaging to health.
Noise pollution is reduced because EVs are quiet, or even silent. Loud traffic noise will reduce as EVs replace ICE vehicles.
2. What are the different types of EVs and how do they work?
There are two basic types of EV that can be charged by external electric chargers:
Battery Electric Vehicle (BEV)
A Battery Electric Vehicle (BEV) is propelled by a battery-powered electric motor that relies exclusively on an external electrical source for charging and recharging.
Plug-in Hybrid Electric Vehicle (PHEV)
A Plug-in Hybrid Electric Vehicle (PHEV) has both an internal combustion engine and an electric motor which means it can switch between petrol or diesel power and its battery. As the batteries are usually smaller in PHEVs than BEVs, they tend to have a shorter electric-only range.
PHEV vs BEV
The average range for a BEV is now around 500 km. PHEV battery capacities are smaller, most PHEVs can only be driven a relatively short distance (16-80km) before switching over to their internal combustion engine. With more BEVs on the road every year, the EV charging infrastructure such as EV charging piles is now growing fast to keep up with demand.
3. The difference between kWh and kW
It is important to differentiate between the two most common abbreviations associated with EV charging: kilowatt-hours (kWh) and kilowatts (kW).
Kilowatts (kW) measure power. The higher the number of kilowatts offered by a EV charging pile, the faster it will charge the EV, provided that the EV's onboard charger (OBC) can support the rate of charge.
Kilowatt-hours (kWh) measure battery capacity. Every EV has a maximum kWh rating which represents the maximum amount of energy it can store in its battery. The larger the kWh, the greater the EV's driving range will be.
Calculating how long it will take to charge an EV to full capacity involves knowing both the capacity (in kWh) of the vehicle's battery pack and the power (in kW) offered by the charging pile.
4. EV charging infrastructure (EVCI)
Drivers need to charge their EVs at home and away, which means they need access to electric vehicle charging piles in residential and public settings such as fuelling stations and workplaces. Charging can be either by AC or DC.
AC charging
This is the most affordable type of charging infrastructure to install because AC is available straight from the grid. It can be single-phase (run through a single converter) or three-phase (run through three convertors for greater power transfer). In commercial and industrial settings, the three-phase system is almost always used because it is a more efficient way of meeting higher power demands.
The battery in an EV just like the battery in a laptop or mobile phone runs on DC. This means the current from an AC charger must be converted from AC to DC before it can be used to power the EV battery. To make this happen, the current is passed through the EV's onboard charger (OBC), which regulates the voltage and current. The speed of charge depends on the OBC's power output. This means that even if an EV is charged with a relatively powerful AC charger, the power the battery receives and how quickly it reaches capacity, depends on the capabilities and limitations of the OBC.
DC charging
DC charging tends to be found at dedicated DC charging piles away from home, which offer higher power and faster charging speeds. In DC charging, the energy is sent directly to the battery, bypassing the potentially limiting OBC. Early DC chargers started at around 50 kW but the power range from most has now increased to more than 150 kW in line with the wider availability of bigger EV battery capacities.
5. EV plugs and sockets
There are different types of charging plugs for EVs depending on whether they are being connected to an AC or DC charging pile. The vehicle's inlet port and charger type will determine which socket can be used.
AC connectors
These are largely known as Type 1 and Type 2:
Type 1 is a single-phase plug that allows charging up to 7.4 kW, depending on the capability of the EV and the capacity of the grid. Type 1 connectors are most often found in EVs manufactured in America and Asia.
Type 2 supports single phase and three phase current, so it permits faster charging up to 22 kW. Type 2 connectors are most often found in EVs manufactured in Europe.
DC connectors
There are two main type of DC connectors, CCS and CHAdeMo:
CCS (Combined Charging System) combines a Type 2 connector with two additional power contacts to allow for DC 'quick charging' alongside standard three-phase AC.
CHAdeMO (also known as Japanese JEVS) is the trade name of a connector developed in Japan for fast high charging.
6. How to charge an EV
There are different types of charging plugs for EVs depending on whether they are being connected to an AC or DC charging pile. The vehicle's inlet port and charger type will determine which socket can be used.
Mode 1: Household socket and extension cord (AC)
This involves connecting the EV to the grid via a standard domestic socket and cable without protection equipment. Due to the high draw from the charger that takes place over several hours, there is increased likelihood of fire or electrical injury, so Mode 1 is not recommended.
Mode 2: Household socket with cable-incorporated RCD (AC)
The EV is connected to the grid via a household socket, but charging is done using a cable with built-in protection (a residual current device or RCD) to protect against electrical shocks and fires.
Mode 3: Dedicated EV charging system (AC)
An EV is connected to the grid via a specific socket, plug and a dedicated circuit. Mode 3 can be used in residential, commercial and public charging and operated at varying powers depending on its application.
Mode 4: Dedicated EV charging system (DC)
The only mode for DC charging, which is done via a dedicated circuit and plug and usually at public charging stations only. The conversion of AC to DC is carried out within the electric vehicle charging piles, which allows for power of around 50 kW, or higher if the supply to site permits.
7. Vehicle compatibility
PHEVs and BEVs have very different battery sizes so their charging requirements, and the methods of charging with which they are most compatible, are different. PHEVs have a smaller battery size, usually between 6-15 kWh, and an OBC generally limited to either 3.4 kW or 7.4 kW. Given the size of the battery they carry, Mode 2 is most suitable for domestic charging, though the faster charging offered by Mode 3 may be preferable for batteries at the upper end of the PHEV scale, particularly for on the go charging.
BEVs have larger batteries sizes, usually from 30 kWh up to as much as 95 kWh for high-performance vehicles, with OBCs ranging from 7 kW to 22 kW. BEVs can use Mode 1, 2 and 3 when convenient, but almost all are compatible with the dedicated systems and extra power offered by Mode 4.
Let's take an example. A Tesla Model 3 owner charging his car on a 22 kW AC electric vehicle charging piles will only get 11 kW, limited by the onboard charger of the car. It will take 5-7 hours to charge the battery. While using a 50 kW DC charging pile, the DC charging capacity being 145 kW, there won't be limitation and it will take 40-60 minutes to charge the battery.
8. Where and when to charge an EV
Locations for EV charging include:
1. Residential settings
AC charging at home often takes place overnight and tends to be slow. This may be the only location that an EV battery is ever fully recharged.
2. Workplace settings
Most likely powered by AC, workplace charging piles are becoming more common. Charging usually takes place over the span of the working day, but the EV may not be fully charged in that time. Vehicles used for business, such as delivery vans, may be charged overnight.
3. Commercial settings
In locations that tend to be visited for shorter periods of time, such as supermarkets, leisure centers and car parks, AC charging is steadily being supplemented by DC charging piles which can charge EVs faster, if the battery allows.
4. On the go settings
Speed of charge is essential at locations that are visited purely to get enough charge to continue a journey, such as at motorway service stations. DC charging is usually used in these locations to recharge EV batteries with a large quantity of power in as little as 20 minutes.
Final Thoughts
In the end, choosing the best electric vehicle charging pile as per the requirement. Consider different factors mentioned above while purchasing the EV charging piles. Also, you can pick any EV charging pile mentioned above.
Enjoyed this electric vehicle charging pile review? Then be sure to check out our other guide of the best car air purifier.