Welding tasks need to be carried out safely else it may result in several health concerns. Many people are unacquainted with the health hazards of welding. This process emits harmful radiations, sparks, and harmful airy particles that can damage your eyes, neck, and face. Auto darkening welding helmet is specially designed as safety gears.
Auto darkening welding helmets are those that do not include a fixed shade. Thus, you can use them for different procedures of welding. Built-in sensors detect the welding process going on and they also fine-tune the shade of the welding helmet as per the requirement. The following selection helps to eliminate your confusion on how to pick up the best auto darkening welding helmet in 2023.
List Of The Best Auto Darkening Welding Helmet
Check out the thorough review of the best auto darkening welding helmet in 2023 below.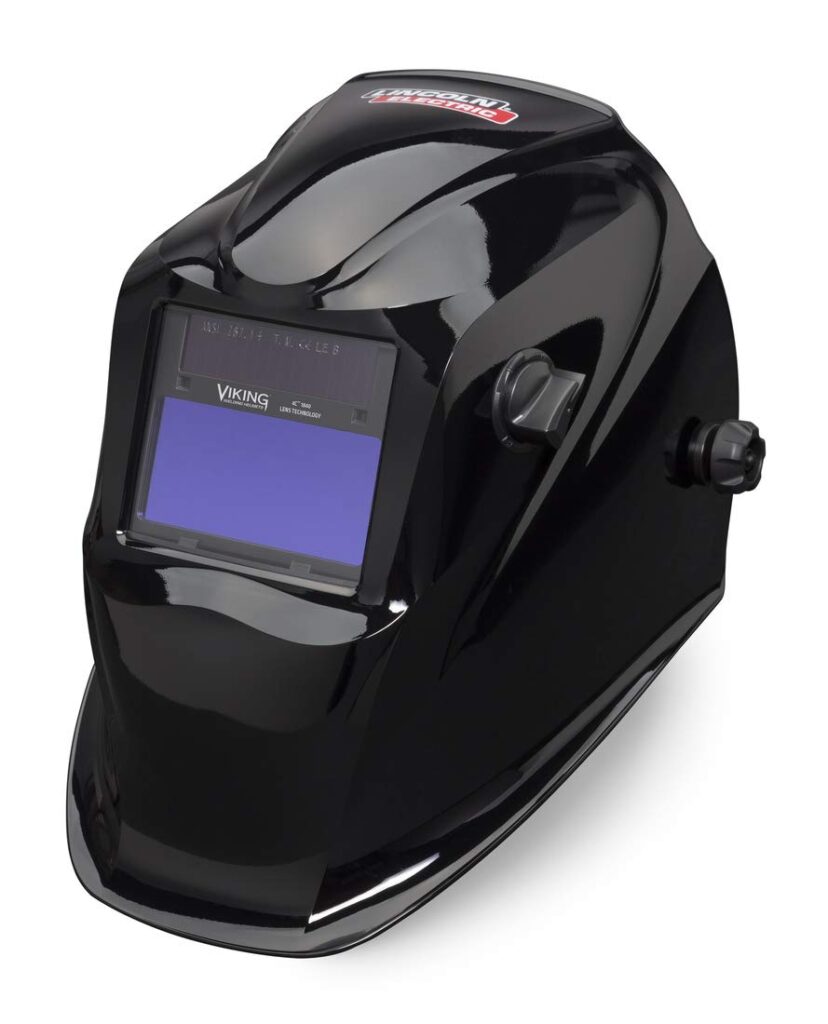 This Viking 1840 welding helmet belongs to the mid-range automatic dimming helmet series from Lincoln Electric. It is equipped with a 7.0 square-inch lens that is implemented with the 4C lens technology. An external dial is available to rapidly vary mode and tone. In terms of safety and ease of use, this is the best auto darkening welding helmet on this list.
Its headgear for this Viking 1840 welding helmet is quite simple to adjust. All instructions are clear and easy to follow. Welders will usually admire the adjustability for the welding darkness and the grind setting as well. Extra protective screens are available for the interior and exterior of the viewing glass and a helmet bag.
The design features an adjustable 4-point pivoting helmet. It assists in weight distribution and reduction of pressure. So, the welder benefits from excellent comfort. The welding helmet weighs 18 ounces.
Key Features
The unique 4C lens technology makes sure the optical platform extends the range of tones and colors which can be seen in both dark and light states. This technology creates a true-color view of the arch, base material, and puddle; no more eye strain.
It comes with 1/1/1 optical clarity. The best-in-class rating measures the auto-darkening welding lens for distortion, blurriness, shadow consistency, and angle performance.
With the help of external control, there is a boost in productivity. You can switch between 9-13 welding blinds and the 3.5 grinding shade.
Pros And Cons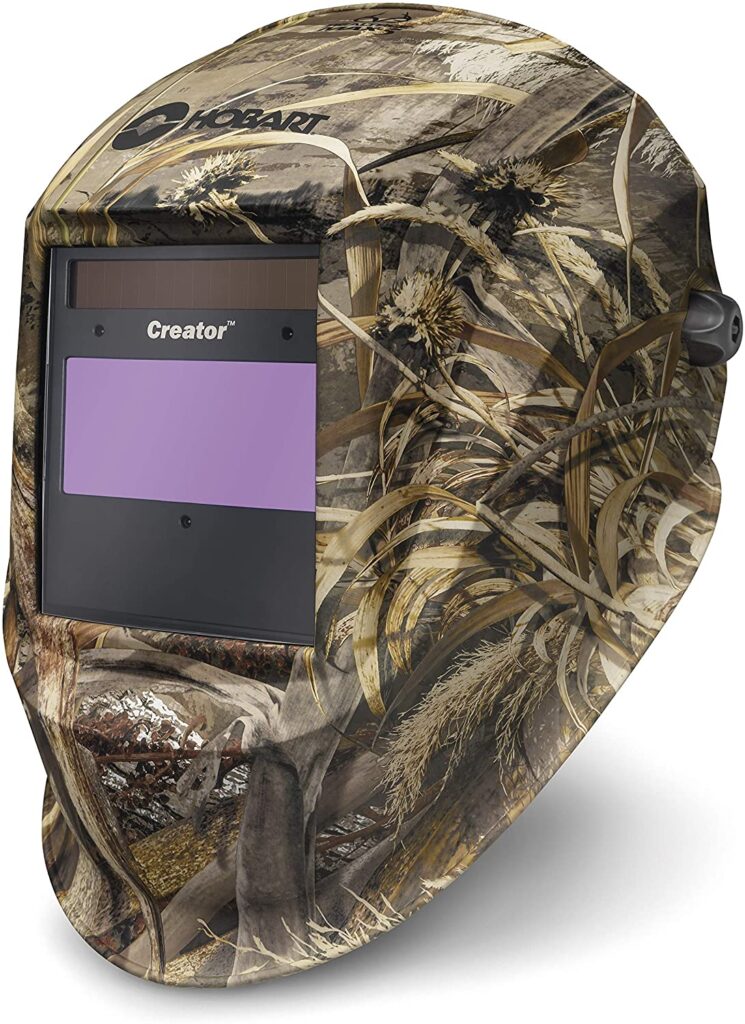 For those welders who are looking for an efficient yet affordably priced auto darkening welding helmet, the Hobart 770869 auto-darkening welding helmet is a great choice. Throughout the use, the settings are easy to read. You can add a corrective lens and then the helmet would work well for a home workshop.
The prominent benefits include a large viewing area, the vivid color of the lens, broad coverage, lightweight design, etc. Especially for beginner and intermediate level welders, this welding helmet helps a lot. The protective lens kit is included.
Key Features
The viewing area of 7.1 square inches with the widescreen format offers great visibility.
3 independent arc sensors offer reliable arc detection.
Grinding mode protects the lens from darkening. So, it provides visible and clear grinding.
The package dimensions are 12 inches (L) x 11.8 inches (W) x 14 inches (H).
Pros And Cons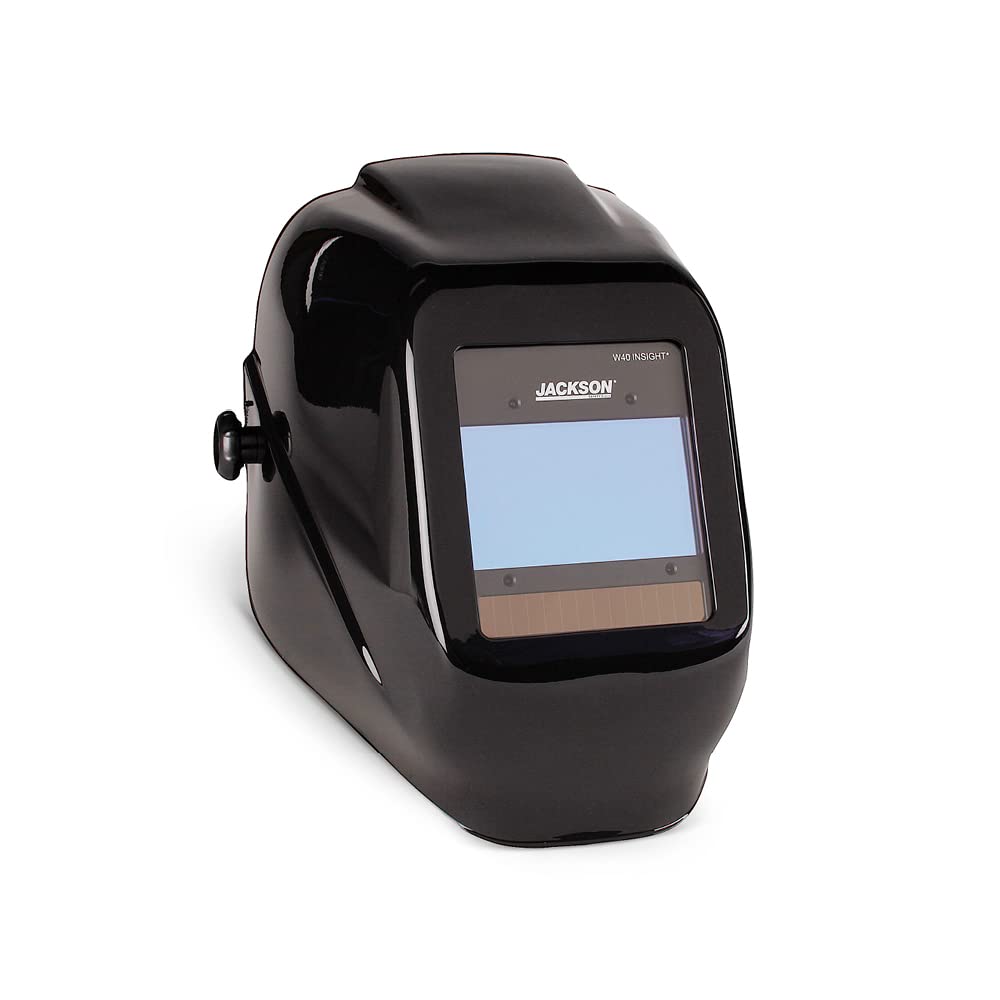 For amateurs, students, professionals, and inspectors, this Jackson safety insight welding helmet can be the best auto darkening welding helmet. This is because it boasts a lightweight design, enough safety features, and ease of adjustability.
This adjustable automatic dimming welding helmet is equipped with high-performance automatic darkening filters. These smart filters let welders adjust to varied working environments. This is accomplished by empowering them with the capability to regulate lens tone and providing sensitivity adjustments to the ambient lighting sources.
The manufacturer uniquely designed it to provide maximum comfort to the welders. It is designed with a 3-position slider. It helps to vary the distance from the lens to the eye. You can use the crown strap adjustment to align the helmet in the vertical direction. A big ratchet dial permits you to vary the size and no need to remove the helmet.
Key Features
The lens comes with a shadow range of 9 to 13.
The viewing area of the lens is 3.93 inches x 2.36 inches.
There is flexibility to choose from welding grades and modes. Appropriate choice of modes and welding grades makes this helmet appropriate for TIG welding, MIG welding, and arc welding.
This helmet is compatible with HLX100 and HSL-100 shells.
For ensuring safety, it meets ANSIZ87.1 2010 standards and complies with CSA (compliance, safety, surrender).
The Automatic Darkening Filter (ADF) enables the soldering iron to adjust to varied working environments. This is possible by regulating the shadow of the lens and the sensitivity settings of the ambient light sources.
Other features are delay settings and 4 independent auto-darkening sensors.
Pros And Cons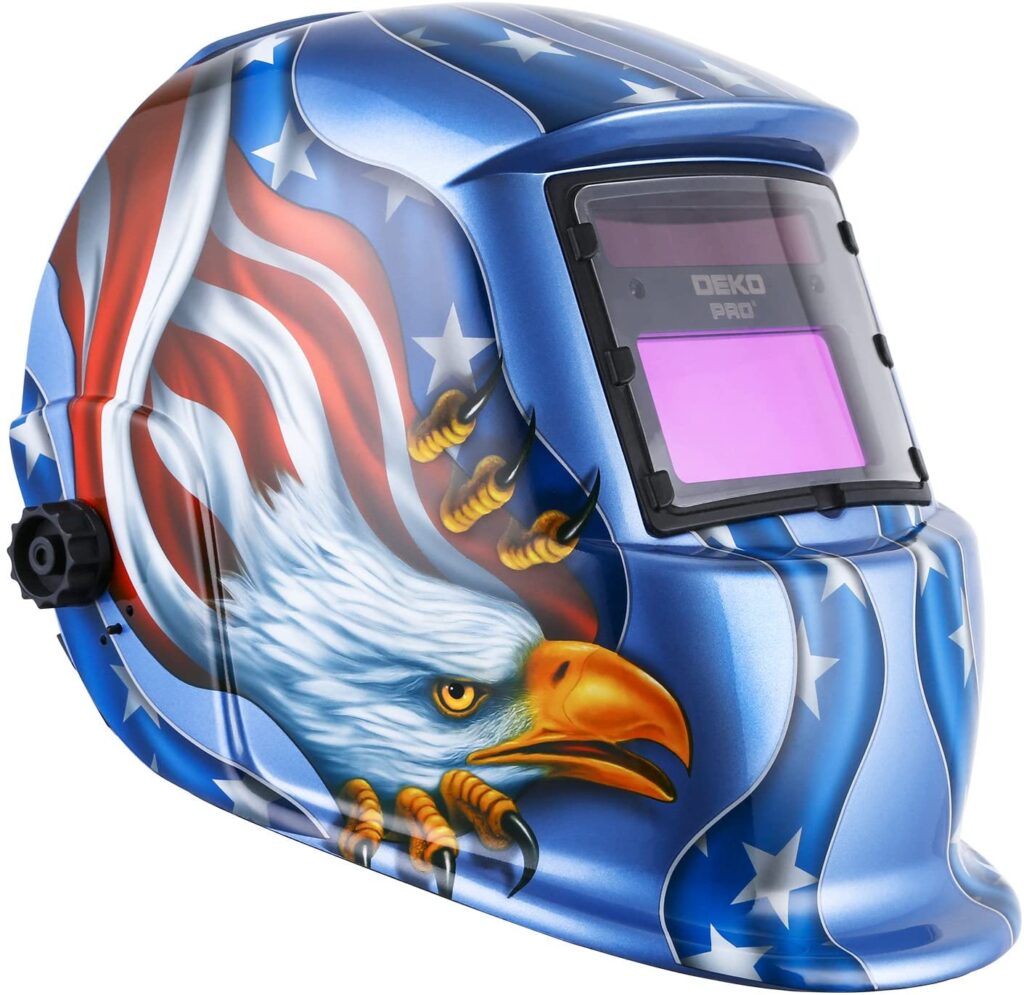 The power-efficient operation of this DEKOPRO solar powered welding helmet makes it suitable for various industries. It is useful for construction, automotive, manufacturing, military, metal production, and fabrication, oil and gas, mining, transportation repair, and maintenance, etc. The ergonomically designed hanging head provides great comfort. Throughout the use, you stay protected against harmful infrared radiation and ultraviolet radiation.
Key Features
It comes with smart auto adjustment. With the automatic darkening filter, there is easy switching from light to dark in just 1/25000 seconds.
During electrical failure, the soldering iron stays protected against IR and UV radiations.
The hood comes with a rating of 1/2/3/4/5 1/2 welding. It conforms to the safety and technical standard of EN379.
The visor display area is 3.62 inches x 1.65 inches.
Pros And Cons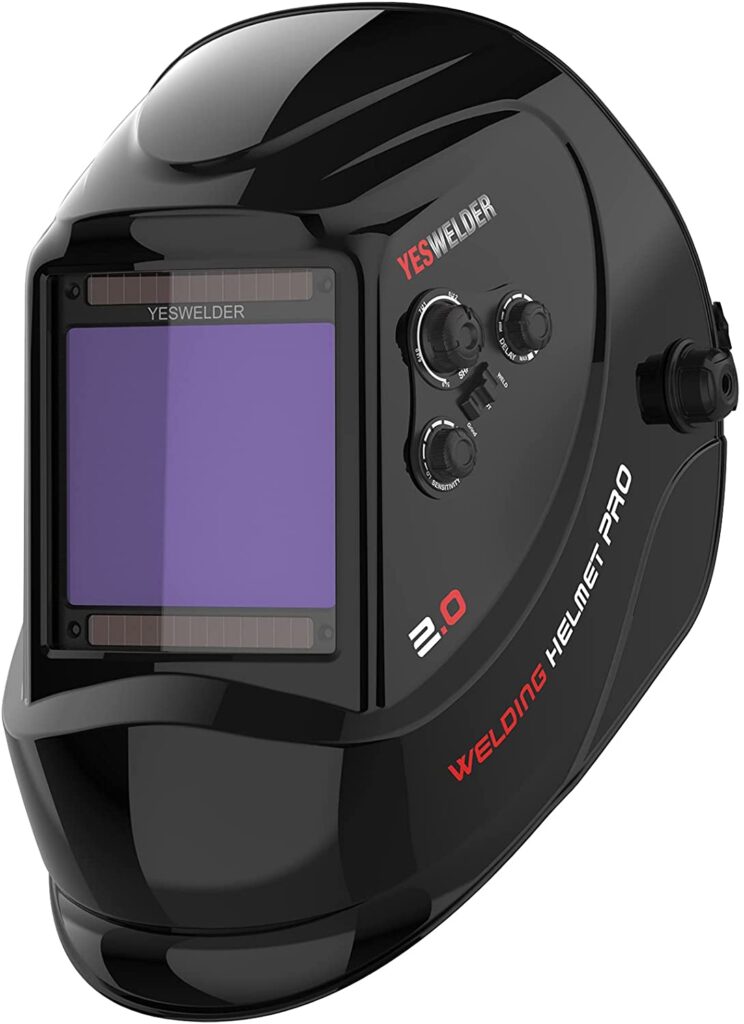 YESWELDER designs this welding helmet for TIG, MIG, and MMA applications. Due to oversized cushions, you benefit from supreme comfort. Also, it provides ease of adjustment and excellent support for a better fit. The excellent optical clarity makes this YESWELDER welding helmet one of the best auto darkening welding helmet.
Four arc sensors are included for reliable arc detection. When working on rigorous jobs, you can clearly see the welding arc. The screen is large enough with the true color function. No harm to eyes. Accessories in the pack are a user manual, an adjustable headgear, two replacement lenses, a replacement battery, and a storage bag.
Key Features
The advanced True Color technology offers improved visibility and decreases eye strain by minimizing the conventional lime green color on the display screen.
Due to the upgrade with True Color technology, the optical clarity is preserved with the rating of 1-1-1-1-2.
The display size of 3.9 inches x 3.7 inches offers a full range of vision that is relative to the welding area.
Pros And Cons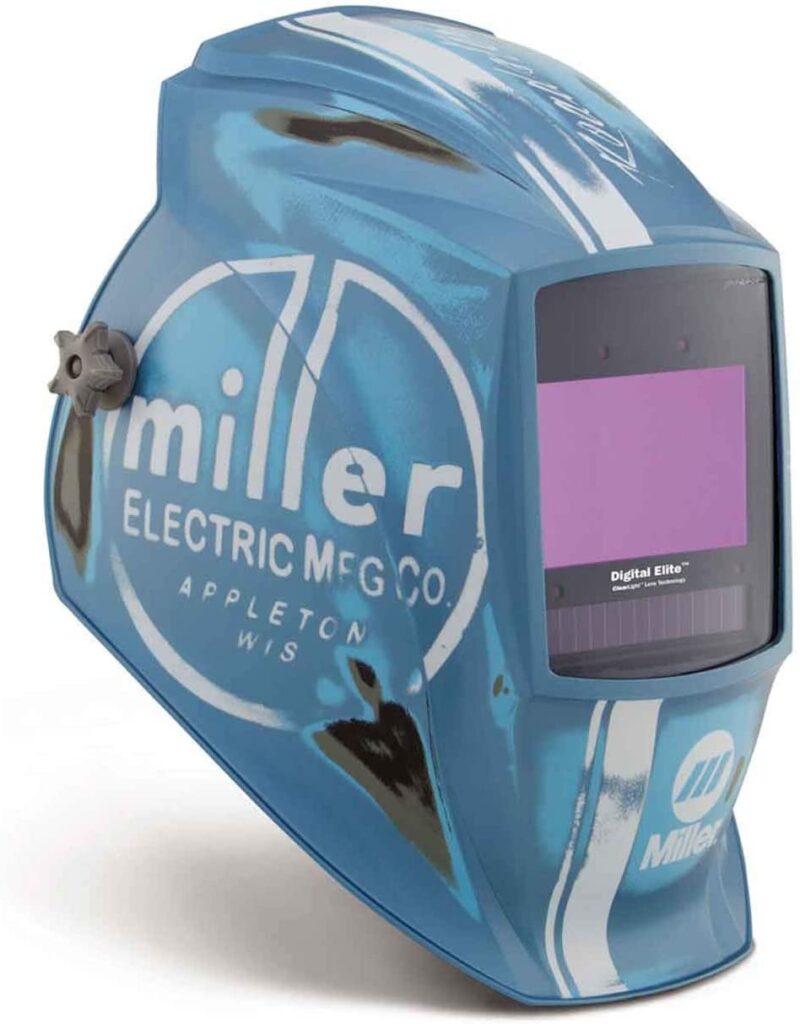 What makes this Miller welding helmet stand out is it supports automatic darkening with ClearLight technology. This upgraded helmet boasts additional adjustments and excellent support for a better fit. Spare lenses and a bag are included to avoid any hassles.
Due to outstanding optical clarity, you will not find hassle while seeing the weld task. It is easy to change lenses when the need arises. Moreover, the latest headgear design is more comfortable. The clear lens technology is easy to work even in dim light conditions as well. Instead of simply seeing the shades of green, you can view all colors. The moment you spark, all four sensors start working efficiently. So, there is no risk of getting flashed.
Key Features
4 independent arc sensors offer excellent lens response for thwarted or low-amp welding.
Different modes available are cutting, welding, grinding, and X mode. So, this helmet offers great versatility.
The X-Mode electromagnetically senses the weld to discard interference arising from sunlight. It constantly senses the arc although the sensors are blocked.
The big buttons and intuitive design benefits you with enhanced digital controls. So, you can effortlessly vary the settings and mode.
Pros And Cons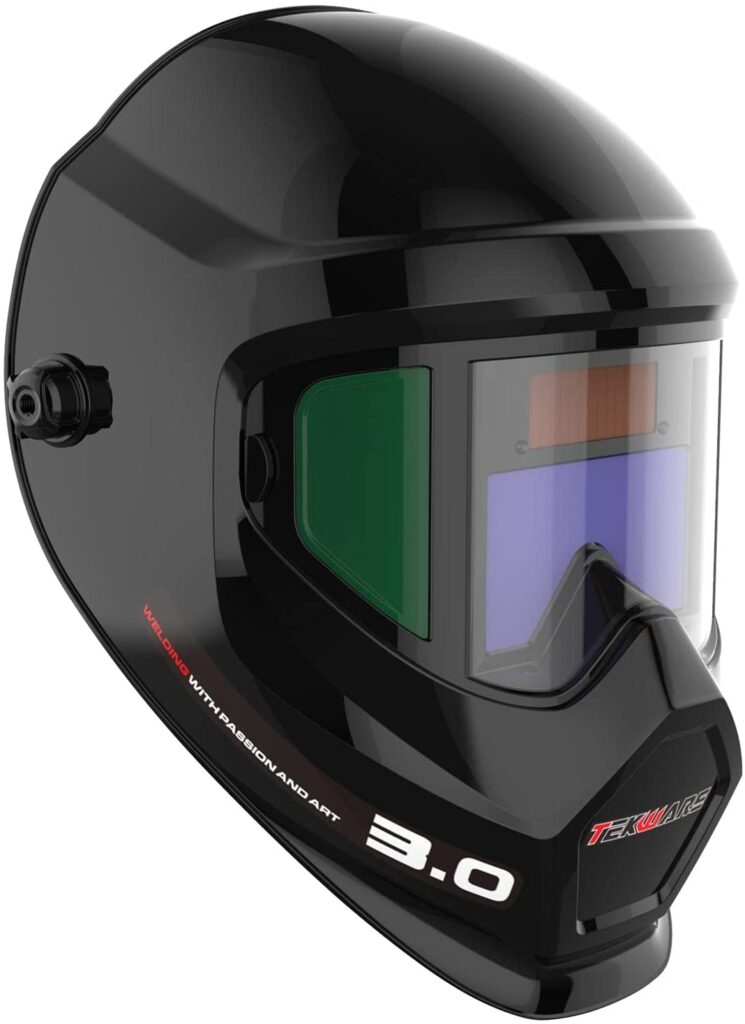 In terms of improved visibility and reduced eye strain, this TEKWARE solar powered welding helmet can prove to be one of the best auto darkening welding helmet. It is highly suitable for TIG, MIG, and MMA applications.
Owing to the big viewing area, you obtain a broad range of view and this improves the operator control. Also, the large viewing area keeps the welders working continuously for a considerable time. The special anti-fog design eliminates fog in the internal filter. You can power this helmet through solar energy or by the included replaceable CR2450 battery.
Accessories packed in are an adjustable headband, 3 spare outer protectors, 2 spare inner protectors, a helmet storage bag, a spare CR2450 battery, a welding hood, and a user manual.
Key Features
Implemented with the True Color Technology, this helmet not just lets you see better but also lets you see more.
With the reduction of the traditional lime green color over the display screen, there is an improvement in visibility and a reduction in eye strain.
The display size is 4.33 inches x 2.37 inches with a side view.
The 1/1/1/2 optical clarity guarantees real color vision and great clarity.
The side viewing area is 4.3 inches x 1.96 inches.
Light states are DIN 4.
Dark states are DIN 9~13.
Response time from bright to dark is ≤1/10000 seconds.
This helmet complies with ANSI Z87.1/EN379 CE/CSA standards.
The pivoting headgear style offers great comfort.
Pros And Cons
How To Pick The Best Auto Darkening Welding Helmet?
The factors described in the below section significantly saves you time when choosing the best auto darkening welding helmet.
1. Optical clarity
Auto darkening welding helmets come with an optical class rating which delineates the clarity it offers to the glass to properly see through it. Basically, there are 4 categories of auto-darkening helmets, they are available in numbers like 1/1/1/1. Hence, it is recommended to choose a helmet that provides a great optical clarity rating of optical class. The high optical clarity lets you work efficiently when viewing clearly across the glass of the helmet.
2. Safety
The inevitable factor when choosing auto darkening welding helmets is safety. It is best to choose the one that meets standard safety levels and is tested. Look for the one that offers protection against infrared rays, UV rays, temperature, and sparks, etc.
3. Arc sensors
Built-in arc sensors automatically detect the flashes according to the flashes or radiations, they darken the helmet so that the welder stays protected. Hence, in terms of safety, it is an inevitable factor to consider.
Various auto darkening welding helmets have a varied number of arc sensors. If you intend to get more protection then look for more advanced models equipped with 3 or 4 arc sensors. These many arc sensors offer reliable arc detection. On the other hand, those models with 2 arc sensors are appropriate to offer adequate protection. However, they don't extensively decrease the risk of flashes.
4. Power source
Look at the power source of the auto darkening welding helmets before purchasing. Some models are powered by battery whereas some are solar-powered. If you want to buy a battery-powered helmet, choose a replaceable battery-powered one because it is more efficient. To benefit from the efficient operation without relying on battery power, solar-powered models are better options. Moreover, if you want to use auto-off features, choose a solar-powered helmet.
5. Lens shades
A broad range of lens shades is available. For those people who intend to frequently alter the settings of their helmets, choose the one with a wide lens shade range. The average lens shade range is 9-13. It is typical for the majority of welders. However, for those welders who work in low amperage, the appropriate lens range is 6-13. This is because, in this range, they can emphasize more on their work. On the other hand, passive welding helmets come with a fixed lens shade.
FAQs When Picking The Best Auto Darkening Welding Helmet
1. What it means by adjustable sensitivity settings?
For automatic adjustment, while you work, several auto darkening welding helmets are equipped with dials. These dials let you preset the sensitivity levels. It is up to you to choose the response time of the helmet, the number of shades you use, and the darkness level.
2. What is the benefit of using a solar-powered helmet over a battery-powered helmet?
When you use the best auto darkening welding helmet which is solar-powered, you benefit from long battery life and long run time. Furthermore, you need not substitute its battery, unlike the battery-powered auto darkening helmets.
3. How can you check the reaction of the lens of auto darkening helmets?
When you wear the auto darkening helmet, make sure to look at the sun and observe whether the lens darkens or not. In case it darkens then it shows that the lens is durable and reactive. Now you need to move your hands over the front of your face and look at the sun to observe the same. Now the helmet must react to the light.
Final Thoughts
Excellent optical clarity and safety are the prominent facets of any auto darkening welding helmet. They are exceptionally designed to avoid blindness and harm to the retinal which is crucial for welders who are working with hazardous bright lights. Especially the auto-darkening feature adjusts automatically to reduce strain on the eyes. These best auto darkening welding helmets in 2023 encompasses all these qualities and it feels lightweight and comfortable.
Enjoyed this auto darkening welding helmet review? Then be sure to check out our other guide of the Best 110V MIG Welder.