Since the PCIe 5.0 specification was first released in 2019, AMD's Ryzen 7000 and Intel's 13th-gen Core already support PCIe 5.0. The graphics cards currently do not support PCIe 5.0 yet. But some models of PCIe 5.0 SSDs have already been launched. The performance of PCIe 5.0 SSD is theoretically double that of PCIe 4.0 SSD, and the transmission speed can reach more than 15GB/s, which is full of temptation. So is PCIe 5.0 SSD worth buying now?
What is PCIe 5.0?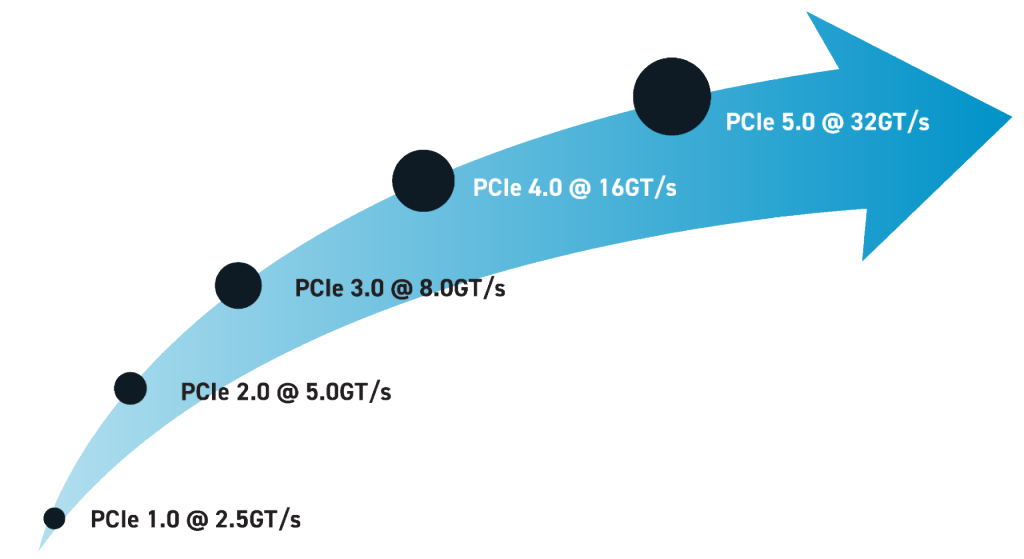 PCIe 5.0 is the latest iteration of the PCIe data transfer interface standard, offering a bandwidth capability of 32GT/s, while PCIe 4.0 is limited to 16GT/s. Here are the CPUs capable of taking advantage of the lightning-fast data transfer speeds of PCIe 5.0:
Also, check your motherboard compatibility (Check out Best PCIe 5.0 Motherboard for more details).
Check out the thorough reviews of the best PCIe 5.0 SSD in 2023 below.
1. Crucial T700 PCIe 5.0 NVMe SSD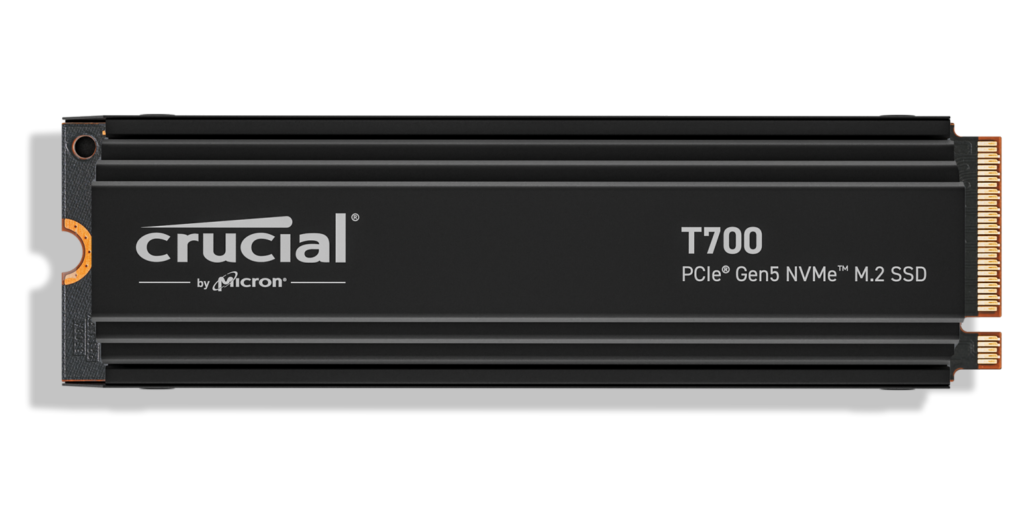 Crucial is the only brand whose parent company, Micron, has innovated NAND2 in the T700 PCIe 5.0 SSD. Micron's 45-year reputation for industry innovation and leadership backs up every Crucial SSD with end-to-end quality, reliability, and testing excellence. The specifications of the Crucial T700 PCIe 5.0 SSD are as follows.
Key Features
Sequential read/write up to 12,400/11,800MB/s1
Nearly 2x faster than our Gen4 SSD6
More than 22 times faster than SATA5
1, 2 and 4TB capacities for more gaming and UHD/8K+ videos
Compatible with Intel 13th Generation and AMD Ryzen 7000 Series CPUs
Backward Compatibility for Gen3 and Gen4 Systems
Features Micron 232-layer TLC NAND2
Advanced heatsink for maximum heat dissipation without noisy fans or liquid cooling blocks (non-heatsink option available)
Reduce Game Texture Loading Times Using Microsoft DirectStorage
Storage Security Hardware Encryption using TCG Opal 2.01
Should I buy this Crucial T700 PCIe 5.0 SSD now?
PCIe 5.0 SSD will enhance the experience of enthusiasts who need the best applications, such as computer geeks, ultimate gamers and creative people, so if you are one of the following groups, then you can consider buying in the near future.
Computer enthusiasts: investing in Intel 13th Gen or AMD Ryzen 7000-series CPUs and compatible motherboards will greatly benefit from increased PCIe 5.0 SSD speeds!
The ultimate gamers: Gamers who demand low latency and faster load times for their games will appreciate the advanced technology and next-level speed of the PCIe 5.0 SSD.
Digital creators: Creators and professionals working with large amounts of data, such as audio and video rendering, will need fast, reliable storage, and the PCIe 5.0 SSD is the perfect solution.
If you're not ready to upgrade to PCIe 5.0, Crucial has a powerful PCIe 4.0 SSD – Crucial P5 Plus. The Crucial P5 Plus SSD delivers superior speed and data protection with sequential read speeds of up to 6600MB/s for a blazing fast experience. It's designed for hardcore gamers, professionals, and creatives who demand high-performance computing.
2. Samsung PCIe 5.0 SSD PM1743 for Enterprise Servers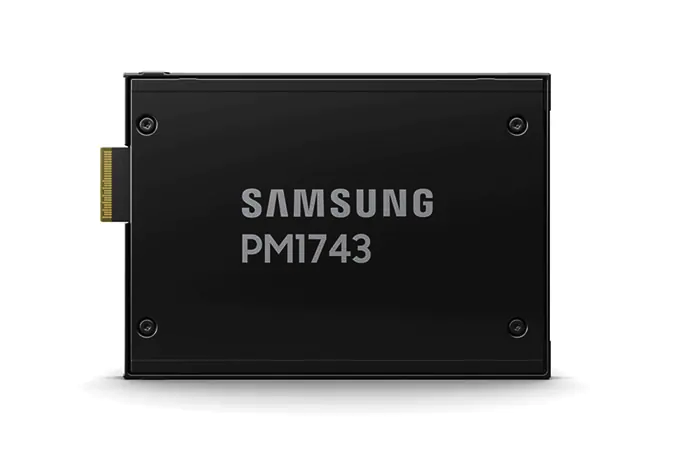 PCIe 5.0 provides a bandwidth of 32GT/s, twice that of PCIe 4.0. Utilizing a proprietary controller designed to support the latest PCIe standard, the Samsung PM1743 SSD will deliver excellent read and write speeds to meet the fast-growing performance requirements of data centers.
With a sequential read speed of up to 13,000 MB/s and a random read speed of 2,500K IOPS, the PM1743 PCIe 5.0 SSD is 1.9x and 1.7x faster than previous PCIe 4.0-based products. In addition, the write speed has been significantly improved, with a sequential write speed of 6,600 MB/s and a random write speed of 250K IOPS, which are also 1.7x and 1.9x faster. These exceptional data transfer rates will allow enterprise server manufacturers deploying the PM1743 to enjoy higher levels of performance.
Additionally, the new SSDs offer improved power efficiency of up to 608 MB/s per watt, which is about a 30 percent improvement over the previous generation. This is expected to significantly reduce server and data center operating costs.
Available in various capacities from 1.92TB to 15.36TB, the PM1743 SSD will be available in a traditional 2.5-inch form factor as well as a 3-inch EDSFF (E3.S). In addition, PM1743 is expected to become the industry's first dual-port PCIe 5.0 SSD, ensuring server stability and high availability when one port connection fails.
What is the difference between PCIe 5.0 and PCIe 4.0?
The main differences in performance between PCIe 5.0 and PCIe 4.0 are as follows:
In terms of bandwidth, PCIe 5.0 can reach up to 32GT/s, twice that of PCIe 4.0.
The newly announced Samsung PCIe 5.0 sequential read rate is 13000 MB/s; The sequential write rate is 6600MB/s, which is also close to twice that of PCIe 4.0.
The random read rate of PCIe 5.0 is 2500K IOPS, and the random write rate is 250K IOPS. The overall performance is also twice that of PCIe 4.0.
In addition, due to the adoption of a new process technology, the power consumption of the hard disk is reduced; The transmission speed per watt is improved, and the power consumption is reduced by about 30%.
However, PCIe 5.0 is still far away from popularization, and PCIe 4.0 SSD will still be the mainstream in the next few years.
FAQs When Pick The Best PCIe 5.0 SSD
1. How fast are Gen5 SSDs?
The current data read and write bandwidth of Gen4 SSD is as high as 7GB/s, while the Gen5 SSD speed will be ≥10GB/s. Some new features will allow GPUs to use SSD for the first time to improve the performance of games and other data-intensive applications by reducing load times and CPU usage.
That means the Gen5 SSD not only supports faster gaming performance, but also photo and video editing, rendering, and 2D and 3D CAD/CAM applications. Gen5 SSDs will quickly become the new gold standard for professional gaming, and the storage solution of choice for gamers of tomorrow.
2. Why is it difficult for consumer-grade Gen5 SSDs to be mass-produced?
Currently, only a few companies are able to develop and produce Gen5 SSDs, including Micron, Western Digital, and Samsung. Since the development and production of PCIe 5.0 technology requires a lot of capital and technical support. Secondly, the production process of Gen5 SSD requires high-end technology and equipment. Gen5 SSDs require high-end chips and controllers that use the most advanced manufacturing processes and equipment. These devices are very expensive and require a high level of skill to operate and maintain. This is also one of the reasons why Gen5 SSDs are difficult to mass produce.
In addition, the market demand for Gen 5 SSDs is not large enough. Most users pay more attention to price and capacity than the performance advantages of Gen 5 SSD. Also, there are still some technical difficulties in the production process of Gen 5 SSD. Due to the very fast speed of PCIe 5.0 technology, some technical difficulties need to be solved during the production process, such as signal interference, heat problems, etc. These problems also require those companies to continue to spend a lot of time and energy to fix out.
Final Thoughts
Except for the Crucial T700 PCIe 5.0 SSD, many consumer-grade Gen 5 SSDs on the market are equipped with heat sinks with fans, which are not only cumbersome to install and noisy, but also aging fans will undoubtedly affect the cooling capacity.
The Crucial T700 PCIe 5.0 SSD is designed with a copper foil label and combined with a nano-coated heat sink. The temperature under high load is only 65 degrees, which is lower than many PCIe 4.0 SSDs. If you are worried about the heat generation of PCIe 5.0 SSD, at least Crucial T700 Gen 5 SSD does not have this problem.
In terms of performance, PCIe Gen 5 SSDs can almost reach a sequential read and write speed of 10,000MB/s in actual daily use, as does the Crucial T700 PCIe 5 SSD. But the difference is that its 4K random performance is very strong, and the 4K random read exceeds 100MB/s, which is about 20% faster than the Samsung 990 PRO. 4K random performance is very important for SSD, not only can improve the system response speed, but also is closely related to the loading speed of the game. Obviously, the Crucial T700 PCIe 5.0 SSD will allow you to load games much faster than others. As for the price, it is definitely more expensive than PCIe 4.0 SSD, but don't forget that Crucial T700 PCIe 5.0 SSD should be the best PCIe 5.0 SSD on the market.
Enjoyed this article on the best PCIe 5.0 SSD? Then be sure to check out our other guides.