Since their introduction in the firearms and related market, thermal scopes have been in continuous discussion. Although their use is forbidden in many areas across the world, they are quite popular among hunters and sportspeople. Although the basic function of thermal scopes is the same, which is detecting minute differences in heat based on the radiation they emit, the best thermal scope offer considerably higher and better services. To eliminate your confusion on how to pick up the best thermal scope under 3000 dollars, we have highlighted the best ones along with a section on how to choose them.
List of The Best Thermal Scope Under $3000
Check out the thorough reviews of the best thermal scope under 3000 dollars in 2023 below.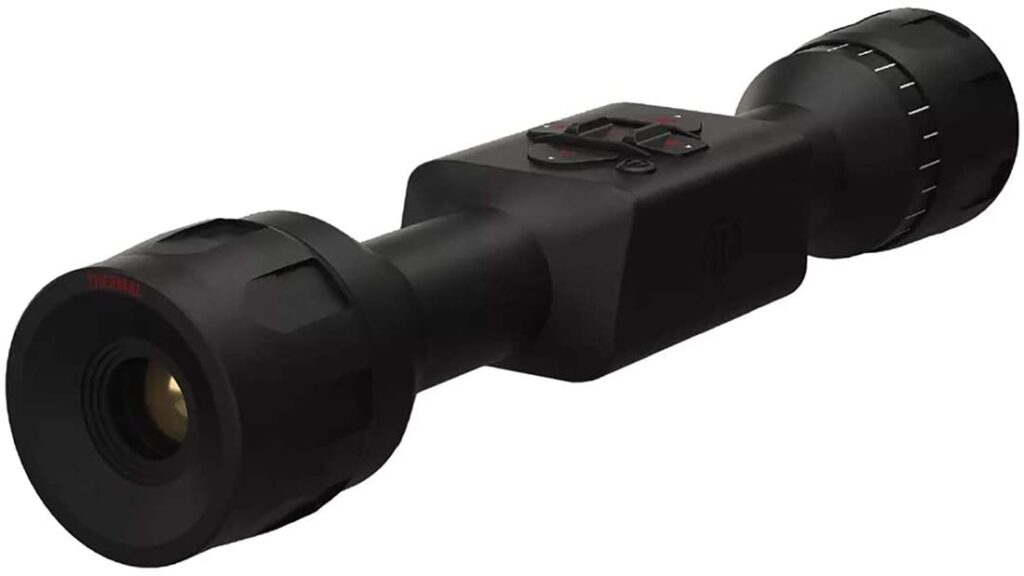 The expensiveness of thermal scopes is the first thing to annoy people who want to buy them. Thermal scopes from the Thor LT series have come up as a solution for this problem. This thermal scope has tried to keep things as simple as possible while keeping them at a comparatively low price. It can detect the body heat from animals through fog and crops without requiring the production of any visible light.
Key Features
The thermal scope offers advanced heat detection, which allows its users to see in total darkness, even through dense fog.
It offers compatibility with a wide range of temperatures, ranging from -28 degrees Celsius to 48 degrees Celsius.
The scope offers a traditional scope design with its 30 mm aluminum alloy-made tube.
Pros And Cons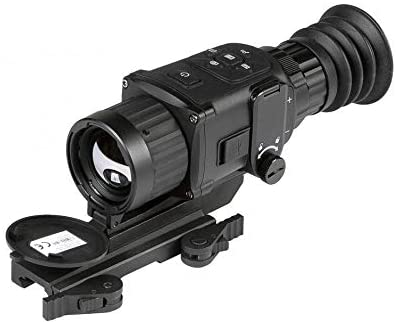 This short or medium-range thermal imaging rifle scope from AGM offers onboard recording. As the name suggests, if you are looking for short or medium-range hunting, this thermal viewer may be your perfect partner. You will get 1024 x 768 resolution on its 0.39 inches OLED display. The manufacturer company has developed it as such that it can perform under any weather and environmental conditions.
Key Features
The thermal scope offers the service of a high-sensitivity detector with its 384 x 288 thermal resolution.
It allows its users to do the onboard recording.
The OLED monitor is of 1024 x 768 resolution and offers a clear image even under harsh environmental conditions.
The scope allows its users to connect to an external power bank for longer use.
Pros And Cons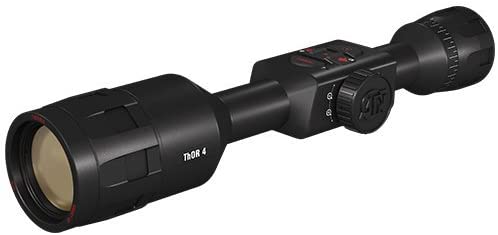 It is the second thermal scope from the ATN Thor series in this list of the best thermal scope under 3000. With its higher thermal sensitivity, almost-silent shutter, improved resolution, and improved contrasts, it has become one of the must-have thermal scopes for hunters. Its standard mounting rings give it a conventional optic look. You can easily learn all the features this smart HD thermal hunting scope has to offer.
Key Features
The smart thermal scope features an ultra-sensitive next-gen sensor, which detects heat signatures of animals with a refresh rate of 60Hz.
It offers several smart features, including dual-stream via Wi-Fi, video recording at 60 FPS, Ballistic Calculator, 3" eye relief, smart mil-dot reticle, smart rangefinder, etc.
It is easily mountable on any virtual platform with its 30 mm standard mount rings.
Pros And Cons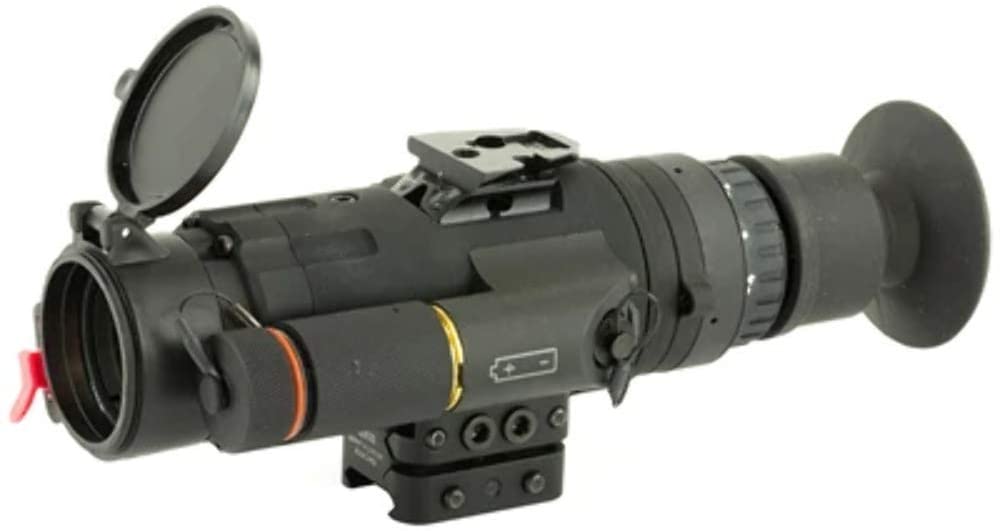 If you are looking for a thermal viewer with a digital interface, you can easily rely on this thermal scope from Trijicon. Being easy to use, it is great for any outdoor enthusiast. Its compact, lightweight body makes it easy to handle by the users.
Key Features
The thermal viewer features a 35 mm compact, lightweight 640 x 480 thermal sensor.
The digital OLED display features an e-zoom.
It offers analog RS-170 mini picatinny rail mount optical video output.
The thermal scope allows 2.5x optical magnification and 20x digital magnification.
Pros And Cons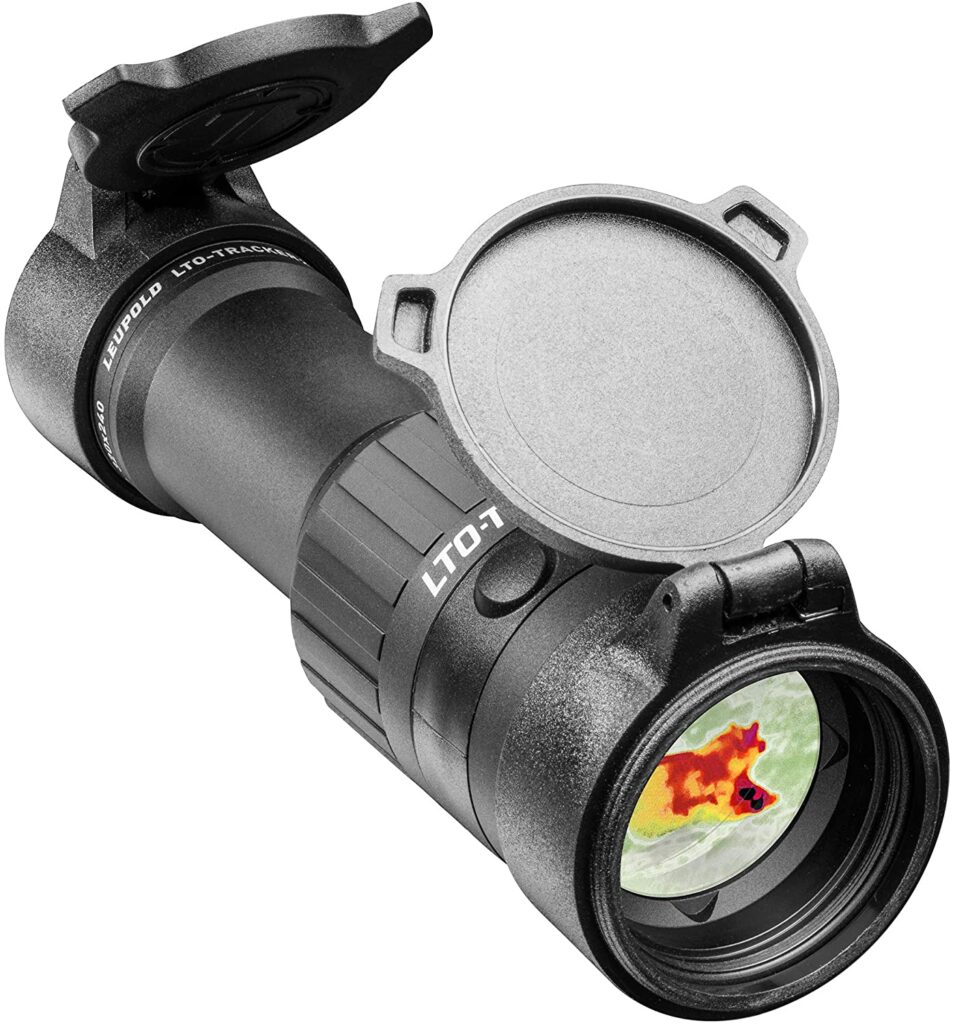 It is a handheld, compact, lightweight thermal viewer. You can easily see blood trails, the heat signature of the game, and more with this thermal viewer. No matter whether it is day or night, the thermal viewer offers heat detection at its best. The thermal viewer features the new beacon mode from Leupold that allows users to recalibrate quickly, improving daytime use.
Key Features
The thermal viewer comes with 6 different thermal color palette options.
It is lightweight and offers rugged aluminum housing.
The detection range is up to 750 yards with a high resolution 390 X 390 display.
It comes with the beacon mode that allows quick recalibration, improving daytime use.
Pros And Cons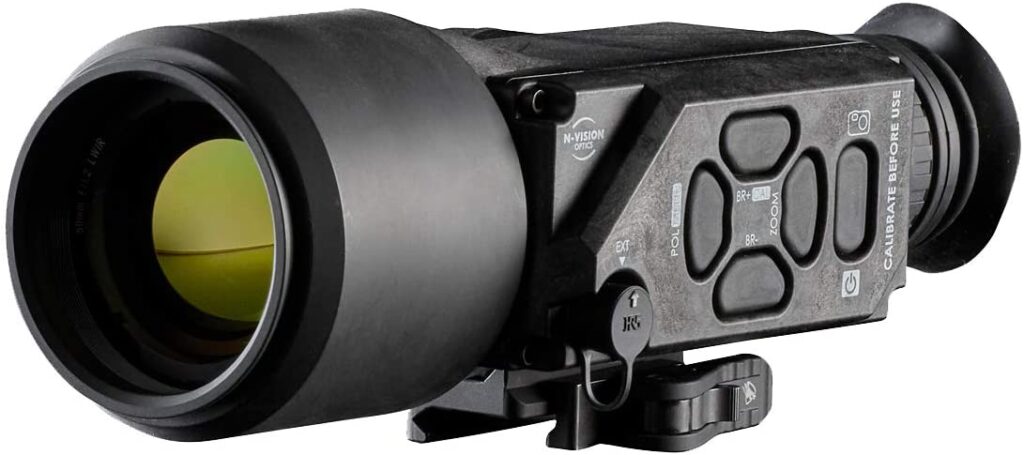 N-Vision optics Halo-LR thermal scope is one of the best thermal scopes under 3000 on the list. If you are looking for a comparatively small and lighter thermal scope, that too with an advantage of extended range and enhanced image, then this device is the perfect choice for you. But that is not all. You get a huge detection range of 2020 yards from this thermal scope and many more. If you are a serious hunter or shooting enthusiast or involved in military operations, this is a must to have among your list of equipment.
Key Features
HALO thermal scopes are equipped with 12-micron thermal sensors and high-end germanium lenses.
The detection range that this thermal scope offers is unparalleled with its 2020 yards' detection range.
Its display type is OLED, which allows digital zoom of 1x, 2x, and 4x.
HALO thermal scopes are waterproof, allowing users to work even under snow or heavy rain.
It features 4 polarity mode options: white hot, black hot, white edge detection, and black edge detection.
Pros And Cons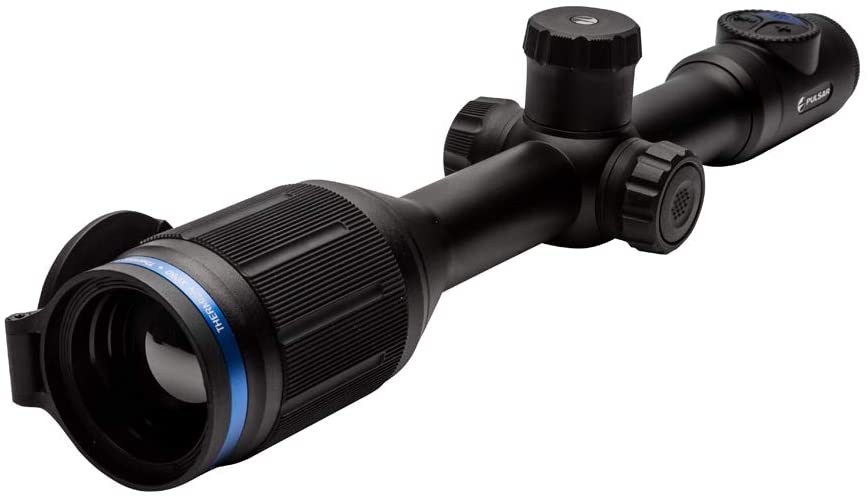 If you are fond of thermal scopes that allow you to connect with your smart devices and are looking for one, this might be your first choice. With its boasting design and advanced technological innovations, the Pulsar Thermion thermal rifle scope has managed to earn a position among the best thermal viewers. It offers some unique features, like picture-in-picture, zeroing profiles management, and so on. If you are a professional hunter, this should be your perfect companion.
Key Features
The thermal scope offers zeroing profiles management with 13 variable electronic reticles.
It offers an impressive detection range of 1975 yards with 640 x 480 resolution.
The thermal scope comes with a full-color HD Amoled display.
It features built-in recording with recoil activation.
Pros And Cons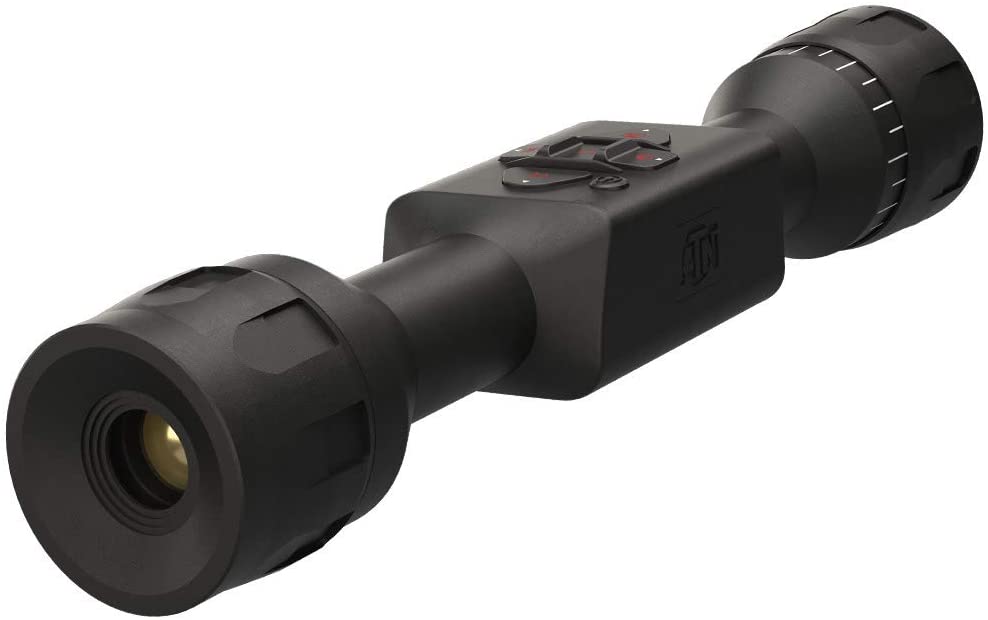 If you are on a budget and still looking for a quality thermal scope within your budget limit, this Thor LT thermal scope is there for you. It comes with advanced heat detection that allows the users to see their target in total darkness. Being lighter than an average scope and with its traditional design, it makes a big difference from its peers.
Key Features
The thermal scope is a recoil resistant to higher caliber weapons.
It comes with an internal Li-Ion battery with 10+ hours of battery life.
It features all the revolutionary technologies that Thor LT offers.
Pros And Cons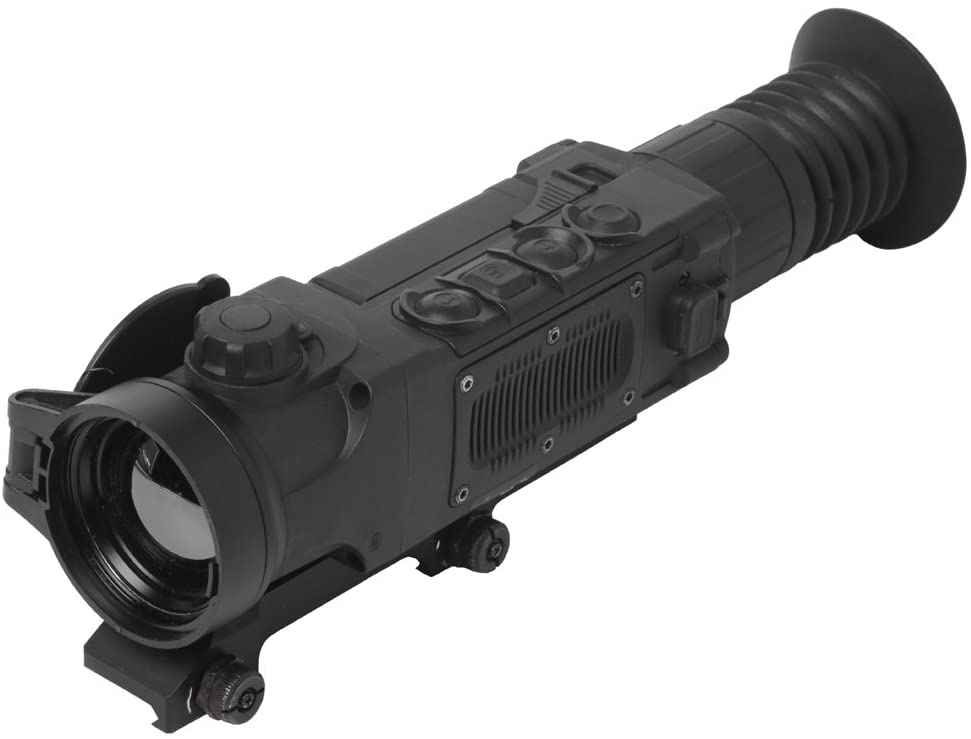 If you are looking for a quality thermal viewer with high durability, this should be your number one choice. The Pulsar thermal scope offers high shock resistance and is fully waterproof, making hunting possible even under harsh environmental conditions. The rechargeable battery it offers lets users do hunting with all-night heat-signature precision.
Key Features
This thermal viewer from Pulsar is mobile-friendly, offering remote control and live internet streaming.
It offers 3 types of zeroing parameters memorization.
The thermal viewer features variable magnification, including 2x step-up and smooth, graduated magnification.
It comes with high shock resistance and is capable of handling high-powered firearm recoil.
Pros And Cons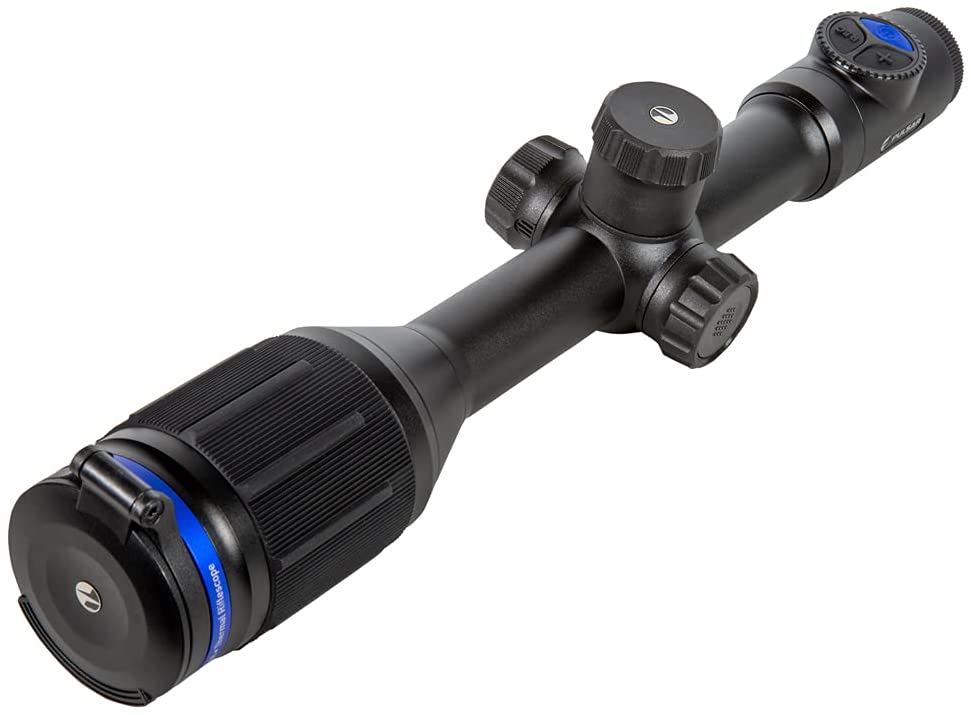 This thermal scope from Pulsar exceeds all the demands that a modern hunter may have. Detection range remains an important phenomenon for hunters. This Pulsar scope has managed it with its impressive thermal detection range of 2400 yards. The AMOLED display of 1024×768 resolution offers stunning image clarity to the user.
Key Features
The thermal scope comes with color palettes that offer customized display options, including white hot, black hot, red hot, rainbow, etc.
It offers a dual battery system- an internal one and an external one.
It uses Wi-Fi and allows live streaming on a smartphone or tablet.
The thermal scope is IPX7 waterproof rated.
Pros And Cons
How To Pick The Best Thermal Scope Under $3000?
When buying an expensive product like a thermal scope, you always need to be extra careful. Besides, as it is concerned with the security of the user, you don't want to have in dilemma while buying your thermal scope. Following are the factors that will help you pick the best thermal scope under 3000 out there in 2023.
1. Price
People get confused between night vision scopes and thermal scopes. Nevertheless, thermal scopes offer more service than a night vision scope and are hence pricier. The least expensive thermal scope will cost you no less than a thousand bucks. The best of them will cost you above 3000 dollars. Hence, you should be careful about the price when buying a thermal scope for you.
If you have a budget between $2000 to $3000, you can easily get thermal scopes of a professional-grade, which offers high resolution, long detection range, and so on. However, if you can up your budget above $5000, you will get very good imaging performance due to their high resolution and refresh rate. Nevertheless, your budget should depend on the specs you are looking for in your thermal scope.
2. Refresh Rate
Refresh rate plays an important role in the quality of image you see in your scope. Although most sellers will persuade you with the image resolution, you must look for the refresh rate. The higher the refresh rate is, the better. It refers to the number of images that the thermal scope takes in a second. The refresh rate should not be below 30Hz, which indicates 30 frames per second. However, you won't get a clear image at this rate if your target moves. The best would be a refresh rate of 50Hz or 60Hz. At this rate, you will get a clear image even with movements.
3. Magnification
The basic function of scopes is magnification. Hence, you should not leave that behind. However, the need for your magnification depends on the type of hunting you do. If you prefer hunting from a distance, you should be looking for higher magnification. However, the higher the magnification is, the grainier will the images be. For distant hunting, the maximum magnification should not be over 8x. After this range, the image will surely be too grainy.
You should consider some other factors as well. If you are going to hunt for a long period, battery life should be your concern. If you want video recording and live streaming, you should choose modern thermal scopes. Sensor resolution should also be in consideration.
FAQs When Picking The Best Thermal Scope Under $3000
How do thermal scopes work?
Thermal scopes are all about detecting heat. They detect minute differences in heat and show it in the display. Basically, they function by detecting radiation. Hence, they do not require any visible light to produce an image of the target.
Can a thermal scope be used in the daylight?
Thermal scopes work on radiations, delivering final images based on the minute differences of heat. They don't necessarily work for light or dark. Hence, unlike night vision scopes, they can be used in the daylight.
How far can a thermal scope detect?
It depends upon the detection range of the thermal scope you are using. Usually, the lowest range of detection is 1000 yards, while the top-rated thermal scopes have a detection range of up to 4000 yards.
Final Thoughts
As you have to spend quite an amount while buying a thermal scope, you should be wise while choosing it. Hopefully, our buying guide will help you a lot in this pursuit. But don't hesitate to follow the additional features that each thermal scope in the list of the best thermal scope under 3000 dollars has to offer.
Enjoyed this article on the best thermal scope under $3000? Then be sure to check out our other guides.