The headphones are one of the most useful devices when it comes to gaming, video conference, online learning, etc. They provide you with an independent listening experience with satisfactory sound quality. If you are an audiophile who is frequently taking your music to listen on the go then you must consider a pair of 2.4GHz headphones.
Unlike wired headphones, the 2.4GHz headphones let you get rid of pesky cables and provide a better listening experience. The built-in driver and the 2.4 GHz lossless wireless operation provide subtle as well as critical sound. So, you can clearly hear all details. You can use a pair of 2.4GHz headphones with your phone, laptop, tablet, Nintendo Switch, TV, and many more. Besides, most of them are equipped with soft padding around the ears for a comfortable wearing experience. Let's get more acquainted with the details of these headphones so that you can easily pick the best 2.4GHz headphones.
List of The Best 2.4GHz Headphones
Check out the thorough reviews of the best 2.4GHz headphones in 2023 below.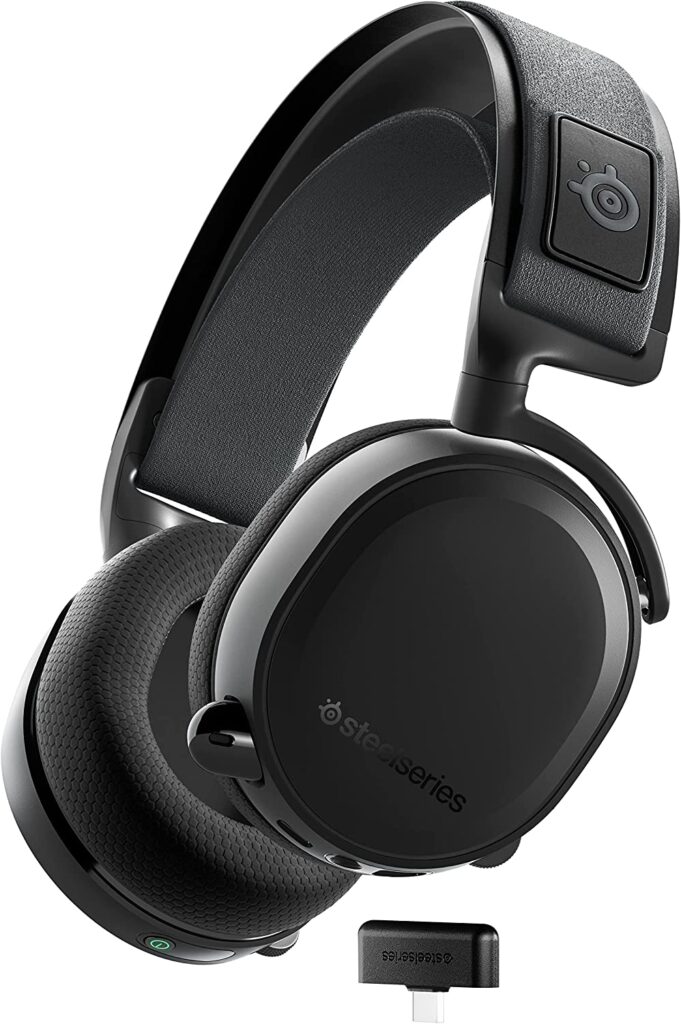 This SteelSeries Arctis 7+ wireless gaming headset can be the best 2.4GHz headphone on the list due to some of its extraordinary aspects. It excels in terms of sound quality, versatility, and battery life.
It comes with a sleek USB-C dongle that contributes to ultra-low latency 2.4 GHz wireless audio. The dongle offers a smooth transition between Android, PC, PS4/PS5, USB-C iPads, Nintendo Switch/Switch Lite, and Oculus Quest 2. Moreover, the audio output provides multi-platform support, so you can use this SteelSeries headset with all your favorite audio systems.
The USB-C charging is efficient enough to charge your devices in less time. It is hassle-free to carry it anywhere due to its durable yet lightweight steel frame. The ski-goggle band provides a customized fit.
Key Features
The frequency response is 100 Hz to 6500 Hz.
The wireless connectivity range is 40 feet.
The USB-C charging provides 30 hours of battery life.
7.1 virtual surround sound (for PC) and 3D Audio (for PS5) provide 360° precision audio for an immersive listening experience.
The foldable ClearCast bidirectional microphone provides excellent audio clarity and noise cancellation. It makes the headset suitable for video conferences and gaming.
The on-ear ChatMix dial maintains a perfect balance of chat audio and game.
Dimensions and weight: 8.27 x 8.15 x 2.07 inches; 14.9 ounces.
Pros And Cons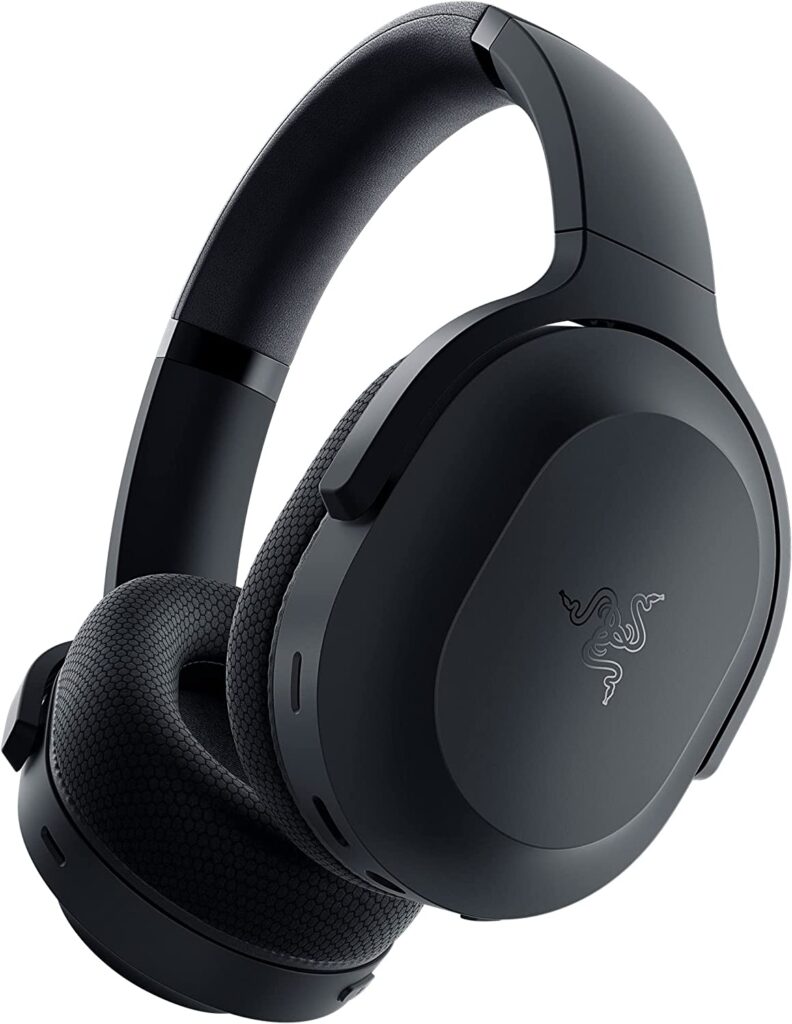 The Razer Barracuda wireless gaming headset is renowned for its SmartSwitch Dual Wireless operation. It can promptly switch between Bluetooth mode or high-speed 2.4GHz mode for smooth audio output when you transit between phone and console/PC respectively.
Flowknit ear cushions are designed with memory foam to provide an ultra-soft feel. Their breathable weave surface reduces heat build-up. The memory foam offers soft, comfortable cushioning for use throughout the day.
Key Features
The patented 3-part driver design provides exceptional highs, mids, and lows to enhance the audio quality. So, it provides immersive gaming and dynamic listening experience for videos and music.
The dual hidden beamforming microphones are implemented with noise-canceling functionality. They ensure clear audio output both indoors and outdoors.
The USB-C charging support provides 40 hours of battery life.
Razer Audio App helps you to tune the headset for the perfect fit. You can adjust audio EQ, microphone audio EQ, noise-canceling levels, and auto-shutdown settings.
Dimensions and weight: 6.66 x 8 x 3.62 inches; 10.4 ounces.
Pros And Cons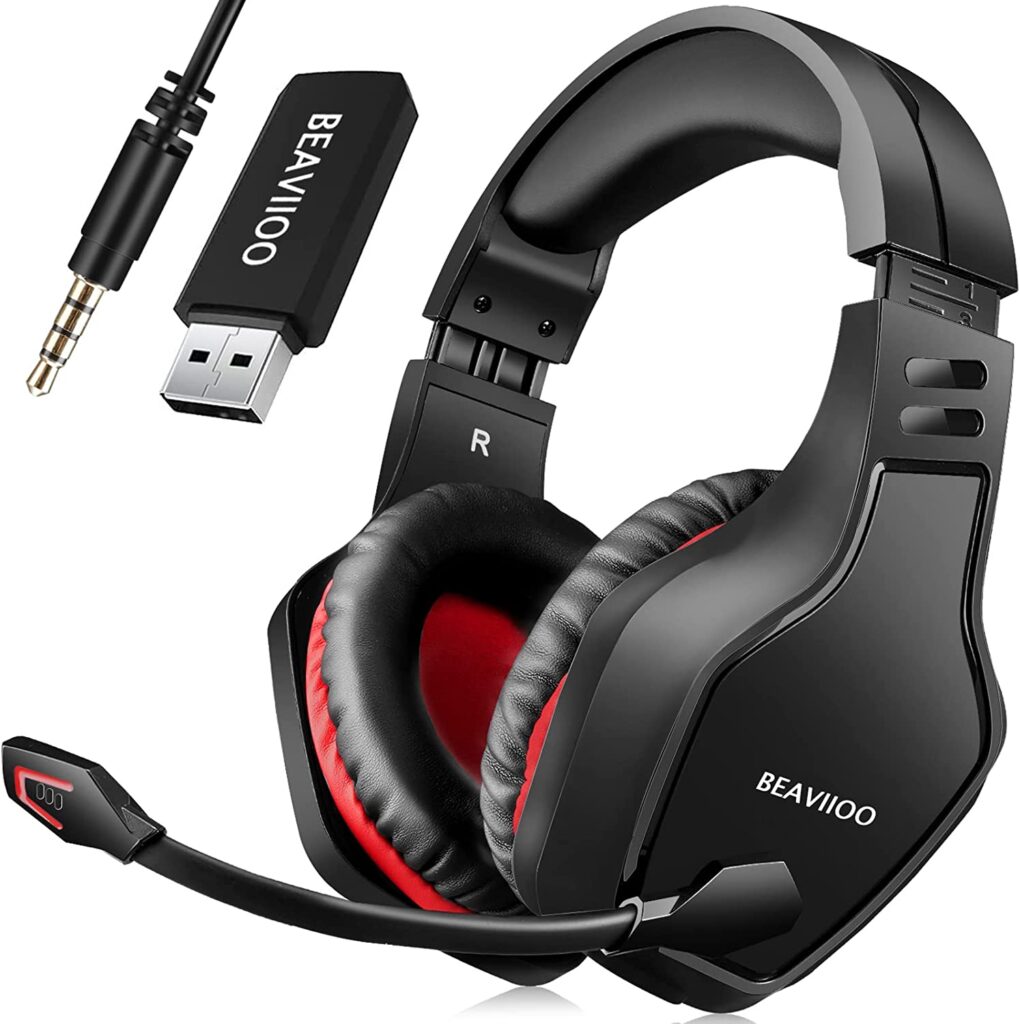 BEAVIIOO 2.4GHz wireless headphone with Mic features low latency through a USB dongle. So, your visuals and audio stay synchronized. The support for a 3.5 mm audio jack and Bluetooth 5.0 makes the headset a suitable choice if you game on multiple platforms. Moreover, these aspects keep the headset connected to your PlayStation Console and smartphone or PC.
The breathable, soft leather ear cups block the noise and provide a lightweight and comfortable listening experience. The thick top band has soft padding beneath. The pack contains a 3.5 mm audio adapter, a USB dongle, Type-C charging cable, and a user manual.
Key Features
The built-in 7.1 surround sound decoding chipset provides superior sound quality.
The high-precision built-in 50 mm dynamic driver provides virtual sound output with strong bass. You will relish clear highs and powerful bass while hearing gunshots and footsteps. Moreover, the soundstage is open, spacious, and natural to provide an immersive gaming experience.
The battery life is up to 50 hours on a single charge. No need to recharge the headset daily.
The environmental noise-canceling microphones precisely pick up voices from speakers. Moreover, it guarantees a clear voice output in the leading direction.
Dimensions and weight: 8.26 x 3.93 x 7.48 inches; 0.085 ounces.
Pros And Cons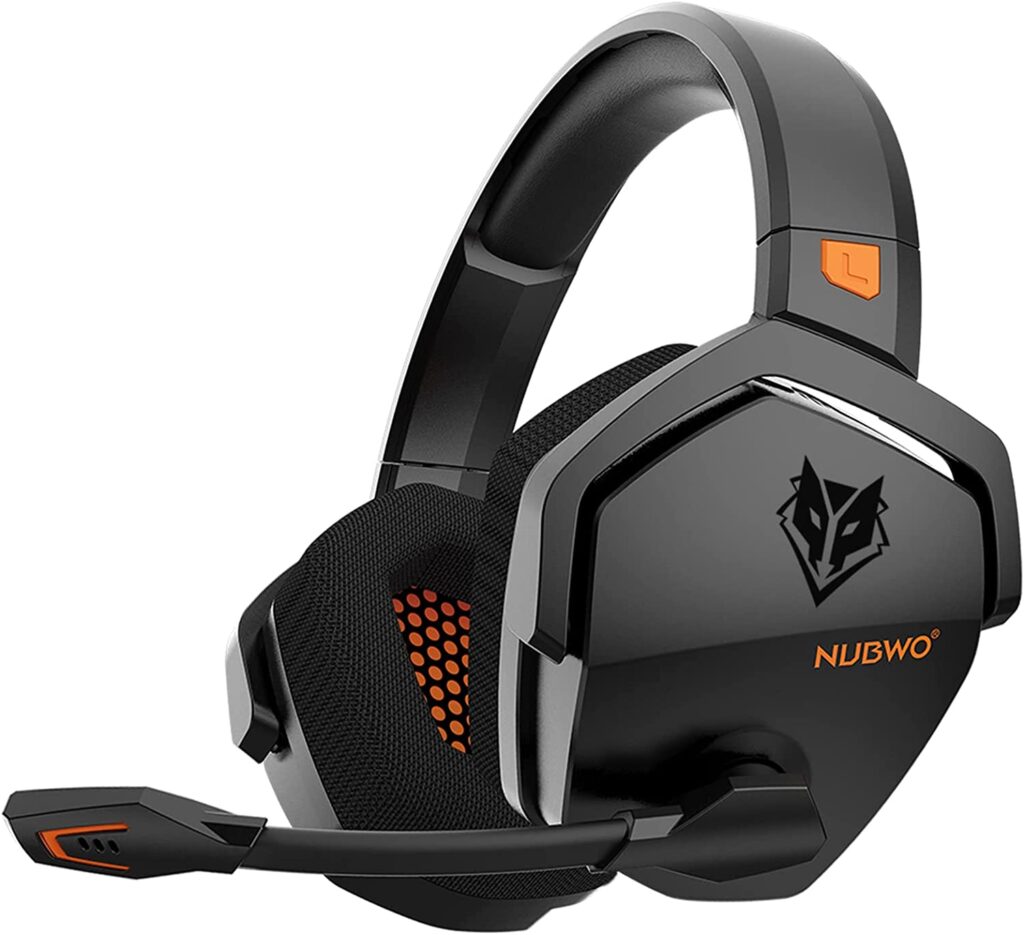 NUBWO G06 2.4GHz wireless gaming headset is designed explicitly for PS4, PS5, and other gaming devices. The built-in two chamber drivers and a 50 mm driver provide a powerful, crisp sound for an immersive listening experience.
The lossless of wireless connectivity helps you to get rid of tangled cables and enjoy wireless gaming convenience. You will enjoy 2.4 GHz wireless connectivity through a USB dongle for PCs and consoles.
Key Features
The powerful Bluetooth connectivity provides low-latency audio on the go.
You can press the power button thrice to rapidly switch to Bluetooth mode. Consequently, you would enjoy music, videos, and more with ease.
The wired connectivity option helps you to connect this headset to various gaming devices through a 3.5 mm cable (needs an Xbox wired adapter for Windows). So, you can connect PS4, PS5, Xbox One, Xbox Series X, and mobile devices.
The battery life is up to 47 hours. No need for frequent recharging.
The headset will inform you with a low battery tone when recharging is needed.
The full charge takes 4 hours.
Dimensions and weight: 7.8 x 4.21 x 8.07 inches; 1.04 lbs.
Pros And Cons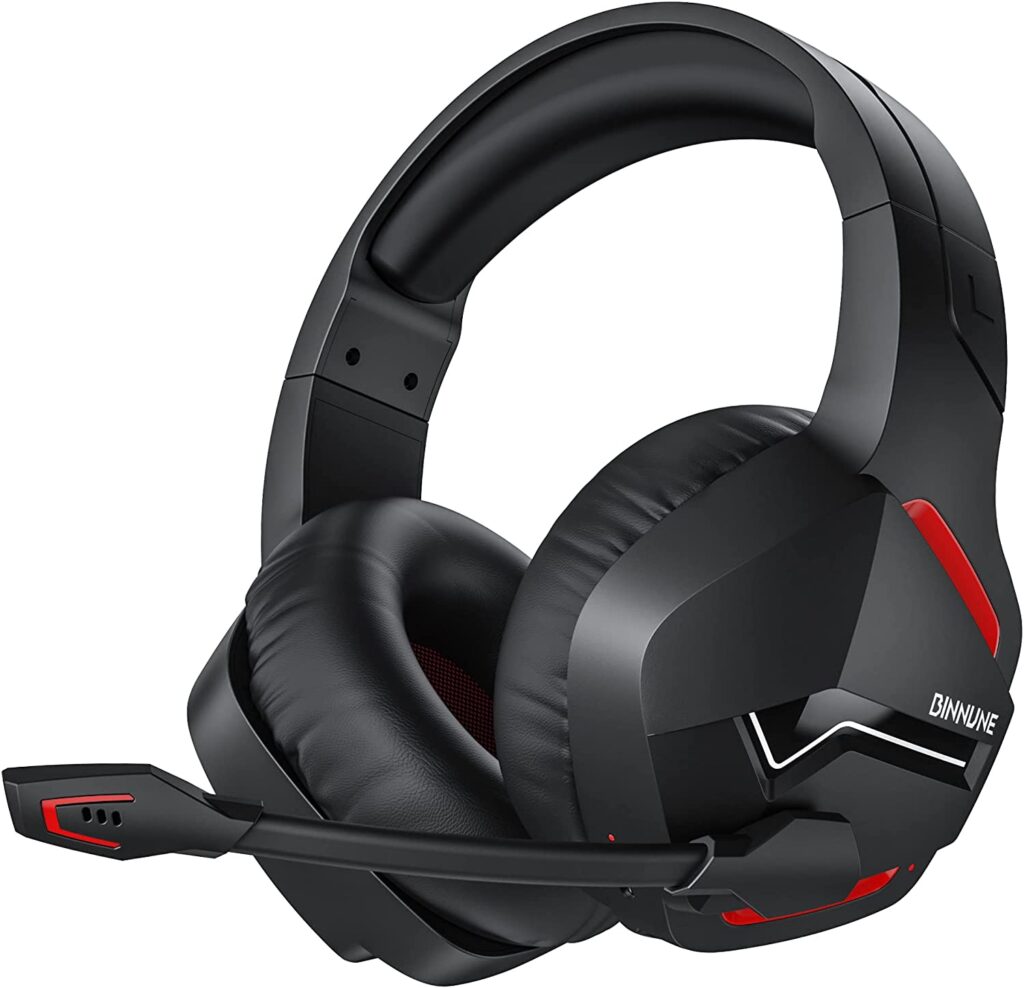 Enjoy pro-level gaming on PC and PlayStation with this best 2.4GHz headphone from BINNUNE. It supports high-performance 2.4 GHz lossless wireless audio for pro-level gaming audio. You will also enjoy powerful Bluetooth connectivity for the majority of your mobile devices.
The 2.4 GHz lossless wireless and 50 mm driver focuses on critical and subtle gaming background sounds. Hence, you can hear all details and never miss even a shot during gaming. Hence, this headset can be your ideal companion for playing long sessions of games or listening throughout the day via a single charge.
Key Features
The ultra-low latency indicates the excellent efficiency of this headset. It features audio latency of less than 38 ms. It is far better than that Bluetooth connectivity. So, audio and video will be synchronized to provide a lag-free, immersive wireless gaming experience.
The battery life is up to 48 hours through USB-C fast charging.
The headset is compatible with a PC through a 2.4GHz wireless connection.
The built-in 3.5 mm audio jack offers compatibility with Mac, PC, PlayStation, laptop, Nintendo Switch, Xbox, VR, and cell phones.
The headset is compatible with most of your Bluetooth-enabled devices through Bluetooth connectivity.
Dimensions and weight: 8.58 x 7.8 x 4.65 inches; 0.08 ounces.
Pros And Cons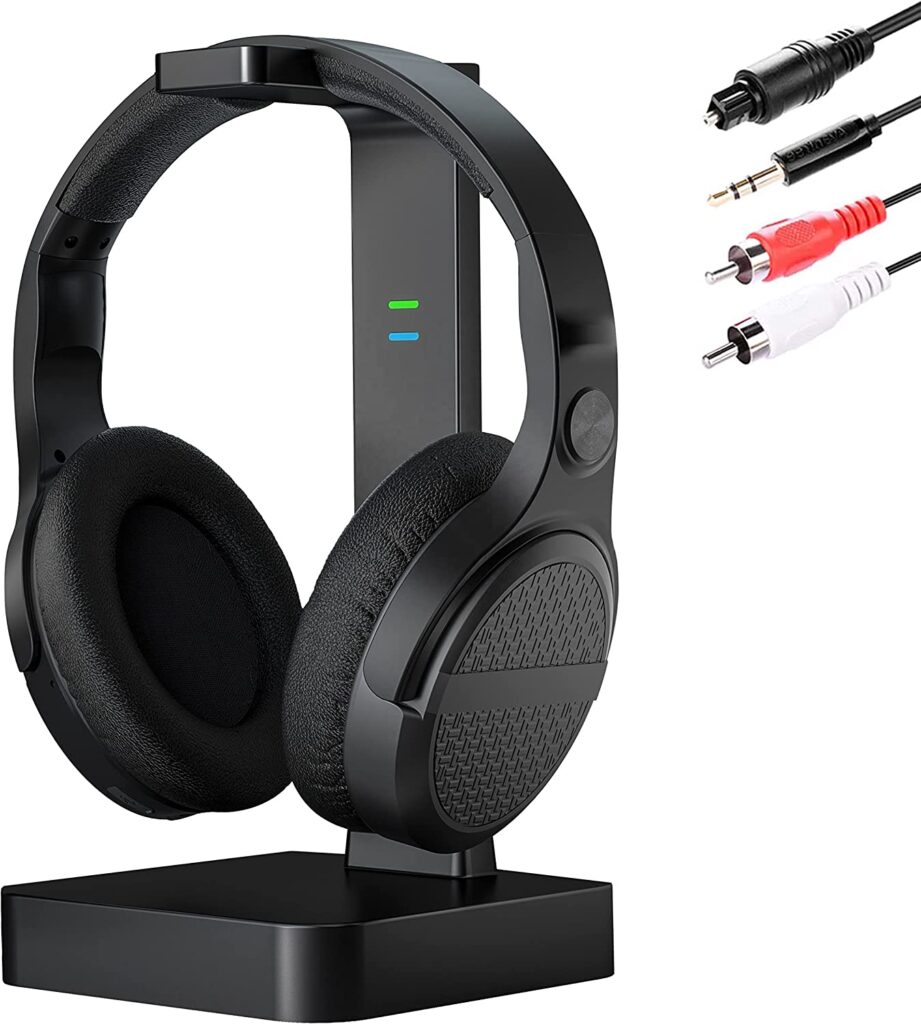 When it comes to the broad compatibility for TV Watching, this ANSTEN 2.4GHz wireless headset can be the best 2.4GHz headphone for you. The headphones are compatible with all TVs through RCA/optical/AUX audio output port. You merely need to connect the transmitter dock to your TV's audio out port. Consequently, a quick connection will be established.
It is flexible and lightweight to let you conveniently carry it around. The soft earpads are made of quality memory foam. These earpads enclose the audio and still provide a comfortable feel to your ears. You will enjoy the utmost comfort even when you wear the headphones throughout the day. The Plug and Play setup saves you time and effort.
Key Features
The range of wireless connectivity is 197 feet.
The maximum battery life is 10 hours on a full charge.
The autonomous DSP-enhanced audio decoder chip presents improved audio effects for movies. It also presents stunning concert hall effects.
The audio output features a 3D surround and shock bass.
The 3.5 mm wired connection makes these headphones compatible with all 3.5 mm interface devices.
A single press of the key helps you to switch between "Movie", "Musical", and "Normal" modes.
Dimensions and weight: 8.66 x 3.94 x 11.42 inches; 6 ounces.
Pros And Cons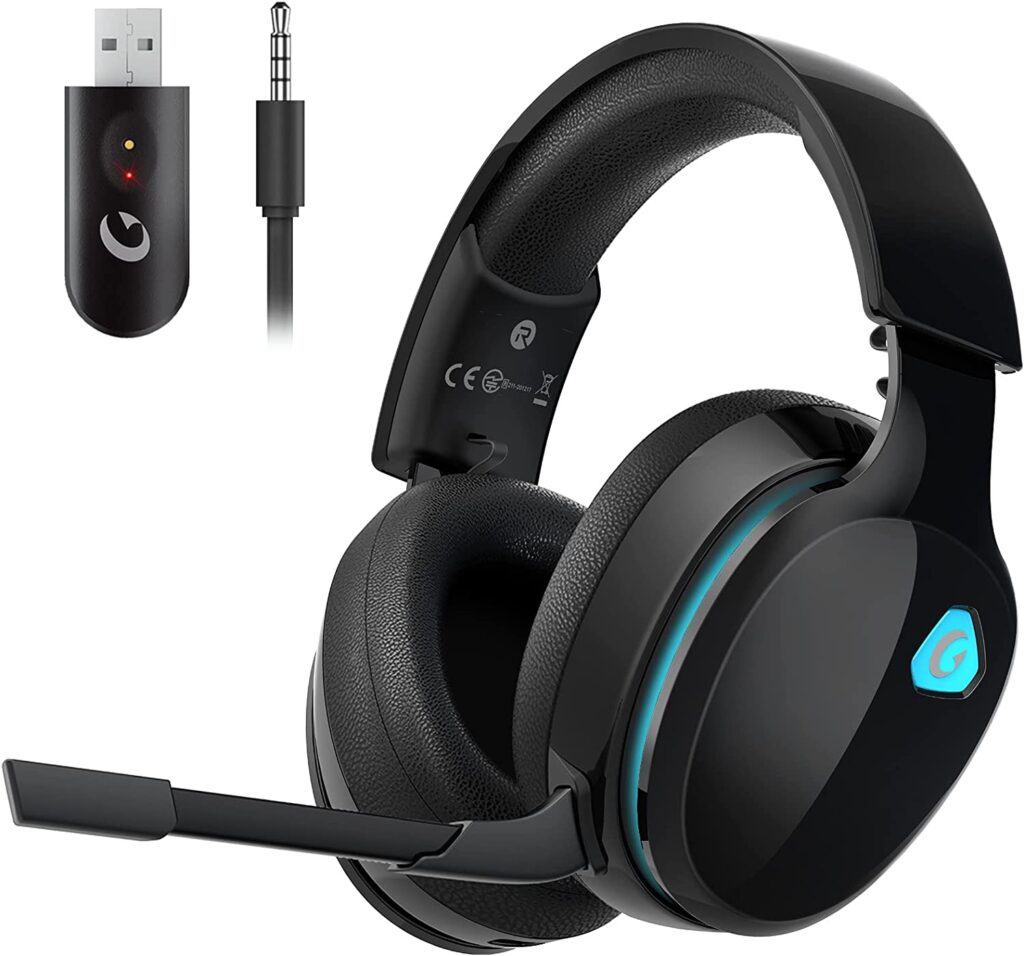 The powerful 2.4GHz lossless wireless technology is implemented in this Gtheos gaming headphone. Consequently, the headphones provide wireless connectivity up to 49 feet in an open space.
The adjustable headbands contain padding. They not just decrease head pressure but can also fit different head shapes. Moreover, the ears are fully covered by breathable and soft memory-protein earmuffs. These earmuffs effectively isolate noises and support extended gaming sessions without fatigue.
Key Features
The latency below 20 ms and 50 mm driver (with 30% extra sound effect) guarantee superior quality stereo sound.
The headphones support various connectivity mods like a lossless 2.4 GHz USB dongle, the advanced Bluetooth 5.0 stable connection, and a 3.5 mm wired connection mode. This 3-in-1 connection design offers compatibility with a phone, PC, Mac, iPad, PS4 & PS5 controller, and Nintendo Switch.
The omnidirectional microphone is flexible, removable, and sensible. It provides efficient noise cancellation.
The game duration it supports is 35-40 hours.
Dimensions and weight: 8.19 x 8.03 x 4.13 inches; 12.8 ounces.
Pros And Cons
How To Pick The Best 2.4GHz Headphones?
You can go through the following section to alleviate your hassles in buying the best 2.4GHz headphones.
1. Frequency response
The frequency response of any headphones evaluates their ability to reproduce all frequencies i.e. mids, bass, and treble from the lowest to the highest tone. Many of the 2.4 GHz headphones support frequency response of 20 Hz to 20 kHz. With careful research, you may find certain 2.4GHz headphones with a frequency response of up to 35 kHz. It is better to buy a 2.4GHz headphone with a broad frequency response to improve the overall listening experience.
2. Sensitivity
Sensitivity denotes the headphones' capability to effectively transform an electric signal into an audio signal. It indicates how lead the headphones would be when connected to different sources. The sensitivity of all headphones including the 2.4GHz headphones is measured in decibels (dB) of the sound pressure level (SPL). The recommended safe range of sensitivity for 2.4 GHz headphones is 70 dB to 110 dB.
The high sensitivity guarantees enhanced driver performance without using excessive power. But, it may increase the odds of distortion at higher volumes leading to damage to your headphone drivers or ears.
On the other hand, 2.4GHz headphones with low sensitivity will need more power to operate the headphone's drivers. However, they are more durable since they don't damage the drivers. It is recommended to pair low-sensitivity 2.4GHz headphones with a high-power supply device. This kind of pairing will provide you a better audio quality.
3. Battery life
You must prioritize this factor if you frequently use your 2.4 GHz headphones or use them for travel. Most of these headphones provide at least 18 hours of battery life on a single charge. With careful research, you can find 2.4 GHz headphones with 30-40 hours of battery life which will eliminate your hassles about frequent charging. Some of the 2.4GHz headphones support fast charging functionality that provides long playtime with just 10 minutes of charge.
4. Microphone and controls
The built-in microphone contributes to outstanding noise cancellation and clarity. It makes the 2.4GHz headphones suitable for video conferences and gaming.
The built-in controls of 2.4 GHz headphones allow you to adjust the volume, answer/end calls, skip tracks, mute audio, and more. The inclusion of more controls will increase your user convenience. Moreover, more controls allow you to customize the listening experience.
5. Water resistance
You must go for water-resistant 2.4 GHz headphones if you intend to use them at the beach, work out, swim, etc. This functionality protects the headphones' body against damage due to water. Usually, the manufacturers mention the water depth till which you can safely immerse the headphone into the water.
Frequently Asked Questions When Picking 2.4GHz Headphones
1. How does the Total Harmonic Distortion (THD) of a 2.4GHz headphone affect its audio quality?
Yes, a THD of a 2.4GHz headphone impacts its sound quality. The audio output from 2.4GHz headphones with a higher percentage of THD is more prone to distortion. It is always better to choose a 2.4 GHz headphone with as low THD as possible. Many manufacturers design their 2.4GHz headphones with a THD below 1%. Certain high-end 2.4GHz headphones feature THD below 0.1%.
2. What benefit does the built-in USB-C dongle provide to 2.4GHz headphones?
The built-in USB-C dongle in the 2.4GHz headphones enhances the sound quality. Another benefit is noise cancellation. Although you can get an outstanding standard noise-canceling headphone with a 3.5 mm connector, the best 2.4GHz headphone with a 3.5 mm connector offers more reliable power output and a slimmer form factor.
3. Why should you buy on-ear 2.4GHz headphones?
The on-ear design is perfect for listeners who want to benefit from over-ear headphones but at a cost-effective price. These are not so much pocketable as compact in-ear headphones. However, they often contain collapsible or rotating hinges for storage. The built-in large drivers provide consistent audio output. The small residual space on the on-ear 2.4 GHz headphones allows manufacturers to pack large batteries inside.
Final Thoughts
These headphones are available in various sizes and shapes, ranging from compact earbuds to huge over-ear headsets. In addition to offering wireless convenience and outstanding audio quality, the best 2.4GHz headphones offer a comfortable listening experience. Most of them are implemented with noise-canceling functionality to make sure you can clearly hear all audio details. Besides, they are designed with intuitive controls that help you to easily adapt plenty of functionalities on the go. The decent battery life is another prominent factor that attracts many individuals to use these headphones.
Enjoyed this article on the best 2.4GHz headphones? Then be sure to check out our other guide of the best Bluetooth speakerphone for home office.