Music that disturbs others around is useless, isn't it? You need an audio device that can deliver decent quality audio without disturbing neighbors or others around. A minidisc player equips you with the possibility to listen to music in various formats. The exceptional sound quality is the key attribute of the minidisc players.
The use of smartphones and other devices is widespread for music listening. However, many people still prefer to use a compact and functional music player to listen to their favorite music on the go. This expectation is fulfilled with a minidisc player. No worries about the battery consumption of your smartphone or other mobile devices. Almost all minidisc players are compactly designed and are portable. They make it straightforward to transfer music files to and from various devices. To eliminate your confusion on how to pick up the best minidisc player, we have highlighted the best ones along with a section on how to choose them.
List of The Best Minidisc Player
Check out the thorough reviews of the best minidisc player below.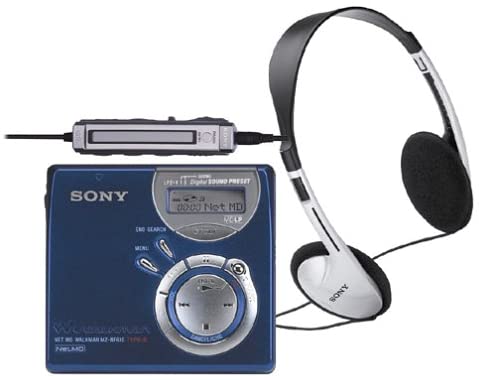 If you want a high-speed recording of audio files then the Sony MZ-NF610 model is the best minidisc player on this list. It supports high-speed recording of your CDs and MP3s from your PC. The unparalleled versatility makes this player famous in the market. It not just offers minidisc playback but also contains a tuner for listening to AM/FM radio. You can get weather-band programming from the remote control. Also, a tuner is available to listen to TV audio.
With a convenient pop-up eject system, you will save time while inserting and removing a minidisc. See inputs, outputs, and other settings clearly on the built-in LCD screen. Bundled software allows you to manage your music according to song, style, artists, or tempo. For extra listening convenience, Sony has equipped this player with multiple playback modes. With the purchase, you get a rechargeable battery, a remote control, a TV/radio/weather-band tuner, and an AC power adapter.
Key Features
Audio formats it supports are MP3, WMA, and WAV.
It can store 5+ hours of music on an 80-minute minidisc.
A fast USB connection reduces recording time.
The bookmark function allows you to mark or program your preferred songs on the disc, in real-time when playback is going on.
Skip-free G-Protection technology from Sony removes or decreases skipping during several active uses.
This player is compatible with the RealOne music player as well as the pressplay.com online music subscription service.
It can playback ATRAC3 files.
SonicStage Jukebox software stores and organizes digital music files. It can also store custom playlists and manage music transfers.
Pros And Cons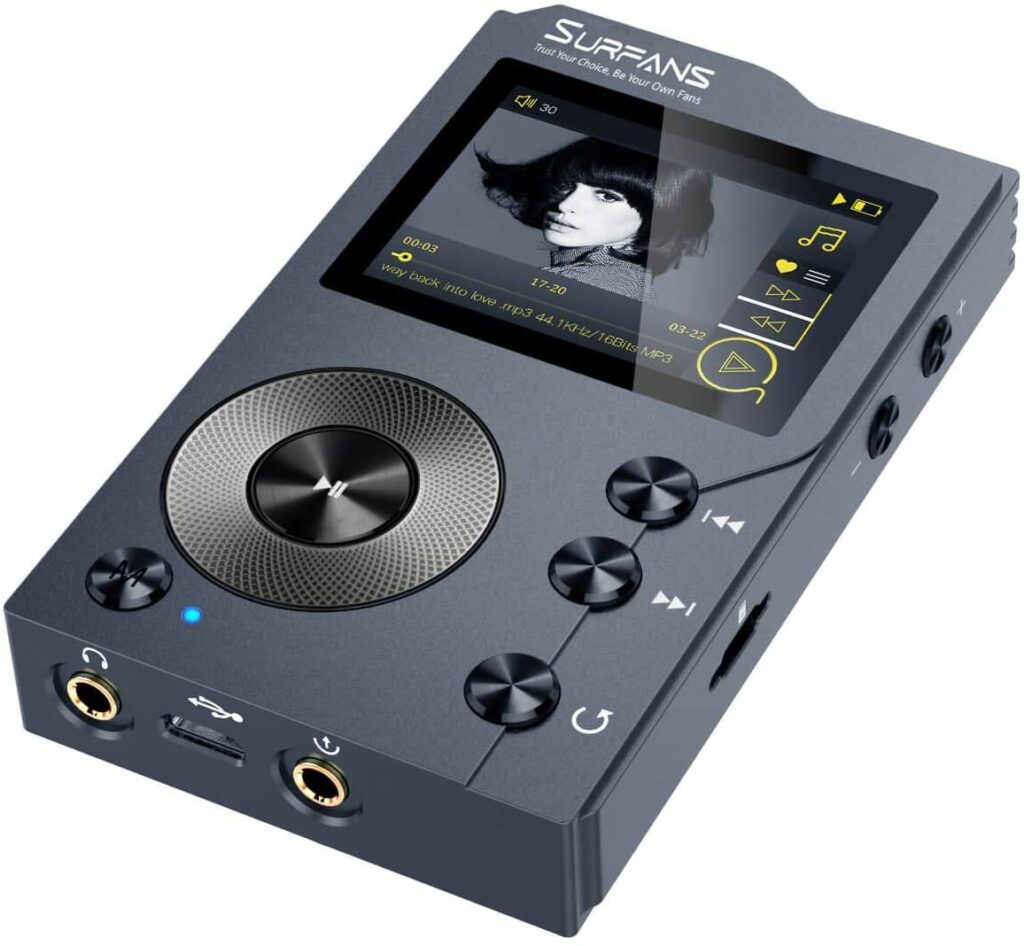 Superior audio quality is the key attribute of this Surfans MP3 player. It is a Bluetooth minidisc player that is implemented with cutting-edge DSD decoding technology to promise minimum possible distortion in the output. The player can capture the depth and breadth of every note of music. It is a perfect device for audiophiles to relish live music.
On its 2-inch HD screen, you can conveniently view inputs, outputs, and few settings. The unique ALPS scroll control wheel facilitates a smooth operation. Built from quality zinc alloy chassis, this player is sturdy enough for long-term use. Despite being robustly built, it feels comfortable to touch.
There is the use of cutting-edge PCM510xA 2.1 VRMS and 112/106/100 dB Audio Stereo DAC chip. The mentioned chip guarantees lossless sound output.
Key Features
Lossless music formats it supports are WAV, FLAC, WMA, MP3, M4A, MP2, APE, AAC, ALAC, AIFF, DFF, OGG, Native DSD64 (2.8MHz), and DSD 128(5.6 MHz).
THD is lower than 0.008% and the S/N ratio is 103 dB ± 2 dB.
Bi-directional Bluetooth V4.0 offers powerful wireless connectivity. The double-way lossless wireless Bluetooth transmission is accompanied by the APT-X protocol.
This music player can quickly broadcast to Bluetooth-enabled devices like speakers, headphones, etc.
Storage space can be expanded up to 256 GB through a 128 GB SD card. Alternatively, you can use another 128 GB USB OTG.
Pros And Cons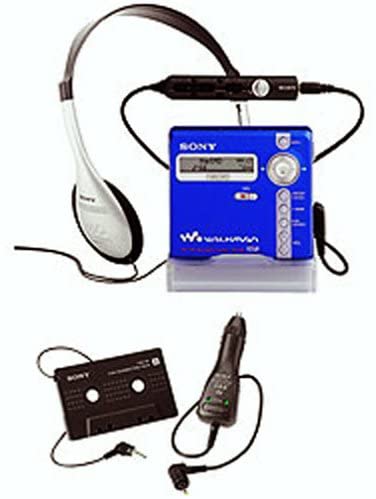 Finding your desired music track is now easy with this best minidisc player – MZ-N707. You can place track marks while recording for ease of finding the particular music track. Also, you can label those tracks while recording.
With this player, it is possible to transfer digital content –from CD or imported MP3/WMA. This is accomplished with any of the 3 compression settings. Recording from multiple sources is allowed.
Key Features
Audio formats supported are WMA, MP3, and WAV.
USB port enables 32x music data transfer from a computer.
G-Protection protects against skips during active use.
1-line dot-matrix LCD offers a clear and intuitive viewing experience.
OpenMG Jukebox Version 2.2 provides Windows XP capability.
Pros And Cons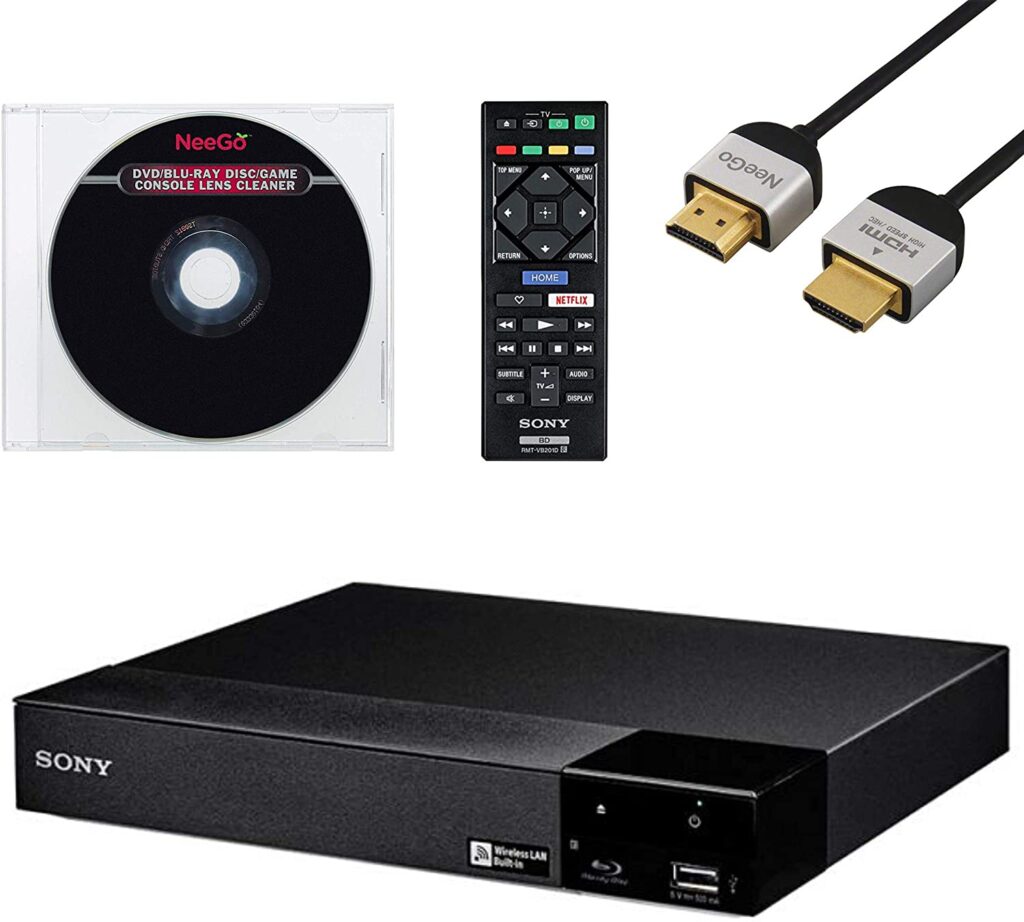 Effortlessly stream and browse with the BDP-S3700 player. It is a Wi-Fi optimized Blu-ray Disc player capable to seamlessly play media and online shows in Full HD resolution. With screen mirroring, you can project the content of a mobile device on your TV. Moreover, you can cast content from a smart device to a TV.
This Sony minidisc player can upscale your standard definition DVDs to almost HD resolution. Thus, you can relish the outstanding detail of your favorite movies. With USB connectivity, you can enjoy photos, digital music, and videos. Accessories in the pack are 2 AAA batteries, NeeGo high-speed HDMI cable, and a NeeGo lens cleaner.
Key Features
TRILUMINOS color display boasts a broad visible color spectrum. So, it depicts more true-to-life tones as well as texture.
On the screen, human faces, landscapes, etc. look vibrant and lifelike.
Signal strength is excellent with the built-in MIMO and WiFi technologies.
The blend of the chip module at the front and multi-antenna design offers maximum signal strength. So, you experience responsive browsing and smooth video streaming.
Pros And Cons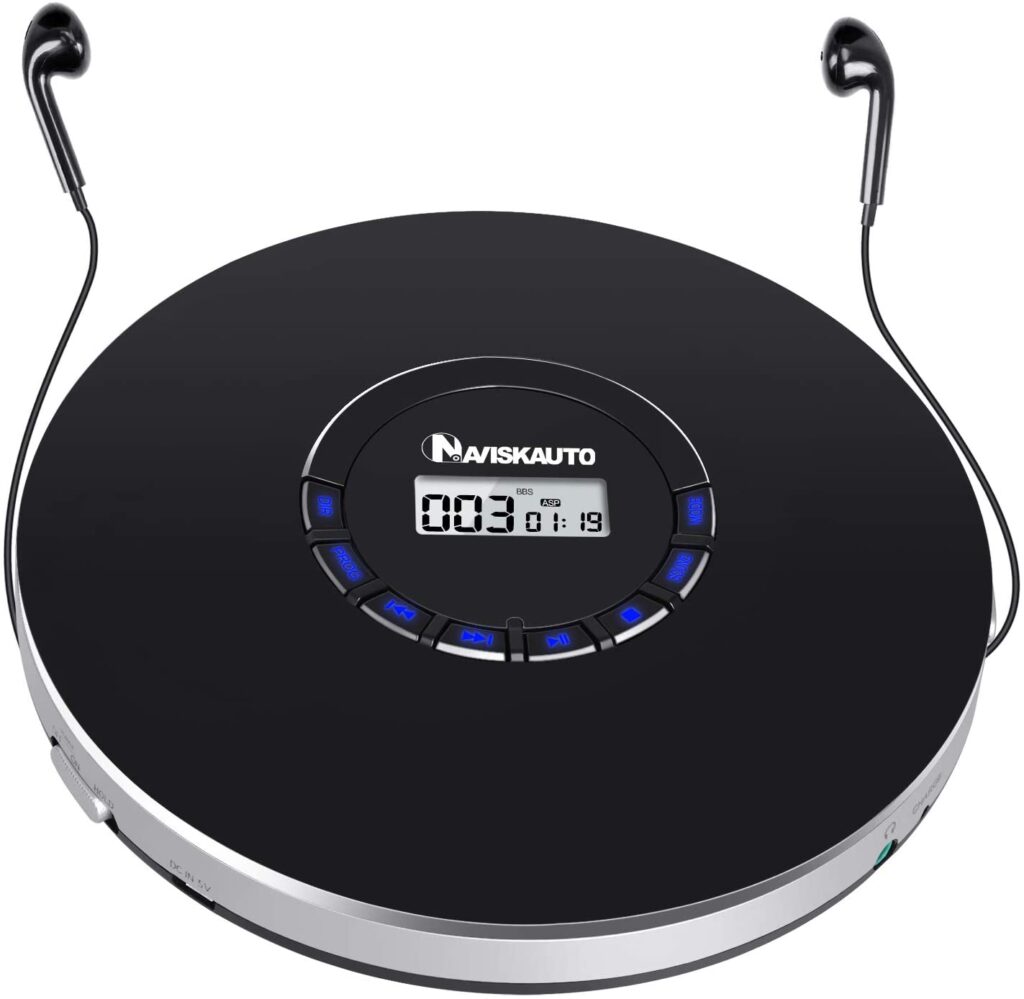 Enjoy superior quality audio at home, in a car, outdoor activities, etc. with this rechargeable CD player. The rechargeable lithium battery comes with a large capacity to deliver efficient charge output. Once fully charged, you get up to 12 hours of playtime on headphones. Use the included USB charging cable for convenient charging.
Its palm-size makes it kid-friendly. The LED screen is visible in the dark. The included AUX cable allows you to connect the CD player to other audio devices.
Key Features
Various audio formats it supports are MP3, CD, and WMA.
5 sound effects it supports are POP, BBS, ROCK, JAZZ, and CLASSIC.
5 playback modes are namely play in order, repeat all songs, repeat one song, shuffle, and play first 10 seconds per track.
The last memory function resumes music from where you stopped.
Anti-skip protection is up to 100 seconds for CDs and 180 seconds for MP3s.
Pros And Cons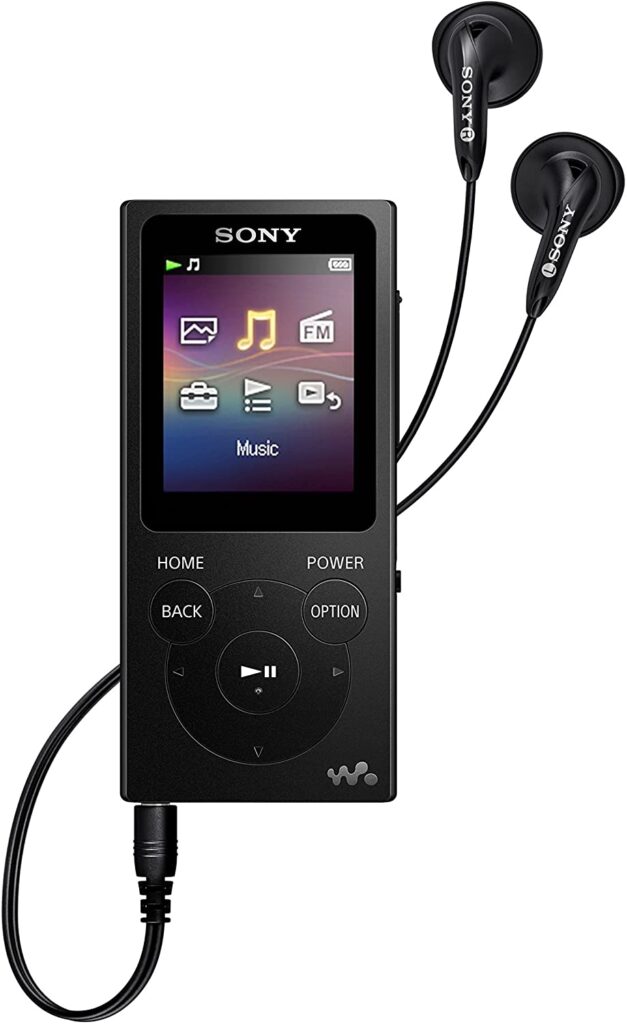 Tons of advanced features suggest that the Sony NWE394/B device is one of the best minidisc player. Its compact design lets you play favorite audio files, view personal photos, and listen to built-in FM radio.
You can drag and drop from iTunes to a PC. Ergonomic shape offers great portability. A USB cable and earbud-style headphones are included.
Key Features
The audio format it supports is MP3.
The media type it supports is micro SDXC.
Rechargeable battery offers up to 35 hours of audio playback.
Memory storage capacity is 8 GB.
The 1.77-inch color LCD lets you view photos and albums
Alarm and timer functions are included.
Pros And Cons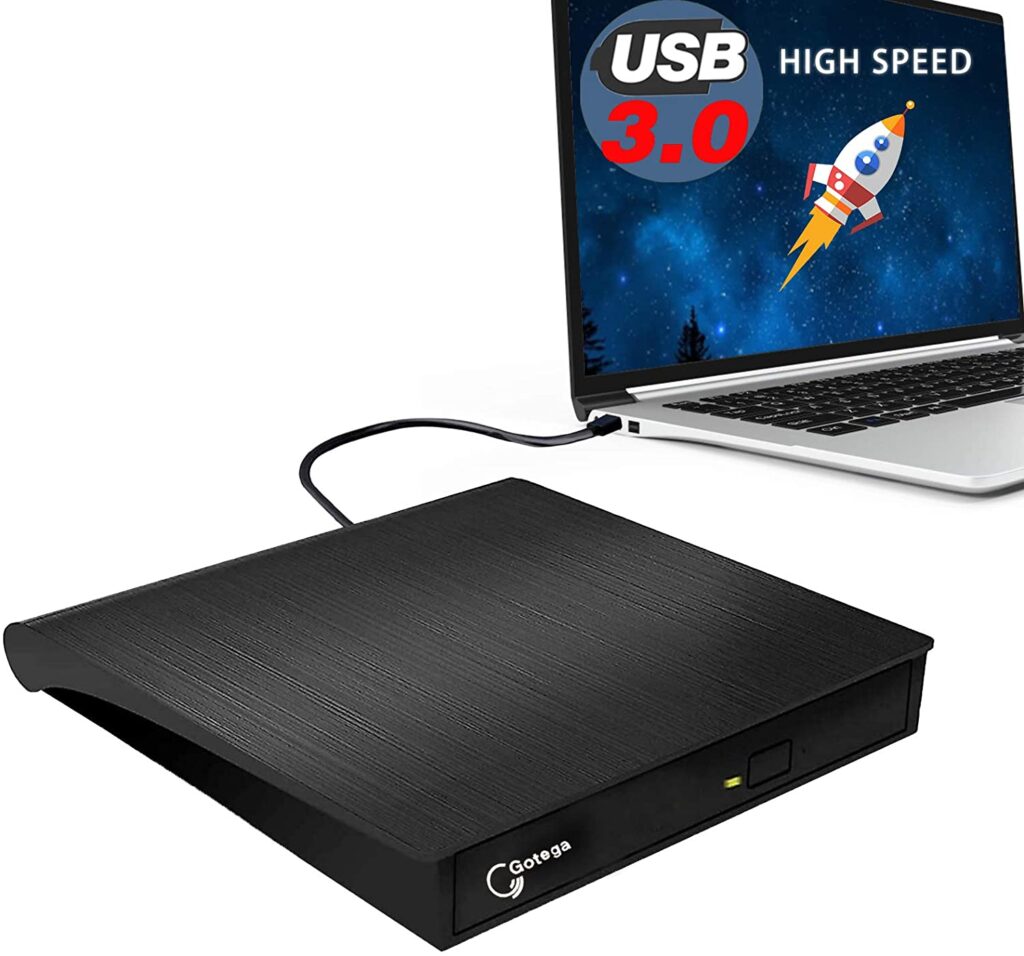 The ultra-slim design of this external DVD drive offers exceptional portability. An eject button is available to make sure the disc would not get stuck inside this external CD/DVD drive. Due to the copper mesh technology, the data transmission is always stable.
Powered by plug & play technology suggests you only need to plug the player into a USB port. Consequently, the DVD driver would be detected.
Key Features
It comes with a maximum 8x DVDR write speed and a maximum 24x CD write speed.
Cutting-edge USB3.0 technology offers quick data transfer speed with stability.
A high-speed USB 3.0 CD/DVD RW burner comes with anti-interference ability and low impedance. So, tasks like watching movies, music listening, burning discs, etc. accomplish fast.
Pros And Cons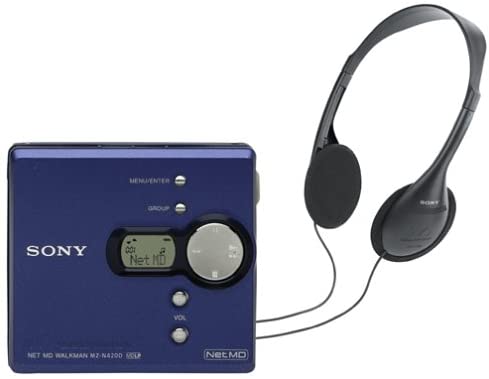 When it comes to long playtime, this is the best minidisc player from Sony. It is a stylishly designed walkman player capable to store a maximum of 5 hours of digital music. A USB cable, a headphone jack, and headphones are included.
Key Features
Audio format compatibility includes WMA, MP3, WAV, and ATRAC3 audio.
The included minidisc lets you begin recording instantly.
The Jog Dial offers smooth navigation.
SonicStage and MD Simple Burner Application software help you organize your tunes and personalize your playing environment.
The walkman can record CDs or MP3s at up to 32x speed.
The included AA battery offers up to 56 hours of battery life.
Pros And Cons
How To Pick The Best Minidisc Player?
Instead of getting confused on how to pick the best minidisc player, you can go through the factors below. They help you end up with the most suitable minidisc players meeting your needs.
1. Audio formats supported
A huge number of minidisc players support 3 of the prominent audio formats i.e. MP3, WMA, and WAV. You may find some other minidisc players that can support audio formats like FLAC, MP2, M4A, APE, ALAC, AAC, AIFF, OGG, DFF, etc.
2. Display
It is important to view the inputs, outputs, and different settings for the proper operation of a minidisc player. You may find color LCD screens on several minidisc players that present a lifelike viewing experience. So, you can conveniently view photos and album artwork.
3. Design
It is recommended to buy a minidisc player that is lightweight and portable. You may need to use this player anywhere and therefore portability is the key aspect to consider. Many minidisc players come in ergonomic shape with the cover of a textured graphic. Due to ergonomic design, you benefit from portability.
Irrespective of the cost of minidisc players, you also need to consider how attractive a minidisc player is. Several manufacturers emphasize attractive and modern designs to complement your decor.
4. Connectivity
While selecting an audio device that supports traditional audio formats, you must have the flexibility for listening to music in recent formats. Hence, it is better to buy a minidisc player that contains a USB port to connect a mass storage device. As a result, you can play your MP3 files or use an auxiliary jack to play music from smartphone and mobile devices.
In many minidisc players, the included USB port facilitates quick data transfer from the PC. Moreover, you may find minidisc players implemented with cutting-edge USB 3.0 technology that provides quick data transfer speed and stable performance.
5. Storage capacity
If you need to save massive audio files in a huge number then look for a minidisc player with enhanced storage capacity. Many typical minidisc players come with 8 GB of storage capacity. On the other hand, in a few minidisc players, there is a facility to extend the storage up to 256 GB through an SD card. As a result, you can enjoy a music library consisting of thousands of songs.
Frequently Asked Questions When Picking The Best Minidisc Player
1. What is the need for buying a minidisc player?
A minidisc player offers an expedient bridge between digital and analog. These discs derive the benefit of being lightweight just like a cassette tape, offer tactile familiarity, and simplicity of use of a computer hard drive. The exceptional sound quality and portable design are some of the key benefits that lure anyone to use the best minidisc player.
2. Are minidisc players still available?
Sony and few other electronics manufacturers have ceased production of minidisc players for nearly a decade. The reason is better technologies overtook them. But, you can still purchase blank MiniDiscs.
3. Can a minidisc player be played on a computer?
These discs are uniquely designed to exactly work like their huge counterparts. This suggests that you just need to have the proper drivers on a DVD player or computer and subsequently, you can play the mini disc.
4. How long does a minidisc player last?
Initially, these players could hold up to 74 minutes of audio and this was enhanced to 80 minutes later on. Sony alleged that recordings would be safe for 30+ years without risk of degradation. But, some experiments by users disclosed that if you hold a magnet near the disks, it would erase their recording.
5. How many times can you record a minidisc?
Recordable minidiscs can be rerecorded frequently. Sony argues recording ability up to 1 million times.
6. Do all minidisc players come with a remote control?
The inclusion of remote control is not compulsory. You may find a remote control included in some minidisc players and absent in others. In some minidisc players, certain features are only accessible via the remote control. You may also find editing functions in a remote that provides direct access to different functions of the player.
Final Thoughts
One of the best attributes about minidisc players is that they are compatible with various audio formats. If you intend to quality listening experience anywhere then the best minidisc player will suffice your need. On the go listening with superior audio quality is now possible owing to their portable design. Many of these devices are versatile to let you view photos and listen to FM radio.
Enjoyed this minidisc player review? Then be sure to check out our other guide of the Best VCRs.