Occasionally, we don't require a whole heavy lighting setup to capture a decent photo from the camera. A few adjustments can be done and the task can be accomplished. The simplest way of doing that is by using an on camera video light. Essentially, the on camera light to the video shooter what the speed light means to still photographer.
The term 'on camera' delineates a category. But keep in mind that such light units may not be always mounted on a camera. They are compact light units that are powered by a battery. If you opt for it, you can mount it on-camera. We curated the following list so that you can conveniently pick the the best on camera video light meeting your needs.
List of The Best On Camera Video Light
Check out the thorough reviews of the best on camera video light in 2023 below.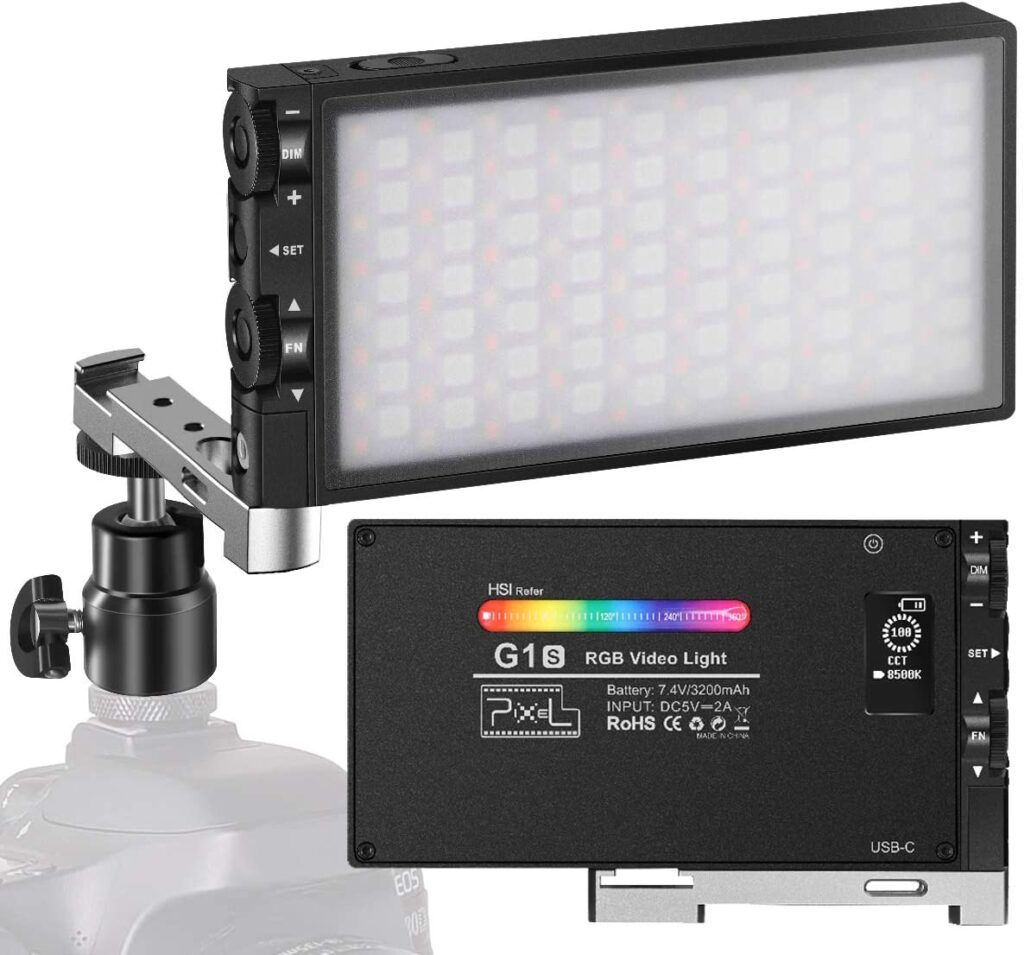 Do you wish to obtain realistic photography output in different light environments? If yes then this Pixel G1s RGB video light can be the best on camera video light for you. It offers a colorful lighting effect with its bright RGB LED light panel. This panel adopts 70 RGB color LED beads and 80 LED beads.
To make your photography more vibrant, it supports 12 common lighting scene effects and 4 modes. You can choose a pertinent mode and light effect. The design showcases a 360° rotating arm with a cold shoe that enables you to easily mount any device using a shoe adapter simultaneously. This arrangement can be useful to mount a camera microphone that can be used for recording. Accessories in the pack are a portable carrying bag, a 1/4 screw, a Type-C charging cable, and a manual.
Key Features
The maximum illumination is up to 1500 lux (up to 1.6 feet).
The maximum working time is 150 minutes. It can be higher than that when the brightness is less than 100%.
The range of color temperature is 2500 (warm) to 8500K (cold).
The range of brightness is 0%-100%.
The tone is adjustable from 0° to 359°.
The battery capacity is 3200 mAh. It can be fully charged in 2.5 hours.
The maximum charging time is 150 minutes.
A USB Type-C charging port is included.
Built-in LCD screen shows accurate readings.
Pros And Cons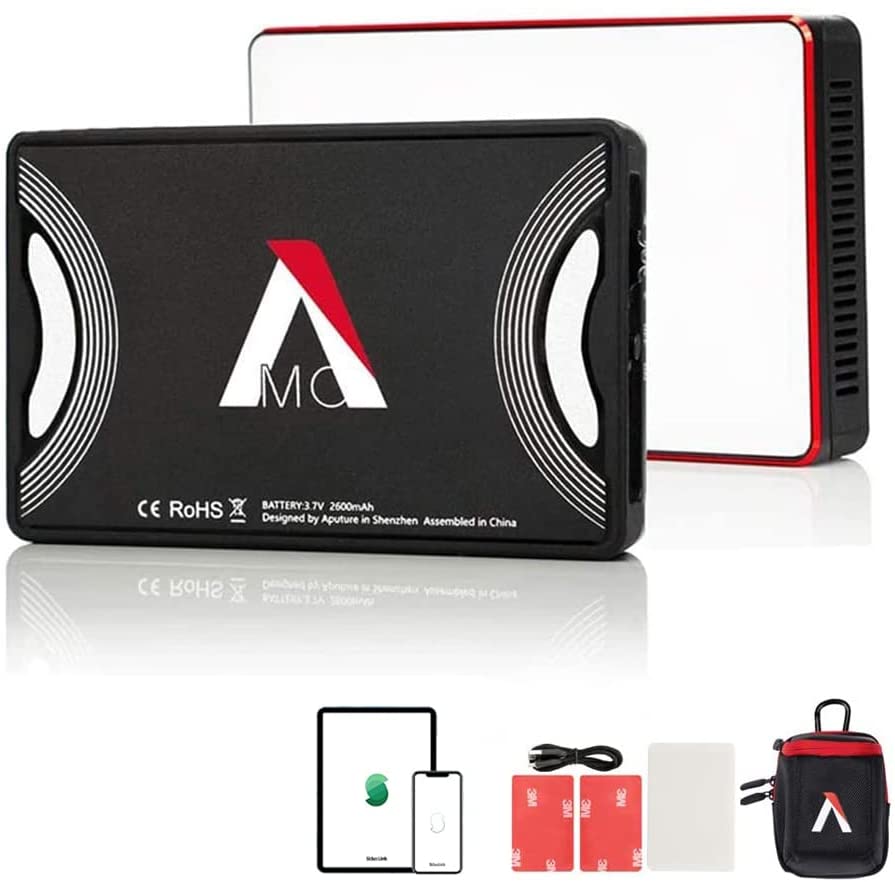 Now you can capture photography in any color light with this Aputure RGBWW video light. It is the first light from Aputure that supports saturation, full color, and intensity (HSI) control. Through 100 levels of saturation options and 360° hue, you can conveniently reproduce any color. You can easily make all adjustments from the palm of your hand. Due to its slim and lightweight profile, you can carry several Aputure video lights in pockets or a camera bag.
As for its specification of color quality, with CRI and TLCI scores of 96+, and SSI scores of 84 in tungsten and 74 in daylight, this Aputure RGBWW video light prides itself in its color rendition. These specification scores are achieved with a principal technology that efficiently and accurately reproduces color.
Key Features
Available lighting modes are HSI, CCT, and FX.
The white light is adjustable with CCT mode.
The FX mode helps you use the built-in lighting effects.
Names of lighting effects supported are fireworks, paparazzi, lightning, faulty light bulb, pulsation, TV, fire, police car, and party.
Through a USB Type-C charging interface, this video light supports 18W USB-C PD fast charging. So, the video light can be fully charged in 90 minutes.
Pros And Cons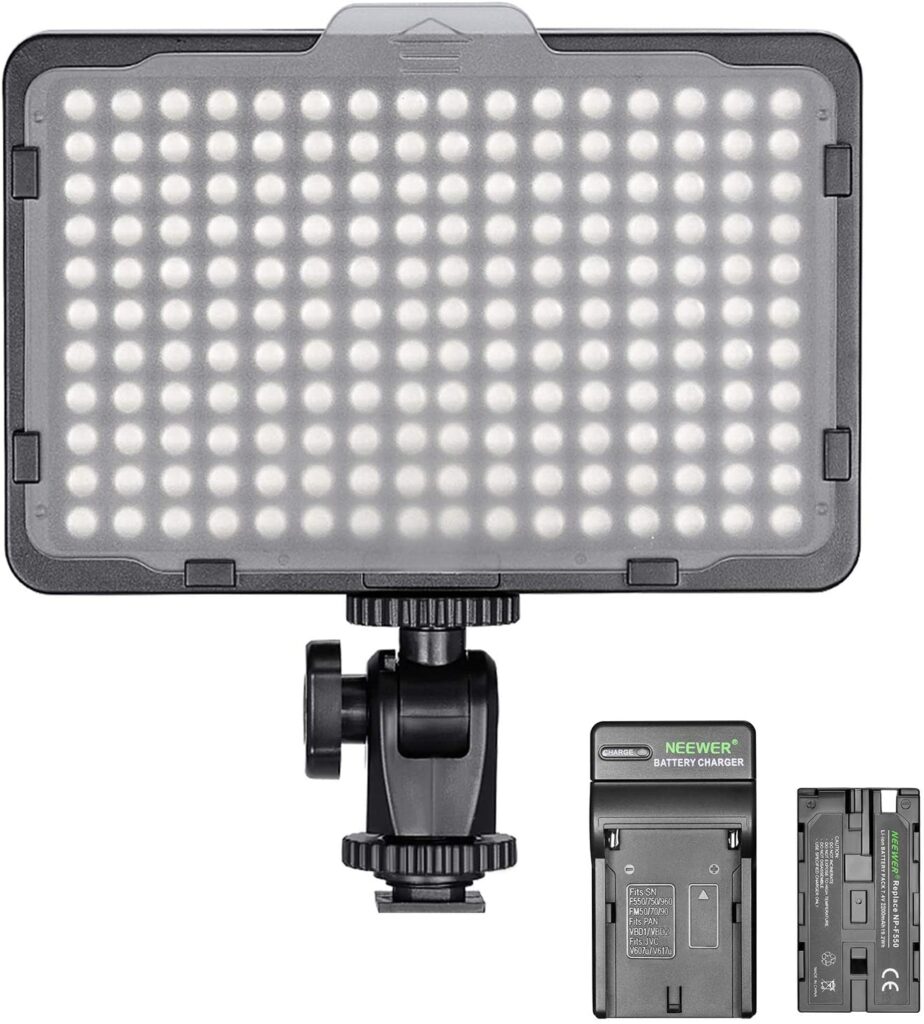 Are you in search of an energy-saving and portable video light? For these needs, this Neewer video light can be the best on camera video light. It is equipped with 176 energy-saving LED units. All of these LED units boast long service life of up to 50,000 hours. So, photographers can obtain impeccable light. Typically, this video light is used for video recording, advertising photography, wedding photography, etc.
What makes this Neewer video light more famous is it boasts wide compatibility. It can work with various types of camcorders, DSLR cameras, light holders, tripods, or C holders that are incorporated with a 0.25-inch screw or a hot shoe holder. Accessories in the pack are an orange filter, a transparent filter, a 2200 mAh spare lithium battery, and a battery charger.
Key Features
A rear knob helps you to turn the light on/off and adapt the brightness.
The brightness is adjustable from 10% to 100%;
Two filters included are an orange filter and a transparent filter. They are useful for altering the shooting effect and enhancing skin tone in portraits.
The transparent filter softens the light source.
The orange filters can directly change the color temperature to 3200K.
Pros And Cons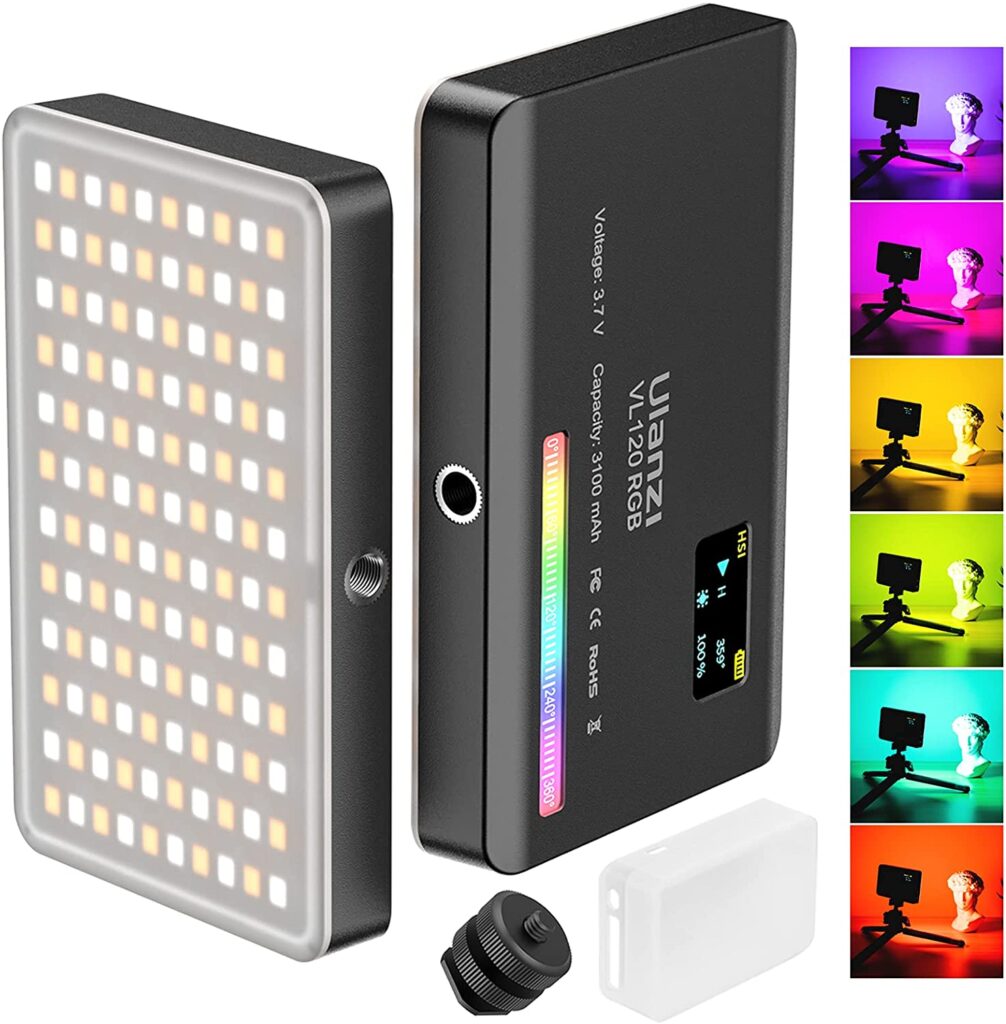 Benefit from smooth color adjustment with this UNLANZI video light. The included RGB LED light panel contains 36 RGB color LED beads and 84 LED beads. The RGB color options are used to create a perfect color based on your needs. The overall size is slightly bigger than a credit card. So, you put this mini LED camera video light in a pocket or a camera bag.
Key Features
120 lamp beads provide maximum brightness of 1250 Lux (up to 1 foot).
The Display Index is 95+. It restores real colors with high color reproduction.
20 types of light effects are included to convey lifelike output.
Built-in 3100 mAh lithium battery can offer up to 3 hours of constant illumination.
Type-C charging support helps you to use this video light during charging.
Pros And Cons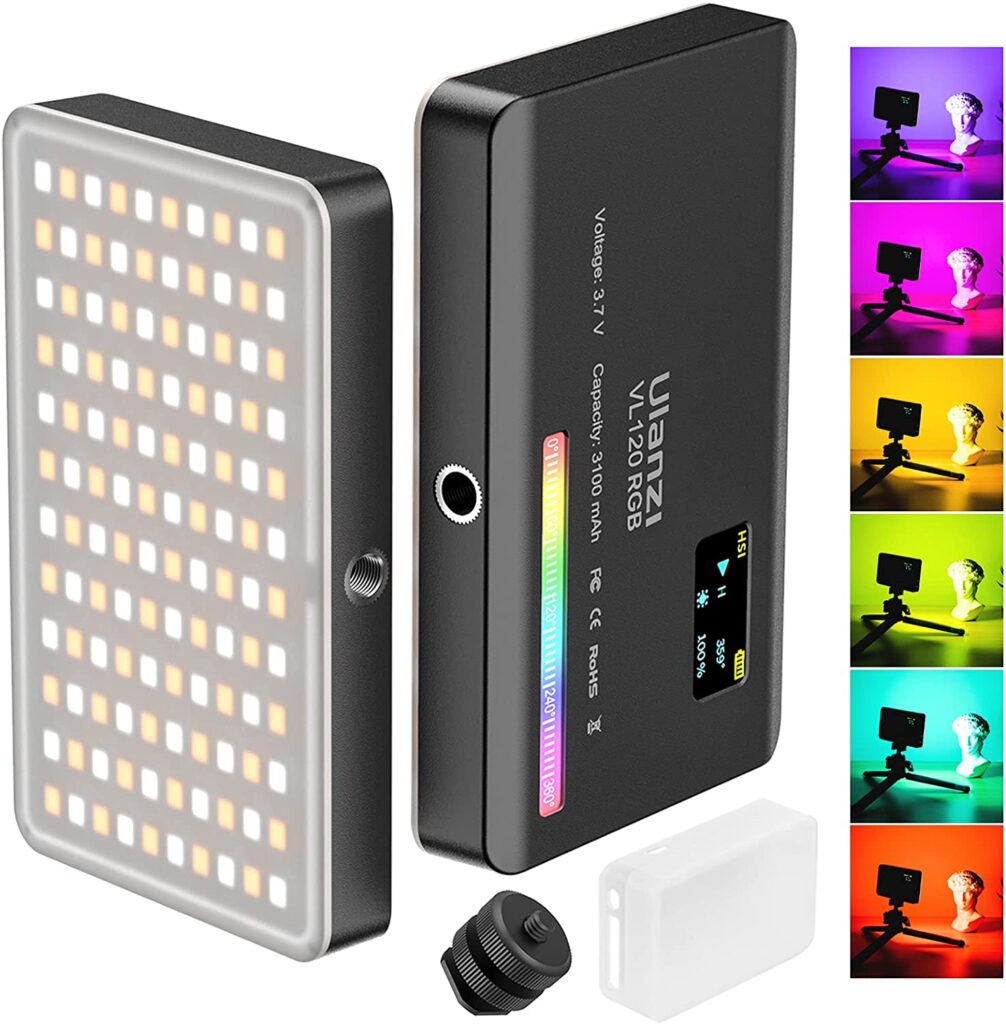 The VIJIM LED video light contains 81 high-efficiency light beads, supports high color reproduction, and supports large-angle shooting. These characteristics make it one of the best on camera video light. Usually, it is used for vlogging, YouTube recording, and DSLR shooting. Also, you can use it for wedding photography, portraits, selfie capturing, capturing a quiet living environment, etc. The soft light output from this portable video light protects your eyes. The tallest CRI95 cabin along with the perfect color of sunlight makes sure the light is realistic and natural.
Key Features
The range of color temperature is 3200K to 5600K.
The brightness can be adjusted from 10% to 100%.
The built-in rechargeable 3000 mAh battery can deliver constant charge output for up to 150 minutes, at maximum power.
The CRI is more than 95.
Type-C charging port is available.
A total of 3 cold shoe holders are included –one at the top and two on the sides. They help you to connect different light panels to enhance the brightness and for improved lighting effects.
The cold shoe adapter with a 0.25-inch threaded hole makes this video light compatible with camcorders, DSLR cameras, light stands, and tripods.
Pros And Cons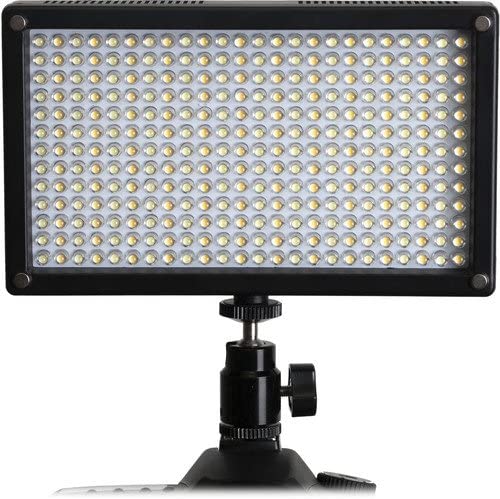 Whether for personal or professional photography, this genaray on-camera video light works well. You can use it for still photography. The efficient battery performance eliminates the hassles of frequent charging while outdoors. The pack contains a car charger, an AC adapter, an AC/DC dual battery charger, a carrying case, two NP-F550 batteries, a magnetic snap-on diffuser, a turn/tilt ball head, and a user manual.
Key Features
Maximum brightness is 1400 lux (up to 3 feet).
The brightness can be adjusted from 10% to 100%.
This video light is compatible with Sony L-series battery mount.
Pros And Cons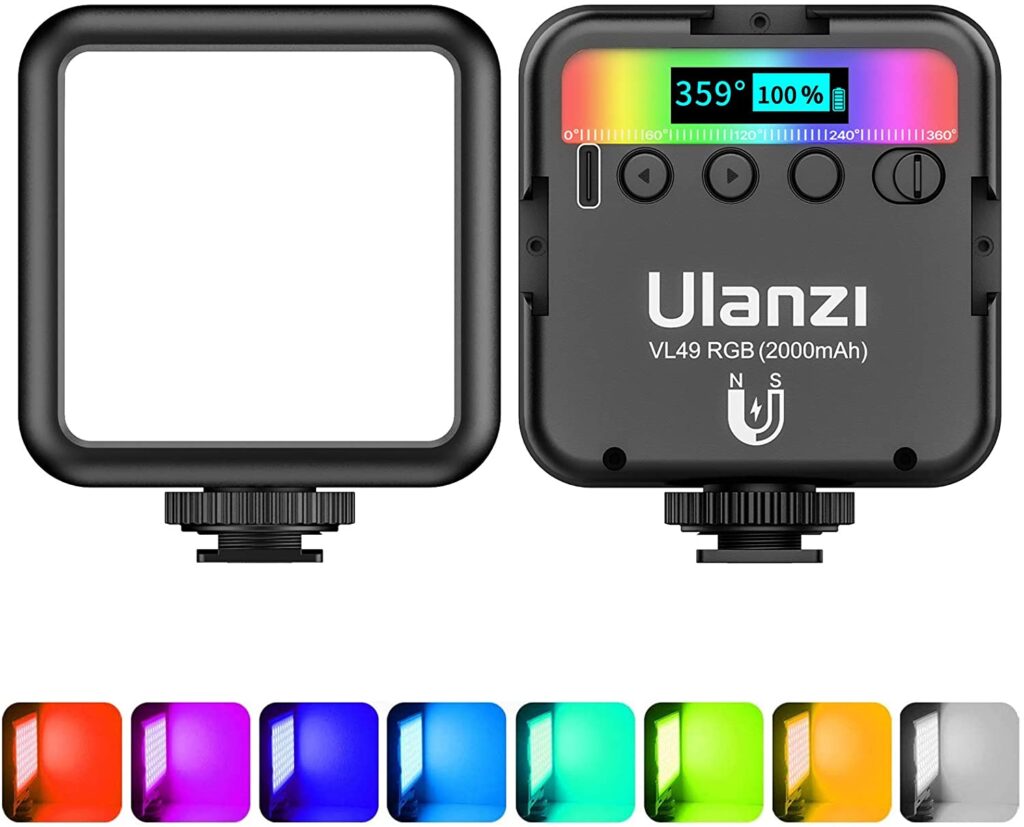 To obtain excellent brightness and high color reproduction, this ULANZI video light can be one of the best on camera video light. A total of 60 LED beads are included. With a CRI of more than 95, this video light device makes sure your light is realistic, with the impeccable color of sunlight. It is widely used for wedding photography, portraits, YouTube video recording, children's photography, and selfies. And the back is equipped with a magnet adsorption design.
Key Features
The VL49 RGB LED video light comes with a maximum brightness of 800 lux (up to 1.6 feet).
The brightness can be adjusted from 0% to 100%.
The maximum illumination angle is up to 120°.
The tone is adjustable from 0° to 359°.
The color temperature range is 2500 K (warm) to 9000 K (cold).
Built-in 2000 mAh rechargeable lithium battery offers charging time up to 2 hours.
The Type-C charging port helps you to use this video light while charging.
Pros And Cons
How To Pick The Best On Camera Video Light?
It is possible to save considerable time and effort when you evaluate important aspects to focus on for picking the best on camera video light. The important aspects you need to consider are as below.
1. Intensity of Light
The intensity of the light is measured in lumens. When it comes to photography, light intensity is the most practical feature. This is because it expresses the brightness of the light. The higher the lumens, the brighter the light output will be.
Before purchasing an on camera video light, make sure it has a high lumen output per LED. If not, the beams from each LED light unit will be distinct. So, you cannot obtain a consistent source of light. Many of the best on camera video lights let you adjust brightness up to 100%.
2. Temperature of Light
The temperature of light decides the color of the light. This parameter is measured in Kelvins. Typically, the lights of lower color temperatures, beginning from 2.9K are warm and yellow. As the color temperature increases, the light gets cooler and whiter. Specifically, around 7000K, the color of the light turns as bright as daylight.
Your color preference decides the type of LED lights you get. Most of the reliable on camera video lights including the ones discussed above allow you to adjust the color temperature based on your needs. The highest color temperature limit supported in the discussed video lights is 9000K.
3. CRI
The colors of any object appear more realistic if it's placed in natural light. But it is impractical to work under the sun. So, you need to assess the CRI of the video light and then make a purchase. It stands for Color Rendering Index which is a measurement of how natural the colors would appear when positioned under artificial light.
Usually, CRI is measured on a scale from 1-100. Those video lights having higher CRI like 90+ present light effects as close as natural lighting. So, the higher the CRI, the more natural the objects would appear. The higher CRI denotes that colors in captured images would appear as bright as they actually are. A video light with low CRI will be inefficient at reproducing the appropriate tones.
4. Power options
It is beneficial to buy an on camera video light that can be used both indoors and outdoors. For the same, the video light must support dual power options because you cannot always gain access to an AC plug, specifically when outdoors. Look for a video light with multiple power options. Some video lights contain their own power adapters whereas some are USB-powered.
An on camera video light that is USB powered can be used with a laptop or power bank through a car charger. For outdoor use, you will rely on battery power.
5. Included accessories
In addition to light panels, several other accessories are required for the proper operation of a video light. Many of these video light kits come with a tripod stand that is height adjustable. You also need to check whether a carry bag is included or not, else you need to buy it separately. Color filters help you become more creative when shooting, so check what color filters are included. For charging on the go, you will need a battery, a car charger, or an adapter, so check whether these accessories are included or not.
Frequently Asked Questions When Picking The Best On Camera Video Light
1. Can you use LED lights for photography?
LED lights are useful for an indoor photograph, during the late afternoon or when you want to carry out night portrait photography. They are also suitable for photography during days when there are clouds in the sky and sunlight is limited. If you want to overpower the sunlight, you may need a strobe light or speed light since they are brighter.
2. What is the color temperature of a video light?
It is a measure of the color quality of light. It is measured in degrees Kelvin. Especially while working with multiple varied light sources, the color temperature is a vital factor to consider.
3. What are hard lighting and soft lighting?
When using the best on camera video light, you have to decide whether you need to enlighten your scene through soft light or hard light. Hard lighting is direct and it creates extreme contrast with hard shadows. It appears dramatic and highlights detail and texture. On the other hand, soft lighting is diffused and appears to enclose around a subject. Moreover, it presents shadows with steady, soft edges between dark and light.
Final Thoughts
For adjusting brightness according to the prevailing light conditions, the best on camera video lights listed above suffice the need. They help you to capture high-quality images and shoot smooth flowing videos in different environments. You can capture realistic photography exactly as the objects appear with any of these on camera video lights. They help you to adjust several parameters to convey the most suitable output.
Enjoyed this on camera video light review? Then be sure to check out our other guide of the Best 18 Inch Ring Light.