Fishing is a relaxing and fulfilling pastime for so many. But it is not easy to catch fish because they live under the water and cannot be seen by us like birds or animals. Anglers rely on their intuition, experience, and pure luck to catch fish. Still, it is not uncommon that they return empty-handed at the end of the day. However, there is a solution here. The fish finders can help you detect where the fish is and move you there. But there are so many fish finders out there on the market and finding the best kayak fish finder is not a easy job. Based on the below selection, you can save time when choosing the best kayak fish finder in 2023 meeting your needs.
List Of The Best Kayak Fish Finder
Check out the thorough reviews of the best kayak fish finder in 2023 below.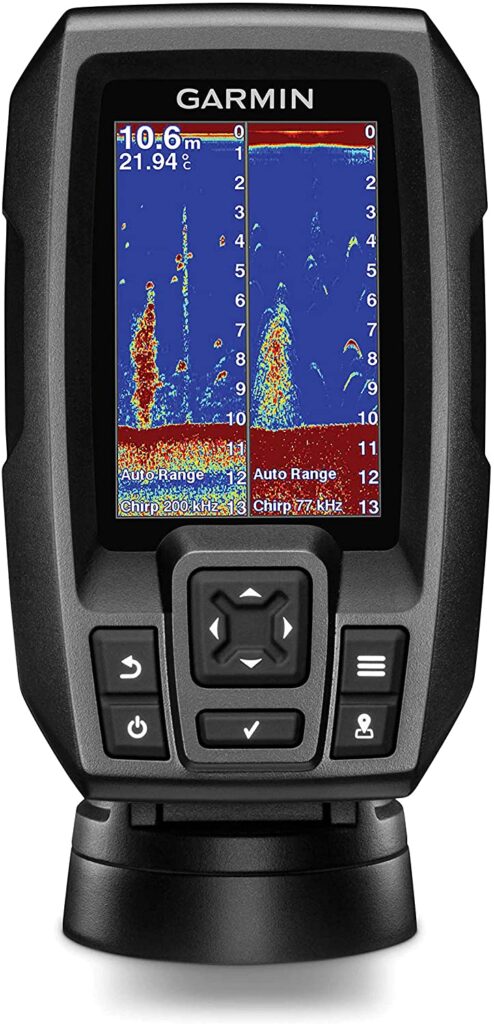 This kayak fish finder is the latest one from Garmin's famous Striker series. It has many useful functions like finding and marking the perfect fishing spot and getting back to it the next day. It comes in screen sizes ranging from 3.5″-7″ and has 480×320 pixels.
Key features
Easy to use with in-built very responsive GPS technology
Finding and marking fishing spots and returning to them and docks, ramps, etc.
Keypad operations
Made with CHIRP sonar transducer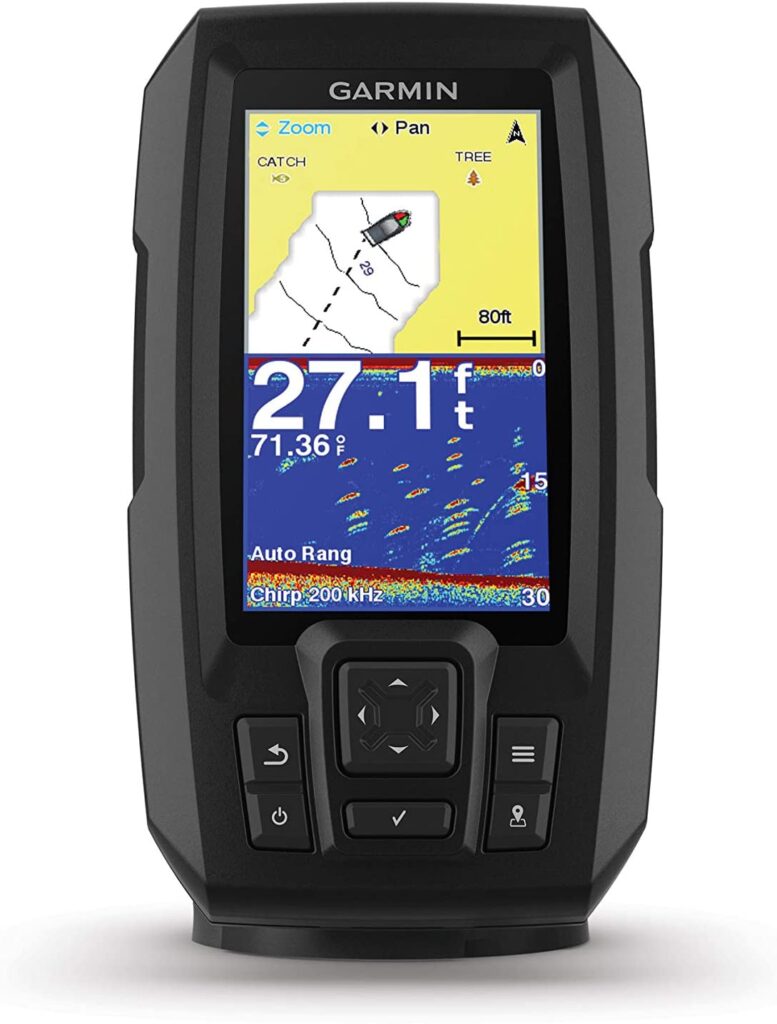 This Garmin Striker is a compact and intelligent kayak fish finder. It has a 4.3″ user display and is perfect for amateurs and professionals alike. Equipped with a dual-beam Transducer with Garmin chirp technology sonar and Garmin QuickDraw Contours live mapping, it will not let you down when it lives up to its name and reputation.
Key features
Easy to navigate user interface
The QuickDraw live mapping with 1′ contours to 2 million acres
Garmin CHIRP traditional sonar with dual-beam transducer.
Highly sensitive GPS
Marking facility for fish hot spots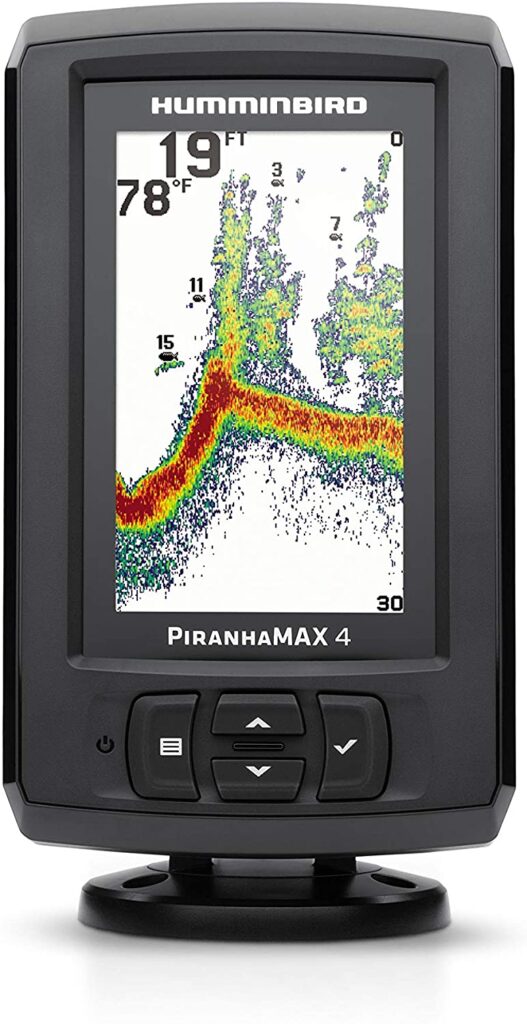 This Humminbird product incorporates some superior Helix series features from the maker and comes up with this sleek and handy fish finder. It has 4.3″, 256-color display with 480 x 272 resolution. It has a dual-beam sonar and a tilt-mount base. It is one of the best kayak fish finders in its price.
Key features
A larger screen size than its predecessors
Clear and crisp screen display
The dual-beam has a depth capability of an impressive 600′.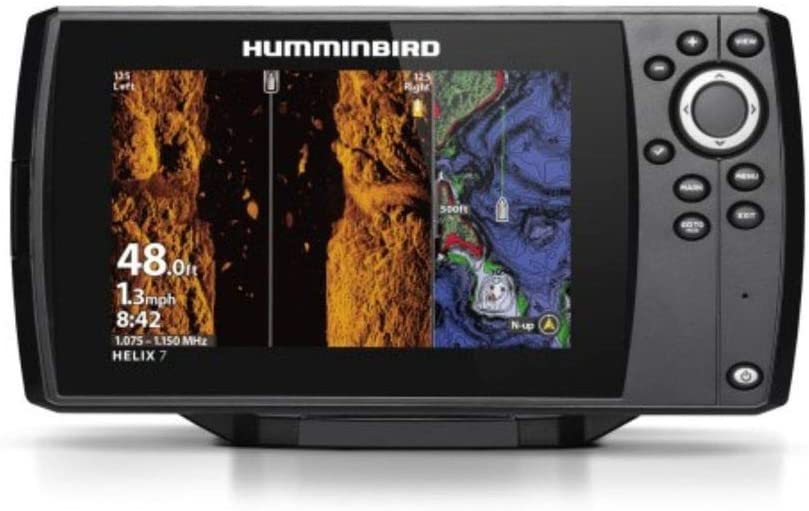 A power-packed kayak fish finder with dual spectrum CHIRP and MEGA side and down imaging technologies. It has a large 7″ color display. If you are on the lookout for a fish finder with a MEGA imaging feature, then this may be the best kayak fish finder under the price it offers.
Key features
MEGA down and side imaging
Dual Spectrum CHIRP
Bluetooth connectivity
Built-in basemap of 10,000 lakes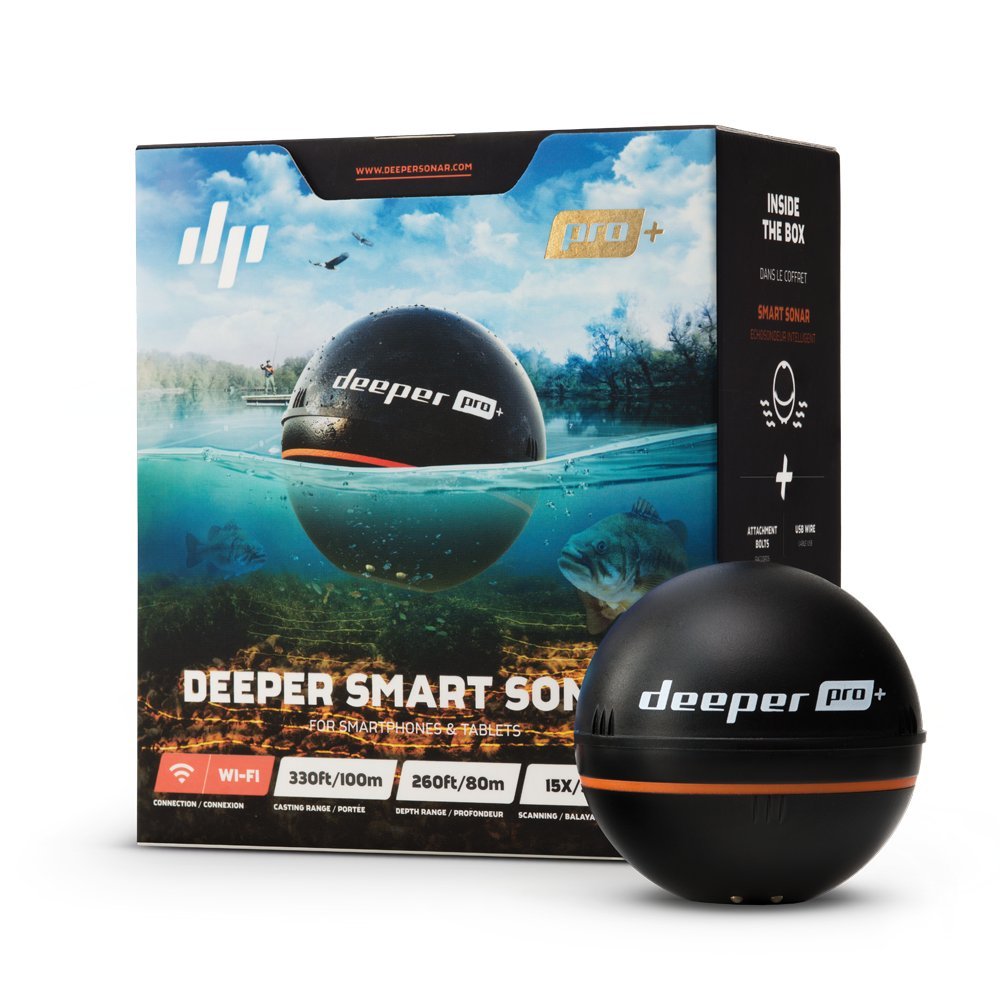 It is a compact, sleek, lightweight, and cartable kayak fish finder. You can use it on a boat, kayak, from the shore or even as an ice flasher for winter fishing season. It easily syncs with your smartphone and you can view its finding on your mobile phone's screen. You can see water temperature, under water structures, rocks, plantation, and of course fish through this. It has built-in GPS so you can navigate your way easily and use the database of maps to find your way. It uses dual-beam technology and works equally good in shallow or deep waters.
Key features
It connects to your phone via Wi-Fi making it super-fast to transfer data. Its transducer sends 15 scans per second.
It has a casting range of 330 feet or 100m. It scans down to as low as 260 feet or 80m. You can use the wide beam to scan a large area and then the narrow beam for a thorough check.
All the data is saved on it app and you can access it from any computer using Lakebook.
It is the only fish finder in the market with the ability to create bathymetric maps from the shore.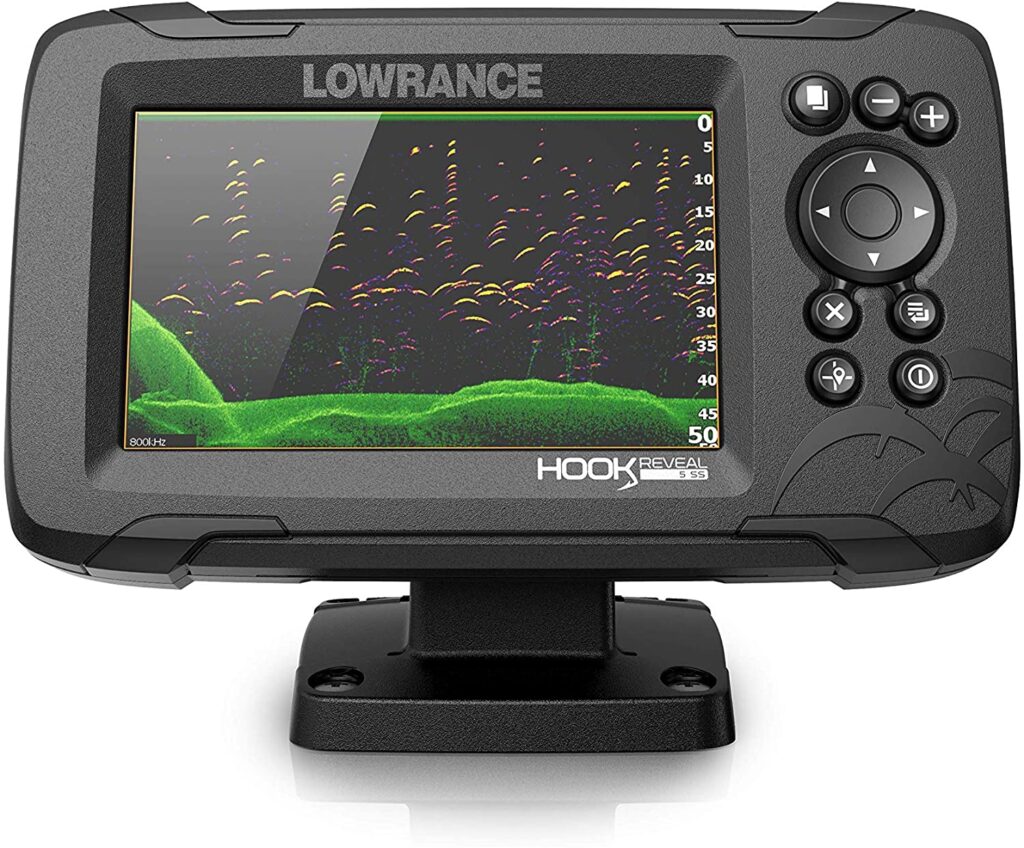 It is a powerful fish finder with some proven technologies and tools to find fish. It has an in-depth map of US water bodies and is very reliable. With features like down scan imaging, autotuning sonar, Lowrance CHIRP sonar, etc., it promises and delivers performance for you.
Key features
Available in three size options: 5″, 7″, and 9″.
The split-shot transducer lets you view clearly what's under the boat.
It is equipped with FishReveal technology that lets you identify fish using Lowrance CHIRP sonar and downscan imaging.
Autotuning sonar ensures that you get the best quality of images and adjusts automatically to changing fishing conditions.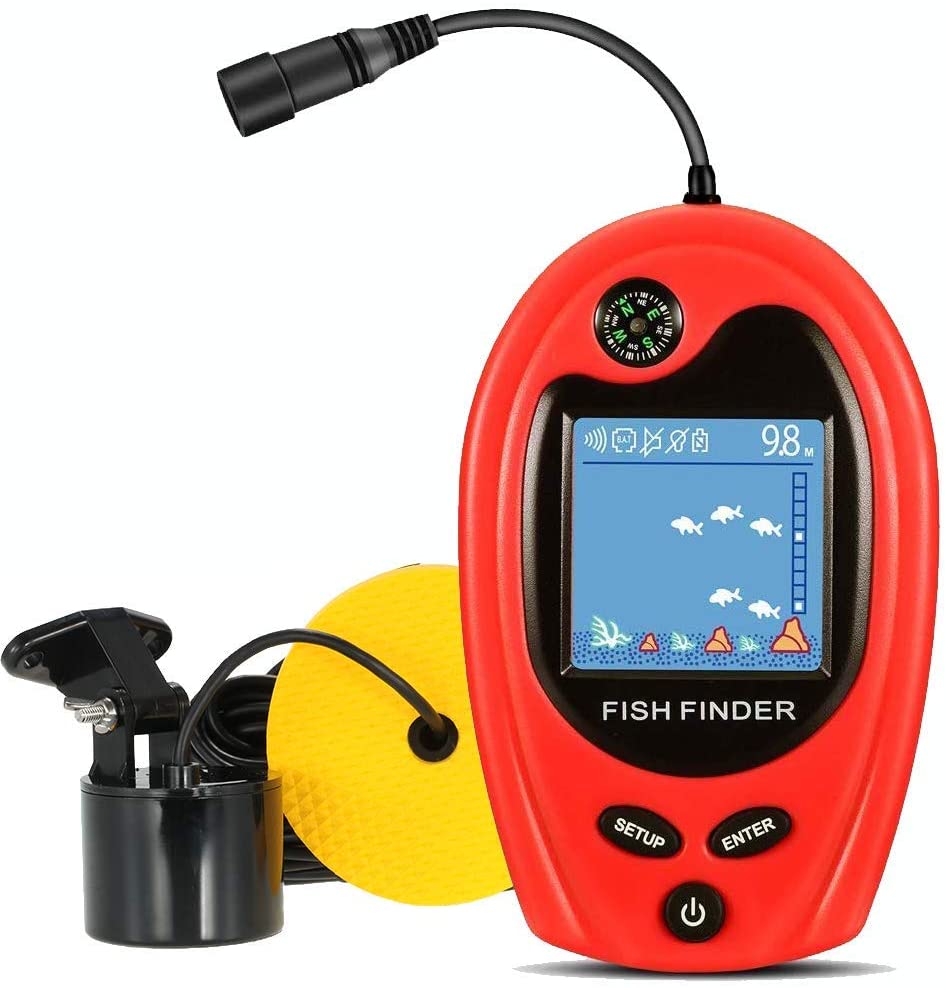 This kayak fish finder has multiple features that will help you find a good number of fish. The design is different than run-of-the-mill models of fish finders and is pretty functional. You can take it for fishing in deep, shallow, or even icy waters, and it will give you excellent results.
Key features
It displays different types of helpful information like water depth, fish location, weed, rocks, etc.
It has five sensitivity detection options. You can use them according to the water condition. When fishing in clear waters, use low-sensitivity and so on.
It has a vast detection range. The maximum detection range at a 45-degree detection angle is 328ft.
It comes with useful features like power save mode, background light, fish detector alarm, etc.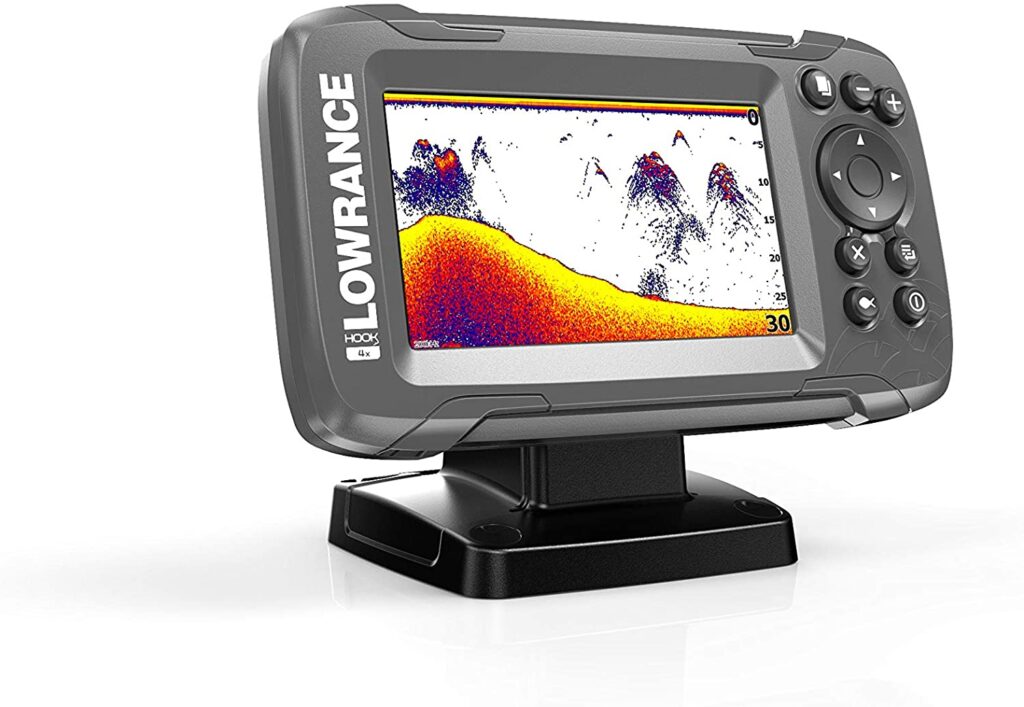 The company touts it as the world's most accessible to use a fish finder. The menu is easy to navigate, there are features like down and side scan imaging and wide-angle CHIRP sonar coverage for best performance.
Key features
The autotuning sonar will automatically adjust the display according to the water conditions saving your time on changing the settings.
All the models in the Hook2 series come with transducers.
It gives double the coverage of regular fish finders.
You can mount it anywhere on the boat. It requires minimal effort.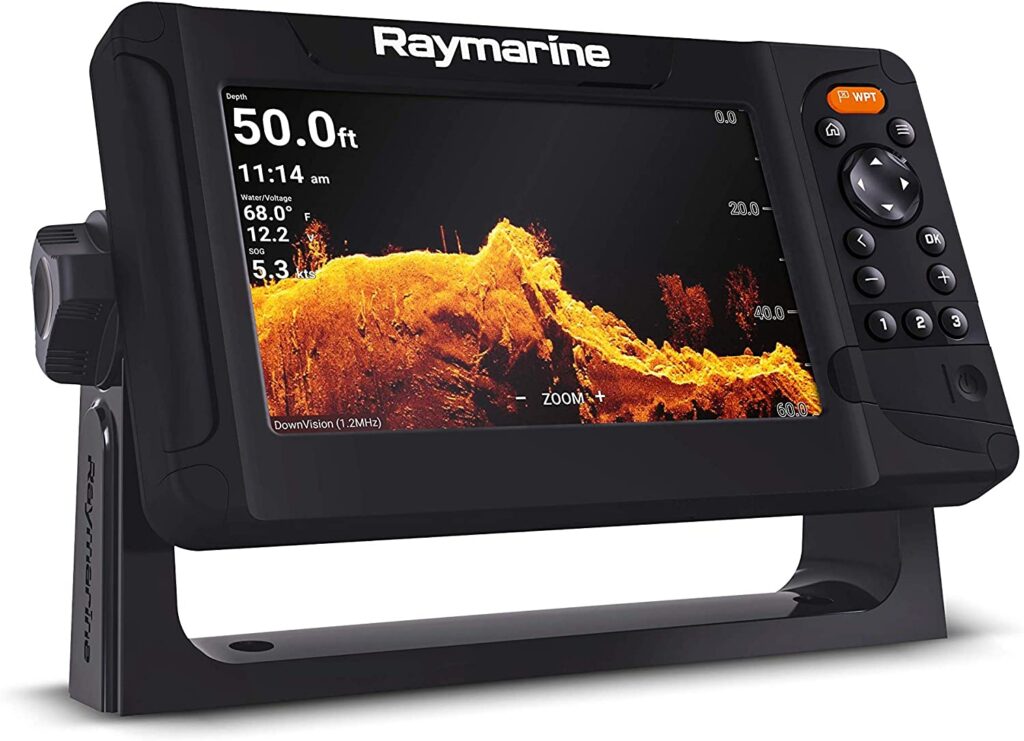 This kayak fish finder promises a very sharp and clear screen output due to the HyperVision 1.2MHz sonar technology. You can see the DownVision, SideVision, and RealVision 3D in a higher level of clarity and easily find the fish's location, habitat, and other information.
Key features
It's got a large 7″ sunlight-readable display.
1.2 MHz HyperVision CHIRP technology with super cool resolution and imagery.
It comes with a quad-core processor that gives you fast results in the shape of 3D rendering and chart making.
The RealVision 3D technology lets you explore underwater terrain like rocks, ledges, etc., with absolute clarity.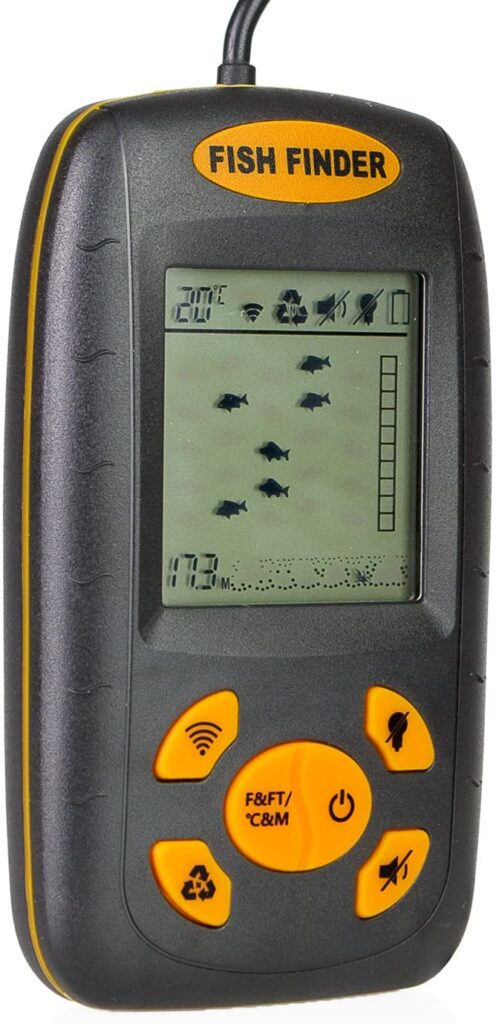 This is the last one on our list of the best kayak fish finder. It has some convenient features and delivers excellent performance. You can detect an underwater area ranging from 3 feet to 328 ft.
Key features
It comes with round transducers and a 25 feet long cable, and a removable transducer.
It has five sensitivity levels suitable for various water conditions.
There is a battery save mode, fish alarm, backlight mode, unit of measure, and other such features.
What To Consider When Picking The Best Kayak Fish Finder
There is a glut of kayak fish finders in the market. New and improved models keep popping up now and then. If you are new to the game of fishing, you would be at a loss to pick the one that suits you. If that is the case, then read on as we highlight certain factors that you should consider when buying the best kayak fish finder.
Your technical prowess
As technology keeps evolving, so do kayak fish finders. You will find them embedded with state-of-the-art features. But they are of no use if you do not know about their application and utility. If you are not tech-savvy, then better go for a simple kayak fish finder with essential features that you understand and can easily use. No point in wasting money on something you do not know of.
Personal comfort
Do not forget about your level of convenience when choosing the best kayak fish finder. If you have weak eyesight, then a large screen would be better suited for you. Similar personal considerations should be considered, like screen resolution, color vs. b/w, pixels, etc.
Usability
You would know where on under what conditions you would use your kayak fish finder. Will you use it on a boat, canoe, cabin cruiser, etc. The water bodies like lakes, rivers, lakes, ponds, etc., would also affect kayak fish finders' choice. Lastly, conditions like icy, muddy, fresh, salty, shallow, deep water would also determine which type of kayak fish finder you should go for.
Transducers
A transducer is integral to any kayak fish finder. It throws out signals in the water and receives them back with information about what lies beneath the water. Its quality and mounting capability would directly affect your kayak fish finder, so choose accordingly.
Transducer materials
Transducers come in several materials ranging from plastic to bronze. Each type is meant for a specific kind of boat and fishing condition. For an occasional angler, a plastic transducer would do well. Their mounting capabilities, like in-hull or through-hull mounting, are essential too. These two types of transducers come with plastic housing. For boats with wooden or fiberglass hulls, a bronze or stainless steel housing would be perfect.
Cone angle
A cone angle is very crucial to the ideal working of a kayak fish finder. The hook and width on which a transducer sends the beam to determine its capability. The wider the angle, the better will be its capability to detect fish underwater. The angle range can vary from 9 degrees to 60 degrees. For an average user, a 20-degree angle would suffice.
Number of beams
Just like the angle, the number of beams is also essential. A typical transducer sends only one ray, but there are dual-beam and triple beam transducers as well and even with side beams. The higher number of beams makes it easy to navigate large water bodies and detect more catch in the process.
GPS
It is another helpful feature that most, but not all, kayak fish finders have. It would be best if you looked for the one that has this feature. This is because GPS gives you several benefits. You will be able to download maps of different water bodies and their topography, you can easily mark your waypoints and even go for customization in maps.
Bluetooth and Wi-Fi connectivity
They are both convenient features to have on a kayak fish finder. It allows you to connect to various devices, share, exchange, transfer data, and information, and use it for future reference.
Power source
The power supply also plays a vital role in the working of a kayak fish finder. A kayak fish finder works by converting sonar waves from the Transducer. It will require more power when fishing in deep waters and less energy in shallow waters. The more power it has, the more powerful will be the sonar waves resulting in better and accurate underwater reading.
Level of frequencies
Kayak fish finders work with transducers on multiple frequency levels. These frequencies can be 50,83,192, or 200 kHz. Shallow water fishing will require higher-frequency transducers, while lower-frequency transducers would go well for deep water fishing.
Water resistance
Water resistance of transducers also affects it's working. Look for IPX or JIS rating for water resistance on the transducers. A less than 5 rating depicts water resistance only from splashes of water. A more than 5 rating means a medium to a higher level of water resistance.
Portability
Whether you need a portable or fixed kayak fish finder would depend on where you would fish, what type of boat you use, and your fishing frequency. For kayaks, small boats, a fixed kayak fish finder would work well. For someone doing frequent fishing or land-based anglers, a normal portable fish finders would be acceptable.
CHIRP
CHIRP means Compressed High-Intensity Radiated Pulse. It is a valuable technology where a spectrum of frequencies is sent underwater continuously. This results in more clarity and accuracy in underwater exploits. So it is a good idea to go for kayak fish finders with CHIRP technology.
Imaging technology
Modern kayak fish finders now have side and down imaging technologies. These are valuable tools to see what lies underneath your boat and on the sides. They can be used simultaneously for better results. So opt for kayak fish finders that are equipped with this technology.
Other considerations
Besides the above other factors to consider can be cost, brand, durability, warranty, personal choice, etc.
FAQs When Picking The Best Kayak Fish Finder
What is a kayak fish finder, and how does it work?
It is a device that uses sonar technology to detect fish underwater. It works on the same principles as that of a radar or how a bat hunts for food. It emits sound waves through the help of a transducer that disintegrates in the water and scans it. It picks up electric signals emitted by bodies underwater and then shows that information in graphics on the screen. Besides fish, it can also give you information about the water body's topography, the extent of water, and other such information. 
How do you read a kayak fish finder?
Different kayak fish finders have different technologies and displays. Some use screens to display information, while others can connect with your mobile devices and show information. It offers its findings in the form of icons, arcs, clouds, arches, etc. They can mean things like the number of fish, their size, location, type, etc.
Are there different types of kayak fish finders?
Yes, kayak fish finders come in different shapes, sizes, and types. Their classification can be made based on their functionality, technology, usability, etc.
What is a transducer?
A transducer is the most critical component of a kayak fish finder. It sends and receives signals, interprets them, and then shows the processed information in graphics on the screen.
How do you install a kayak fish finder?
It is not a hard job, and most people with a bit of technical know-how can do it. Refer to your kayak fish finder's manual for instructions on how to install it and follow them. Use a visible place for display and the deepest spot for the transducer in the boat.
Are kayak fish finders worth it?
Yes, it is a wise decision to buy a kayak fish finder. It will ease your fishing game, save time and energy, and track and find the fishing hot spots.
Conclusion
A kayak fish finder will significantly help you in your fishing endeavors. You can fish more with its help. There are several brands of the best kayak fish finders in the market, and you can buy anyone you like. But do keep into account the factors that we have mentioned above.
Enjoyed this kayak fish finder review? Then be sure to check out our other guide of the Best IR Illuminator.