Laptops have become indispensable in our modern lives. They are fast replacing the traditional desktops, thanks to their portability, advanced functions, and slim body. But as functional and convenient they are, they come with their own set of problems. Chief among those is overheating. One thing you may not know about the laptops is that they usually use the same powerful hardware as desktop computers. The more power it uses, the more heat the chip generates. In addition, laptops cannot withstand the same high temperatures as desktop computers. Without cooler device like Havit HV-F2056 cooling pad, laptops cannot handle excess heat as effectively as desktops and consequently slow down while you are working.
For laptops, heat dissipation becomes the most critical factor in the confrontation between performance and portability. Overheating has always been one of the biggest threats for laptops. Sometimes the laptop will be inexplicably crashed, usually caused by the system temperature is too high. To counter this issue laptop cooler come into the picture. A good laptop cooler can extend the life of the laptop. There are many laptop cooling pad options on the market, and Havit HV-F2056 cooling pad is a good choice. This cooling pad comes with many useful features and is easy to use. Let's start on this Havit HV-F2056 cooling pad review and analyze its performance.
Havit is well-known among technology enthusiasts for its high-quality PC accessories. The best-selling laptop cooler on the market is from Havit, and the Havit HV-F2056 cooling pad is an example. The overall weight of this F-2056 is only about 600 grams, making it one of the lightest laptop cooler on the market. Convenient and powerful while the air volume can reach 65 CFM, with 2 height-adjustable and additional USB ports and LED indicators, equipped with 3 impressive fans, greatly enhanced ease of use, the best thing is you can put it anywhere in your laptop bag.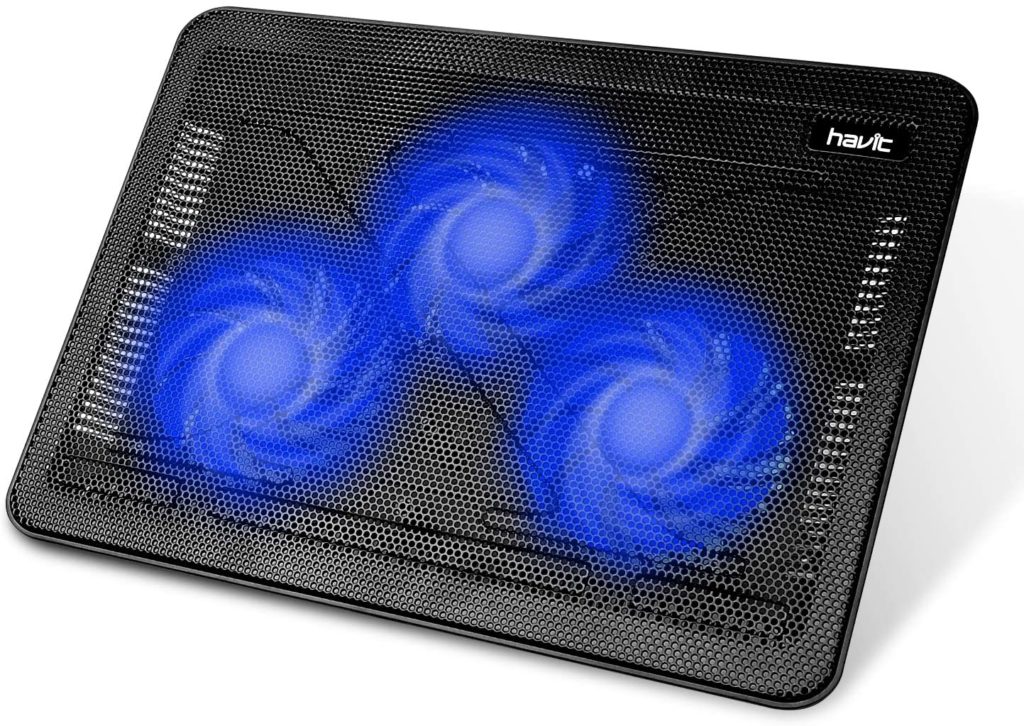 Features
Havit has become a reliable name in the field of computer and laptop accessories. It imports quality computer accessories from different Asian sources. It does not compromise on quality and always searches for a product that meets their standards and then adheres to it. Their team of technical experts ensures that. The following are some of the important features of the Havit HV-F2056 cooling pad.
Size: L=380mm, W=280mm, H=28mm (L=14.96", W=11.02", H=1.10")
Number of DC Fans: 3
DC Fans Dimensions: L=110mm, W=110mm, H=20mm (L=4.33", W=4.33", H=0.79")
Voltage power: 5V DC
Number of USB Ports: 2
Speed of fans: 1100 +/- 200RPM
Material: HIPS and metal mesh
Length of the USB cable: 60cm (23.62")
Airflow speed: 65 CFM
Total weight: 680G (1.5lb.)
Estimated Life/MTBF: 10,000 hours
Pros and Cons
Havit HV-F2056 Cooling Pad Review
Style And Design
The design of Havit HV-F2056 cooling pad fits 15.6 "– 17". Although Havit HV-F2056 is equipped with three powerful fans, its ultra-thin design makes it very portable, and this did not stop them from designing aggressive, powerful appearances.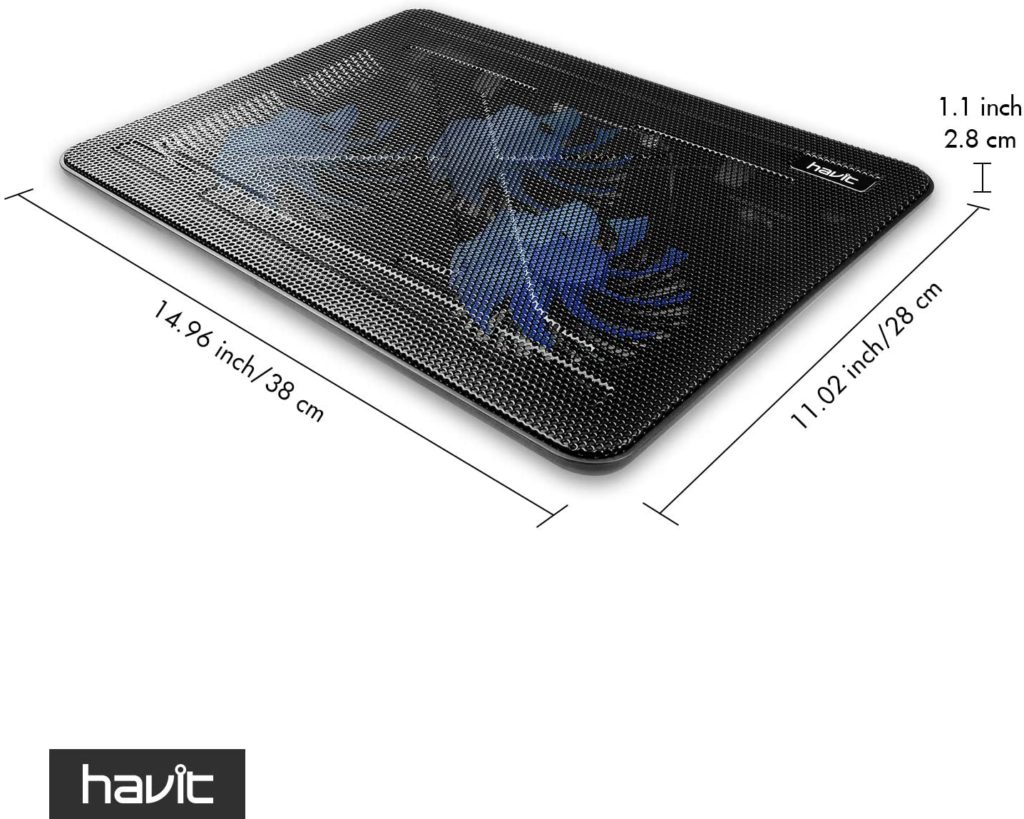 The Havit HV-F2056 is pretty to look at. It is smart, sleek, and slim in shape and design. Even the presence of three fans has not made it bulky. It is available in black color. The top is in a mesh style and embossed with a large X over it. The X probably denotes the 'X factor'. But we are not sure why it is there but it adds to the beauty of it.
Another interesting feature in it is that the fans will be bathed in blue LED lights as soon as you turn it on. You cannot turn off this feature and it looks kind of cool. The laptop covers the fans entirely and only some of the light manages to escape from the sides. When working in a dark room at night, this feature can be helpful in lighting up your room with just the right amount of light. When it is turned off, the Havit logo is the only visible thing on this cooling pad. The laptop fits comfortably and securely on the meshed top. It does not move or becomes unstable giving you uninterrupted viewing experience. The materials used in the construction of the laptop cooler are of very good quality giving a sturdy look and feel to it.
Cooling Mechanism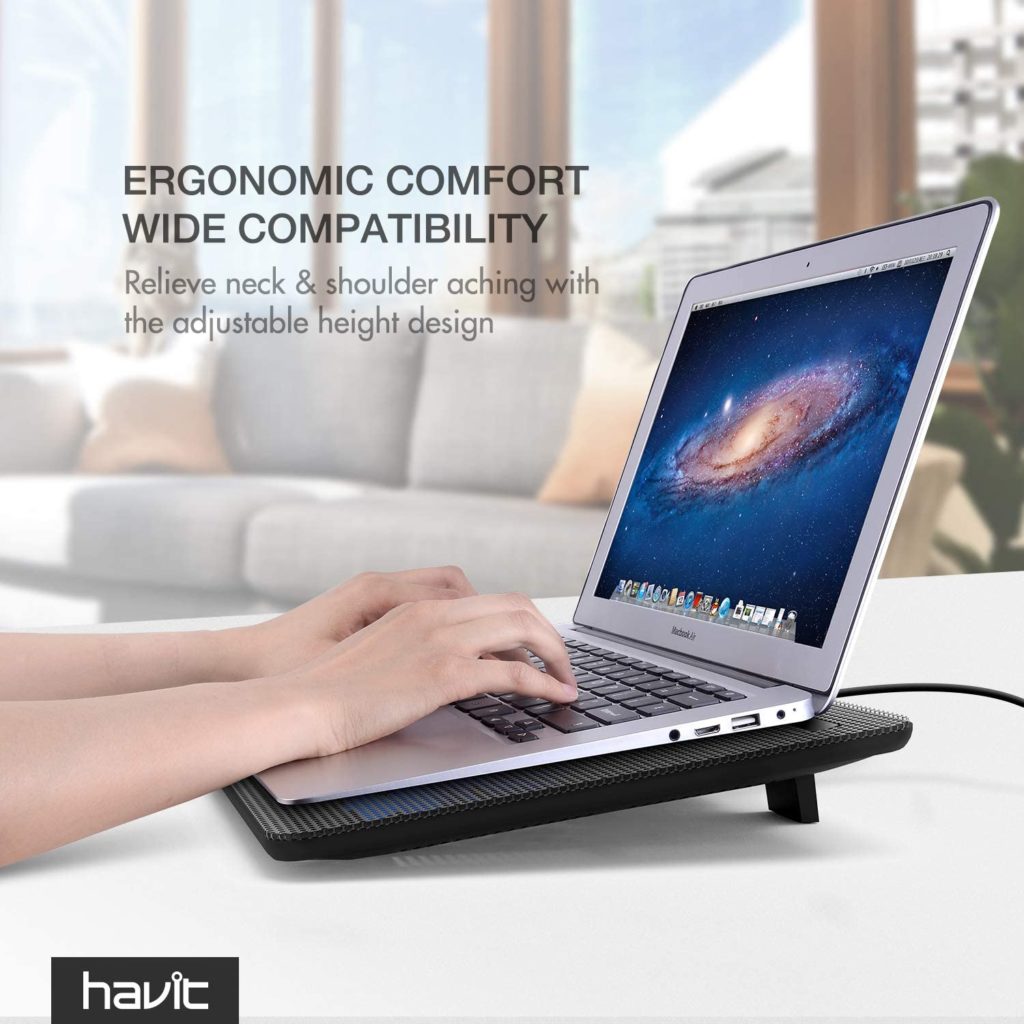 The presence of three large cooling fans makes sure that your laptop remains cool. It works on the same principle that cooling pads usually work on. The fans suck in cool air and then blow it back to the bottom of the laptop. Nowadays, many laptops have separate cooling vents for CPU and graphic chipsets. This keeps the laptop from overheating and the additional use of a cooling pad will cool things down further. The Havit HV-F2056 cooling pad has a reasonably strong airflow of 65 CPM. You can work on your laptop for long hours without bothering for any heating issues. It is important that there is some distance between the laptop cooler's fans and the surface where it is placed. Otherwise, the flow of air will be blocked, hampering the performance of the laptop cooler.
Quiet Comfort
Another laudable feature of this cooling pad is its almost noise-free operations. Mind you, it has three large fans, yet they operate in a very quiet manner. The low-pressure speed and the design of their blades make for a smooth and quiet operation. Most cooling pads have fans that make considerable noise so this is very commendable on part of engineers of this device.
Compatibility
It is compatible with all the models and brands of laptops and MAC books. It does not require any software installation so it is super easy to use. It supports laptops of 15.6 inches' standard going up to 17 inches.
Power Source
It derives its power from your laptop. It comes with a 12 inches long USB chord that you connect to any of the USB ports of your laptop and that's all it takes to charge the Havit HV-F2056 cooling pad. There is an extra USB port given in it which is very thoughtful of the makers. You get an additional charging port for the one you lose for charging your laptop cooler. But you cannot charge another device using your cooling pad's USB port as it is equivalent to a USB2.0.
The Ease of Ergonomics
The Havit HV-F2056 cooling pad is designed with ergonomics in mind. Your eyes will not feel tired while you are working at it. There are two height-adjustable options given at the bottom. You can set the viewing angle that suits you the most. The fold-out tabs raise the level of the screen easily and you won't have any trouble using it.
Warranty And Running Time
Havit provides a warranty of 1 year on this product. Its life referred to as Mean Team Before Failure (MTBF) is calculated at 10,000 hours. This is a very good life span and the even better news is they can last longer than that. This is just an estimate, if you take good care of it, you can enhance its life as well.
Highly Portable
It's lightweight, barely 1.6 lbs. and a thickness of just over an inch make this cooling pad very easy to carry around. The thin body and slim design are ideal to transport it. You can take it to your workplace and bring it back home, in case you need it. You can take it with you while you are traveling, it will easily slip into your laptop bag and you won't feel a thing carrying it around.
Price
Its price is another positive feature, you can get it at a very reasonable price. When you compare its benefits to its cost, you will agree that you are getting a very good deal.
Visible Working Status
The LED indicator light locating near the on/off switch and those coming with three fans allows you to easily know the working status of your cooling pad, especially at night.
Cool Your Laptop Whenever You Need It
With thin body and light weight design, the Havit HV-F2056 cooling pad allows you to take it wherever you go and cool your laptop anytime you want. Your laptop deserves better protection with an optimal cooling solution.
Shield Holders for Height Adjustment
With two shield holders behind the back, the Havit cooling pad provides you two height levels for better viewing and typing experience, what avoiding back and neck pain at the same time.
Plug and Play Convenience and Detachable USB Cable Design
Simply plug it into one of the USB ports of your laptop with an detachable USB 2.0 Type A Male to Type A Male cable, then you are free to go. (Tips: the USB 2.0 Type A Male to Type A Male cable can be bought from Havit shop and replaced separately in case that the original cable wore out, so that you don't have to replace the whole cooling pad).
Conclusion
Overall, HAVIT laptop cooling pad is a great cooling pad that is quiet, well built, sturdy, doesn't slide around, and cools air effectively. It is visually appealing as well as being a well-made product that is bound to satisfy whoever uses it and will ensure their approval. As for price, it's a great value for the quality and thinness.
FAQs When Picking Havit HV-F2056 Cooling Pad
What is a laptop cooler pad and how does it work?
A laptop cooler pad is a piece of hardware accessory used to keep your laptops cool. It is placed beneath your laptop. It regulates and reduces the heat of your laptop by diffusing it using its fans. While it is normal for laptops to become heated, overheating is not desirable. It slows down your system and hinders its smooth functioning.
A laptop cooler has two types or you can say it uses two ways to reduce the heat of your laptop, active cooling and passive cooling.
Active cooling. Active cooling is a very popular and most widely used method of cooling in a cooling pad. It makes use of multiple fans in its body that transfer hot air away from your laptop.
Passive cooling. A passive cooling laptop pad absorbs heat from the laptop and then let it off in the open. It is a good conductor of heat that allows it to consume the excess heat and then release it in the air.
How does Havit HV-F2056 cooling pad works?
HAVIT HV-F2056 works by blowing cold breeze on the entire underside of the laptop. The fans sucks the cold air from the bottom of the cooling pad and blows upward on the bottom of the laptop. Therefore there should be a gap between cooling pad bottom and surface because if the cooling pad is in contact with surface then air won't flow. Havit HV-F2056 cooling pad is very simple to use. No matter what the environment, pay attention to leaving all the air outlets of the cooling fans to ensure that the air can carry heat and spread out quickly.
How its powered?
It comes with a USB cord which is about 12 inches longer. You connect that cord in any of your laptop's USB port. The cooling pad also have an extra USB port so that you can use it in place of the one that cooling mat uses.
Does it work with Mac or compatible with my laptop model?
Havit HV-F2056 cooling pad doesn't need any software therefore they are compatible with all laptop models and brands. The only thing to consider is the size of the laptop.
Does it have power button to turn it On/Off?
It doesn't have an On/Of switch because the device only works when you are using the laptop thus saving your laptop battery. If your laptop is off or in sleep mode, the fans will stop automatically. When you start your laptop, the fans will start too.
How much sound does the fans made?
A great feature about this laptop cooler is its fans. Although it has 3 fans however it hardly makes any noise. Its almost whisper quite and you will hardly notice any sound coming from the fans.
Do You Really Need A Laptop Cooling Pad?
Every laptop has an in-built heat diffusion and cooling off mechanism with maximum airflow. However, despite all the research, resources, and technical expertise at the disposal of laptop manufacturing companies, the laptops still get heat issues. Admittedly, this problem is more rampant in cheap and lesser-known laptops than their more renowned and expensive counterparts. But the pricey models are not immune from it either, especially when they become old.
As we stuff more silicon chips in our laptops to make them faster and flashier the heating problem becomes more pronounced. It can manifest itself by slowing down your laptop, becoming uncomfortably hot in a short span of time, responding poorly while multitasking, and experiencing a sudden halt in all operations, etc. In some laptops, heating has caused disruption or even disconnection in Wi-Fi service, poor video playback quality, or an unexplained slowdown in services. In all these cases, there could be other reasons at play too but often getting a laptop cooling pad has helped the situation. So, we can conclude that having a cooling pad not only enhances the performance of your laptop but it also increases its life.
What Is The Purpose Of A Cooling Pad?
A cooling pad is a useful accessory that benefits your laptop in many ways. They enhance the performance of your laptops CPU and GPU which generate the most heat and are vital to optimum laptop performance.
Usually the internal laptop cooling fan or cooling system is sufficient to keep your laptop or notebook temperature under control however during heavy usage, your laptop requires more than that to cool it down. Similarly gaming notebooks tends to overheat quickly and without cooling pads, they start to show performance issues like lagging or system hanging.
Cooling pads keep your laptop at an ideal temperature regardless of the temperature in the environment it has been placed in. If your surrounding temperature is high, it will cause your laptop to heat up faster.
Cooling pads also help in countering the issue of discomfort of the user. An overheated laptop can cause the user to experience soreness in their limbs because the lap is not an ideal place to position your laptop. Your lap may also block the air vents of the laptop, which will prevent airflow and cause rapid overheating.
Why Laptop Gets Overheated?
The daily use of the computer will generate heat, but the heat will not be very large. If you open a large game for a long time, the computer will be very hot, due to the hardware working for a long time, and generate heat. The smaller the size of the computer, the higher the degree of hardware integration, the greater the heat generation.
Another situation is that your computer has not been cleaned for a long time, which causes the fan to rotate slowly and the heat dissipation of the machine itself is blocked, so it will make itself hot and generate noise.
How To Deal With Laptop Overheating?
Dust removal. If laptop is used for a long time, there will inevitably be a lot of dust and lint inside the laptop, which will also affect the air circulation in the laptop. Therefore, when the noise of the laptop cooling fan is getting louder, it is necessary to clean up the dust inside the laptop and the fan in time. This not only helps heat dissipation, but also reduces the noise of the laptop.
Ensure that the heat dissipation opening is smooth. Laptop cooling mainly depends on the heat sink and fan inside the laptop. Most notebooks have an air inlet at the bottom or side, and an air outlet at the place where the fan is installed. This forms an air circulation to cool the laptop. Do not allow other objects to affect the entry and extraction of air. You can pad your laptop at home, which will help the laptop to dissipate heat.
Control the use time. Laptops should not be used all day and all night, and laptops have lower heat dissipation efficiency. When using it for more than 8 hours, let the computer rest. If you don't want to shut down, you can let the laptop sleep for a while.
Use laptop cooler. The heat sink of the laptop has a certain effect on reducing the temperature of the laptop. It is recommended to choose a heat sink with a larger fan, so that the heat dissipation effect is better.
Pay attention to the environment where the laptop is used. Do not use the laptop on a soft bed, quilt, leg, or cushion. Using the cushion on the bottom of the laptop can easily cause the temperature of the laptop to rise suddenly!
Avoid playing 3D games for a long time. Playing games on a notebook will increase the usage of the CPU and graphics card, causing the temperature of the CPU and graphics card to be very high. At this time, the heat sink will run at a high speed, but it still fails to meet the cooling requirements for too long. In this case, the laptop will overheat, so avoid playing long games for too long.
Heat Dissipation Principle of Laptop
Heat dissipation is actually a process of heat transfer, including conduction, convection, and radiation. Generally, the air cooling technology is mainly used in desktop computers. This includes CPU, graphics card, power supply and chassis cooling fans. In laptops, air cooling is still the main cooling method. Most of the cooling methods are: fan + heat pipe + Combination of heat sink. Many laptops on the market use aluminum-magnesium alloy shells, which also play a role in heat dissipation. Everyone knows that there are generally cooling vents on the bottom of the laptop, or inhalation or blowing out, which are very important for the cooling of the laptop. Laptops are also designed with heat dissipation in mind, and they often raise the body with feet, but when the temperature is too high, it seems more reluctant.
Final Thoughts
We find that the Havit HV-F2056 cooling pad is a near perfect laptop cooler. It has some really great features and it is pretty affordable too. That makes it a complete value for money package. Havit has lived up to its name in providing quality computer accessories to the consumers at very reasonable prices. We strongly recommend this laptop cooler.
Enjoyed this Havit HV-F2056 cooling pad review? Then be sure to check out our other guide of the best gaming laptop.