What is the Best Flip Phone for Seniors?
Smartphones may be the norm nowadays, but when it comes to seniors, it may not be the best choice. For the generation that is not as familiar with technology, the main requirement is a phone that is easy to use, compact, and 'just works'. If you are trying to find the best flip phone for seniors in 2021, then you have come to the right place.
A flip phone is ideal for seniors due to a number of reasons. These basic phones are compact and easy to use, packed with all the important features that they can ask for. So which is the best flip phone for seniors in 2021? What features can you expect in the top senior flip phones in 2021? These are exactly the questions that you will find the answers for as you go through our reviews.
List of The Best Flip Phone for Seniors in 2021
What Should Seniors Look For In A Senior Flip Phone?
1. Big button.
If the senior flip phone keys are too small, it is easy to make mistakes, and the flip phones with big keys have a great user experience. It would be better if the flip phone is equipped with three-dimensional big keys, even if seniors have poor eyesight, they can still master the keys by touch.
2. One-touch dial, SOS button.
It is a bit difficult for people of this age to find a name through the address book, and it is best to dial with one key. One-touch dialing is very important and can save lives at critical moments. An old woman in her hometown who lived alone in her hometown fell down and fractured. It was this function of the elderly mobile phone that allowed her to contact her family in time and received effective treatment. Otherwise, the result would be terrible. After this incident most of the elderly have bought mobile phones.
3. Loud volume.
The hearing loss of the elderly is severe, and the volume of the senior flip phone should be loud. It is best to have a phone with speaker. Many elderly people in their 70s and 80s have very poor hearing. They need a sound of 60 or more decibels to hear clearly. It is difficult for ordinary speakers to meet the requirements, so a loud speaker is essential.
4. Flashlight
For the elderly living in the countryside, the flashlight is also a very important feature. When you walk around at night, use a flashlight to make the road safer. There are two types of flashlights for the elderly on the market. One is a flashlight with a camera flash as the light source, which is located behind the screen of cell phone and has normal brightness and cannot illuminate the road, the other is a strong flashlight, which is an independent LED light. The strong light is installed on the top of the phone and the effect is very good.
5. Large battery, low energy consumption
Seniors in their 70s and 80s tend to forget things. It's best to charge your mobile phone for a week or longer. If your mobile phone is out of power at critical moments, it is very dangerous for the elderly.
6. Video call
The elderly also need video calls, but the operation should not be complicated, and it is best to be the same as answering a phone call. This has a requirement for mobile phones, which must have a front camera. However, most of the senior phones currently on the market that support video calls do not have a front camera, and those senior phones with this function actually come with android systems, which consume a lot of power and have a small screen. At present, mobile phones with long battery life and video call function are relatively rare.
Check out the thorough reviews of the best flip phone for seniors in 2021 below.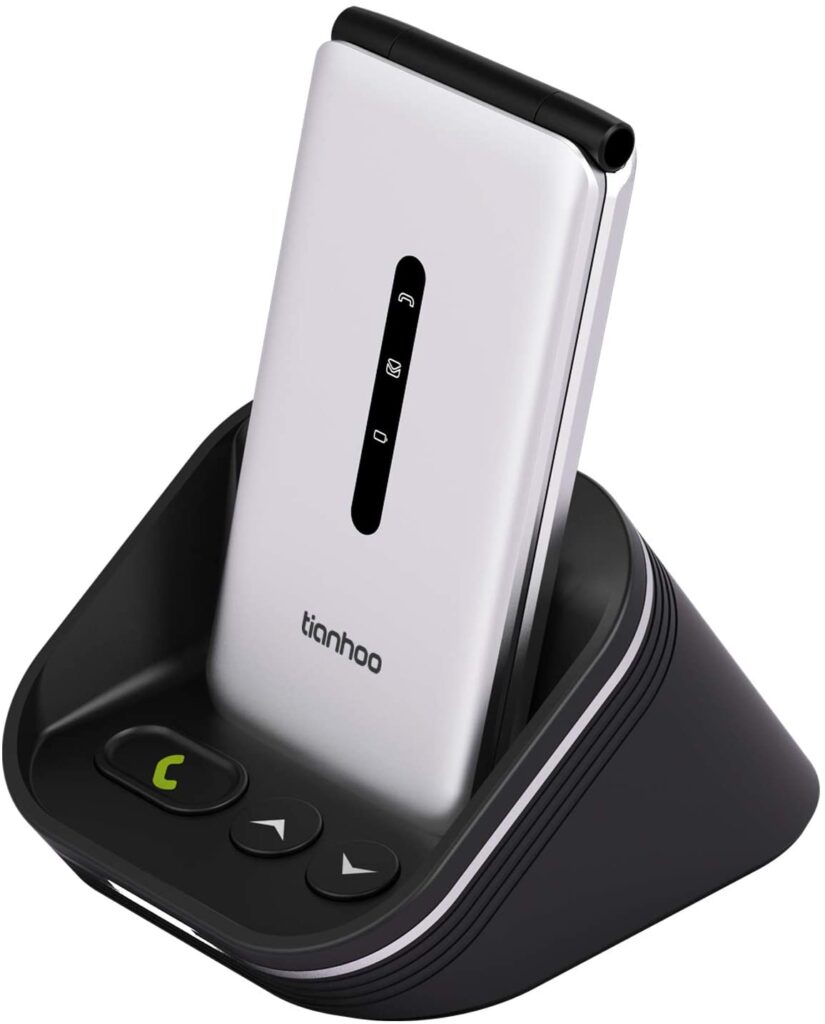 This senior flip phone is designed for the elderly. The classic appearance design is ergonomic, and the large buttons and arcs also provide users with a perfect experience. The operating system of this flip phone is simple to use, and the large icon mode of the user interface looks really concise. This senior flip phone also has powerful features, such as 4G dual sim card and unlocking, in addition to being equipped with Wifi, BT, GPS, FM radio, the top of flip phone is also equipped with bright LED lights, more surprisingly, the phone includes a high quality charging base speaker. In addition, the 2000mAh large battery is super durable, power consumption is very low, it can stand by for 10 days and voice calls for 11 hours. The flip phone has a built-in SOS button, and seniors can quickly make calls when needed, send messages and location information to preset contacts (you can also turn off this function). It also has built-in whatsapp and skype to keep users in touch at any time. These functions are super easy to use for seniors.
Features of Unlocked Flip Phone For Seniors
Automatically connect to Bluetooth.
Senior phone for elderly with BT speaker charging cradle. Automatically connect to Bluetooth. Built-in Loud speaker and high-sensitivity microphone. It is high-quality speakerphone.
5MP+2MP Camera & 3.5inch Display
Paired with Bluetooth technology, you will be able to take good photos and share with friends and family.You can also share these photos via the built-in whatapp and skype. A generous 3.5″ display offer clear view that senior easily see.
Loud speaker
The flip phone brings with 5 Watt speaker for a truly immersive audio experience. Sweet highs, smooth alto mids and deep bass are perfect for users to enjoy music.
Ergonmic design
The classic design is ergonomic. Designed for seniors and children. The large buttons and rubber painting provide a perfect feel.
2000mAh Big Battery
Bringing up to 10 days of standby time from a single charge with no background apps running.
SOS Button
This 4G flip phone is more than a phone, it is a life giver when emergencies arise. With a built in SOS button user can easily gain access to emergency contacts at the press of a button.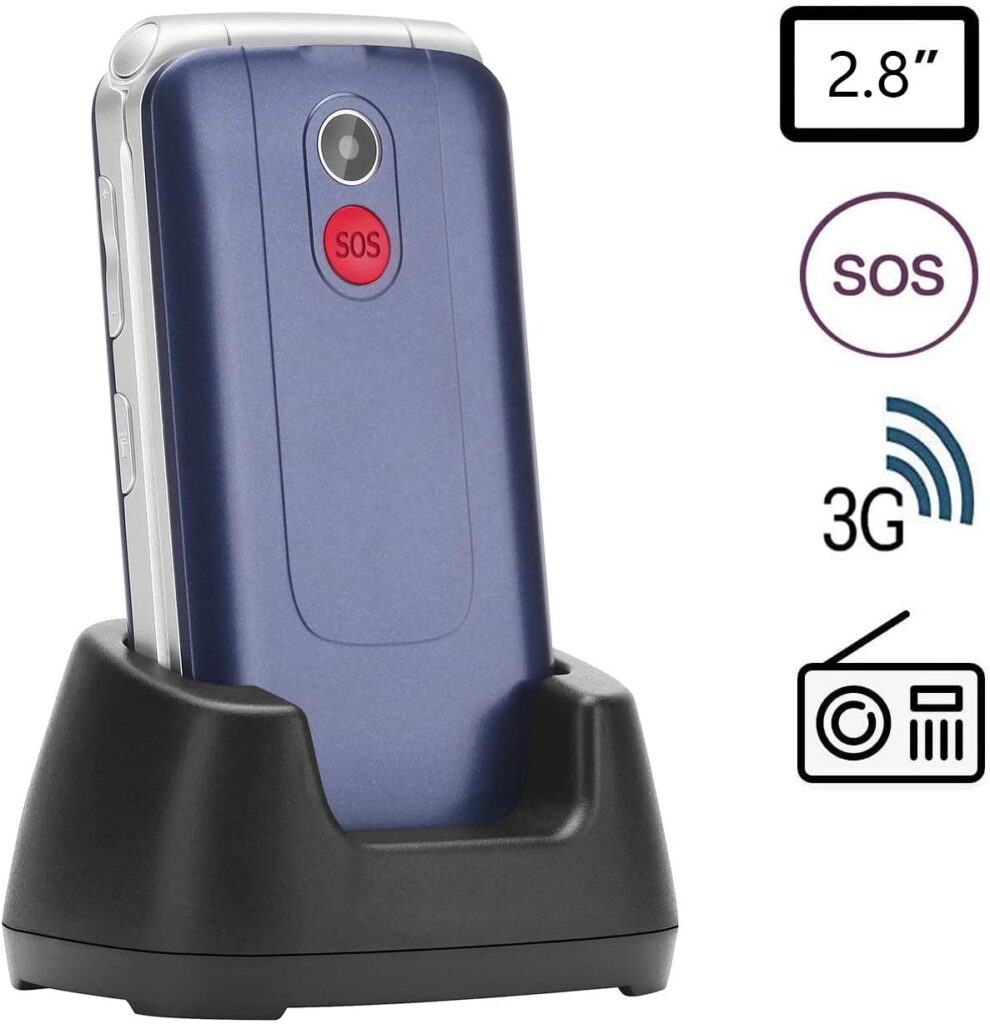 This flip phone from Uleway is designed for accessibility and easy use by Seniors. It is a 3G-enabled cellphone that comes with a 2.8-inch colored LCD screen. The buttons are designed to be legible and are big enough for comfortable usage. It is compatible with all 3G and 2G GSM sim cards. Being an unlocked cellphone, you have the freedom to use it with any carrier. It has support for Bluetooth and FM radio. This phone has a 3.5mm audio jack, camera, and flashlight.
The 1200mAh battery provides over 300 minutes of calling time and 200 hours of standby. Flip it open to answer calls, and use its intuitive and simple OS for other functions. The large SOS button allows for a quick dispatch of help information along with automatically contacting 5 emergency contacts. This flip cellphone sports dual-sim cards (1 active, 1 standby) and also supports micro-SD memory cards up to 16GB.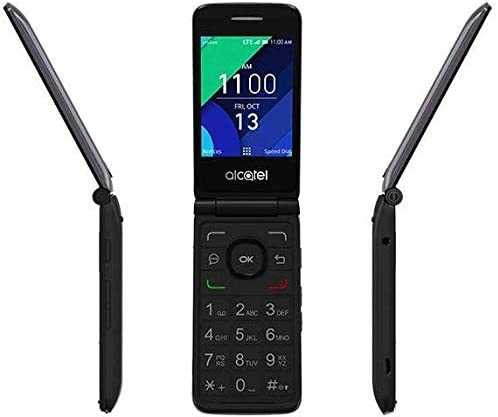 The Quickflip flip phone from Alcatel supports 4G LTE connectivity and works with any Nano SIM Card. It is unlocked so you can choose any service provider. It has HD voice capability thus enabling clear voice during calls. Its 1350mAh battery provides 8 hours of battery life while streaming on 4G. The flip design not only adds to its style but also helps protect the screen and reduce battery drain.
The external display on the flip is 1.44" while the internal screen is 2.8". The large keypad and display make it convenient to use. This phone only supports a single nano-SIM card. It has 512MB of internal memory expandable up to 1GB using a micro-SD card. This phone also supports WiFi connectivity for seamless web-browsing.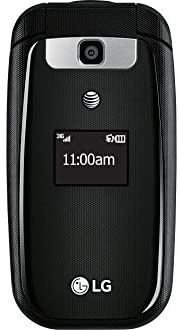 If you are looking for a basic flip phone with 3G connectivity, then the B470 from LG may be worth your money. This flip-phone comes with a 2.2" display along with a 0.98" display on the outside for viewing important details without flipping it open. It uses enhanced audio mode to provide a clearer and better-calling experience. The phone has a 1.3Mp camera as well.
It supports 3G connectivity and is carrier locked to AT&T. You can use any AT&T prepaid sim-card with this flip-phone. It does not have expandable memory. This basic phone services the purpose without introducing seniors to any additional hassles.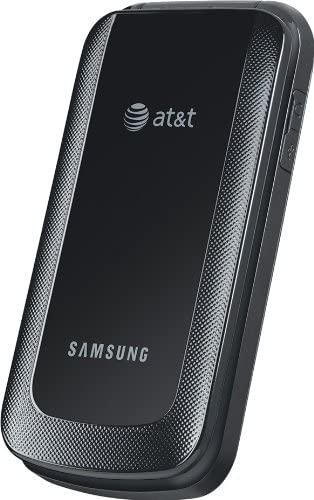 The A157V is a basic 'Go-Phone' from Samsung that comes with a 1.77-inch display. This is a basic phone that comes carrier-locked to AT&T, but that can be easily unlocked to use with any service provider of your choice. This flip-phone has an 800mAh battery that provides a 5-hour talk time. It comes with 256MB of internal storage, and this is non-expandable.
The phone supports both CDMA and GSM connections. It uses a micro-USB cable for charging. The OS is designed to be simple and provide easy usage. This phone works on regular size SIM Cards (not micro or nano-sim) and does not support dual-SIM.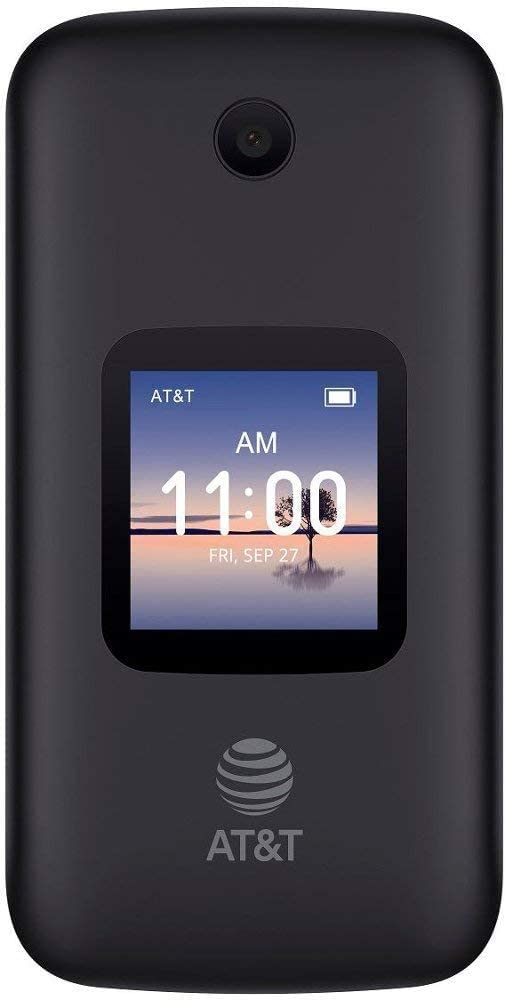 The 4052R from Alcatel is a 4G-enabled flip-phone that comes with a range of useful features for seniors. It is unlocked but does not work with Sprint or Verizon- so you can choose any other service provider to get a SIM from. It is powered by a 1350mAh battery, providing over 6 hours of 4G streaming or talk time. It also supports Bluetooth and WiFi connectivity.
The buttons and screen size are of sufficient size to allow convenient usage. The phone has a rear-facing camera and 4GB of internal memory, which can be expanded using a micro-SD card. It also has a 3.5mm headphone jack. The flip phone has a single nano-slim slot.

Doro 7050 is a comfortable flip 4G LTE mobile phone designed to provide a comfortable user experience for seniors who have difficulty hearing, reading or handling conventional mobile phones on the market.
Doro is a leading company that produces easy-to-use mobile phones for seniors. This Doro phone is made by Doro, a leader in the senior phone market, designed to make it easy to use for seniors and anyone who is struggling with technology. Doro Phone 7050 includes features that can provide assistance to the elderly in emergency situations, such as the emergency SOS button, which can be easily activated for assistance. Let's take a look at the review of the Doro 7050 flip phone to show you the phone's features, specifications, pros and cons.
Doro flip phone 7050 works with fast 4G LTE network. This Doro flip phone has large and uniform keyboard keys, and a clear and easy-to-read color screen that can display larger text and numbers, which is very useful for seniors who have trouble reading small fonts. Doro 7050 has a loudspeaker that can produce clear audio. For seniors with hearing impairment, the phone is compatible with hearing aids.
This Doro flip phone supports bluetooth, and now you can make and receive calls hands-free. The easy-to-use 2-megapixel camera with flash allows you to take and send photos and video messages. The phone also has an external display for displaying notifications, a music player, a video player, and a flashlight.
Doro 7050 Safety Features
Since this Doro flip phone is geared towards seniors, it is designed to provide safety as well. The first feature that can help seniors improve safety is the emergency call button, which can be programmed to automatically call family members or close friends in an emergency. The second feature is the speed dial button, which allows you to easily dial the two most called numbers.
Doro 7050 Key Features
Backlit keyboard.
Well-spaced large buttons.
Colorful display with big text and numbers.
Enhanced emergency SOS button.
Support 3G, 4G LTE.
Support GPS, Bluetooth version 4.1.
Supports external Micro SD card.
Camera shortcut keys.
1350mAh Li-ion battery with up to 11 hours of talk time battery life.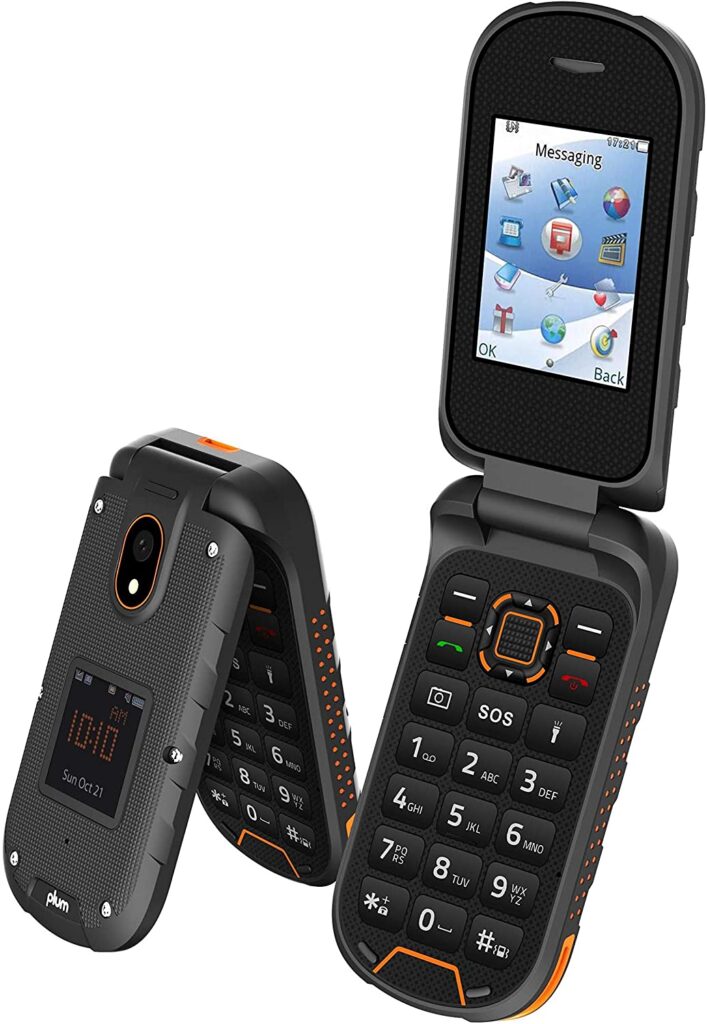 Plum RAM 8 is a 8th generation of Rugged phone from Plum mobile. It is 4G unlocked and will work with any GSM service provider like AT&T, T-Mobile and all prepaid services. It is a IP68 certified water and shock proof military grade so you can count on it to be there when you need it. It has a 5MP camera and a built-in wireless radio that can play with or with out hands free. It has a loud speaker for your hands free calls or listening to music on the go. All in all we think that there is no better rugged Flip phone for quality, performance and overall value then Plum Ram 8.
Plum Ram 8 is an amazing choice within similar mobile phones category with 64 MB along with 128MB RAM storage, microSD slot builtin storage with AddOn power of 5MP Excellent Camera and 2.4″ Super Display Size Screen.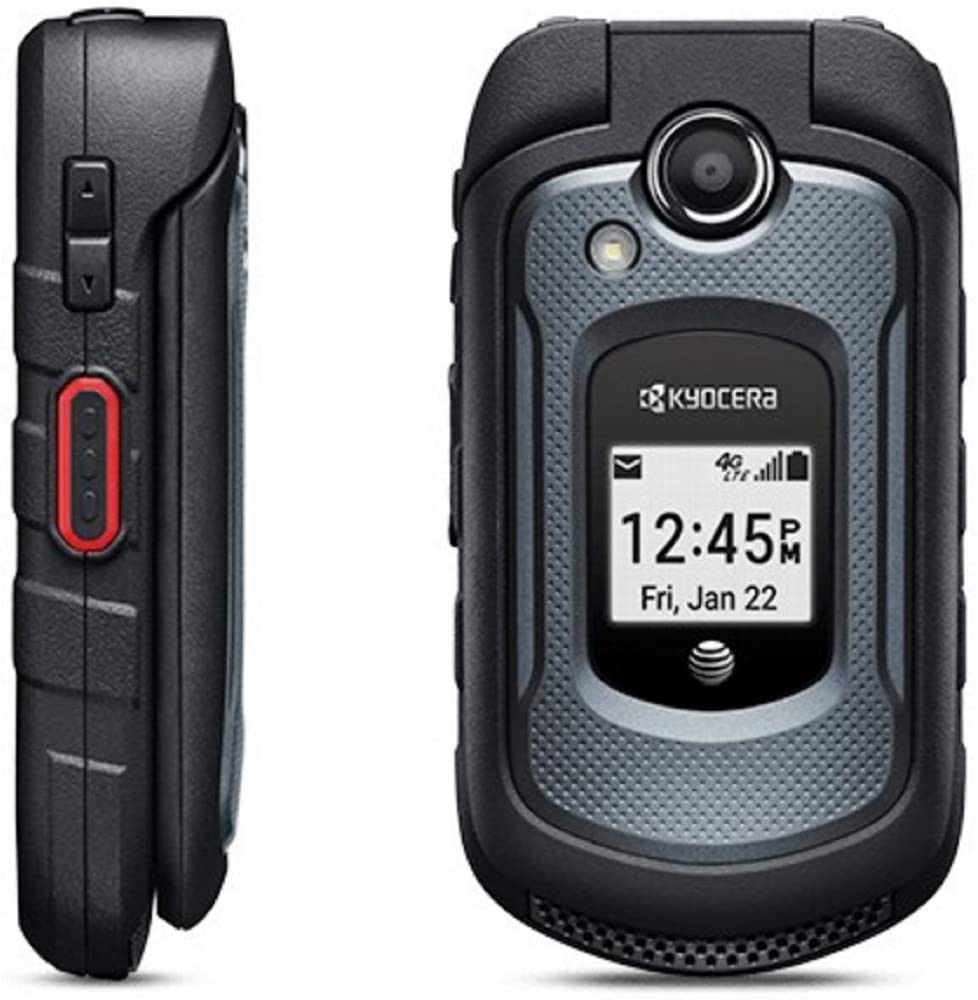 While technically a rugged phone, it features a few options that also make it ideal for audio lovers.
The rugged clamshell design will take a few drops or dings if you get too into your music, the speaker gets good and loud while remaining clear, and there's 8GB of internal storage — a real rarity in the flip phone market. If you toss in a 32GB microSD card as well, you could store hours of podcasts or music without worry.
There's also a 2.4-inch display to make reading texts or checking call notifications easy and 4G LTE support should you need to look up directions or check movie times using the basic web browser.
All in all, the Kyocera DuraXE is an impressive cell phone. Its not a smartphone but that isn't the intention. But that doesn't mean it lacks for any features which will be useful. It is for people who work in tough environment which, ordinarily, would kill phones within days or weeks. It's also an alternative for those who need their phones to be just that bit tougher.
Verdict
If you're looking for all of the media flexibility, connectivity, and communications options of a smartphone without the actual "smarts" this one is a great pick.
If you're looking for a simple flip phone for older adults, the Easyfone Prime A1 offers some ideal features.
The large keypad makes it easy to dial numbers while the 2.4-inch display and adjustable font sizes make it easy to see notifications and read text messages. There's even a 1.4-inch notification display so you can see what alerts are coming in without having to open the phone.
There's a programmable SOS button on the rear of the phone and two quick dial buttons above the keypad for added peace of mind and ease of use.
For seniors, the phone is hearing aid compatible and reviews indicate that the speakerphone is also very loud. The 2MP rear camera won't win any photography contests, but it's there for quick snapshots or reminders. If you're worried about losing cords or damaging ports, the charging cradle makes the phone easy to charge as well.
Bottom Line
The Easyfone Prime A1 features a wealth of usability options while providing you freedom to choose your own cell phone service provider. A rarity in the seniors phone market.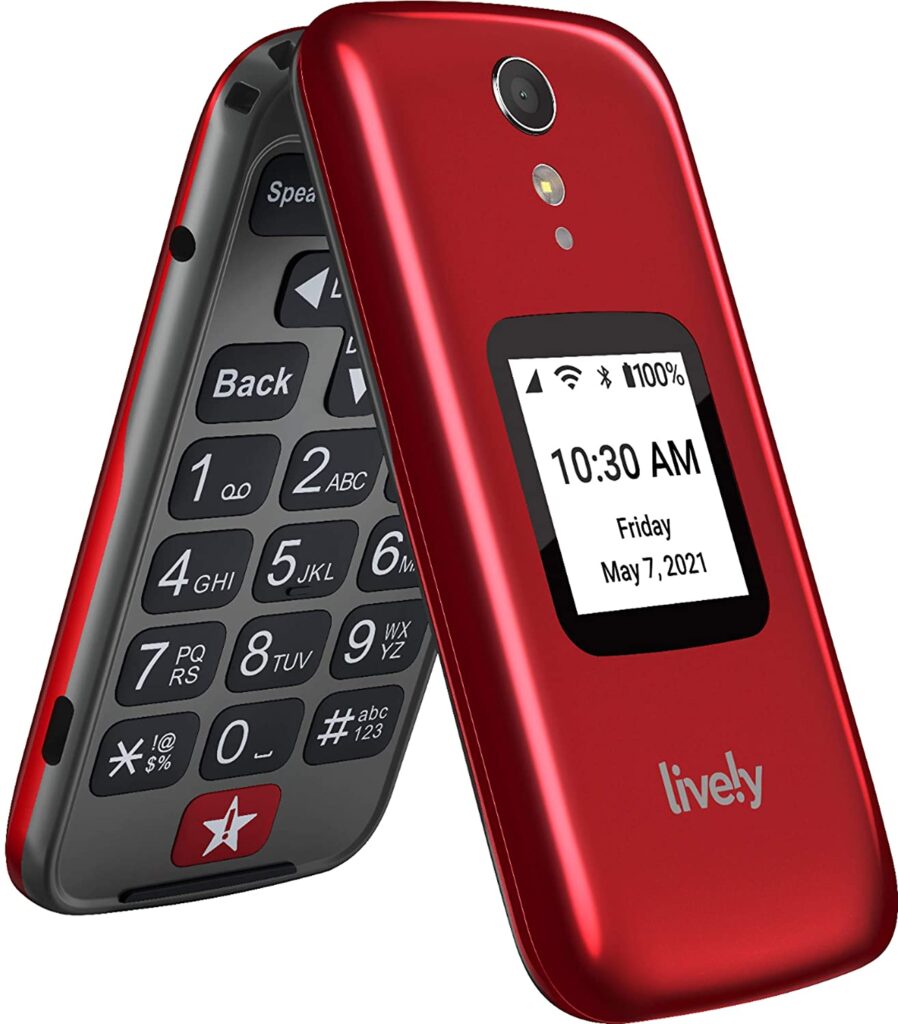 The Jitterbug Flip Phone has been designed just for seniors. It has large buttons with legible numbers to make it easier to dial any numbers. It uses simple 'YES' and 'NO' buttons to accept and reject calls. The speakerphone is powered by a good-quality speaker that provides clear audio and loud output. This phone runs on the virtual-network GreatCall, which uses Verizon wireless service. You can pick any of the GreatCall offered plans to use with this phone.
The phone has a simple and easy to use the menu. It has a special reading magnifier and an LED flashlight to make reading easier in dimly lit settings. The phone is integrated with the cab-integrator app Lyft, and you can set it so that just pressing the '0' key will call a cab for you.
Why Do Seniors Need A Cell Phone?
Reliable mobile phones provide users with numerous benefits during the golden age. They allow the elderly to keep in touch with friends and family, get help in an emergency, get some entertainment, capture important moments through photos, and so on. Especially in 2020, when we are facing a global pandemic, timely contact with the elderly becomes more important than ever. To establish contact with them and avoid isolation, mobile phones can help them do this.
Do Seniors Want A Basic Phone or A Smartphone?
The answer to this question will depend on the level of technology and advanced features that elderly are comfortable with. Let me talk about the principles of choose first. If the elderly can learn well, they can buy smart phones. Because the smartphone has all the latest features like mobile apps, video chatting, internet access, GPS tracking, and a touchscreen.
Users can use their smart phones to watch videos, watch news, and make video calls with their grandchildren. The elderly are more likely to feel lonely, and having a smart phone can improve the quality of life of the elderly to some extent. And, although the elderly slower to learn new things as they get older, they will use it once they have learned it. Nowadays, smart phones are not expensive. You can buy smart phones suitable for the elderly within 80 dollars. The performance is sufficient for the elderly. Therefore, if the elderly are not too old to learn, try to buy a smart phone.
If you're worried that a cell phone will be too confusing or have lots of complicated bells and whistles, a basic phone will be your best bet. Basic options like flip phones allow you to send texts, make calls, and take pictures, and you can add a few extra features if you like. According to my experience, grandparents over 70 years old generally buy feature phones.
The Features of The Best Cell Phone For Seniors in 2021
1. Big screen, big font, big volume, voice broadcast
Due to the visual and auditory inconvenience, the elderly have some special requirements for screen fonts, keystrokes, and sounds. The word "big" is the first choice. Voice broadcast is also a function that the elderly need.
2. SOS one-key help feature
Now, most of the elderly are at home alone. Then the SOS one-key help function comes in handy. SOS is a one-key distress function. This function requires the mobile phone to be pre-set with distress calls and distress messages. When an elderly person encounters an emergency, just press the SOS button, and the mobile phone will automatically send a text message to the preset number and make a call at the same time. Generally, a mobile phone can be set with 5 distress numbers, and the mobile phone will make calls in order until the call is answered.
3. Positioning function
There are many times when elderly people can't remember the route when going out and get lost easily. The location function of the mobile phone allows their family members to check the location information of the elderly and the battery status of the mobile phone through the Internet. A mobile phone with positioning function can also automatically turn on positioning when calling for help with one-click, and send the real-time geographic location of the elderly to the family on the help number, so that relatives can know the location of the elderly. This function is very suitable for the elderly who are often lost and easily lost.
4. Remote control
There are some elderly people who don't like to bring their own mobile phones or use them. They are stubborn and conservative. They find it troublesome to use a mobile phone, do not like to bring their own mobile phone, and do not want to learn how to use a mobile phone. Then, the remote control function provides convenience for this type of elderly.
The mobile phone can automatically call back, answer the call, or switch the phone after receiving a specific instruction. In this way, the elderly can no longer have to worry about holding a mobile phone, and can also relieve their family members.
5. Daily essential functions
Radios and flashlights are commonly used functions in daily life, and MP3, note reminders and other functions are leisure functions for seniors to use mobile phones. According to the main features of the mobile phones for the elderly, choose a mobile phone suitable for their use.
How To Pick The Best Flip Phone for Seniors in 2021
On your search for the best flip phone for seniors in 2021, it can be confusing when you think about what features are important and what can be ignored. To help you with just that, we have compiled a list of the most important considerations for this search.
Screen and Keypad Size
Convenience and ease of use are the most important factors while searching for the best flip phone for seniors 2021. Choose a phone that has large buttons with sufficient space between them, and a screen-size that makes it easy for seniors to read without straining their eyes. Having an SOS button and speed dials is also important here.
Connectivity Options
Unless internet connectivity and browsing are required, you can go with a phone that has 3G connectivity. However, if internet browsing is needed, then 4G/LTE and Wi-Fi support must be preferred.
Media Playback, FM/Radio
Will they be using the phone to listen to music or the radio? If yes, then choose a phone that has a 3.5mm jack and support for media as well as FM/radio.
Battery life
A phone that has a 6-hour talk time will easily get through 1 or even 2 days without charging. This assures convenience as seniors can spend less time charging the phone and more time using it.
Dual-SIM and Expandable Memory
Do you plan to add 2 SIM cards to the phone? If yes, having dual-SIM support will be required. In the case of phones with media support, having expandable memory can enable adding more songs and media to it. Most flip-phones have internal memory limited to 1GB or even less, so expandable memory can help you store more in it. Micro-SD cards are the standard for expandable memory in all phones nowadays.
Frequently Asked Questions
What is the difference between an 'Unlocked' and a 'Carrier-Locked' phone?
An unlocked phone can be used with any service provider/ carrier, such as Verizon, AT&T, Sprint, as long as the phone supports the GSM/CDMA bands they operate on. On the other hand, a carrier-locked phone can only work on the specific-carrier it is bundled with. For instance, a phone locked with AT&T will only work with AT&T SIM cards unless the carrier unlocks it.
Is the volume on flip phones loud enough for seniors who have hearing problem?
Most flip phones including all models reviewed above have speakerphone functionality with sufficiently loud volume. This makes it easy to use for seniors who have trouble with hearing.
What safety features can I get in a flip phone for seniors?
One of the features that you must consider is a dedicated SOS button and speed-dial functionality. This allows seniors to quickly call their loved ones or reach out in case they need some assistance. Speed-dial functionality doubles up as a convenient way to call people that you frequently talk to without digging in contacts to search for their number.
What type of chargers do flip phones use?
Most flip phones now come with a standard micro-USB port, giving you the flexibility of using your existing micro-USB cables for charging the phone. You will also get a charger and adapter with the phone.
How much battery life is ideal?
In most cases, a battery life with about 8 hours of talk time will easily get you through 1.5-2 days without charging. In feature phones, it may be slightly longer as there are fewer processes and they consume less power.
Which Seniors should Not Use Cell Phones For Long Time
1. Severe neurasthenia: long-term use of mobile phones may cause insomnia, forgetfulness, dreaminess, dizziness, headaches, irritability, etc., thereby aggravating the condition.
2. Cataract patients: Long-term exposure to radiation from mobile phones can increase the temperature of the eye lens and cause edema, which will aggravate the condition of cataract patients.
3. Heart disease patients: Experiments have proved that the electromagnetic waves of mobile phones can make the ECG display abnormal. People who use pacemakers should also be aware that mobile phones may affect the work of pacemakers. For those with a heart monitor, using a mobile phone may affect the monitoring results and cause misdiagnosis.
4. Patients with hyperthyroidism and diabetes: Because hyperthyroidism and diabetes are endocrine disorders, and the electromagnetic waves emitted by mobile phones may cause endocrine disorders, it is best not for such patients.
5. Patients with epilepsy: The electromagnetic waves generated around the brain of mobile phone users are 4-6 times that of space electromagnetic waves, which can induce epileptic seizures.
Final thoughts
Finding the best flip phone for seniors in 2021 may not be an easy task, especially when you have a market flooded with smartphones but not enough basic phones. However, the ones we reviewed above have all that you could ask for in a basic flip phone and should serve the purpose well for seniors, go through the most important features and compare to find one that will be easy to use and provide convenience to seniors.
List of The Best Flip Phone for Seniors in 2021
Enjoyed this? Then be sure to check out our other guide of Best Oil Filled Space Heater.