Anker PowerConf S500 Speakerphone
Pros
Lightweight yet sturdy build.
Attractive modern look with touch buttons.
Excellent audio quality and mic sensitivity.
Smooth volume control response.
Can pair up to two devices simultaneously so it is flawless to switch between phone and computer.
Easy to use by plug and play interface through USB-C or Bluetooth or wirelessly.
Cons
Cannot connect and activate multiple devices at the same time.
Expensive than other models.
In simple terms, a speakerphone is a telephone with a microphone and loudspeaker that no need to hold it in your hands. With the help of a built-in loudspeaker and microphone, multiple persons in a conference can communicate without the need for a handheld unit or headset. One of the most reliable and renowned manufacturers of speakerphones is Anker. The present article is focused all on the review of Anker PowerConf S500 speakerphone. Let's dive deep into the details, specifications, features, and more about this speakerphone in the following Anker PowerConf S500 review.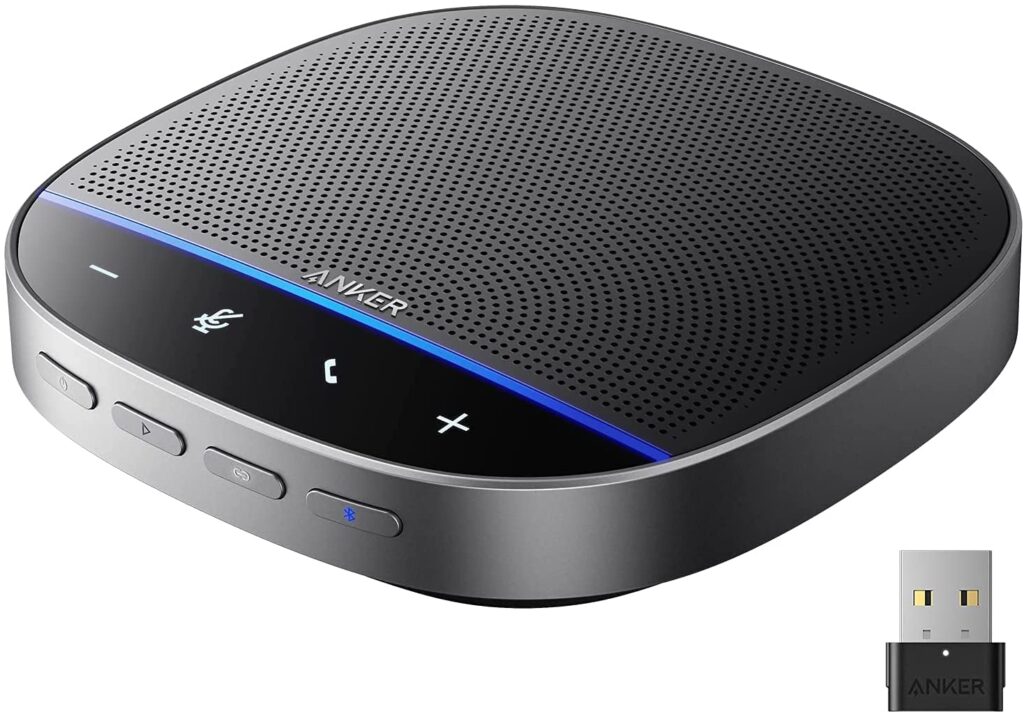 Overview of Anker PowerConf S500 Speakerphone
When it comes to exceptional audio clarity, you can rely on Anker PowerConf S500 as a recommended option to consider. It is equipped with Zoom Rooms and Google Meet certifications. Various names of this kind of speakerphone are Bluetooth speakerphone for conference room, USB-C conference speaker, and conference microphone with premium voice pickup. When you proceed with in-depth details about this speakerphone in this Anker PowerConf S500 review, you can determine how worthwhile it is.
Versatility
Whether it's business or entertainment, this Anker PowerConf S500 speakerphone can rejuvenate your mind. The expertly tuned driver offers stunning sound irrespective of what you are listening to. The sound quality is decent, the build quality is sturdy, the volume is loud as required, and everybody listening on the other end expressed that it sounds great.
For your typical day-to-day professional tasks, you can rely on Anker PowerConf S500 without worrying about background noise. It helps you to jump on to MS Teams calls during work. Also, it is a suitable choice for unplanned group calls or getting the family around for a call, or wishing a happy birthday to somebody. It is an excellent solution for 'working from home without needing to use low-quality laptop audio for video calls.
If you have a meeting that has some people in a big conference room then you can use Anker PowerConf S500. You can connect it to a computer and then start the Zoom conference. This speakerphone can work as a microphone and speaker for Zoom. Everybody present at the video conference can clearly listen to other connected people in the conference room and vice-versa.
Powerful VoiceRadar technology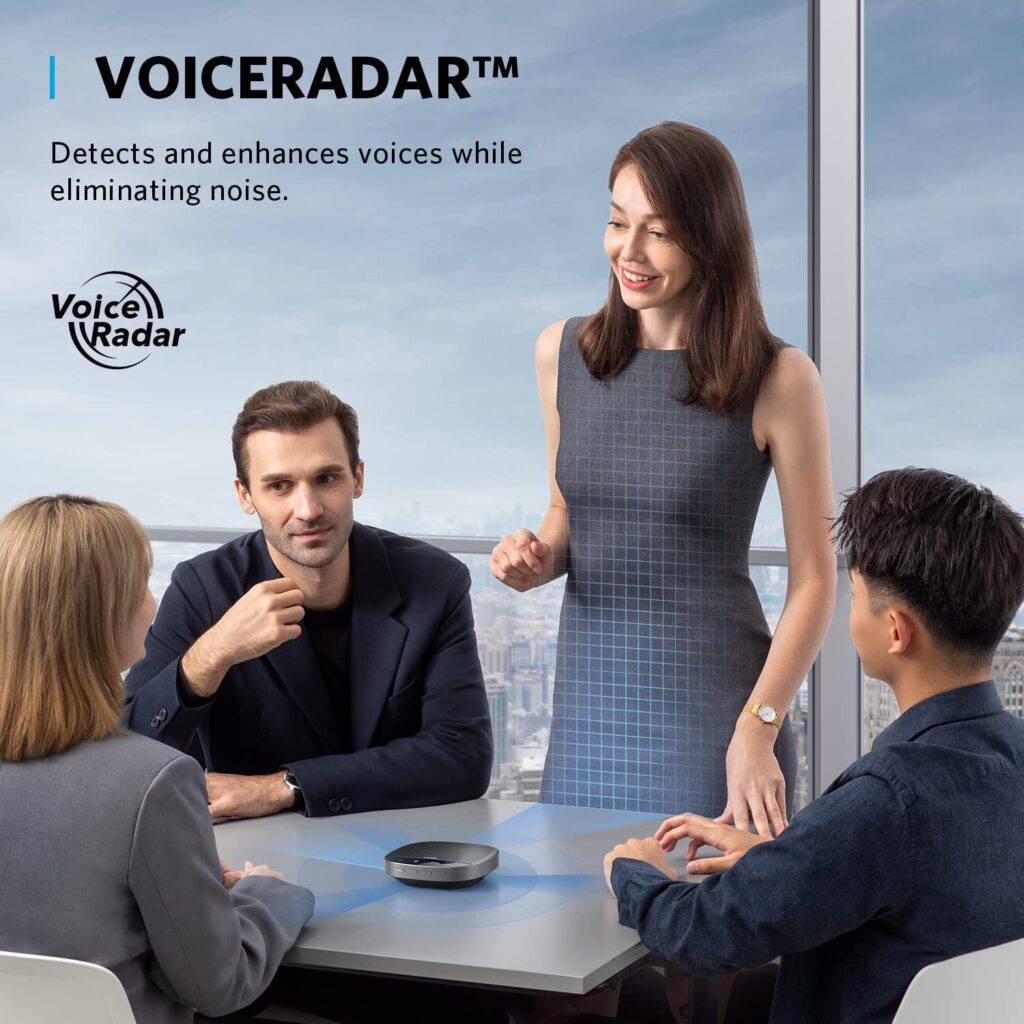 Be it used as a speakerphone or a portable conference phone in a conference room, PowerConf S500 can work flawlessly. The directional microphones are excellent at automatically picking up the voice of the person who speaks while eliminating unwanted noise, irrespective of the location of persons around the conference table.
Excellent audio clarity
The combination of 32K sampling rate and efficient Digital Signal Processor guarantees each word is heard clearly. The voice balancing makes sure people far away or speaking quietly is consistently clear and loud. So, there will be no confusion throughout the meeting.
Ease of use and setup
Once connected, PowerConf S500 speakerphone can work as a Bluetooth device you would connect. On your laptop, it is easy to select what your inputs and outputs are. Being certified for use with Zoom, this speakerphone can be useful if your company uses Zoom. It is quite easy to answer a call and mute/unmute. You can easily know when it's muted because the speakerphone depicts the bright red LED light.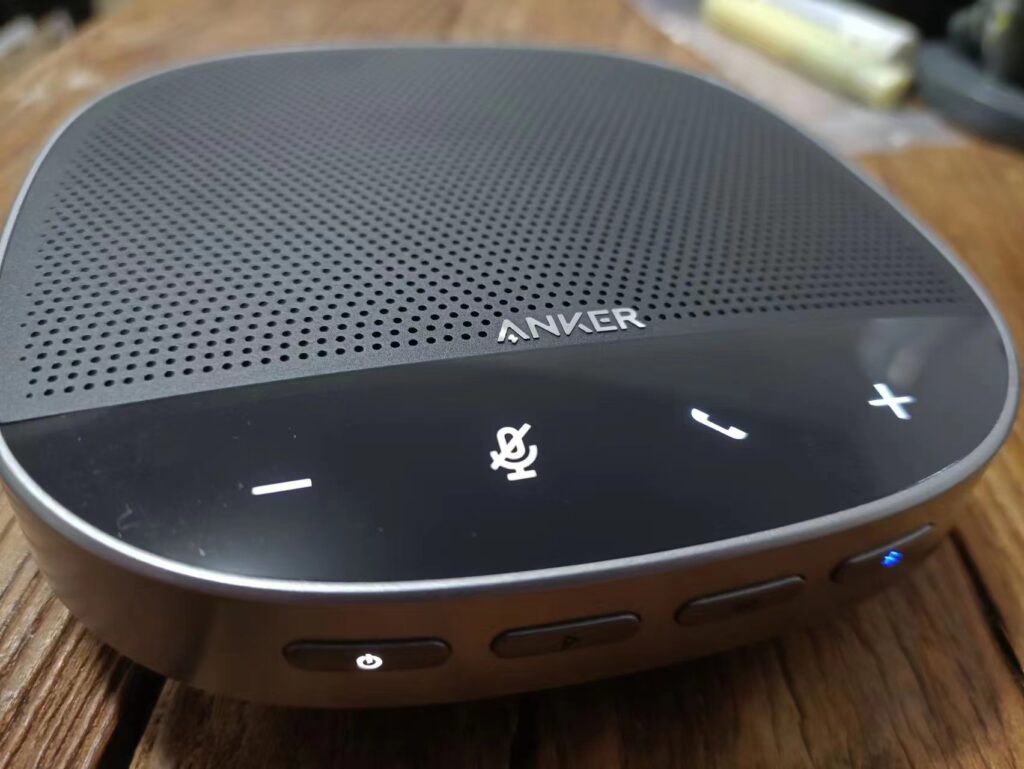 Broad wireless coverage
Due to its decent wireless range, Anker PowerConf S500 can work well with iPhone, iPod, iPad, and MacBook Pro. The included microphone is extremely effective at picking up voices from 10+ feet distance. Consequently, it conveys the voice output clearly to remote participants. Though the speaker volume is not the loudest, it is enough in the majority of cases even in bigger rooms.
Not just in the conference room but PowerConf S500 works well in a basement, near a furnace, at home, in an office, etc. If you are curious about testing noise, you can sit near this speakerphone to check how much noise it picks up. Surprisingly, the noise would be little. You will feel as if you are sitting in a silent room. It does a decent job of picking up noise and ignoring the noises.
Full duplex communication
On the output side, there is a 10W speaker. It does not outplay your home audio setup, however, it does a decent job of broadcasting a call in a room. Being full-duplex, this speakerphone can pick up your voice because another is broadcast from the speaker (in absence of feedback loops). Once the call is completed, it works well to play podcasts or music, similar to any other Bluetooth speaker.
Enough illumination from LED
The colorful illumination from the LEDs is not extremely bright. So, there are no concerns regarding blinding color lights.
Case
This Anker PowerConf S500 is packed in a beautiful hard cardboard box along with a few accessories. With the help of a stylish hardshell protective zippered case, you can safely store and transport this speakerphone. It prevents damage from external factors. This case features chrome Anker branding over it and possesses a leather-like exterior shell. It opens up through a reverse coil teeth zip, rubber pull tab, and single metal slider. The weight of the carry case is 90 grams and there is a long webbing loop. Thus, you can hook the case over something. Moreover, the included cable comes with a thick rubber sheath. The weight of the cable is 32 grams and its length is 84 cm.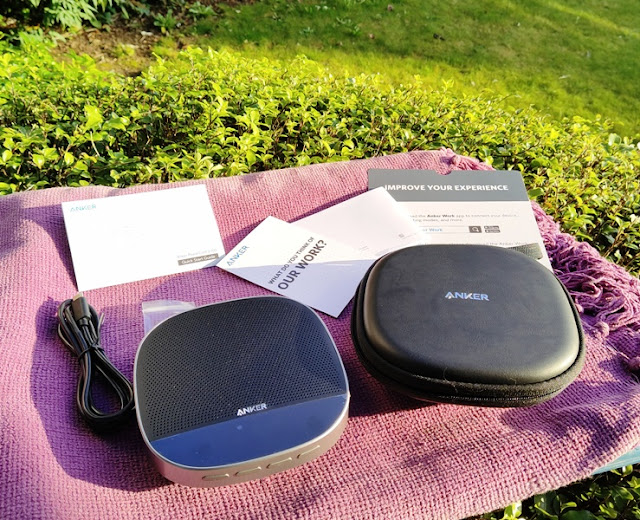 Included accessories and connectivity options
Along with this speakerphone, you get a travel case, a USB-C cable, a charging/data cable, and a Bluetooth dongle. You can connect your device and Anker PowerConf S500 through a dongle or Bluetooth 5 or included USB-C cable. With any of these options, you can connect to both your laptop and cell phone.
Technical specification
| | |
| --- | --- |
| Connection method | USB/ Bluetooth |
| Mic Sample rate | 32 kHz HD voice |
| Capacity | For up to 12 people |
| Driver size | 1 x 1.75 inches (full range) |
| Frequency response | 20 Hz – 20 kHz |
| Voice pickup range | range 5 m/16 ft |
| Microphone | 4 stereo microphones |
| Bluetooth version | 5.0 |
| Bluetooth range | 10m/33 ft |
| Play time | 16 hours |
| Charging time | 4 hours |
| Battery capacity | 6700 mAh |
| Rated output power | 10W |
| Software | AnkerWork APP and PC Software |
| Wireless pairing | Yes (Primary S500 is USB connected to source PC) |
| Dimensions | 5 x 5 x 2 inches |
| Weight | 14.9 ounces |
| Color | Black |
Key features
Anker PowerConf S500 review states that the PowerConf S500 speakerphone is implemented with VoiceRadar Technology. This technology automatically concentrates on voice sources in the room and simultaneously eliminates undesired noise. The speech is conveyed without any distractions and echoes a hectic meeting room.
All 4 microphones come with a 32 kHz sampling rate that transmits your voice in outstanding definition and clarity.
The full-duplex communication guarantees clear 2-way audio even whenever both ends are speaking concurrently.
To provide a seamless communication experience, PowerConf S500 comes with Zoom Rooms certification and is compatible with Google Meet. Therefore, it guarantees superior quality and reliable communication experience on third-party platforms.
The built-in acoustically tuned 1.75-inch speaker contributes to Hi-Fi grade sound. This component offers performance that matches the demands of ordinary speakerphones.
Although a single PowerConf S500 offers audio output for rooms up to 12 people, it is possible to wirelessly pair two of them to boost coverage up to 20 people. For a big conference room, two of these speakerphones can be used in a concert to pick up everybody's voices.
Built-in 6700 mAh battery makes sure your calls or music continue running for up to 16 hours.
AnkerWork app lets you discover the professional experience by upgrading firmware and changing meeting mode.
Operation process
When powered on, the speakerphone will light up and then the lights will turn off.
If the battery level is more than 10%, the light stays green. If the battery level is less than 10%, the light glows red and then flashes. During incoming calls, the light flashes blue.
When the sound direction is detected, the light turns cyan (standard mode) and purple (broadcasting mode).
When adjusting volume, light glows blue and then turns off. When the speakerphone is muted, the light turns red. When "Linking mode" is activated, the light turns purple.
To power on or off this speakerphone, you need to press and hold the power button for 3 seconds. It will automatically power on once it is connected to a PC through the USB-C cable.
After 30 minutes, it will automatically power off if no device is connected. If you want to know the battery level, you need to press the power button again when it's powered on.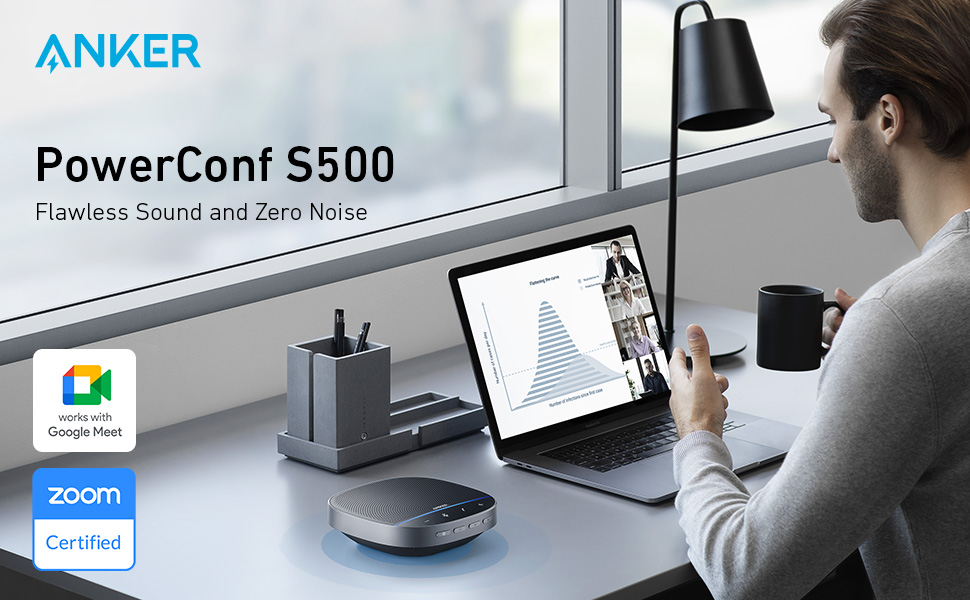 Buying Guide Of Anker PowerConf S500 Speakerphone
Factors discussed in the following section of the Anker PowerConf S500 review help you to understand what needs to be taken into account before purchasing.
1. Microphones
Anker PowerConf S500 is equipped with 4 stereo microphones. All these four microphones are very sensitive and can pick up voices from various distances and directions. The operation of the microphone is so flawless that it feels as if there is some software operating in the backend to stabilize relay voices coming from different distances. Hence, the sound output always seems natural and balanced.
The presence of 4 microphones provides an outstanding conference call experience and streamline Zoom meeting. In case your conference rooms lack a good microphone then setting up this speakerphone can solve the issue. For accomplishing long conference calls, these microphones prove to be useful. They are responsible for ensuring a noise-free conference experience because they drown away the ambient noise. The ability to pick up noise from the actual speakers makes sure the person speaking would not hear their voice being echoed back towards them.
2. Connectivity range
It is vital to check the connectivity range of a speakerphone before purchasing. Anker PowerConf S500 comes with a connectivity range of up to 10 meters.
3. Connecting options
3 ways are available to connect your devices to this speakerphone.
Option-1: Connect to PC (via Bluetooth USB adapter)
You need to plug the included Bluetooth USB adapter into a USB port on the PC. The speakerphone is then ready to use when powered on.
You may have to manually set this speakerphone in form of an audio device for your conference software or PC system.
Follow the below path in the macOS system:
System Preferences > Sound > Sound Effects / Output / Input
Follow the below path in the Windows system:
Right-click on the sound icon > Open Sound settings > Choose your output device/to choose your input device
The software to be used is Zoom or Skype
Option-2: Connect to PC (via USB-C cable)
Connect the speakerphone to a PC through the included USB-C cable. After that, it would be powered on and ready to use.
Option-3: Connect to smartphone or tablet (via Bluetooth)
Once powered on, the speakerphone would automatically enter the Bluetooth pairing mode. Instead, you can press the Bluetooth button to enter Bluetooth pairing mode.
Now choose the "Anker PowerConf S500" on the Bluetooth list of your smartphone to connect.,
Every time you power on this speakerphone, it would automatically connect with the recently successfully connected device (if available). Otherwise, you need to press the Bluetooth button to enter the Bluetooth pairing mode.
This speakerphone can pair a maximum of 2 mobile devices through Bluetooth at a time. If you want to pair with another Bluetooth device, you need to press the Bluetooth button to again enter Bluetooth pairing mode.
If you want to break the Bluetooth connection from a device, you need to press the Bluetooth button again on the device which is currently active.
4. Using the Anker Work App
Firstly, you need to download the Anker Work app to elevate your communication experience. With this app, you can check product info, read the user manual, check the battery level, check the latest software updates, etc. Also, you can vary the volume, set auto-power off, manage devices, set voice pickup modes, turn the LED light bar off, etc.
Two voice pickup modes are available in this app. The "Standard mode" helps you to pick up sound from the near end. The "Broadcasting mode" helps you to restore and convey original sounds by activating the speaker. In this mode, you would not hear the far end anymore. It is recommended to use this mode through a USB connection.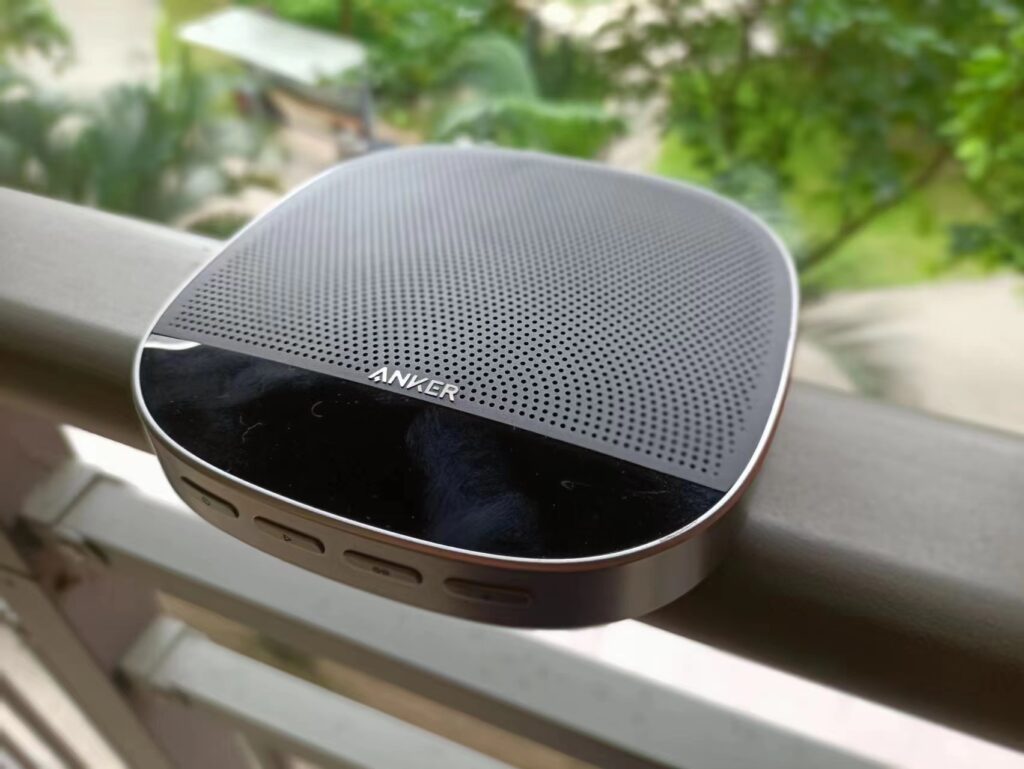 FAQs About Anker PowerConf S500 Speakerphone
1. What is Linking Mode in Anker PowerConf S500?
When going through the Anker PowerConf S500 review, it is important to be familiar with the Linking mode. This mode is available only when one PowerConf S500 is connected to your PC through the USB-C cable. Note that it's not available when connected through Bluetooth.
To use the Linking mode, you need to connect a PowerConf S500 with your PC using the provided USB-C cable. Now power on another PowerConf S500, and simultaneously press the link button on both the PowerConf S500 speakerphones to activate linking mode.
If you want to exit linking mode, you need to press and hold the link button for two seconds simultaneously on both PowerConf S500 speakerphones.
2. What care needs to be taken when it comes to charging in Anker PowerConf S500?
Before charging, make sure to fully dry off the USB-C charging port. Before first use, you need to fully charge the speakerphone to extend its lifespan. To avoid any damage, make sure to use a certified USB-C charging cable and a charger.
3. Does Anker PowerConf S500 support daisy chaining?
Yes, this speakerphone has the ability to daisy chain two speakerphones together.
Final Thoughts
The aforementioned Anker PowerConf S500 review provides all the necessary details one needs to be familiar with before buying this speakerphone. When you want to accomplish conference or video calls flawlessly in a room for up to 12 people, this speakerphone can be a great choice. It offers excellent sound clarity and powerful signal reception leading to a flawless communication experience. With the simple controls, you can easily connect, hang up, mute, and pick up calls without any hassles. For streamlining the user experience, 3 connectivity options are available.
Enjoyed this Anker PowerConf S500 review? Then be sure to check out our other guide of the Best Bluetooth Speakerphone for Home Office.