If you are a gamer or do high-performance computing works, you must be looking for a better graphics card out there. Not so long ago, computers couldn't do much. But now, thanks to the upgraded graphics cards, computers can now provide even better performance. To eliminate your confusion on how to choose the best GDDR6 graphics card, we have highlighted the best ones along with a section on how to choose them.
GDDR6 stands for Graphics Double Data Rate 6. Since their introduction in the tech market, GDDR6 is known as one of the fastest graphics cards available. It is said to be 50% faster than GDDR5.
List of The Best GDDR6 Graphics Card
Check out the thorough reviews of the best GDDR6 graphics card in 2023 below.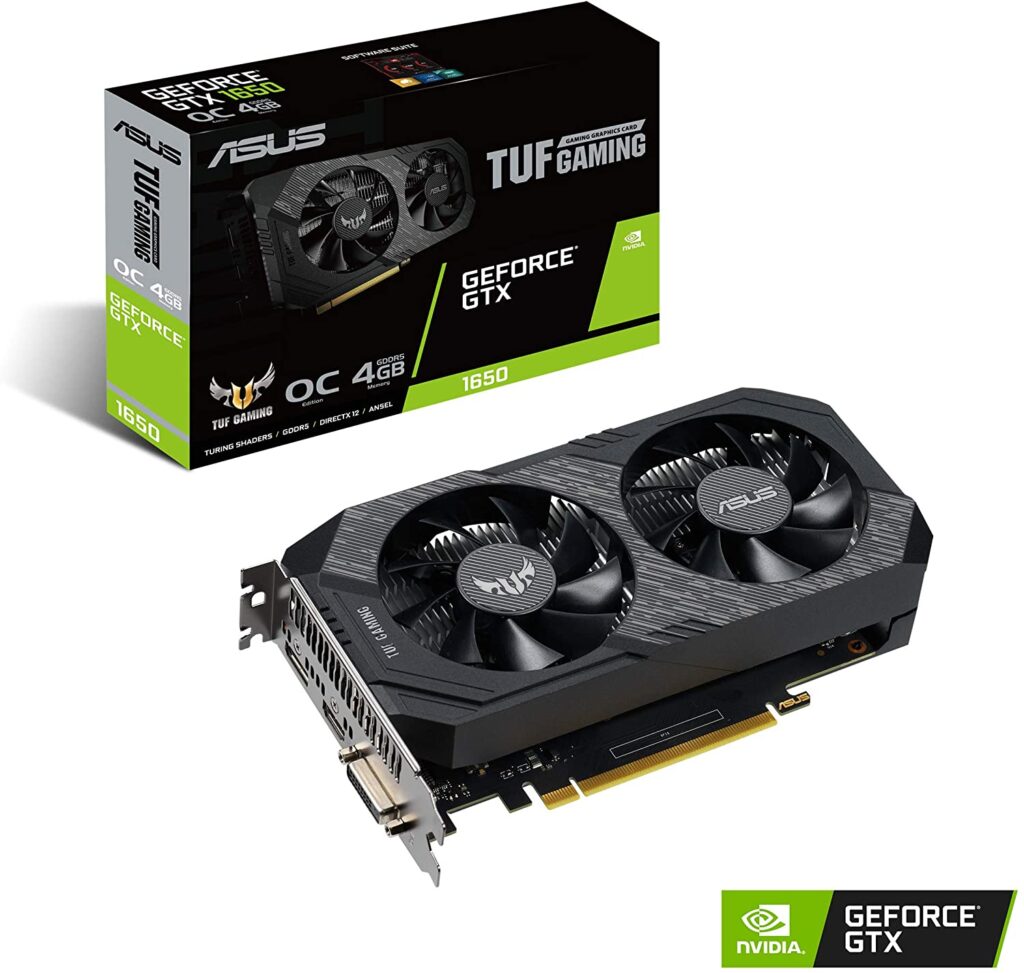 Asus is one of the top brands now in terms of providing high-quality tech products. This graphics card from Asus is another proof of that. It features NVIDIA for its graphics performance, which has won awards for the same. The graphics card offers 50% more memory bandwidth to ensure high-speed gaming.
Key Features
The graphics card features fans with space-grade lubricant, sealed to IP5X standards.
4 GB GDDR6 Memory with NVIDIA GeForce GTX 1650 Graphics Coprocessor
The GDDR6 is ultra-fast, providing 50% more memory bandwidth for high-speed gaming.
The cards are built with auto-extreme manufacturing, enhancing reliability.
Pros And Cons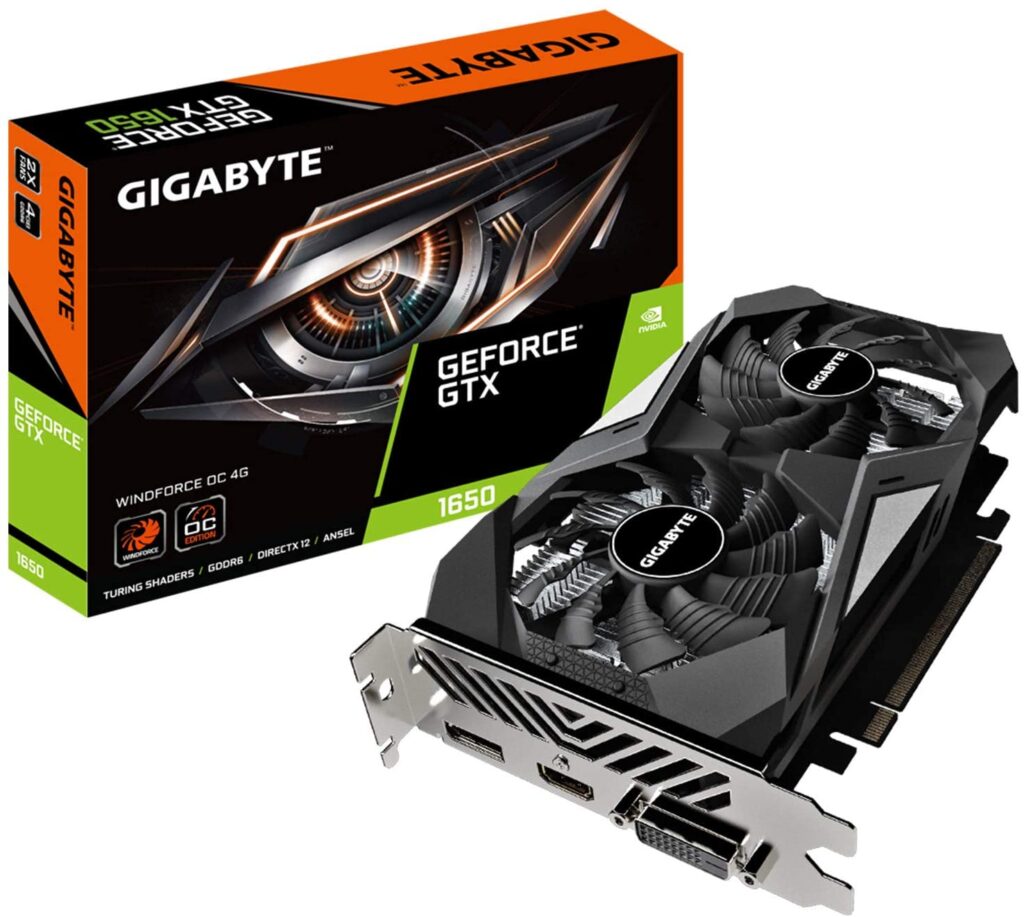 This graphics card from Gigabyte features a chipset from NVIDIA, as well. It is rev 2.0, not rev 1.0. Hence, the core clock is changed to 1650. Also, an NVIDIA Encoder (NVENC) is added to the graphics card, ensuring Turing functionality, which you won't find in rev 1.0.
Key Features
This graphics card offers 1650 MHz Core Clock
It features 80 mm unique blade fans.
The graphics card is integrated with a 4GB GDDR6 128-bit memory interface.
It includes a WINDFORCE 2X cooling system with alternated spinning fans
Pros And Cons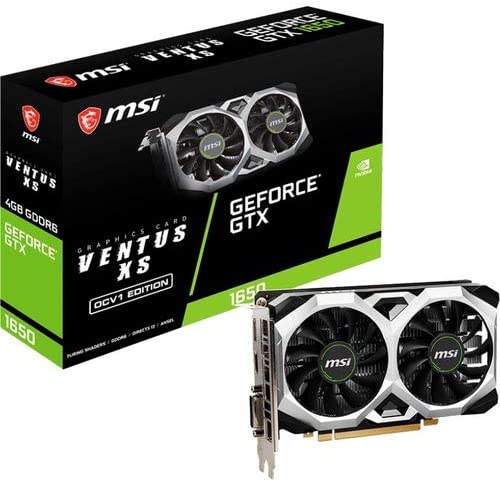 This GeForce GTX 1650 graphics card from MSI, a well-known brand for its chipsets, is made to make gaming more fluent. It offers two times cache as that of its predecessor, providing a new unified memory architecture. The power efficiency of this graphics card is also higher compared to its previous generation, offering its users a cooler, quieter, and faster gaming experience. As it has a Turing encoder, the graphics features are quite advanced.
Key Features
The graphics card allows 3 video output interfaces- DisplayPort x 1, DL-DVI-D x 1, HDMI 2.0b x 1
It features 4GB GDDR6 video memory and a 1620 MHz boost clock
The graphics card from MSI features NVIDIA GeForce GTX 1650 Chipset
It has a Turing encoder
Pros And Cons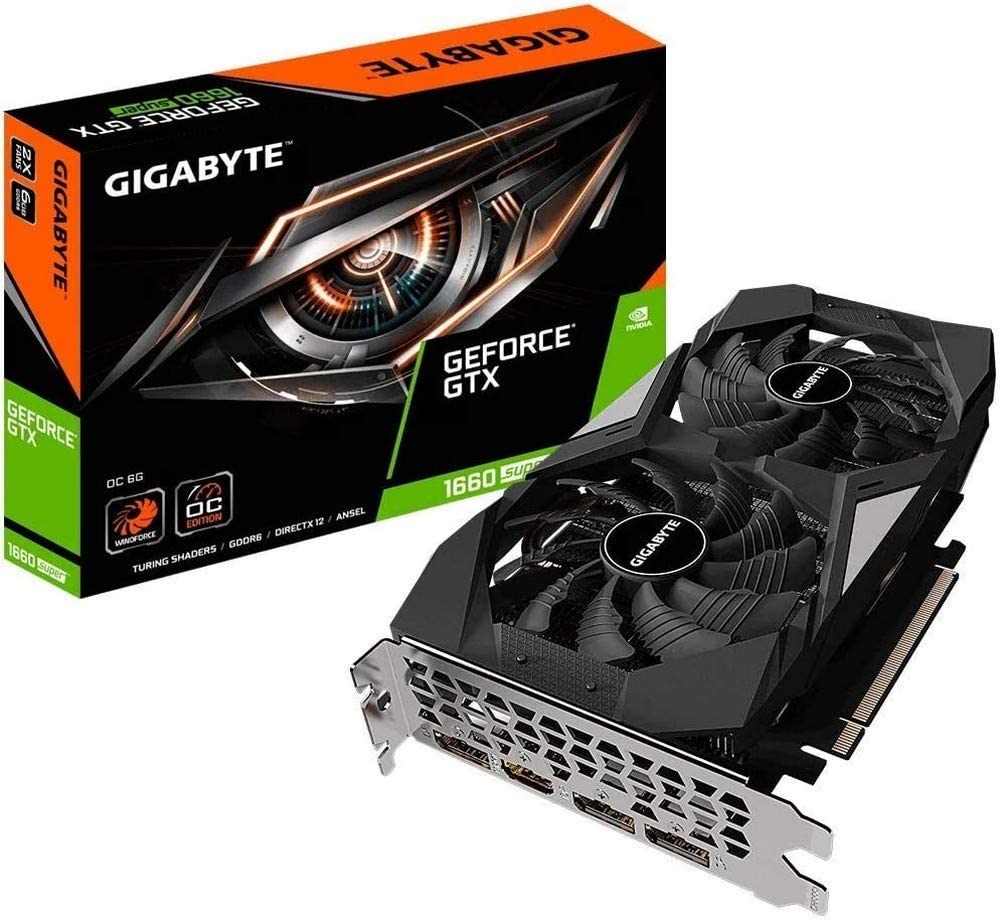 Gigabyte has been quite a while in the market for chipsets. It is the second graphics card from this brand in this article. Gigabyte has combined NVIDIA GeForce GRX 1660 Graphics Coprocessor in this video card. The GeForce GTX Super series features GDDR6 memory, making its users' gaming performance better and faster. The card comes with Turing shaders, which enables a nice gaming performance that is cooler, faster, and quieter.
Key Features
This graphics keyword is powered by GeForce GTX 1660 Super and integrated with 6GB GDDR6
It features intuitive controls with AORUS engine
2 different display outputs- 1 x HDMI, 3 x DisplayPort
The graphics car includes a wind force 2X cooling system with alternate spinning fans
Pros And Cons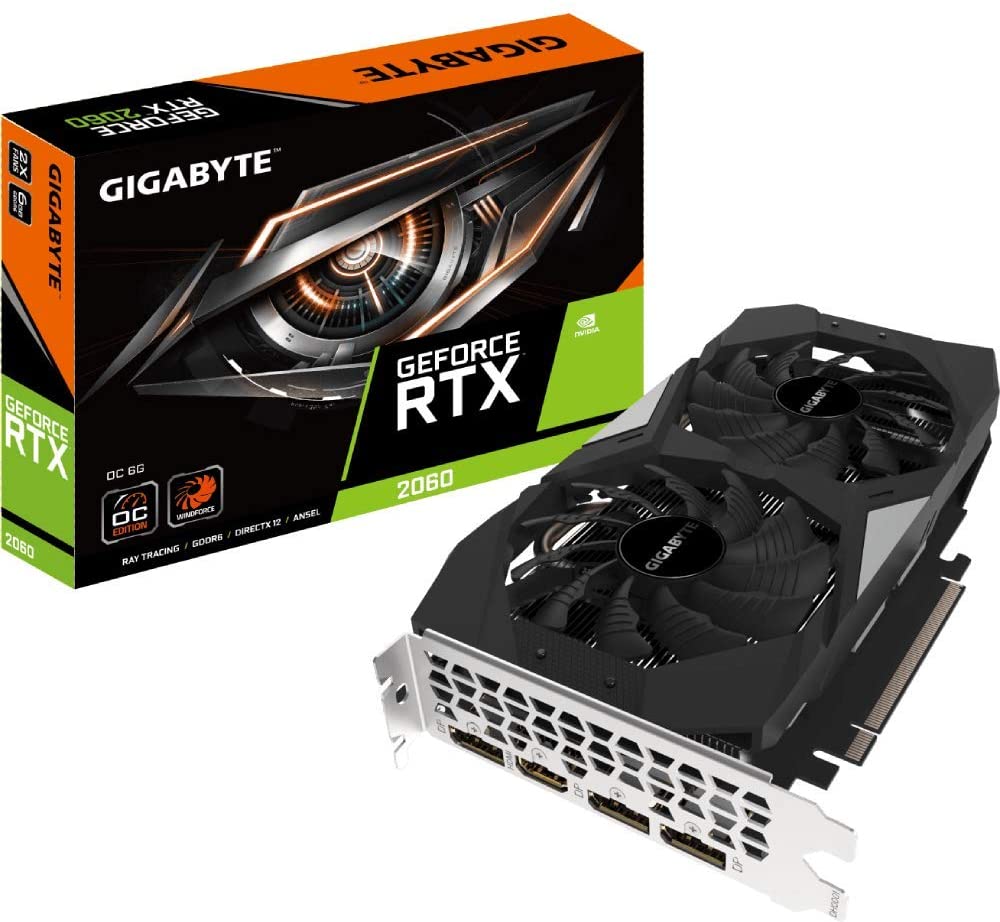 It is the third graphics card from Gigabyte in this review list of the GDDR6 graphics card. The card features the alternate spinning, solving the turbulent airflow problem of the adjacent fans. It also controls the reduced heat dissipation efficiency, providing the necessary output at low heat. The graphics card also features 3D active fan, which provides semi-passive cooling. As a result, gamers can enjoy a silent gaming experience.
Key Features
The graphics card features two 90mm unique blade fans
It has intuitive controls with AORUS engine
This card features a Windforce 2x cooling system with alternate spinning fans
It has a 1755 MHz core clock
The graphics card offers Nvidia Turing architecture and real-time ray tracing
Pros And Cons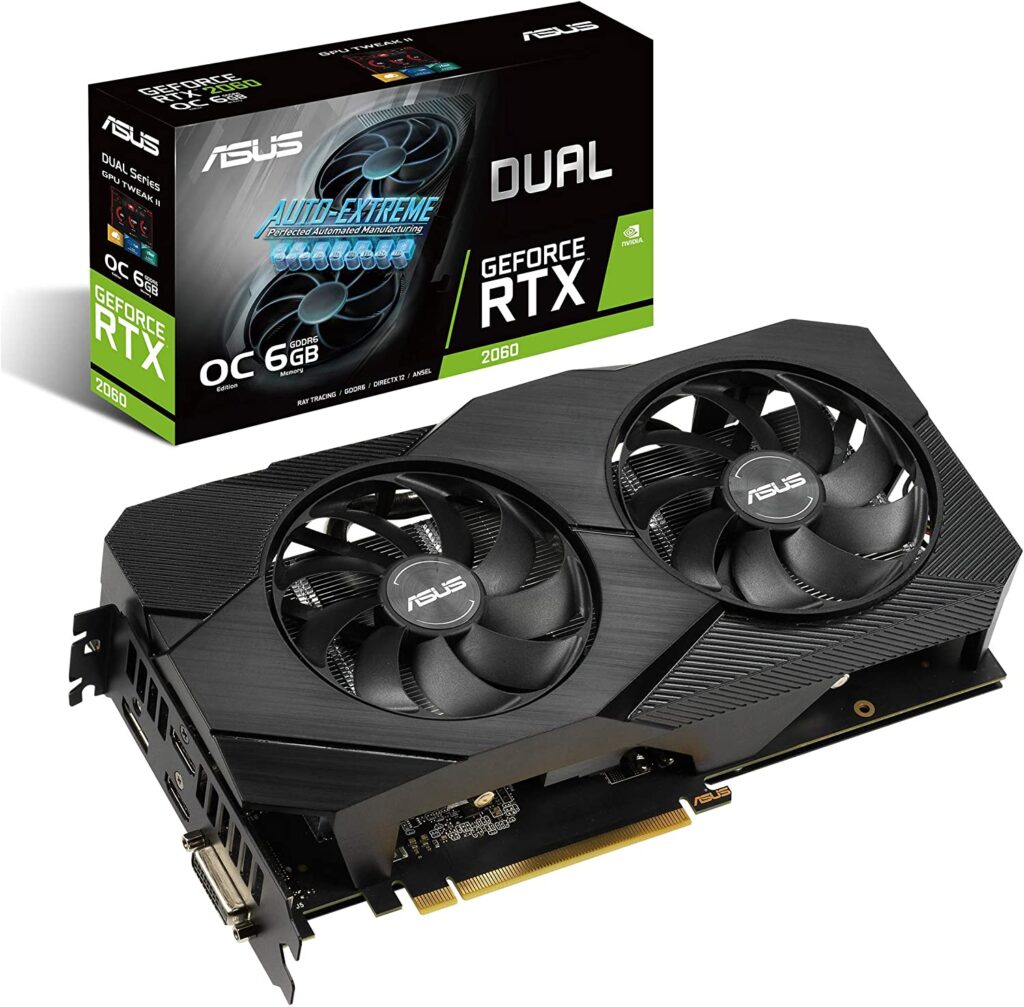 After a while, this is the second graphics card from ASUS in this article. That is maybe because ASUS is one of the top providers of high-quality tech products, including graphics cards. Like other graphics cards in this article, this one is also powered by NVIDIA Turing. You will have an experience of powerful and silent gaming with this graphics card from the tech giant ASUS.
Key Features
It can support four monitors at a time with its DisplayPort 1.4, HDMI 2.0, and DVI ports.
The graphics card features a durable Aluminium-made protective backplate that prevents trace damage and PCB flex.
It includes GPU Tweak II, which makes monitoring performance and real-time streaming easier than ever.
Pros And Cons
How To Pick The Best GDDR6 Graphics Card?
When buying a tech product, like a graphics card, you must know what you are looking for. Following are some of the factors that you must look for while buying the best GDDR6 graphics card.
1. Compatibility
Let' say you have bought the best GDDR6 graphics card for your pc, and when you went to set it up, you found that it is one inch too long that your casing offers. In that case, the whole effort will be in vain. Hence, you must know the size of the graphics card that your casing is compatible with.
But that is not the only factor regarding compatibility. You must also be concerned regarding the power supply, and finally the ports. If the graphics card offers more power than your PC can supply, you must consider buying a graphics card with a lower power supply or upgrade the power requirements of your pc.
Finally, look for the compatibility of the ports. Older graphics card versions offer a single port, which may or may not be compatible with your monitor. Your whole effort may run dry in that case. That is why you should know what your computer offers. Nevertheless, the advanced graphics cards now offer multiple types of output ports. If you are buying one of those, your monitor will surely be compatible with one or another port.
2. System's Limitations
If you own a very old computer but buy the latest graphics card in the market, your computer won't be able to keep up with that high-end graphics cards. In such cases of a computer with a low CPU, you will have to go for a mid-range graphics card. The display is also included in your consideration for the new graphics card. Your monitor resolution will determine the graphics card you are looking for. Hence, you should keep these factors in mind.
3. Memory
Many think that the higher memory, the better performance by the graphics card. However, the RAM quantity does not make much difference if you are not doing high-resolution gaming or top-notch 3D rendering. On the other hand, the bandwidth of your graphics card should be your primary concern. In this regard, GDDR5 is higher than GDDR3, and GDDR6 is even higher than GDDR5. As this article was about the best GDDR6 graphics card, you are already in the range of the best.
FAQs When Picking GDDR6 Graphics Card
1. How do I know what graphics card I have?
Assuming that you are using the latest Windows version, Windows 10, you will have to press the Windows key + R key. Then, type "dxdiag" and press enter. Now, click on the Display tab, and you will find your graphics card enlisted there. In the case of Windows of previous versions, you will need to click on the Windows Icon, select Run, and type the same order.
2. Can graphics cards be repaired?
In a word, yes, they can be repaired. However, it is not something beginners should try. GPU damages are usually very complicated to repair. The damage level will determine whether it can be repaired or not.
Final Thoughts
GDDR6 graphics cards are the best in terms of bandwidth. However, there are some other factors to look for in order to get the best GDDR6 graphics card. Hopefully, you will find and check those factors after going through this GDDR6 graphics card review.
Enjoyed this article on the best GDDR6 graphics card? Then be sure to check out our other guides.