Looking to upgrade your PC's graphics capability? Nvidia's latest GeForce RTX graphics cards featuring GDDR6 memory deliver a massive leap in performance and capabilities. With ultra-fast speeds, higher memory bandwidth, and advanced GPU architectures like Turing and Ampere, these new GDDR6 graphics cards are built for next-gen gaming, VR, AI, and more. Whether you're a hardcore gamer, creative professional, or tech enthusiast, a powerful GDDR6 graphics card can take your visuals and frame rates to the next level.
GDDR6 stands for Graphics Double Data Rate 6. Since their introduction in the tech market, GDDR6 is known as one of the fastest graphics cards available. It is said to be 50% faster than GDDR5. In this buying guide, we dive into specs, features, performance metrics, and our top recommendations to help you pick the best GDDR6 graphics card for your needs and budget.
List of The Best GDDR6 Graphics Card
Check out the thorough reviews of the best GDDR6 graphics card for your needs and budget below.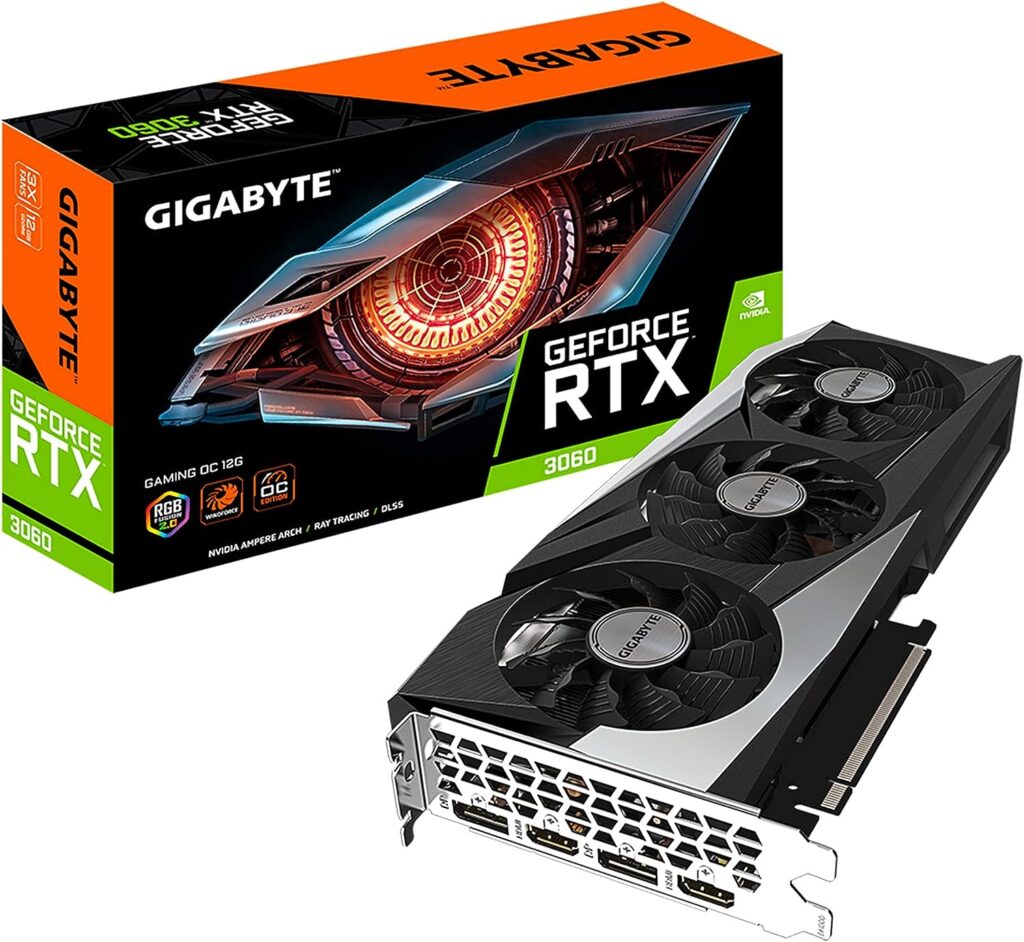 Powered by NVIDIA's Ampere architecture and 2nd generation RTX platform, the GIGABYTE GeForce RTX 3060 12Gb GDDR6 graphics card delivers elite 1440p performance and high-fidelity graphics with its 12GB of GDDR6 memory and refined WINDFORCE cooling. With enhanced RT and Tensor cores, it renders complex scenes and applies AI algorithms faster than previous generations.
The three unique blade alternate spinning fans provide high static pressure and airflow for optimal cooling. With a 192-bit memory interface, the GeForce RTX 3060 reaches memory speeds up to 15 Gbps. Multiple display outputs include HDMI 2.1 and DisplayPort. Overall, the GeForce RTX 3060 provides a major upgrade over previous generation GPUs, enabling high frame rates in modern games at 1440p resolution with ray-tracing effects and AI features enabled. It strikes an optimal balance between performance and value for gaming at high settings.
Pros And Cons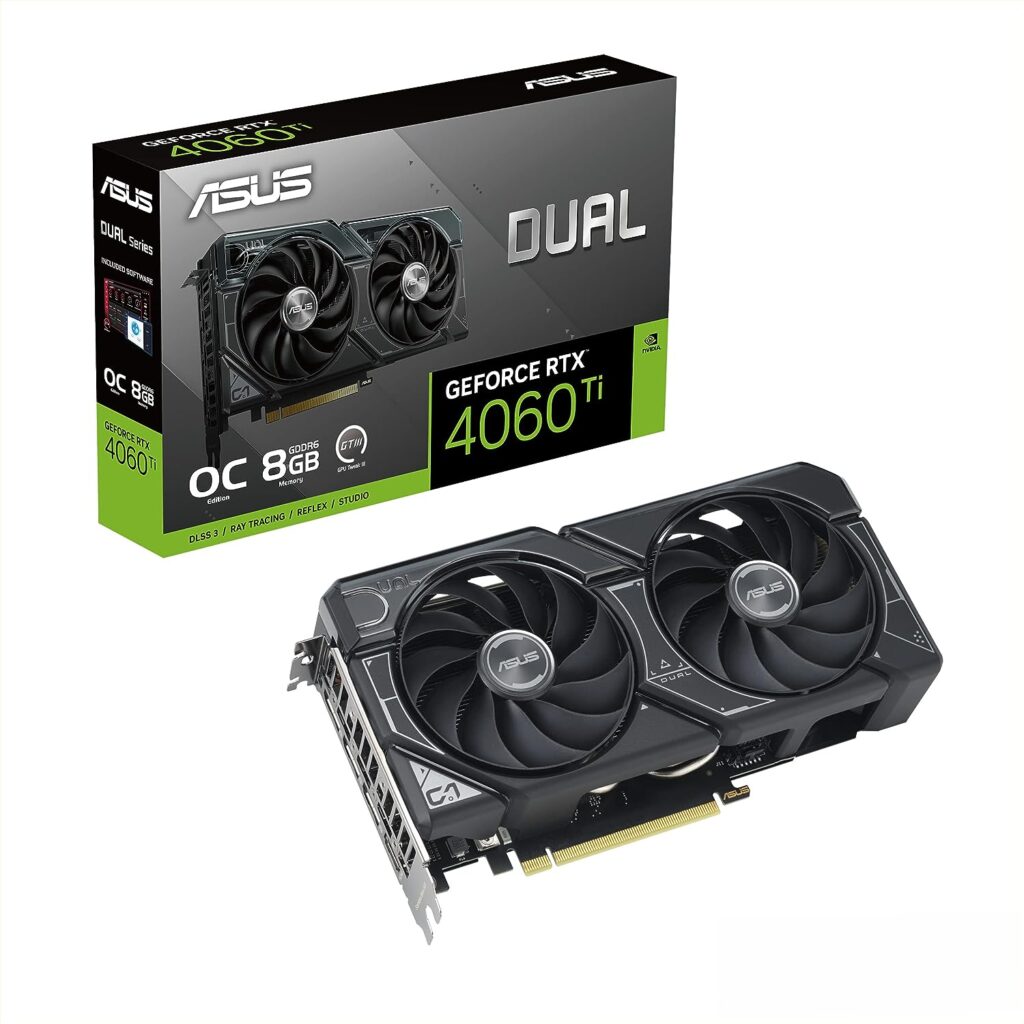 The ASUS dual GeForce RTX 4060 Ti delivers powerful next-gen gaming performance in a compact package. Powered by NVIDIA's Ada Lovelace architecture and upgraded with DLSS 3 technology, it provides up to 4x the performance of traditional rendering. The included 8GB of GDDR6 memory and 2565MHz boost clock enable high frame rates in the latest games.
Axial-tech fan design with a smaller hub and longer blades increases airflow while keeping noise to a minimum via 0dB technology. The 2.5-slot form factor ensures compatibility while dual ball bearings give the fans double the lifespan compared to sleeves. With ray tracing cores doubled from last generation and the latest NVIDIA advancements like DLSS 3, the ASUS RTX 4060 Ti GDDR6 graphics card brings desktop-class power in an efficient and reliable design perfect for high fidelity 1080p and 1440p gaming.
Pros And Cons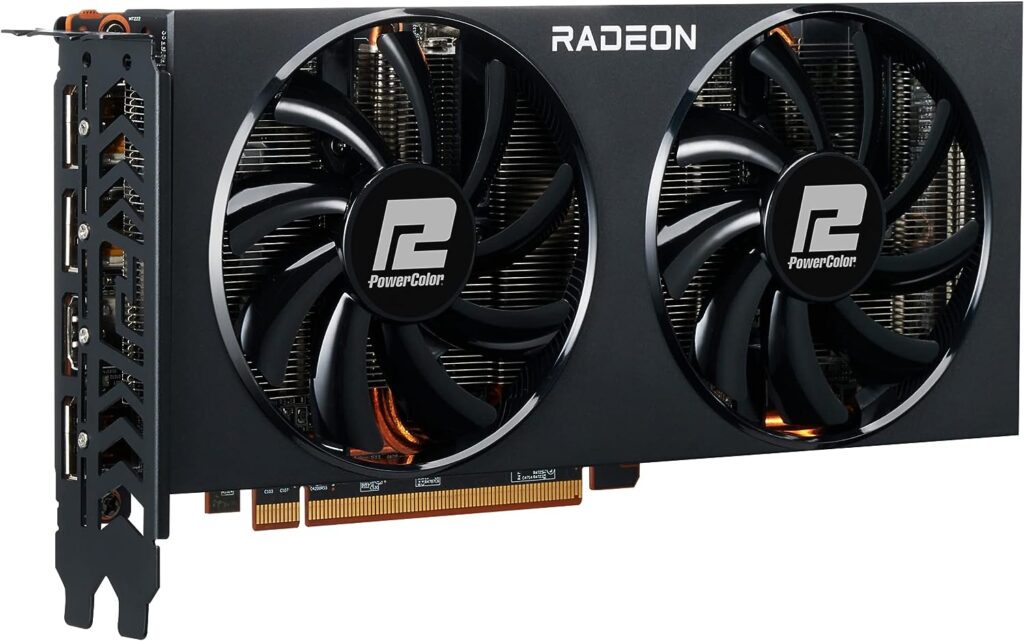 The PowerColor Fighter RX 6700 XT delivers powerful 1440p gaming performance powered by AMD's RDNA 2 architecture and 12GB of speedy 16Gbps GDDR6 memory. With a boost clock up to 2581MHz, 2560 stream processors, and 192-bit memory interface, it achieves smooth framerates even in demanding titles. Cooling is handled by a capable dual 90mm fan design with 0db silent operation, copper heatpipes, and enlarged heatsink surface area for cool and quiet operation.
Gamers will appreciate features like AMD Infinity Cache, DirectX 12 Ultimate support, raytracing, and HDMI 2.1. According to PowerColor, the dual ball bearing fans have 4X greater longevity compared to sleeve bearing designs. With a max 7680×4320 resolution, performance focused design, and modern feature set, the Fighter RX 6700 XT GDDR6 graphics card brings next-gen 1440p gaming to enthusiasts at an appealing price point relative to performance.
Pros And Cons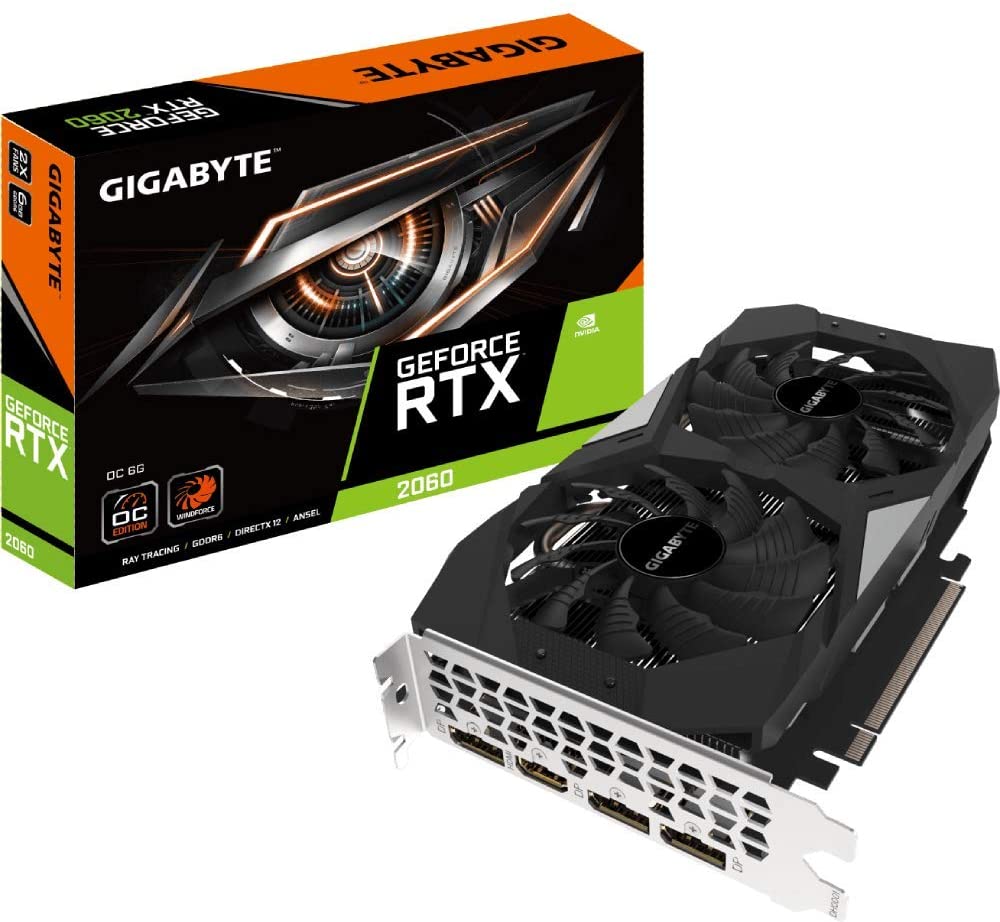 Powered by NVIDIA's Turing architecture and real-time ray tracing, the GIGABYTE RTX 2060 OC delivers high-end graphics performance. With a 1755MHz core clock speed and 6GB of 192-bit GDDR6 video memory, it can run the latest games at 1920×1080 resolution and high settings. The WINDFORCE 2X cooling system keeps the card cool with two 90mm unique blade fans, alternate spinning, composite heat pipes and 3D active fan functionality. For quiet operation, the fans remain off when the GPU is under light loads.
Intuitive controls are provided by the AORUS graphics engine software. With PCI Express 3.0 x16 interface, HDMI and DisplayPort outputs, the RTX 2060 OC GDDR6 graphics card has the power and connections needed for a high-end gaming rig. For gamers seeking powerful real-time ray traced graphics in a mid-range card, the GIGABYTE GeForce RTX 2060 OC delivers smooth performance and advanced features.
Key Features
The graphics card features two 90mm unique blade fans
It has intuitive controls with AORUS engine
This card features a Windforce 2x cooling system with alternate spinning fans
It has a 1755 MHz core clock
The graphics card offers Nvidia Turing architecture and real-time ray tracing
Pros And Cons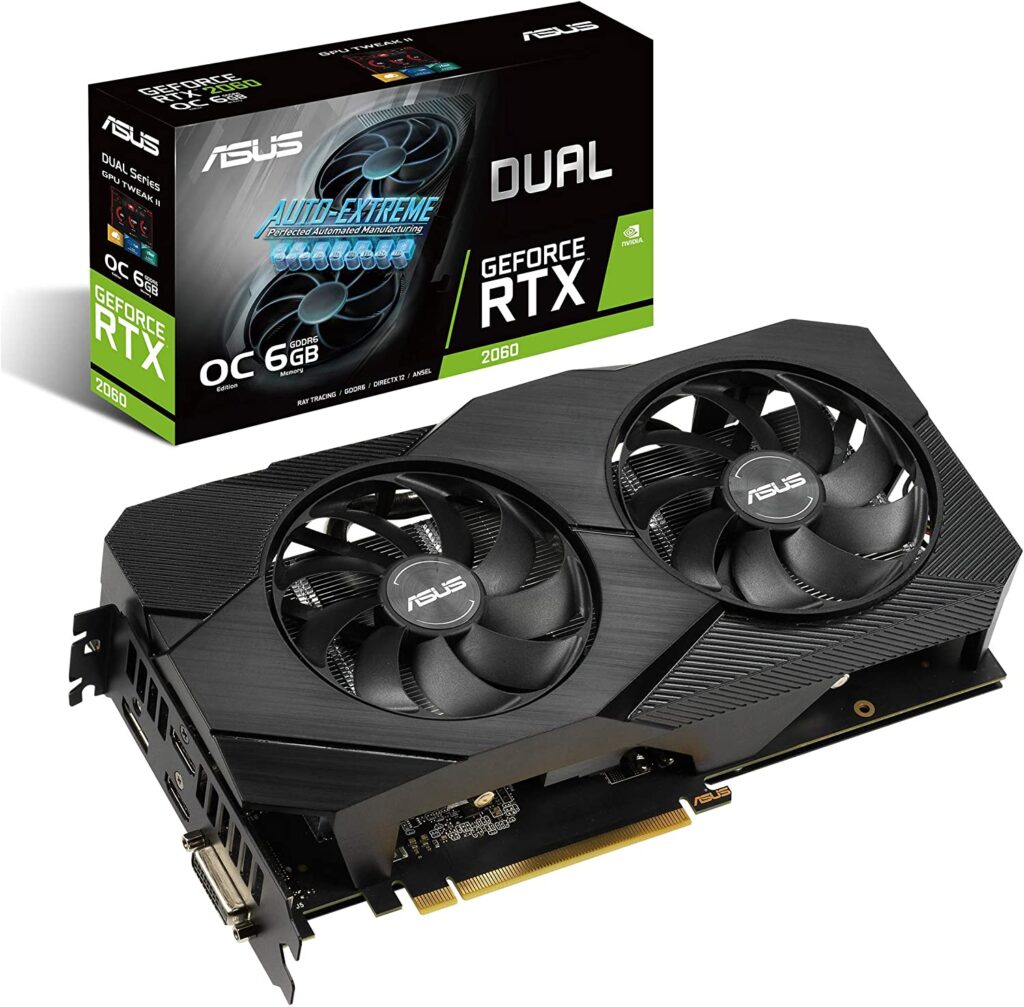 Powered by NVIDIA's advanced Turing architecture, the ASUS GeForce RTX 2060 gpu delivers silky-smooth gaming and lightning-fast speeds. With 1785MHz boost clock speed and 1920 CUDA cores, it provides up to 50% improved cooling and 15% faster performance over previous generation cards. The overclocked 6GB GDDR6 video memory enables high resolution gaming up to 7680 x 4320. Combined with ASUS's signature Wing-Blade fans featuring dust resistance and 0dB noise levels under 55°C, you can game quietly for hours.
Additional features like GPU Tweak II for real-time monitoring and overclocking, plus IP5X dust resistance, aluminum backplate, and support for up to 4 monitors make the RTX 2060 GDDR6 graphics card a powerful and versatile option. Whether you're playing the latest AAA titles or streaming gameplay, this graphics card delivers the speed, cooling, and customization features needed for high fps, vivid visuals, and an exceptional gaming experience.
Key Features
It can support four monitors at a time with its DisplayPort 1.4, HDMI 2.0, and DVI ports.
The graphics card features a durable Aluminium-made protective backplate that prevents trace damage and PCB flex.
It includes GPU Tweak II, which makes monitoring performance and real-time streaming easier than ever.
Pros And Cons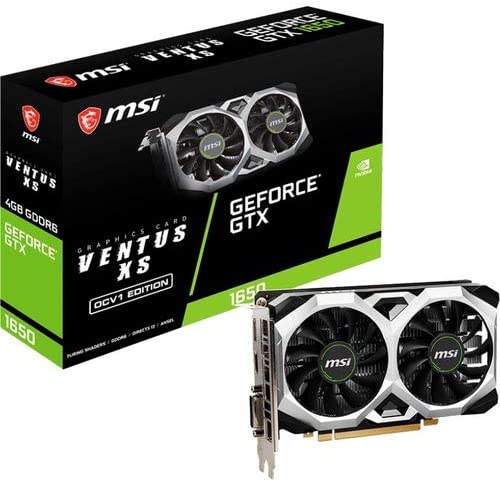 This MSI GeForce GTX 1650 GDDR6 graphics card delivers powerful graphics performance in a compact design. With the efficient NVIDIA Turing architecture, it provides up to 70% faster performance than the GTX 1050 and up to 2X the performance of the GTX 950. The 4GB of GDDR6 video memory and 128-bit memory interface enable smooth gameplay at 1920×1080 resolution. Adaptive shading technology adjusts shading rates dynamically to maximize performance.
The 1620MHz boost clock speed enables high frame rates, while the Turing encoder allows high-quality game capturing and streaming. Low power consumption results in 1.4X better power efficiency over previous generations for cool, quiet operation. GeForce Experience provides easy optimization and sharing. With driver updates to enable the latest features, the MSI GTX 1650 brings a cooler, quieter, and faster gaming experience to its users.
Key Features
The graphics card allows 3 video output interfaces- DisplayPort x 1, DL-DVI-D x 1, HDMI 2.0b x 1
It features 4GB GDDR6 video memory and a 1620 MHz boost clock
The graphics card from MSI features NVIDIA GeForce GTX 1650 Chipset
It has a Turing encoder
Pros And Cons
How To Pick The Best GDDR6 Graphics Card?
When buying a tech product, like a graphics card, you must know what you are looking for. Following are some of the factors that you must look for while picking the best GDDR6 graphics card.
1. Compatibility
Let' say you have bought the best GDDR6 graphics card for your pc, and when you went to set it up, you found that it is one inch too long that your casing offers. In that case, the whole effort will be in vain. Hence, you must know the size of the graphics card that your casing is compatible with.
But that is not the only factor regarding compatibility. You must also be concerned regarding the power supply, and finally the ports. If the graphics card offers more power than your PC can supply, you must consider buying a graphics card with a lower power supply or upgrade the power requirements of your pc.
Finally, look for the compatibility of the ports. Older graphics card versions offer a single port, which may or may not be compatible with your monitor. Your whole effort may run dry in that case. That is why you should know what your computer offers. Nevertheless, the advanced graphics cards now offer multiple types of output ports. If you are buying one of those, your monitor will surely be compatible with one or another port.
2. System's Limitations
If you own a very old computer but buy the latest graphics card in the market, your computer won't be able to keep up with that high-end graphics cards. In such cases of a computer with a low CPU, you will have to go for a mid-range graphics card. The display is also included in your consideration for the new graphics card. Your monitor resolution will determine the graphics card you are looking for. Hence, you should keep these factors in mind.
3. Memory
Many think that the higher memory, the better performance by the graphics card. However, the RAM quantity does not make much difference if you are not doing high-resolution gaming or top-notch 3D rendering. On the other hand, the bandwidth of your graphics card should be your primary concern. In this regard, GDDR5 is higher than GDDR3, and GDDR6 is even higher than GDDR5. As this article was about the best GDDR6 graphics card, you are already in the range of the best.
FAQs When Picking GDDR6 Graphics Card
1. What is GDDR6 memory?
GDDR6 is a type of graphics memory that offers faster speeds and lower power consumption compared to previous generations like GDDR5. It enables higher bandwidth for improved gaming performance.
2. Which graphics card has the fastest GDDR6 memory?
Currently, the Nvidia GeForce RTX 3090 has the fastest GDDR6 memory with 24GB running at 19.5Gbps speed. The RTX 3080 also has 10GB of GDDR6 at the same 19Gbps speed.
3. Which AMD graphics cards use GDDR6 memory?
AMD Radeon graphics cards that utilize GDDR6 include the RX 5700 XT, RX 5700, RX 5600 XT, RX 5500 XT, and Radeon VII. The RX 5700 XT has 8GB GDDR6 at 14Gbps speed.
4. What are the advantages of GDDR6 over GDDR5?
GDDR6 offers double the bandwidth and transfers up to 16Gbps per pin. It consumes 10% less power at the same transmission speeds as GDDR5. Overall GDDR6 delivers better gaming performance at higher resolutions and framerates.
5. Are there any budget GDDR6 graphics cards?
Yes, budget options with GDDR6 include the Nvidia GeForce GTX 1650 and AMD Radeon RX 5500 XT. They provide good 1080p gaming performance at an affordable price point.
6. Which is better for 4K gaming – GDDR6 or HBM2?
For 4K gaming, HBM2 memory generally performs better than GDDR6. HBM2's huge bandwidth and memory capacity gives it an edge for future-proof 4K and high resolution gaming. However, GDDR6 is still great for 1080p and 1440p gaming, while being more affordable. The latest GDDR6 cards can also do 4K gaming reasonably well in many titles. But for the best 4K gaming experience, HBM2 has a clear lead.
7. Can my GDDR6 graphics card be repaired if it is damaged?
Yes, GDDR6 graphics cards can often be repaired in certain situations:
Thermal paste/pads replacement – Over time, the thermal paste and pads between the GPU chip and heatsink can dry out or become ineffective. Replacing them can significantly improve cooling and extend the card's life.
Fan repairs – Graphics card fans can wear out or become noisy. Individual fans can be replaced on most cards. In some cases, the entire cooler may need replacement.
Capacitor/MOSFET replacement – Leaking or bursting capacitors and MOSFETs are common failure points. These components can be replaced by someone with soldering skills and the right equipment.
BIOS flashing – A corrupted BIOS can sometimes be recovered.
However, it is not something beginners should try. GPU damages are usually very complicated to repair. The damage level will determine whether it can be repaired or not.
Final Thoughts
When it comes to next-gen gaming performance, GDDR6 graphics cards deliver. With incredible speeds, high memory bandwidth, and advanced GPU features, these new RTX-powered cards are in a league of their own. While the top-tier options like the RTX 3090 provide maximum power for enthusiasts, more affordable picks like the RTX 3060 Ti still pack a punch for smooth 1080p and 1440p gaming. Whatever your budget may be, there are fantastic GDDR6-equipped options to take your PC to the next level. Just be sure to check benchmarks and reviews to ensure the card you choose pairs well with the CPU to avoid bottlenecks. With our buying guide detailing the best GDDR6 graphics cards currently available, you now have the knowledge to choose the perfect card to suit your gaming, creation, and VR needs.
Enjoyed this article on the best GDDR6 graphics card? Then be sure to check out our other guides.