The presence of sticker makers is everywhere these days, and we can find them in many places, including offices, houses, and schools. Sticker making is a hobby for many people, and it also a business for many. If you are looking to choose the best sticker maker machine and enjoy the sticker making process, we have listed some of the best sticker making machines in 2023 available in the market that suit beginners to expert professionals. And following review highlights a section on how to choose them.
List of The Best Sticker Maker Machine
Check out the thorough reviews of the best sticker maker machine in 2023 below.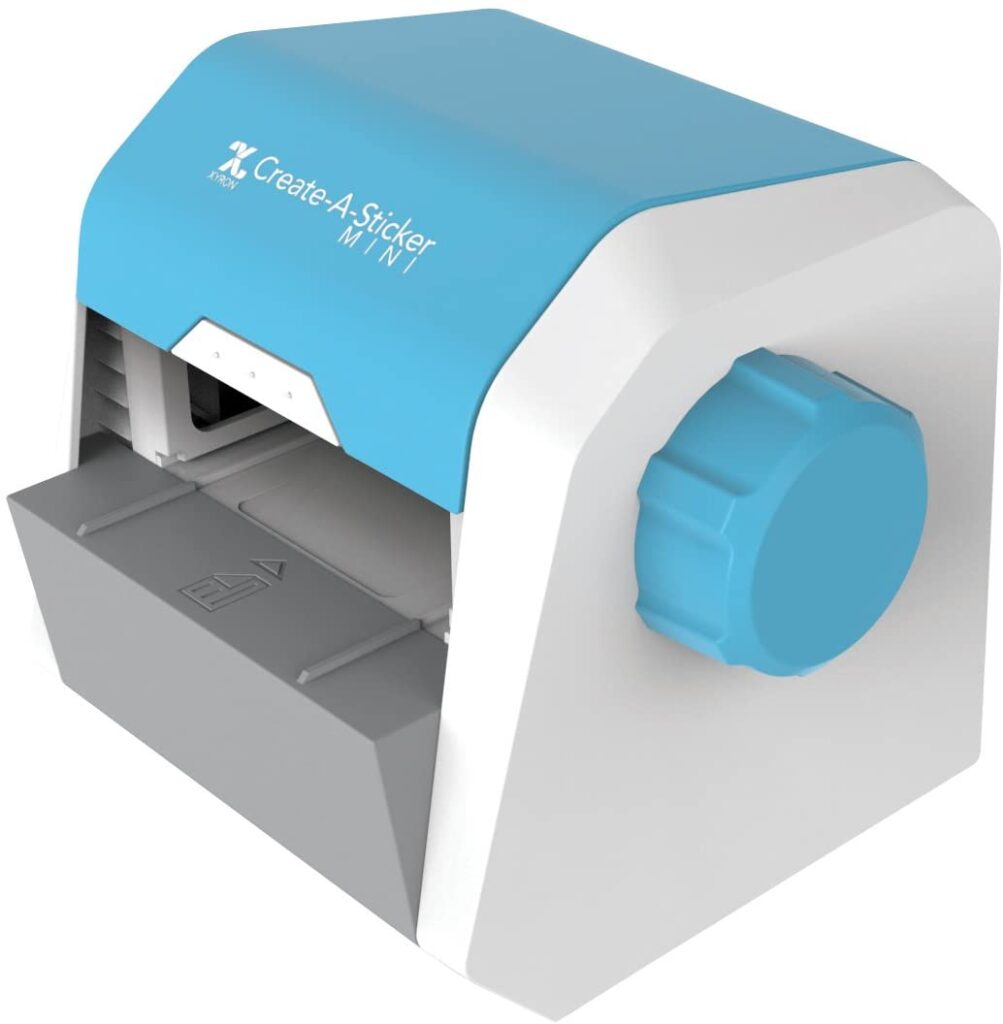 Xyron sticker maker makes it easy to create any sticker for school projects, planners, or other projects. You need to choose the image you need and run through the sticker maker to produce awesome homemade stickers. It does not require any electricity or heat to create 2.5 inches wide stickers. It is easy to use and simple to turn any image into a sticker. You are free from sticky fingers with this sticker making machine because there is no need to work with the paper's top layer. It doesn't have any laminating or magnetic elements, and the rolls used here are acid-free and non-toxic. The other key features of Xyron sticker maker machine as follows.
Key Features
It can create 2.5 inches wide sticker without any electricity or heat requirement.
Refills are available as per your needs; you can choose permanent or repositionable adhesives.
Easy to use and free from sticky glue.

If you are looking for the best sticker maker machine and a DIY craft enthusiast, this is a must-buy item for your home. It can help you to write, score, and cut. The best thing about this sticker making machine is its dual stylus holder that can write and cut simultaneously. If you have this machine, you can create perfect pre-designed labels, customized cards, and tags. The machine comes with circuit design space software. You need to subscribe to use some designs, but there are many free designs available to use. This software can be accessed using the tablet, smartphone, and computer, which means you can create whenever you want. Other features are as follows.
Key Features
It can cut, score, and writes. Cut and write can be made at the same time.
It can be connected with Bluetooth, and software is accessible from many devices.
The machine is designed to work with 100 plus materials, from thin vellum to leather.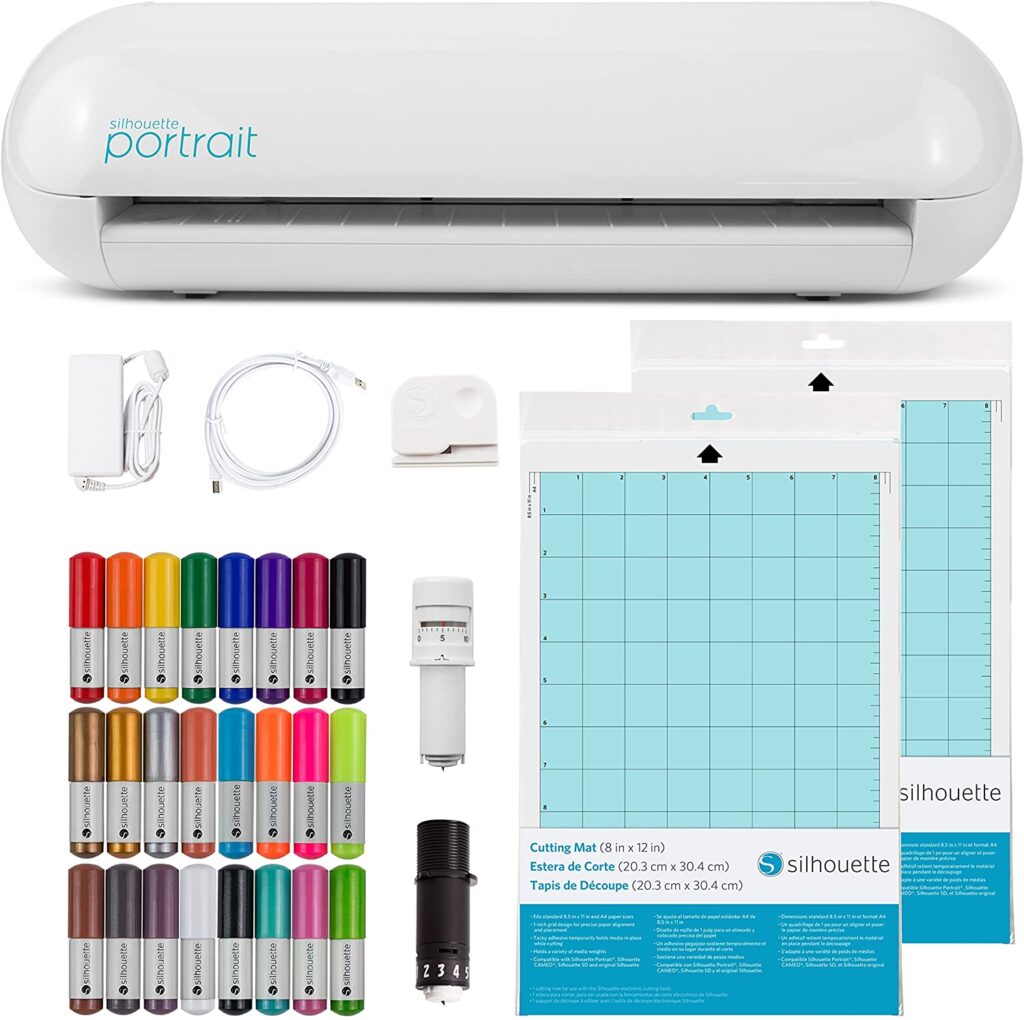 If you own a Silhouette portrait bundle, the sticker-making task won't look like a difficult task. This sticker making machine is compact and requires very little space, and this quality makes it ideal for offices and small places. It is lightweight and makes it easy to transport. It can produce numerous designs and works really fast. The device is compatible with Bluetooth, and consequently, you can use it from different locations in your home. The quality of the sticker is precise and produces awesome stickers quickly. Hence, even a beginner can create nice looking stickers using this device. The important features of this sticker making machine are as follows.
Key Features
It is the most compact device from the Silhouette brand.
It can work with over 100 different materials.
The device can cut paper, fabric, vinyl, and other materials up to 10 feet long and 8 inches wide.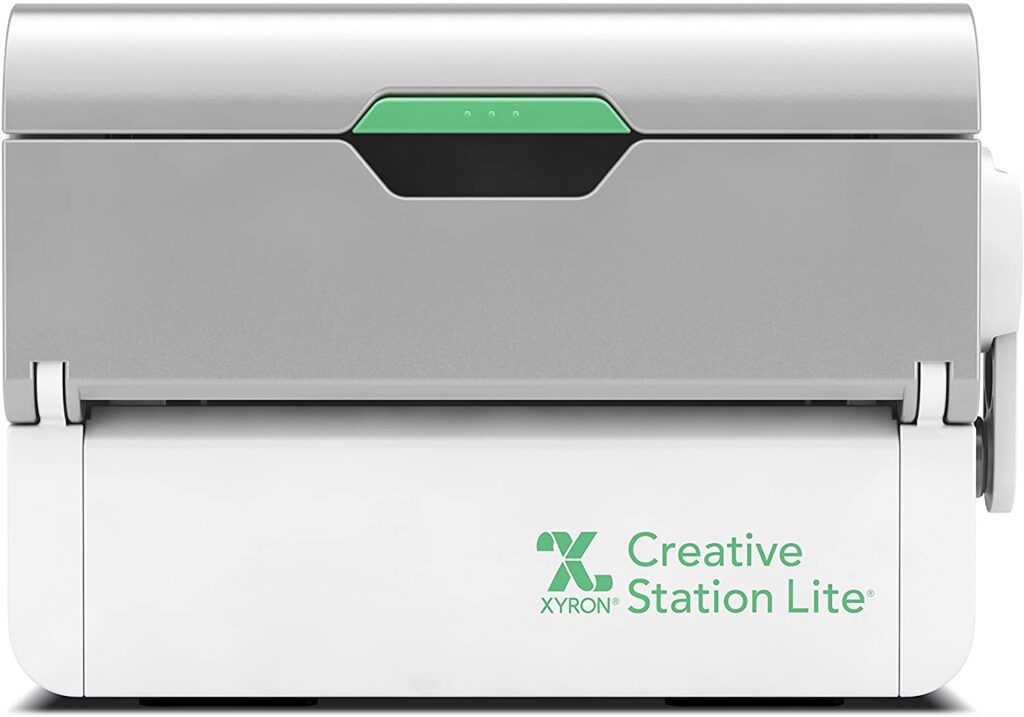 If you are familiar with Xyron Creative Station 5, it is the lighter version of the same. This Xyron sticker maker machine can produce 3 inches cards, so it is ideal for business cards and laminating IDs. It allows the users to adjust the size as per their requirements, and consequently, it becomes perfect for card making, doing die cuts, school projects, and other crafts. This is even safer for kids since it doesn't require electricity or heat to operate and the materials used in this machine is all are non-toxic and acid-free. The other important feature of this Xyron sticker making machine is as follows.
Key Features
Users can apply permanent adhesive and transferable adhesive, and ideal for laminating and magnetic backing.
The machine comes with a five-inch permanent adhesive.
The device is compact, and it is easy to store and transport.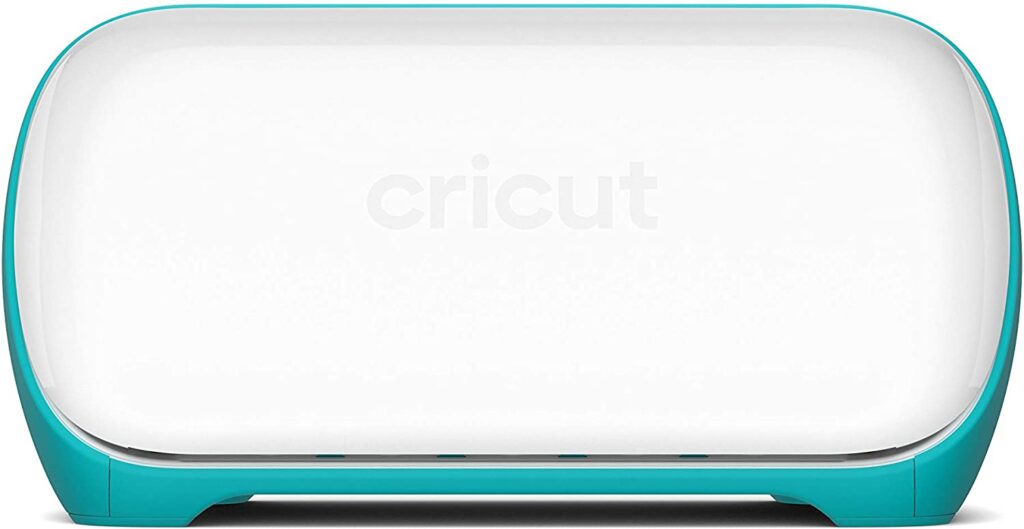 It is one of the best sticker maker available in the market. It is a compact and ideal option to make DIY crafts. It supports various materials, and hence you can produce every type of card, celebration banners, and many more. The sticker making machine is designed for beginner level enthusiast than serious crafters. It is perfect for making 20 feet long banners, and several special materials are available, and they do not need a cutting mat. The prominent features are as follows.
Key Features
The machine can produce continuous cuts of 4 feet and repeated cuts up to 20 feet.
Using Circut design space, you can create many designs.
You can create your design on your smartphones, computer, or tablet. With the subscription, you can get access to over 100K images.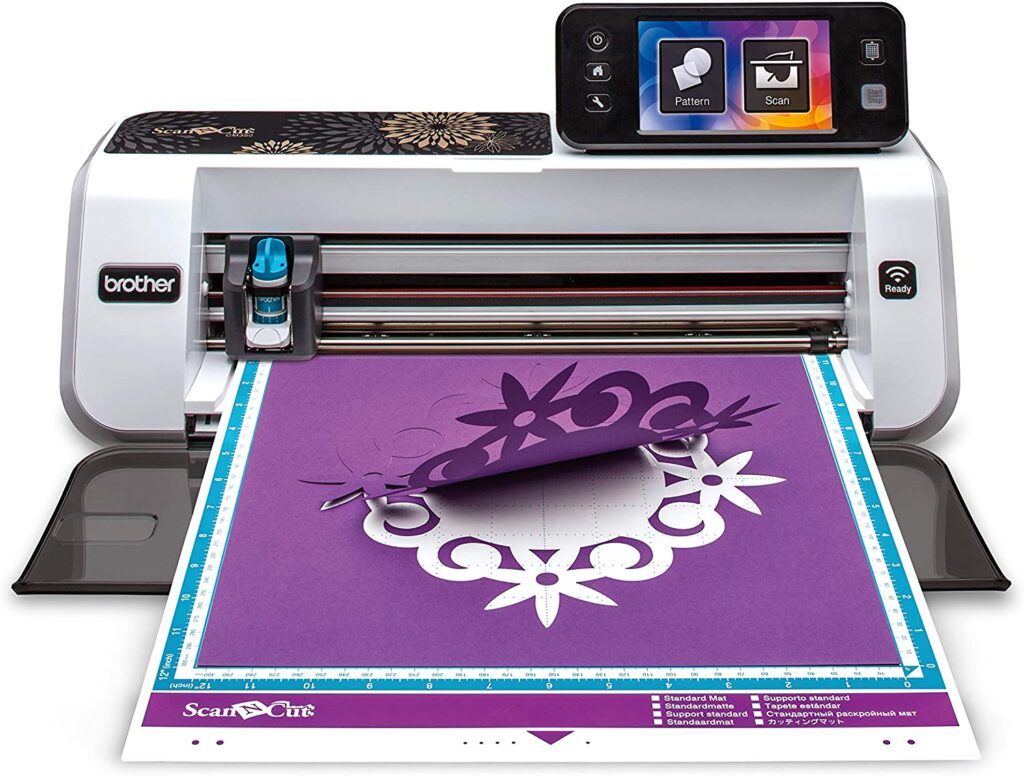 The best thing about this Brother sticker making machine is, as the name says, it is a sticker maker machine plus the scanner. If you own this machine, you no need to use your computer, phone, or other devices to design. It comes with an LCD touchscreen, and it allows you to edit your images and get the sticker. The machine comes with over 600 built-in designs. You can directly scan the images using the scanner and make the sticker. It is the best product for DIY projects since numerous free patterns are available to create the sticker you wanted. The other features are as follows.
Key Features
Designing becomes easy with 631 designs, 100 quilt designs, and seven lettering fonts,
It can easily cut 2mm thick materials, including paper, foam, vinyl, and fabric.
The LCD touchscreen makes it easier to create and edit images without the help of other devices.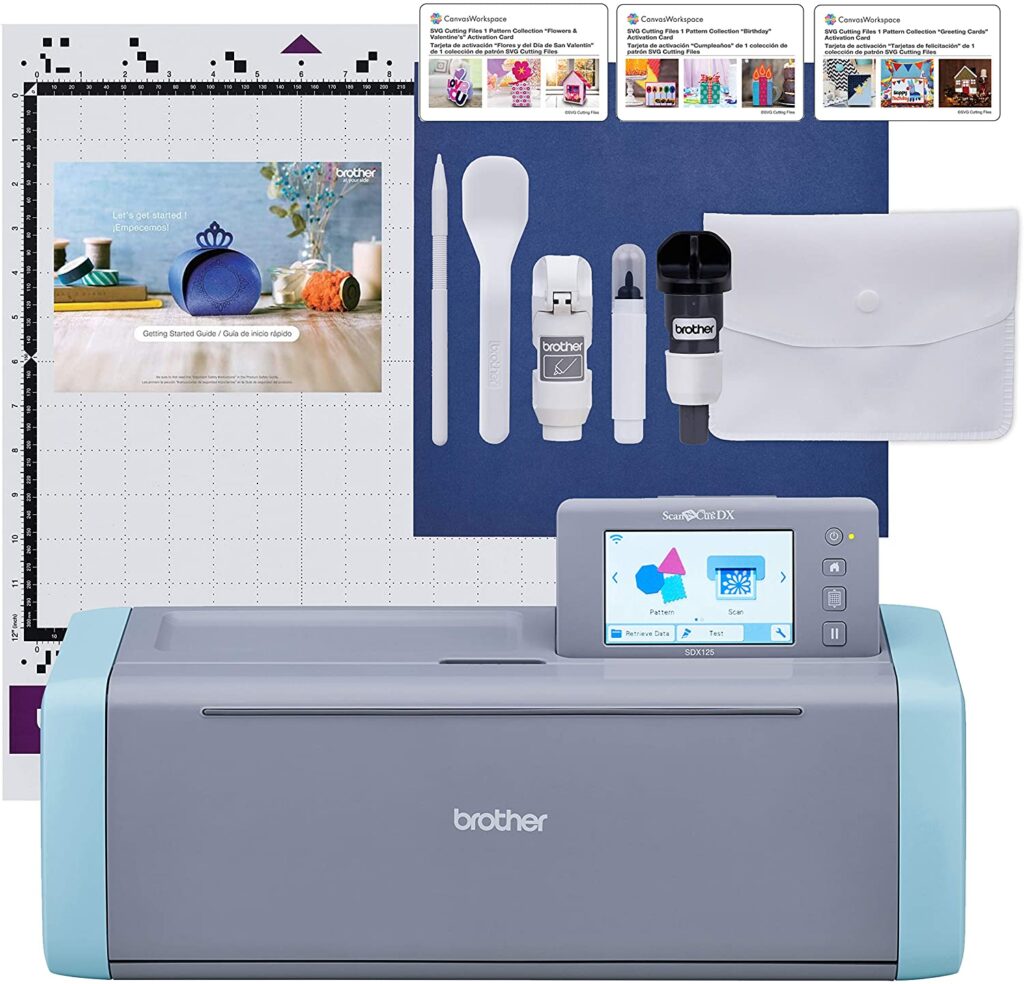 if you are looking for the best sticker maker with scanning and editing option in a single unit, this is your go-to option. Brother ScanCut, as the name says, comes with a cutting and scanning option in a single machine. The LCD touchscreen helps you create exciting designs and edit the images without the need for a computer or other devices. Sticker making becomes very easy because all you need to do is scan your drawing and convert it to a cut file and print your design. It comes with over 650 built-in designs to create awesome looking patterns. The prominent features of this Brother sticker making machine as follows.
Key Features
Customization is easier with additional free patterns and 681 designs, 100 quilting patterns, and nine fonts.
The editing and making tweaks to your design is simple with 5 inches LCD screen.
The blades automatically detect the material and thickness. As a result, users are free from manual adjustments and material selection.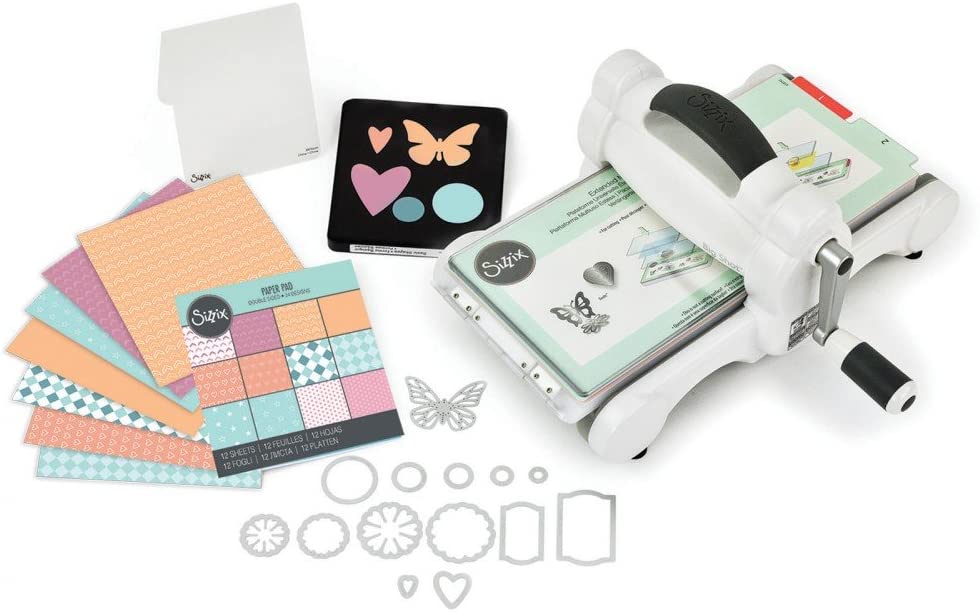 It is not the modern-day sticker maker, it makes you remember the traditional way of making the stickers. It will not make everything you are looking at in modern-day machines, hence the user needs to measure and align everything before printing the sticker. It is more of a personal sticker making machine, where user can get the feeling of creating awesome stickers by doing it in the old school way. This machine allows creating nice-looking designs for labels, cards, scrapbooking, and others. In short, if you are looking to get the feeling of nostalgia and accomplishment, it is the one for you. The other features are as follows.
Key Features
It supports various materials, including cardstock, faux leather, paper, fabric, and many more.
The machine is ideal for people who want to create from scratch to sticker.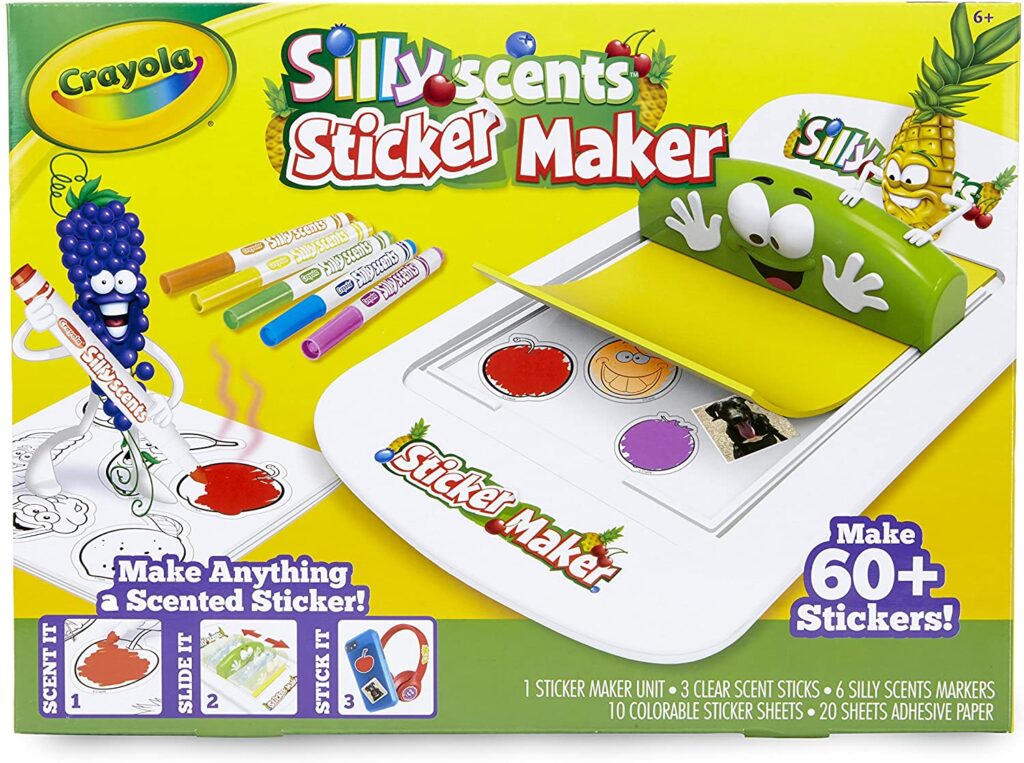 If anyone wants to give kids a creative gift and enrich their creative capabilities, this is the best product. This sticker maker machine is perfect for young kids and young kids teachers, it takes the fun of creating stunning and scented stickers to the next level. You can use this kids sticker maker in party activities, congratulate young kids with nice stickers or give kids enough fun time. This machine can engage the kids for many hours without creating any mess. Since this sticker maker machine is designed for kids of young age, the sticker making process becomes effortless. The other feature of this kids sticker maker machine as follows.
Key Features
This set includes 10 art sheets, a sticker maker, 20 adhesive sheets, 3 scent sticks, 6 silly scent mini markers, and a manual.
You can create reusable stickers using this machine.
It is effortless to use and can make scented stickers by following simple steps.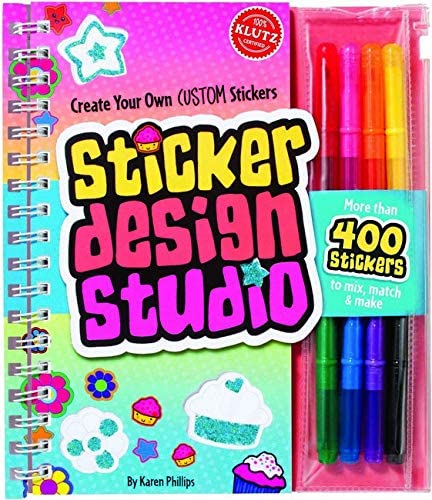 Klutz Sticker designing machine makes the sticker-making process easy. The device is lightweight and compact, thus, the transportation and storage of this unit are effortless. This sticker maker machine is ideal for quiet surroundings since its sound while making a design is minimal. Any person, including a beginner, can use the device. It is compatible with numerous materials, including vinyl, fabric, paper, foam, etc. The machine works well with most sticker making software without any issues. The blades of the Klutz Sticker maker is sharp and produces accurate designs.
Key Features
It can produce hundreds of unique designs to decorate, from binders to lunch bags.
The package includes 8 markers and 14 sheets of stickers.
The machine is lightweight and easily portable.
How To Pick The Best Sticker Maker Machine
In the current market, there are a plethora of choices available. However, you need to consider the below points before choosing a sticker making machine.
1. Size
The nature of your work, the frequency of your work will determine the size of the machine. If you are looking for a machine to develop a hobby, go with the smaller ones, and if you are buying to start a business, buy a machine with a big size that supports making stickers and banners of multiple sizes. The notable point is the width of a sticker making machine determines the size and not its length. And also, the available space inside your building decides the size of the sticker maker.
2. Cost
The cost of the machine is a deciding factor in buying any product. Thankfully, you can get a wide range of sticker makers from low budget to high budget in this market. So, you can pick the one as per your allotted budget.
3. Mode of operation
There are electronic and manually operated machines are available. The manually operated machines are cost-effective and safe to use, even for kids. However, the only drawback is they are time-consuming. Electronic models help to enhance productivity with less supervision.
4. Customer reviews
While making the decision, you have to look at the reviews of each product on different sites. It is a credible way to know in detail about the machine. Hence, shortlist your selection to two to three and compare the customers' online ratings and go with the one with more positive feedback.
5. Portability
The size of the sticker maker determines the portability. If your work involves moving from one place to another, consider buying a small machine to make transportation easier. If you are planning to install in a fixed place, portability is not important.
FAQs When Picking The Best Sticker Maker Machine
What kind of materials can I use to make stickers?
Modern-day sticker making machines are compatible with numerous materials, including foam, fabric, paper, vinyl, leather, and many more.
Can I use sticker paper with normal scissors?
Most sticker making papers can be cut with normal scissors, knives, hole punchers, paper slicers, etc.
Can I use sticker paper in printers?
Yes, most of the sticker papers are compatible with normal printers. However, if the printer is specifically titled inkjet or laser, you need to choose the compatible paper.
Final Thoughts
Picking the best sticker maker machine is not an easy task, but after reading this review, we are sure that you can easily pick the best one for you as per your needs. To make your job easier, the top 10 sticker maker recommendations will help you decide which one to buy. To make your task effortless, you need a reliable machine without producing more noise. The above-provided list will do your job of choosing the best effortless. 
Enjoyed this sticker maker machine review? Then be sure to check out our other guide of the Best Label Maker.