Implied from the name, a power distribution unit (PDU) is designed to distribute the electric power to various types of networking products. The multiple output ports help it to achieve this purpose. An uninterruptible power supply (UPS) constantly delivers the input voltage to your device during a blackout. On the other hand, a PDU distributes the received power (typically from a UPS) and also sets up a centralized system of shutting down, power cycling, and entire managing the electric power which your connected device would receive.
The PSU determines the system's reliability and performance. Some of the versatile PSUs come with advanced features like remote monitoring, switched outlets, and more. To alleviate your confusion on how to get the best PDU in 2023, the following sections highlight the details of the best ones along with the buying guide.
List of The Best PDU
Check out the thorough reviews of the best power distribution unit in 2023 below.
This network-grade PDU power strip comes in a rack mount design. The unfiltered electrical pass-through suggests that the RS-1215-RA is perfect for the distribution of generator power or alternate waveform UPS in network closets, rack enclosures, and more. The cover removes the risk of accidental shut down. The efficient and safe operation assures that it is the best PDU on this list.
One of the best features of this power distribution unit is the rack mount ears are reconfigurable. If you want to have the unit project from the front part of the rack, you just need to shift the ears back. Doing this accommodates a shallow rack. Also, it allows you to mount it at a right angle either in wall mount or rack-mount configuration.
Since plugs are available on both the rear and front of the unit, you can keep the devices powered by the outlets in the rear and leave another in front open for temporary use. Consequently, it offers decent cable management of the devices that are always plugged in.
Key Features
This 1U rack mount power strip contains 12 right-angle outlets (6 front/6 rear).
The outlets are positioned at the right angle to house bulky transformers.
The standard 19-inch racks can be accommodated.
The 15A circuit breaker is included.
The cord length is 15 feet.
The weight and dimensions of this PDU are respectively 4.6 pounds and 17.5 x 4.49 x 1.75 inches.
Pros And Cons
This CyberPower PDU distributes clean AC power directly from a generator or UPS or utility power source. Reliable power output is fed to equipment and network closets from these power sources. The power output is delivered throughout the whole data center so that essential equipment continues to run at peak performance. All the connected devices receive adequate power input.
Key Features
The voltage and current ratings are 120V and 15A.
It delivers AC power to network closets, data centers, and other applications that need electric power.
There are 10 NEMA 5-15R outlets available at the rear.
The NEMA 5-15P straight plug comes with 15 feet long power cord.
The rackmount options are versatile. They allow you to install the PDU in different configurations i.e. 0U (vertical, wall mount, and under counter) and 1U (vertical, horizontal, wall mount, and under counter), and 2U (wall mount and horizontal).
The temperature range is 0°C to 40°C.
Other features include robust metal housing, network-grade plugs and outlets, and a cord retention tray.
Pros And Cons
If you are looking for a PDU that comes with excellent safety then this StarTech PDU power strip is the best PDU on the list. It comes with surge protection for the safety of the PDU itself and connected device. This power strip can be used for network server racks.
It can be horizontally mounted in any server rack up to 4 inches in depth. The design boasts a rugged steel casing for durability. Two LEDs are included to depict proper ground and surge detection when allowing you to effectively control the power state through an illuminated reset/power switch.
Key Features
An extra 8 NEMA 5-15 outlets are included. Each of these outlets comes with 120V/15A rating.
1U rack design offers compatibility with all 19 inches server racks with 4 inches or more depth.
This horizontal-mount has a built-in circuit breaker and reset switch to avoid expensive breakdowns of connected devices. These components ensure the reliable performance of essential data center equipment.
The length of the power cord is 6 feet.
Pros And Cons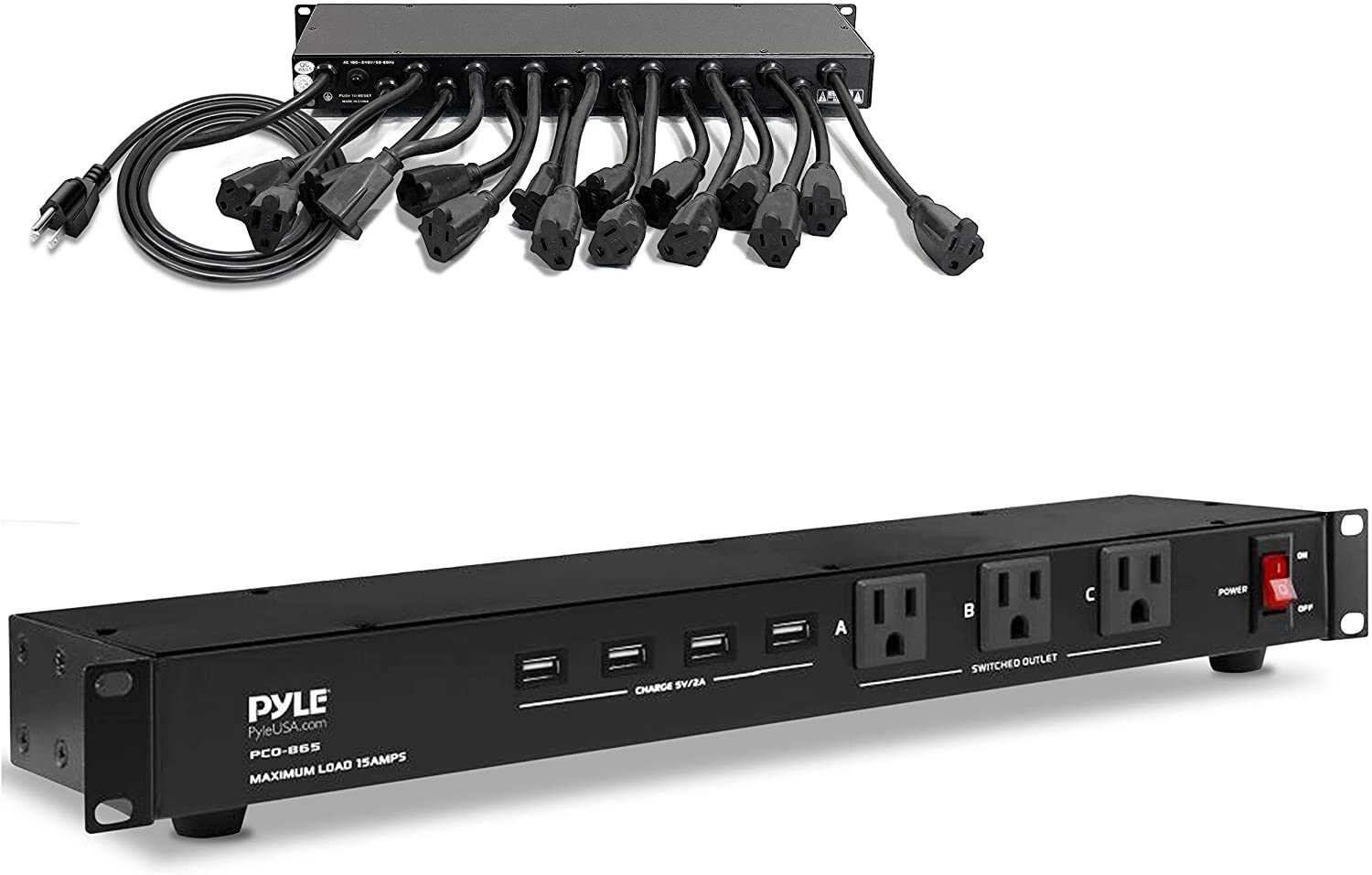 The unique and renowned aspect of this rackmount PDU is it lets you connect 19 equipment. This indicates that it offers great versatility to be suitable for various applications. The space-saving, versatile design features a 1U form factor. All standard 19-inch racks are compatible. Moreover, the removable mounting flanges are configurable for wall-mount, rack-mount, and under-counter installation.
For international usage, this PDU comes with a 110/240V rating. Pyle designed this PDU to be optimized for consistent distribution of AC power alternate waveform from a generator or UPS system or utility wall outlet.
Key Features
There are 16 flexible rear-facing power cable outlets and 3 wide-spaced front panel outlets included. They provide enough room for transformers and AC adapters.
4 USB ports are included for hassle-free concurrent power supply to all of your favorite devices.
Built-in 15A circuit breaker averts risky circuit overloads to prevent damage. So, AC input is shut off when the load draws excessive power.
This Pyle PDU is compatible with 1U Mount type 2 or 4 post rack spaces.
The rack-mount brackets are removable for ease of installation.
The length of the power cord is 15 feet.
Surge protection is available.
An integrated switched front-panel AC outlet is included.
The weight of the PDU is 8.7 lbs.
Pros And Cons
Are you looking for a well-built rack-mountable PDU? If yes then this APC product is the best PDU to consider. You can use the mounting brackets to perfectly mount the PDU vertically or horizontally. The pack contains rack mounting brackets and an installation guide.
Key Features
The power input range is 100V-120V.
Built-in 15A circuit breaker avoids risky overloads.
There are ten 5-15 outlets included.
The length of the cord is 11.8 feet.
Weight and dimensions are 2.5 kg and 2.24 x 17.6 x 1.73 inches.
Pros And Cons
When it comes to reliable surge protection, this Pyle PDU is a recommended pick. It features a 1200A peak impulse current to defend equipment when voltage swell or spike or fluctuates. So, the PDU itself and the connected devices stay protected during power outages and storms.
The heavy-duty construction of this electric extension cord strip ensures longevity. An AC filter is included. Furthermore, the 1U rack-mountable installation offers hassle-free cable management. It also presents a neat appearance to your workstation.
Key Features
9 outlets are comprised of a front and 8 rear outlets. So, one outlet can be turned into 9 outlets with this power strip.
The included AC noise filter eliminates unnecessary radio frequency (RFI) and electromagnetic interference (EMI). So, the entire operation is consistent, stable, and efficient.
The robust steel chassis offers longevity.
The 6-feet long power cord can withstand light tugging. Hence, any standard AC outlet can be converted into a mini charging station. This allows you to connect smartphones or laptops.
The energy dissipation is 150 joules.
Overall dimensions are 6.5 x 22 x 3.5 inches.
Pros And Cons
This Tripp Lite product is a single-phase PDU that offers reliable, safe power distribution to up to 20 devices. Each device gets 200/208/240V single-phase AC power. Hence, you can power a generator or utility outlet, or UPS system in a high-density environment. For PDU networking, telecom, security, and audio/video applications, this PDU is a perfect choice.
Key Features
There is a total of 20 outlets including four front C13 and four front C19.
The switchless design avoids an unintentional shutdown that can lead to expensive downtime. Incorporated circuit breakers defend connected equipment from risky overloads.
The voltage output is 208/240V AC and the maximum input current is 30A.
The length of the NEMA L6 30P input plug is 15 feet.
Pros And Cons
How To Pick The Best PDU?
To streamline your purchasing decision for the best PDU, the below section helps a lot.
1. Types of PDUs
The majority of the manufacturers will categorize their PDUs into two key categories i.e. basic and intelligent power distribution units.
Essentially, the basic PDU is almost identical to the generic power strip. Both of them will power up all the connected equipment and they don't provide any extra functionality. All basic PDUs are made of superior quality materials and encased in metallic cases. Hence, they are more suitable for use in a harsh and industrial environment.
The second key type i.e. intelligent power distribution units can be categorized into the following sub-types:
i. Metered PDUs
A digital LCD screen is included which depicts the load level in real-time. Thus, it helps in avoiding possible overloads.
ii. Monitored (Managed) PDUs
Just like the metered PDUs, monitored PDUs come with one or multiple LCD screens that display real-time data regarding the status of the power distribution.
iii. Switched PDUs
It is possible to remotely monitor the switched PDUs. You can control the way connected clients and outlets work. An LCD screen is also included in every switched PDUs.
iv. ATS (Automatic Transfer Switch) PDUs
These PDUs connect to a primary and a secondary power source. If the first fails or if it surpasses the lower/upper limit then it second source is automatically enabled. Hence, these PDUs guarantee zero downtime and continuous operation.
2. Maximum output capacity
Total power needed by a device connected to the PDU should not go beyond the PDU's maximum load rating (measured in kVA). Typically, the maximum input and output capacity is up to 80% (known as 'agency de-rating').
For instance, a single-phase PDU with a nominal voltage rating of 120V and the de-rated input current of 12A comes with a load capacity of 1.44 kVA (i.e. 120V x 12A).
3. Design
PDUs come in either vertical or horizontal design.
Vertical PDUs mount on the sides or rear of the rack's posts. They occupy 0U of space. Moreover, this design enables up to 48 outlets over a single PDU.
Horizontal PDUs mount within a rack. They occupy 1U or 2U (rack units) of space. The design shows reversible mounting ears for front-facing or rear-facing type rack-mount installation.
4. Outlet types
The number of outlets on PDUs must match the plugs available on the equipment you would be connecting. Certain PDUs come with a combination of outlet types. You need to choose a PDU with more outlets than the number you exactly need. This will help a lot for future rack growth. Some of the top-rated PDUs come with 19 outlets allowing you to connect a lot of devices simultaneously.
5. Case dimensions
It is necessary to check the physical dimensions of the case. If you are using a standard ATX PC case, an ATX power supply would fit. However, several higher-wattage PSUs come with lengths higher than 5.5 inches. Hence, check the PSU clearance of your case. If you use a slim or tiny PC case, it might need a more compact SFX power supply.
If you are working in a tiny case or want a clean build then you need to pick a modular power supply. If there is ample room behind the motherboard or the chassis doesn't include a glass side or window then you can cable-wrap the unnecessary wires and store them within your rig. However, if the system doesn't have enough space then you need to choose a modular power supply. Typically, modular PSUs help you to plug in only those power cables you require and stash the remaining in the box.
Frequently Asked Questions When Picking The Best PDU
1. What is the unique aspect of PSUs in terms of safety?
The best PDU comes with enough safety features to protect your system's parts if something unusual happens with the components or electric supply. The absence of safety features put the PC parts at risk.
2. What is a power distribution cabinet?
A power distribution cabinet (also recognized as a power distribution center) is an electrical equipment that offers supply, redistributes electrical energy, and protects electrical power lines. Also, it comes with overload and short circuit protection.
3. What is a 0U PDU?
A vertical PDU is also recognized as a 0U since it does not occupy any rack space. These PDUs mount to the vertical posts within a rack.
4. What is the role of circuit breakers?
The majority of the PDUs contain one or multiple circuit breakers to protect against short circuits and risky overloads.
Final Thoughts
Ensure superlative performance, reliability, and protection for your system and the components with any of these PSUs. They adequately deliver power to the connected devices. With enough safety features, the best PDU delivers the consistent performance of your networking device. It is possible to get a feature-rich PSU in your budget that meets all your expectations.
Enjoyed this PDU review? Then be sure to check out our other guide of the Best Ethernet Surge Protector.